Located near Alamogordo, New Mexico, White Sands National Park is the world's largest gypsum sand dune field. As one of the natural wonders of the world, it is a truly magical place to visit. But there are limited services and amenities available, so here is an important list of what to take to White Sands National Park.
With 275 square miles of bright white sand dunes the delicate texture of sugar, White Sands National Park is a uniquely beautiful place to visit in the Land of Enchantment. But with the unique environment come additional precautions for a safe visit. Before you head for these beautiful, ever shifting sand dunes near Alamogordo in Southern New Mexico, be sure you've packed these essentials.
Sage Advice: You may be asking yourself, "What is the White Sands National Monument?" Before it was upgraded to a national park in December 2019, this unique park in the American Southwest was known as White Sands National Monument. Although a few years have passed since White Sands received this "promotion," you may still see America's 62nd national park referred to as White Sands National Monument in some places.
To help offset the costs of running EverydayWanderer.com, you'll find affiliate links lightly sprinkled throughout the site. If you choose to make a purchase via one of these links, there's no additional cost to you, but I'll earn a teeny tiny commission. You can read all of the legal blah blah blah (as my little niece says) on the full disclosure page.
White Sands National Park is one of the natural wonders of the world and a magnificent natural playground. But its natural beauty also means there are limited amenities, so it's important to pack wisely when you visit.
Skim the table of contents below and easily jump to any item you need to add to your packing list. Then click "Other Practical Tips" for answers to frequently asked questions and other helpful advice to help you plan your adventure.
Know the hour-by-hour weather forecast for the duration of your visit, including when the sun will set. It is best to explore White Sands either earlier or later in the day, avoiding the hottest midday temperatures and strongest UV rays.
If you are exploring White Sands National Park in the later part of the day, be sure you have adequate time to complete your hike before the sun sets. Also, be aware that temperatures in the desert drop drastically after sunset. And by "drastically" I mean that the mercury can plummet as much as 20 to 30 degrees Fahrenheit! So bring adequate clothing for the weather conditions when you visit White Sands.
Speaking of weather conditions, this is what you can expect based upon the time of year that you visit:
February through May is windy season. Winds tend to move in quickly, reducing visibility and increasing the chances of being disoriented.
Summer is the hottest time of year. The temperatures at White Sand in the summer months often exceed 100F (38C).
June through September is monsoon season. Thunderstorms are common, and you may encounter lightning without rain.
November through February is the coldest time of year and overnight temperatures are often below freezing.
Tell someone who is not visiting White Sands with you where you are going within the park and when you plan to return. Never hike alone, and always keep your children in sight. The wind easily sifts the lightweight, gypsum sand. This makes the terrain look different than it did earlier, erasing your tracks, and making it easy to get lost.
Do not start a hike if the temp is at or above 85F! Tragically, a French couple died and their 9-year-old son was found severely dehydrated when attempting a hike on a 100F day in 2015.
In the ever-shifting sand dunes of White Sands National Park, it doesn't take much for even the most experienced nature lover to lose his or her bearings. The National Park Services makes it easy for you to take a park map with you when you visit White Sands National Park
It's easy to get dehydrated quickly in the arid conditions of the Chihuahua Desert. Pack at least one gallon of drinking water per person. Water bottles can be filled at the White Sands Visitor Center, but there is no water out in the dunes.
6. High-Energy and Salty Snacks
A condition called hyponatremia can occur when you've had too much water without replenishing electrolytes or eating salts. If you've had plenty of water but begin experiencing nausea, muscle cramps, or disorientation, then be sure to munch on a salty snack.
Easy-to-carry, high-energy, salty snacks include:
Dried fruit

Nuts

Trail mix

Energy bars

Crackers

Pretzels

Popcorn
Sage Advice: Add a few sports drinks, a bottle of PediaLyte, or other electrolyte-rich options to your water supply to help fight against hyponatremia. We are big fans of the new, easy-to-carry PediaLyte powder packets that can be added to regular drinking water for a boost of electrolytes.
7. Fully-Charged Cell Phone
Be sure your phone is fully charged before you head out into the white sand dunes. If possible, take a portable charger with you. Conserve your phone battery by placing it in airplane mode or turning it off completely while you are out exploring the dune field.
Cell phone coverage can vary throughout White Sands. Even if you cannot complete a phone call, you may be able to successfully send a text message. If you have an emergency and are unable to dial 911, text message a friend and ask them to call 911 for you.
A whistle is louder and carries farther than a human voice, especially a human who is experiencing dehydration or other distress. So be sure you always take a whistle to White Sands.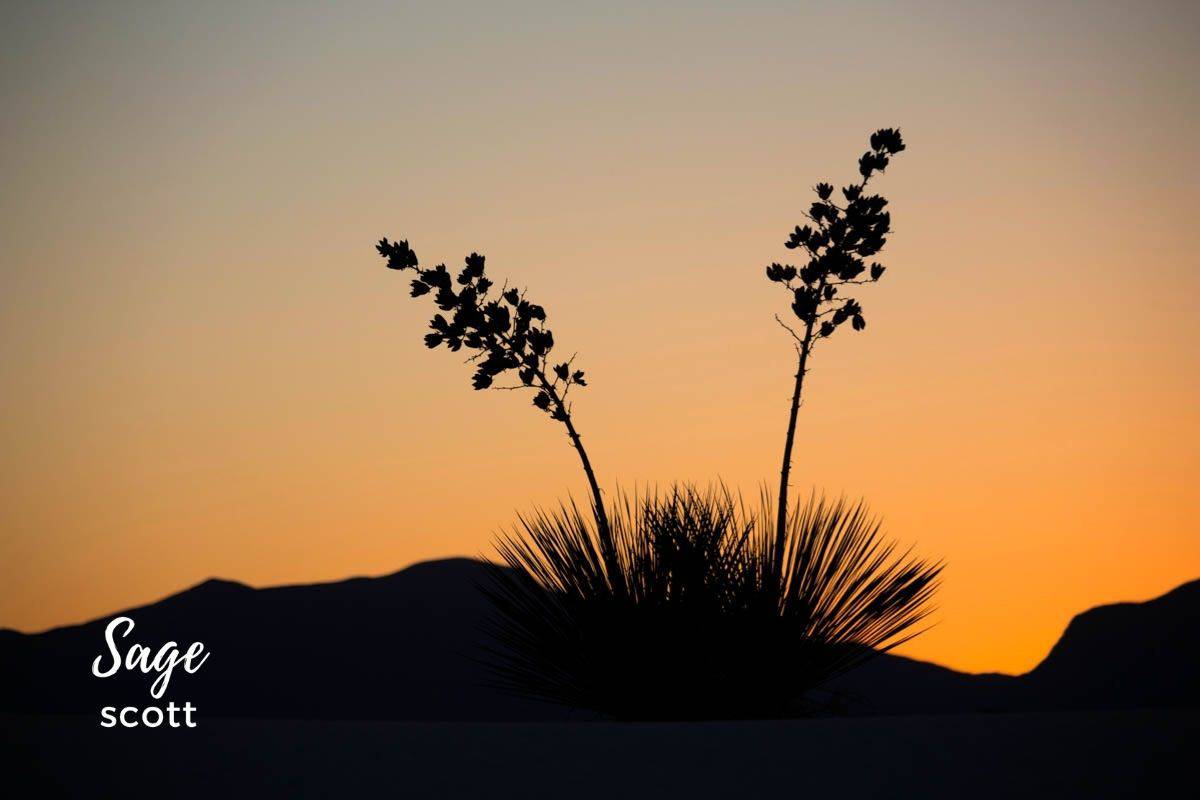 9. Flashlight and Extra Batteries
The White Sands Visitor Center does not sell gas, and the nearest gas station is about 15 miles away near Alamogordo, New Mexico.
Most people don't visit the American Southwest with a snow sled in tow. And, it's not necessarily practical to add it to this list of items to pack, especially if you're visiting White Sands on a road trip.
However, one of the best things to do at White Sands National Park is sand sledding down the steep dunes. Fortunately, you can rent a sled at the Visitor Center and spend all day dune sledding!
Other Practical Tips for Visiting White Sands National Park
What's the Best Place to Stay Near White Sands National Park
Camping at White Sands National Park is extremely limited and very rustic. There is no water, no restrooms, and you'll need to haul all of your gear over the shifting white dunes. I'm sure it's an amazing experience if you're into that. But I'm not ashamed to admit that I prefer running water and electricity!
For modern-day accommodations, you have two options:
Alamogordo, about 20 miles east of the park
Las Cruces, about 50 miles southwest of White Sands
While Alamogordo is closer to White Sands, Las Cruces is a larger city with a wider selection of attractions, accommodations, and amenities.
If you head east to Alamogordo, a safe bet is the Holiday Inn Express Hotel and Suites on Kerry Ave. For more unique experience, stay at the Tavares Inn. Located on five acres just west of the Sacramento Mountains, this beautiful bed and breakfast is a pet-friendly accommodation.
Hotel Encanto de Las Cruces is a beautiful hotel that embraces the city's Spanish and Mexican culture with original artwork, beautiful textiles, and tasteful furnishings.
Or fully immerse yourself in the area's rich history by staying at Josefina's Old Gate. This quaint adobe house is located in historic Mesilla, a small district in the southwest part of Las Cruces once frequented by Wild West legends like Billy the Kid and Pancho Villa.
Sage Advice: Here are several recommendations for visiting Las Cruces including the best Mexican restaurants in town.
What to Wear to White Sands National Park
It's not uncommon to experience a 30 degree Fahrenheit difference in temperature at White Sands National Park. Dress in layers so that it's easy to bundle up or strip down accordingly. It's also a good idea to sport bright colors — like hot pink or hunter safety orange — so that you're easier to spot if you get lost or disoriented.
The gypsum sand is very fine and will get into every nook and cranny of your tennis shoes or hiking shoes. So unless you plan on walking several miles or really need the ankle support, I recommend wearing hiking sandals or even going barefoot at White Sands National Park. I absolutely love my Keen hiking sandals because I can toss them in the washing machine when I get home!
No matter what time of year you visit White Sands, the sun reflecting off of the soft white sand can cause severe sunburns. Be sure to wear a apply sunscreen and wear a hat and sunglasses.
Best time to visit White Sands National Park
My favorite time to visit White Sands is in the spring or fall. The days are longer than in winter, but the weather is more mild than summer. Visiting White Sands in the spring allows you to see the desert in bloom. And when you visit White Sands in the fall, the summer heat is usually gone (and so are most of the visitors).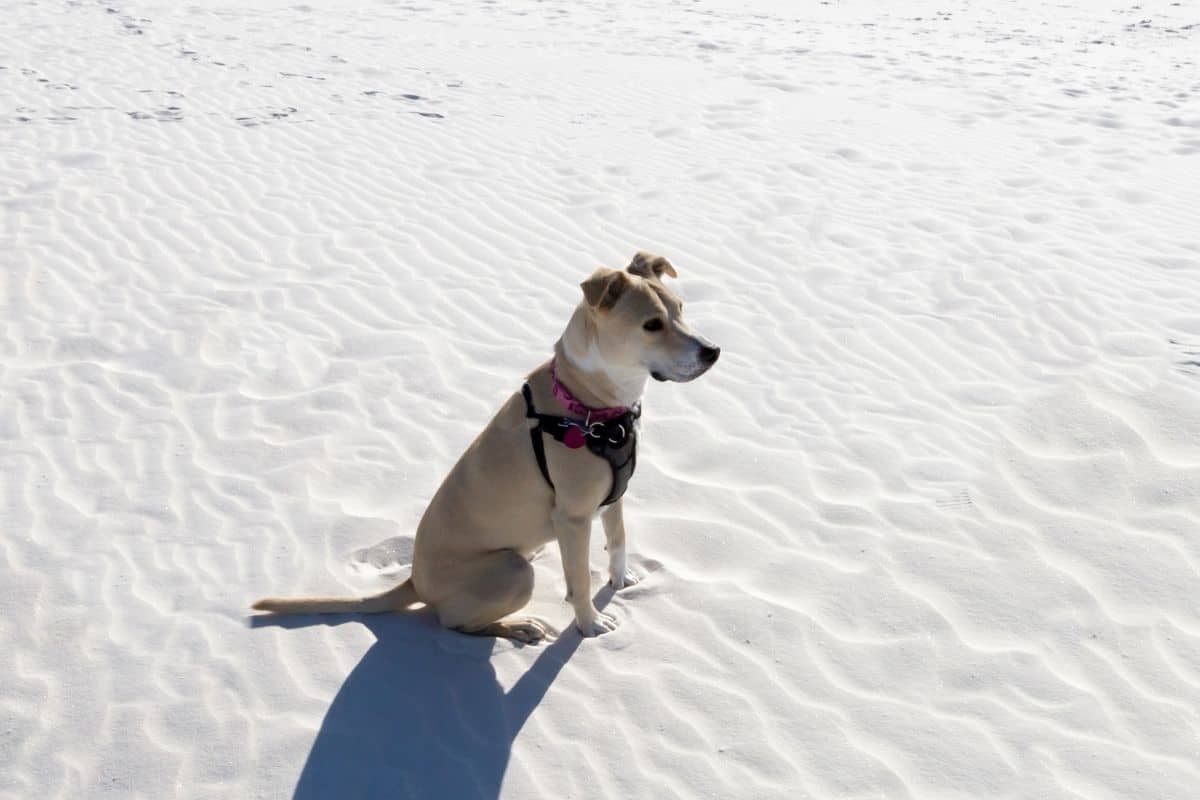 Can you take dogs to White Sands National Park?
Yes, dogs are allowed to visit White Sands National Park with you! Your furry best friend needs to be on a leash and under your control at all times.
Can you take sand from White Sands National Park?
An important component of Leave No Trace is that you leave what you find when enjoying our national parks. That includes the soft cool white sand at White Sands National Park.
Have You Visited White Sands National Park?
What did you do when you visited? Is there anything you'd add to this list of what to take to White Sands? Share your comments below.
Looking for more information to plan your New Mexico vacation? Check out my additional recommendations to help you plan your trip to New Mexico including what to see and do in New Mexico, the best places to stay in New Mexico, where to eat in New Mexico, and more!
Ready to Go?
Use These Helpful Links to Book Your Trip!
More Articles You'll Love!