Located in the Tularosa Basin in the Northern Chihuahuan Desert, between the New Mexico towns of Alamogordo and Las Cruces, is one of the world's largest gypsum sand dune fields. From sledding down the steep dunes to taking a ranger-led hike, these are the best things to do in White Sands National Park.
With 275 square miles of white sand dunes, White Sands National Park is one of the world's largest gypsum dune fields and one of the natural wonders of the world. This irresistible, untamed natural playground is one of the most unusual vacation spots in the US. From sledding down the soft sand dunes to hiking in an ever-changing landscape, these are the best things to do at White Sands National Park.
To help offset the costs of running EverydayWanderer.com, you'll find affiliate links lightly sprinkled throughout the site. If you choose to make a purchase via one of these links, there's no additional cost to you, but I'll earn a teeny tiny commission. You can read all of the legal blah blah blah (as my little niece says) on the full disclosure page.
There are all sorts of fun ways to enjoy the natural beauty of one of the world's largest gypsum dune fields when you visit White Sands New Mexico. Scroll up to the table of contents and expand "In this Article" to easily select the activities that appeal most to you.
Important Note: By signing his name to the National Defense Authorization Act for Fiscal Year 2020 in December 2019, President Trump upgraded White Sands from a national monument to a national park. A few years later, you may still see America's 62nd national park referred to by its former name, White Sands National Monument.
1. Stop at the White Sands Visitor Center
The adobe pueblo building at the entrance of the White Sands National Park is a great first stop. Here you can grab information on daily events, refill your water bottles, stock up on any necessities in its small gift shop, and explore the interactive exhibits in the museum.
The White Sands Visitor Center is also the place to watch "A Land in Motion," a fantastic 17-minute film about White Sands and the creatures that call it home.
Sage Advice: If you have a National Park Passport, be sure to get a passport stamp at the White Sands Visitor Center.
2. Pick Up an Adventure Pack
Adventure Packs are available for loan on a first come, first served basis at the White Sands Visitor Center. Each pack includes binoculars, an animal track guide, compass, and a bunch of other goodies that make exploring and learning about White Sands fun. When you're done with the Adventure Pack, simply return it to the White Sands Visitors Center.
3. Become a Junior Ranger
The Junior Ranger program helps kids of all ages engage with our national parks. While some National Park Service locations charge a few dollars for their booklet, the one available at White Sands is free. (Thank you tax payers!)
Activities are broken into different levels:
A special Pre-K booklet is available for children under six
And the junior ranger book is available for ages six and up
Take your completed book to the White Sands Visitor Center, and your child can be sworn in as a Junior Park Ranger and receive a White Sands National Park patch to prove it!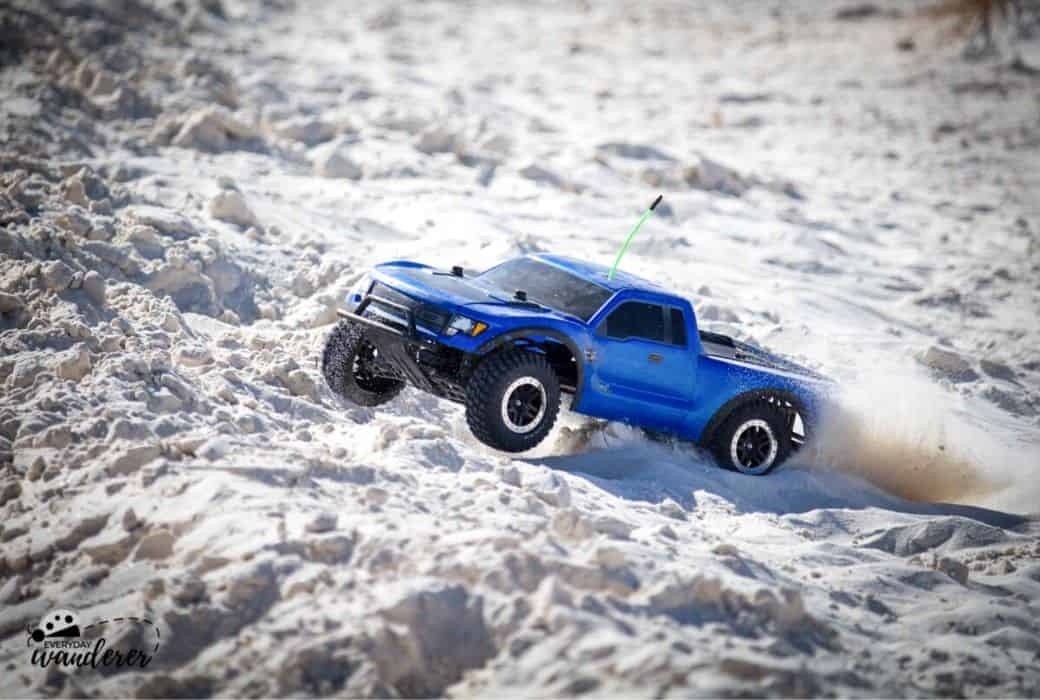 4. Tour the Native Plant Garden
Learn more about the native plant life in the Chihuahuan Desert by taking a free, self-guided tour of the Native Plant Garden just outside the White Sands Visitor Center. There's nothing quite like the desert in the spring, when wildflowers and yucca are in bloom, but the plant garden is pretty and full of bright colors nearly non-stop between mid-March and November.
5. Wind Along Dunes Drive
Dunes Drive is an eight-mile (13 km) scenic drive that goes from the visitor center to the heart of the gypsum dunes. It takes about 45 minutes to complete the entire drive, but you may want to allow additional time to explore outdoor exhibits, walk or play in the sand, or take photographs.
Highway 70 is occasionally closed to traffic when the White Sands Missile range is performing a missile test. Depending upon the specifics of the test, Dunes Drive may also be closed at this time. If Dunes Drive is temporarily closed, use this time to explore the visitors center.
To check on road closures, visit NM Roads or call 575.678.1178.
Sage Advice: The White Sands Visitor Center does not sell gas, and the nearest gas station is about 15 miles away in Alamogordo, New Mexico, so plan ahead!
6. Walkabout the White Sand Dunes on a Hiking Trail
In addition to experiencing the white gypsum sand dunes "freestyle," you can also walk the boardwalk or explore one of four hiking trails.
Interdune Boardwalk. At a minimum, take 20-30 minutes to complete this half-mile (650m) stroll along an elevated wooden walkway through the dunes. The experience will include signs explaining the geology, plants, and animals of White Sands.
Four Hiking Trails. There are several other opportunities to stretch your legs at White Sands:
Playa Trail
Dune Life Nature Trail
Backcountry Camping Trail
Alkali Flat Trail
Sage Advice: Despite its name, the five-mile Alkali Flat Trail is actually not flat. You've been warned!
Regardless of the path you pick, be sure to pack plenty of water and these additional, important items when you venture out along the hiking trails in White Sands New Mexico.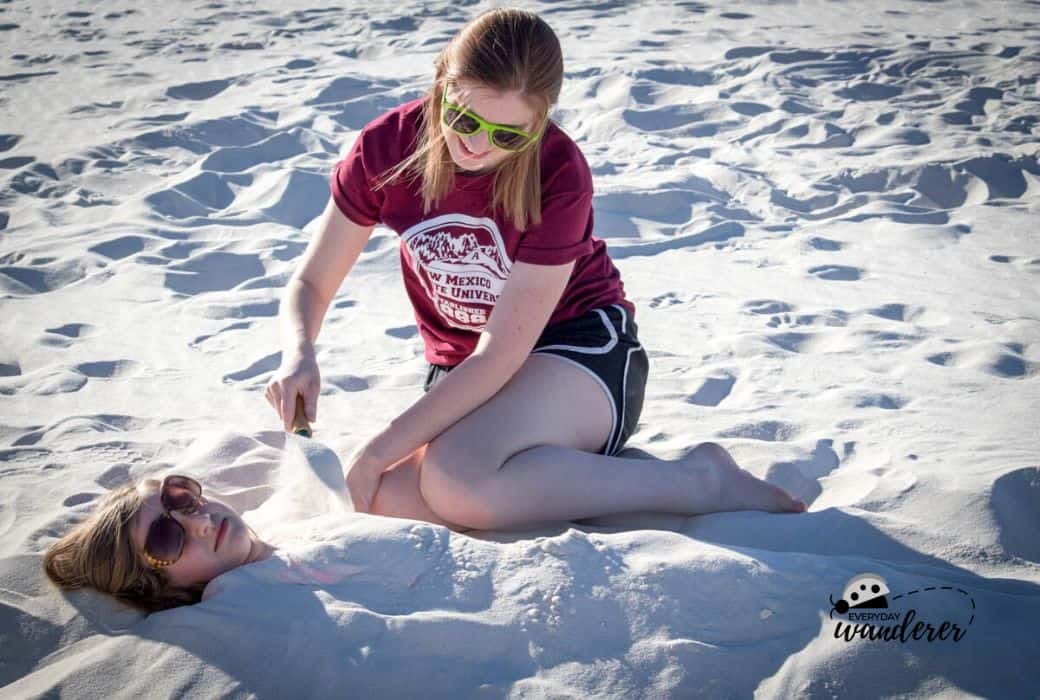 The texture of pure, gypsum sand is like no other sand you'll ever experience. Its fine, powder-soft texture is mesmerizing to sift through your fingers and fun to dig.
While the gypsum crystals (and lack of water) don't make it easy to build a sand castle, being buried in the soft sand can cool you down on a hot day.
If you're like me and love to sled, but hate the cold, then sand sledding is the perfect solution! But because gypsum crystals aren't slippery like snow, you will need to wax up your ride.
Sage Advice: Did you head to the Chihuahuan Desert and forget a snow sled? Don't worry! Sleds and blocks of wax are available in the White Sands Visitor Center.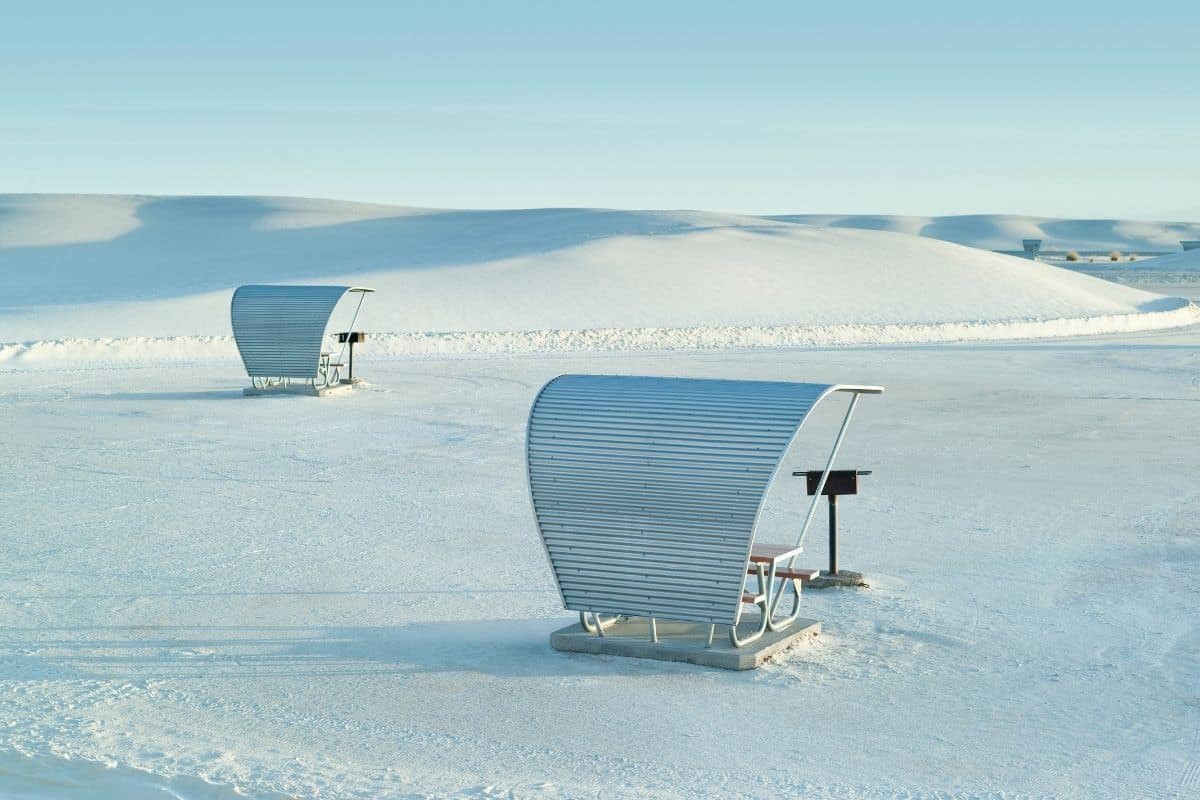 There are more than 60 covered picnic tables, each with a grill, available on a first come, first served basis throughout the national park along Dunes Drive. (If you ask me, they look a bit like Fred Flintstone's rack of brontosaurus ribs at the drive-in.) When enjoying your meal outdoors at White Sands, remember to clean up after yourself and leave no trace.
Sage Advice: White Sands National Park has limited amenities, so be sure to pack adequate food and ample water for your visit.
10. Take Some Photographs
You'll want to capture the beautiful, unique scenery of White Sands, whether it's with your phone or a fancy camera. The lightweight, blowing sand can present unique challenges to other stops on your trip. Try to store your camera when you're not actively taking photos to reduce the amount of sand that ends up in your buttons, dials, and on your lens.
11. Take a Ranger-Guided Tour
Get the inside scoop and explore areas you may not venture to solo by taking a ranger-guided tour. Experienced park rangers regularly lead sunset strolls and other activities including full moon hikes, Lake Lucero tours, and sunrise photography walks.
Whether you experience it as part of a ranger-guided tour or on your own, one of the most beautiful ways to see the snowy white dunes is when the sun sets over the Land of Enchantment. So whether you spend a few hours at White Sands National Park or all day, try to stay for sunset. You won't be disappointed!
Have You Visited White Sands National Park?
What about you? Have you experienced the sandy white dunes of White Sands National Park (formerly known as White Sands National Monument)? Is it on your New Mexico travel bucket list? Share your experience in the comments section below.
Looking for more information to plan your New Mexico vacation? Check out my additional recommendations to help you plan your trip to New Mexico including what to see and do in New Mexico, the best places to stay in New Mexico, where to eat in New Mexico, and more!
Ready to Go?
Use These Helpful Links to Book Your Trip!
More Articles You'll Love!