What Mesilla, New Mexico, lacks in size, it makes up for with history. The town was part of Spain, Mexico, the Republic of Texas, and the Confederacy before joining the United States. Today the historic Mesilla plaza at the center of town is surrounded by unique boutiques and delicious restaurants. These are the Old Mesilla shops you won't want to miss in this historic old town on the the Rio Grande.
Just south of I-10 and just east of the Rio Grande sits the historic town of Mesilla, New Mexico. Small in size, but big in history, the town served as the capital of the Confederate Territory of Arizona during the Civil War and was once the stomping grounds of Wild West legends like Billy the Kid and Pancho Villa. As the crossroads of two major stagecoach routes, Mesilla was one of the most important cities in the region until railroad tracks were laid five miles to the northeast in Las Cruces instead. Ah, the railroad, making (and breaking) town after town in the Wild West.
Nearly two centuries later, the town of about 2,000 remains centered by La Plaza de Mesilla. Declared a National Historic Landmark in 1961, the rectangular green space is anchored on the north end by the Basilica of San Albino. The brick church's double bell towers stand tall above a square that was once full of activity, from speeding stagecoaches to vibrant cantinas. Today, boutiques and restaurants wrap around the plaza and radiate into the streets beyond. These are the best shops in Mesilla, NM.
How to Use This Map
Zoom in or out using the + and – keys in the bottom right corner.
Click the "More options" text link in the upper left corner to open this embedded map in a new browser window and take advantage of more options including the ability to send these directions to your phone.
To help offset the costs of running EverydayWanderer.com, you'll find affiliate links lightly sprinkled throughout the site. If you choose to make a purchase via one of these links, there's no additional cost to you, but I'll earn a teeny tiny commission. You can read all of the legal blah blah blah (as my little niece says) on the full disclosure page.
Arriving in Mesilla from Las Cruces, Silver Assets is a perfect first stop. Just northeast of the plaza, you'll drive by this jewelry store when you turn onto Calle de Santiago from Avenida de Mesilla. Once you park, take a quick stroll back down Calle de Santiago to explore this shop first.
In an old adobe building that was once a carpenter shop, a selection of Southwest Native American, amber, and contemporary jewelry is displayed in antique cases. While Silver Assets offers the beautiful silver and turquoise Navajo-style earrings, bracelets, and necklaces you'd expect to find in New Mexico, you'll also find jewelry made from other stones like cobalt blue lapis, midnight black onyx, and orange and purple oyster shells.
Visit Silver Assets at 1948 Calle de Santiago or browse their cases of beautiful jewelry virtually via their website.
Heart of the Desert Pistachios & Wine
Enjoying the local foods is one of my favorite parts of travel. And while it doesn't usually last long, there's nothing like a food souvenir to connect a beautiful place with a delicious taste. Filled with award-winning, locally sourced wines, flavorful pistachios, and more, Heart of the Desert is a can't-miss shop in historic Mesilla.
Sage Advice: Heart of the Desert offers free wine tasting in all of its stores.
Because New Mexico's chiles are the best in the world, the Land of Enchantment is home to chile everything where you'll find them topping cheeseburgers, mixed into macaroni and cheese, and more. So when you visit Heart of the Desert, be sure to grab some chile-flavored pistachios. Whether you select red or green (the New Mexico state question), you'll be sure to enjoy a bag of this unique New Mexico treat.
Visit Heart of the Desert at 2350 Calle de Principal on the historic plaza in Mesilla. You can also find their products at their farm in Alamogordo (near White Sands), at the Farm & Ranch Heritage Museum in Las Cruces, and at the Cork & Kettle in Ruidoso. Or, visit Heart of the Desert online at HeartoftheDesert.com.
Bowlin's Mesilla Book Center
Continuing along the Plaza de Mesilla, our next stop is a white adobe building from the 1850s on the west side of the plaza. Here you'll find the Mesilla Book Center, a full-service bookstore and then some. Naturally, the Mesilla Book Center specializes in books about the Land of Enchantment, so browse through their extensive collection covering the Wild West, cowboys, Native Americans, and more. In addition to books, the Mesilla Book Center has Southwestern gifts and souvenirs including Navajo rugs, Chimayo blankets, kachina dolls, jewelry, pottery, stationery items, and locally made beauty products.
Visit the Mesilla Book Center at 2360 Calle Principal, where it is open daily.
Thunderbird de la Mesilla
In the red brick building with turquoise shutters and elaborate wrought iron trim at the southwest corner of the plaza is Thunderbird de la Mesilla. Inside, you'll find an unbelievable selection of Native American and southwest-inspired art, jewelry, crosses, home decor, pottery, and clothing. I found a gorgeous ladybug wind chime that I adore, here!
Fun Fact: Thunderbird de la Mesilla is the oldest documented brick building in New Mexico. It was constructed in 1860 by Augustin Maurin using bricks he fired in his own kiln.
Visit Thunderbird de la Mesilla daily at 2380 Calle Principal.
Old Barrel Tea & Spice Company
Located in the southwest corner of the plaza, this female-owned family business is operated by tea lovers. So it's the perfect place to find loose-leaf teas of all varieties, as well as teapots, teacups, and other accessories. Their loose-leaf tea is available in a variety of caffeine levels, so it's easy to make a selection with its potency in mind. I purchased lavender crème brûlée, lavender lemonade, and honeysuckle blossom oolong teas that were every bit as good as they sound.
The tea lovers behind Old Barrel Tea Company sweeten their cups with honey, so naturally they sell a line of raw, unfiltered honey. From desert sage to mesquite, you'll find a wide variety on display, and they offer samples to help you pick the perfect option. Although it's not always available, if you can score some of their avocado honey, I promise you won't be disappointed.
Visit the Old Barrel Tea Company at 2410 Calle Principal in Mesilla. Or, shop online at OldBarrelTea.com. If your travels take you elsewhere in New Mexico, stop by their other locations in Albuquerque, Cloudcroft, or Ruidoso.
Continuing to work counter-clockwise around the Plaza de Mesilla, the next stop on your can't-miss tour of historic Mesilla shops is Nambé. Chances are, if you invite my artist mother to your wedding, your gift will include something from this store. From bar accessories to bracelets, from champagne flutes to flatware sets, and from trays to tea kettles, every item in this store is both beautifully designed and functional.
Visit Nambé at 2109 Calle De Parian in Mesilla. Or, shop online at Nambe.com. If your travels take you elsewhere in New Mexico, stop by Nambé's other locations in Albuquerque, Santa Fe, or Taos.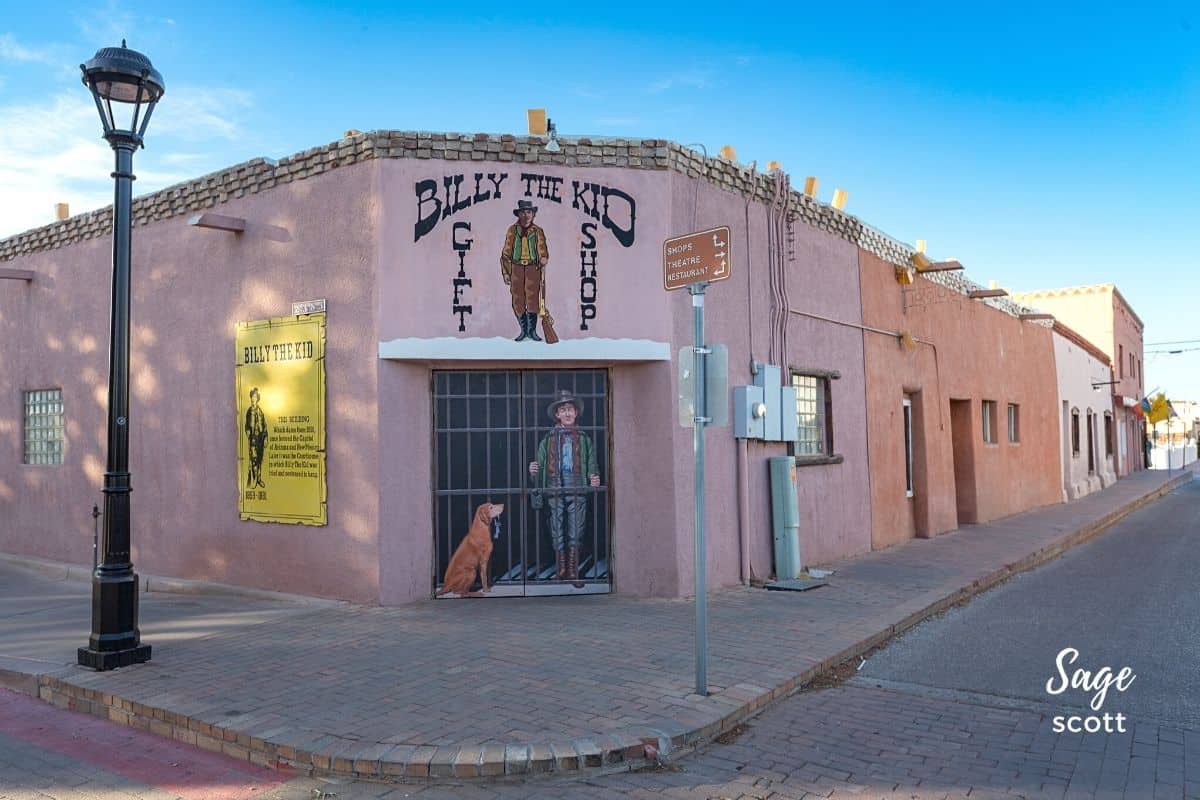 Billy the Kid Gift Shop in Historic Mesilla
At the corner of Calle de Parian and Calle de Guadalupe is a gift shop named after the infamous Wild West outlaw who used to roam these parts. Once the courthouse and the capitol building when Mesilla was the capital of the Arizona territory, the building is as much a can't-miss shop as all of the wares packed inside. Before stepping across the threshold and into the gift shop, admire the 18-inch (46-cm) adobe walls constructed of mud bricks. While browsing through the racks of t-shirts and shelves of souvenirs, take a moment to look up and admire the vigas and latillas overhead. Vigas are large wooden beams that support the roof, and latillas are stripped branches that are layered between the vigas.
Visit the Billy the Kid Gift Shop at 2385 Calle De Guadalupe.
Continuing down Calle de Guadalupe back toward San Albino, the next can't-miss shop is the Chocolate Lady. The store is very small, so it's not uncommon to see the line stretching outside onto the street. Grab a chocolate-dipped strawberry, pistachio cluster, or other white, milk, or dark chocolate treat for the road at the Chocolate Lady at 2379 Calle De Guadalupe.
Sage Advice: While it's easy to stick to the shops right on the Mesilla Plaza, don't overlook other jewelry stores, wine shops, and other boutiques just a few steps away! There are also several places to grab a drink — soda, coffee, tea, or adult — or a bite on and around the Plaza de Mesilla.
Just like you should never miss an opportunity to enjoy chiles in New Mexico, the same can be said about locally-grown pecans. That's why the last stop on this list of can't miss shops in historic Mesilla is Legacy Pecans. They offer plain, sweet, and spicy pecans, including honey toasted, Hatch green chile, and chocolate-covered (my favorite), along with a variety of other pecan products. Take home pecan gifts from New Mexico by visiting them at 2355 Calle De Guadalupe or online at LegacyPecans.com.
How far is Mesilla from Las Cruces?
Old Mesilla is about 5 miles southwest of downtown Las Cruces. Allow about 15 minutes to drive to these Old Mesilla shops from Las Cruces.
How do I get to Mesilla from Las Cruces?
From the Mesilla Valley Mall, take E. Lohman Ave. west to Avenida de Mesilla and turn left. Then follow Avenida de Mesilla to Calle de Santiago. When you turn right on Calle de Santiago, the one-way street will go right past Silver Assets and the San Albino Church.
What else is there to do in Mesilla, NM?
In addition to my favorite shops, explore the beautiful Basilica of San Albino on the north end of Mesilla Plaza. Or enjoy a bite or beverage at one of the cafes or restaurants in Old Mesilla.
What are the best restaurants in Mesilla, NM?
From delicious New Mexican food flavored with Hatch chiles to wineries, there are many delicious places to eat in Mesilla, NM. On and adjacent to the Mesilla Plaza, try Double Eagle Restaurant or La Posta de Mesilla. Just a few blocks from the Mesilla Plaza, you're also sure to enjoy Andele Restaurant, Luna Rossa Winery & Pizzeria, and D.H. Lescombes Winery & Bistro.
Have You Visited Historic Mesilla, New Mexico?
What did you like most? Did you visit any of these shops? Is there a store you think should be added to this list? Share your experiences in the comments section below.
Looking for more information to plan your New Mexico vacation? Check out my additional recommendations to help you plan your trip to New Mexico including what to see and do in New Mexico, the best places to stay in New Mexico, where to eat in New Mexico, and more!
Ready to Go?
Use These Helpful Links to Book Your Trip!
More Articles You'll Love!