Located between the Southern New Mexico towns of Las Cruces and Alamogordo, the soft white gypsum dunes at White Sands National Park are one of the natural wonders of the world. Whether you want to explore the hiking trails, slide down the dunes, or enjoy a picnic in this natural wonderland, here's what to wear to White Sands National Park.
Located in the Tularosa Basin in the Northern Chihuahuan Desert, White Sands National Park is 145,000 acres of ever-changing scenery as the wind and other elements regularly shift the gypsum dunes into new shapes.
As you plan your trip to White Sands National Park, keep in mind the typical weather conditions throughout the year.
February through May

is the windiest season at White Sands. Gusts can appear seemingly out of nowhere, greatly reducing visibility and increasing your chances of being disoriented.

Summer

at White Sands is the hottest time of year. The temperatures in the summer months often exceed 100F. In the summer, it's best to explore White Sands either early or late in the day, avoiding the hottest temperatures and highest UV rays around midday.

June through September

is monsoon season. Expect regular thunderstorms during these months, including lightning without rain.

November through February

is the coldest time of year. In the winter months, overnight temperatures are often below freezing.
Regardless of when you visit, these are the eight things you will always want to wear to White Sands National Park in New Mexico.
Sage Advice: Find the perfect caption for your White Sands Instagram pics with these desert quotes.
To help offset the costs of running EverydayWanderer.com, you'll find affiliate links lightly sprinkled throughout the site. If you choose to make a purchase via one of these links, there's no additional cost to you, but I'll earn a teeny tiny commission. You can read all of the legal blah blah blah (as my little niece says) on the full disclosure page.
Even on the gloomiest day, the sun reflecting off the gypsum dunes at White Sands can be blinding. And if the wind picks up, the fine gypsum sand can easily get in your eyes. So one of the most important things to wear to White Sands National Park is a pair of sunglasses.
While any sunglasses are better than none, the best for White Sands are a comfortable pair of sports sunglasses that wrap along the contour of your face more than typical fashion sunglasses.
Ideally, you'll also want a pair of glasses with:
UV protection to further guard your eyes from harmful rays,
Polarized lenses that allow you to take in the natural beauty at its fullest, and
A strap so you don't lose your glasses if you fall on a hike or have a sledding spill.
Did you know that for every 1,000 feet above sea level that you climb you experience an estimated 10% increased exposure to harmful UV rays? So no matter when you visit, no matter how many clouds are in the sky, and no matter how much melanin your skin possesses, be sure to wear sunscreen at White Sands National Park.
And if the park's location at 4,235 feet above sea level isn't enough, the sun's reflection off of the gypsum crystals requires you to be extra vigilant when protecting your skin. While applying sunscreen with a top-down mindset might work when hiking the Dripping Springs Natural Area in nearby Las Cruces, you'll want to be sure to think about the sun's rays zapping you from below at White Sands. Be sure to carefully apply sunscreen under your chin and under your nostrils. And don't forget to reapply sunscreen as directed on the bottle throughout your stay.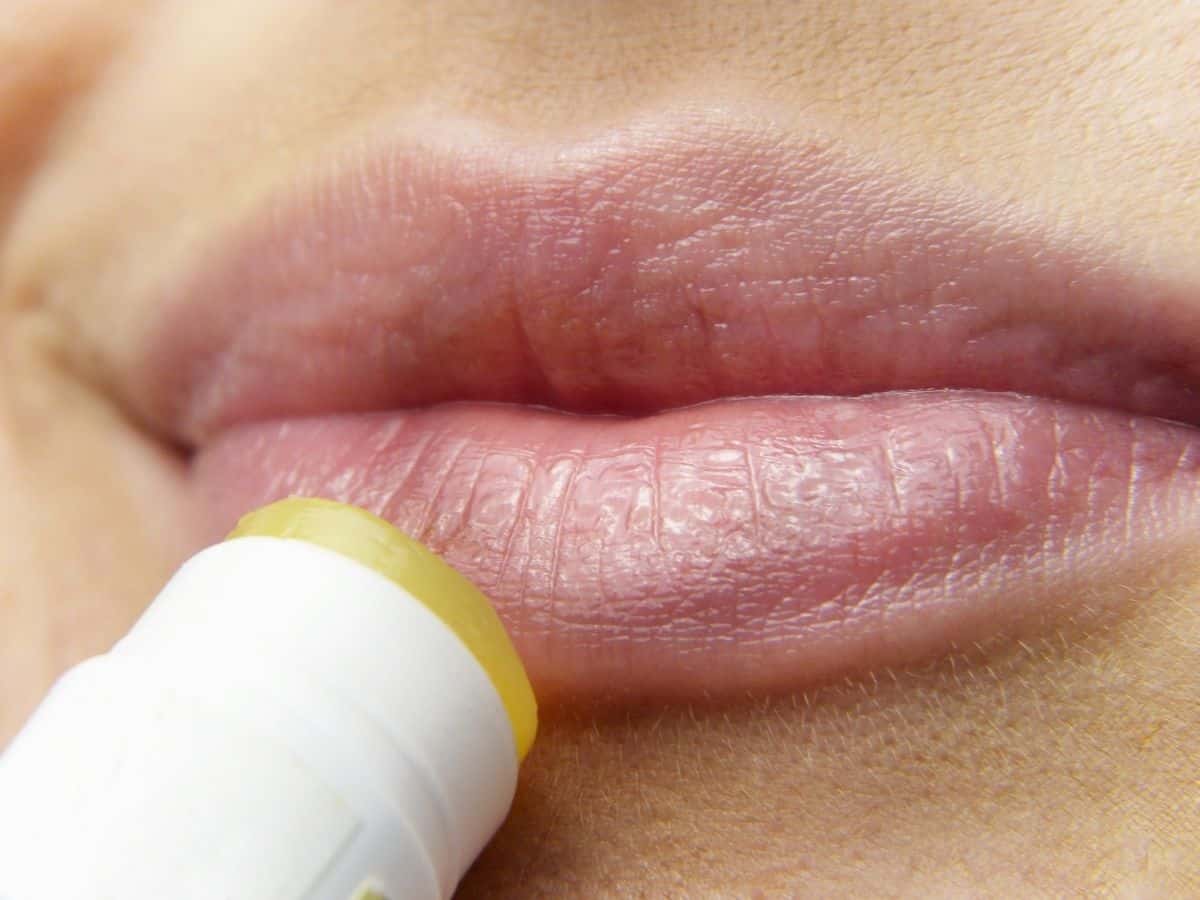 When you pair higher altitudes with an arid environment, your body loses water quickly. While lip balm won't prevent dehydration, it will help keep your lips moist in these conditions. You also don't want to overlook protecting your lips from the sun, so be sure to wear chapstick with sun protection.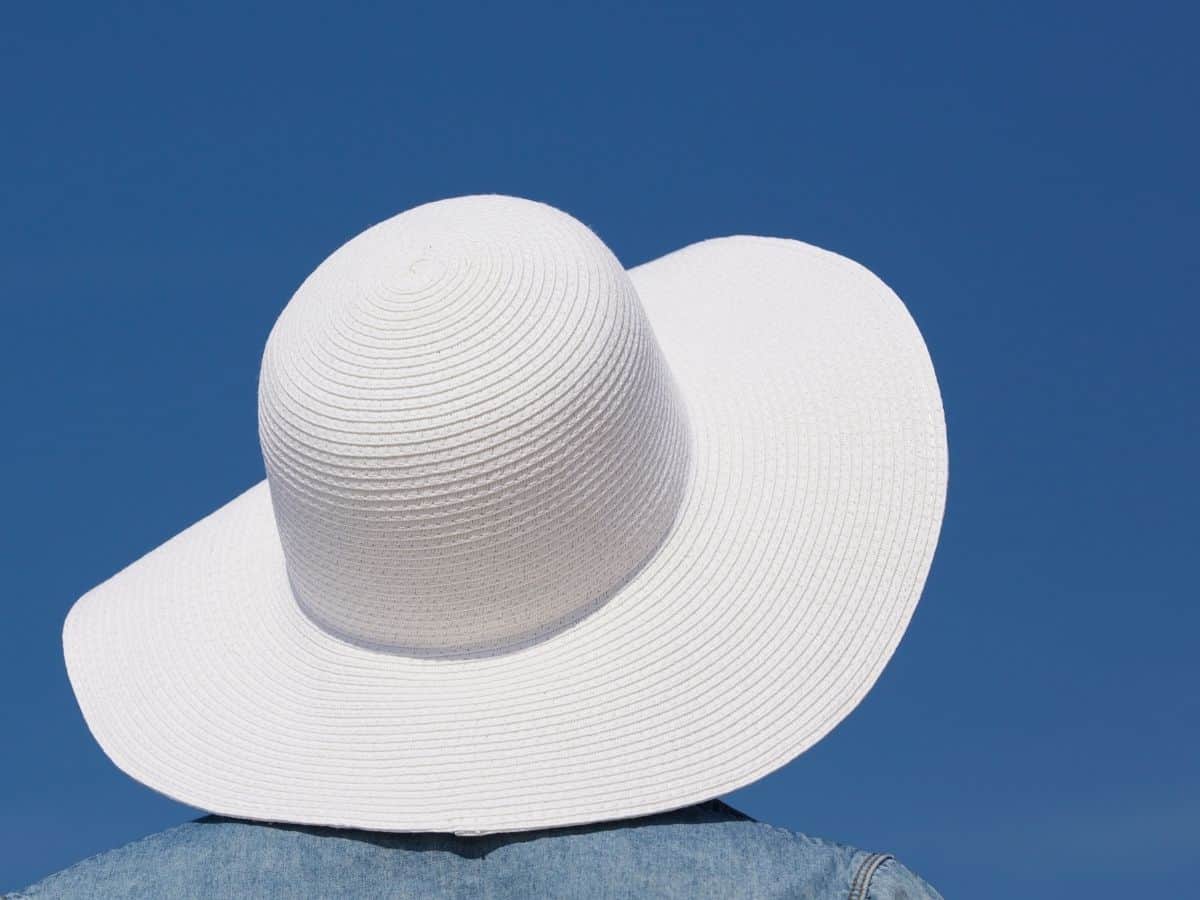 Even after you've slathered on sunscreen, slipped on some sunglasses, and applied lip balm, you're still not ready for a day at White Sands until you don a hat. While a baseball cap will certainly help keep the sun off of the top of your head and nose, it doesn't do a good job of protecting your ears, the lower portion of your face, or the back of your neck. If it's the only hat you have with you, definitely wear it. But there are better options if you plan ahead.
Whether constructed from fabric, straw, or another material, the best hat to wear at White Sands National Park is one with a wide brim and a chin strap that can help hold the hat in place if the wind picks up.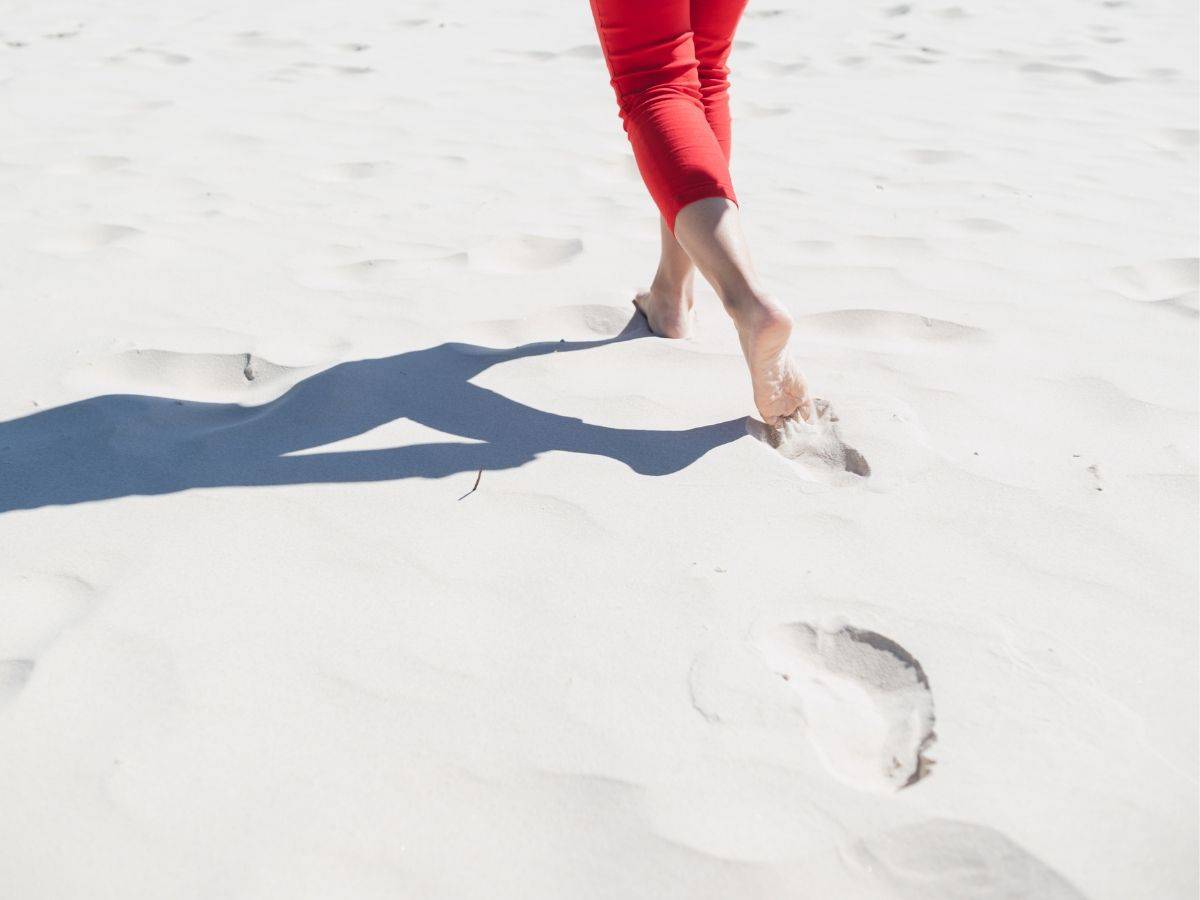 Are you wondering what shoes to wear to White Sands? I have your answer…
Although the sand at White Sands National Park might make you feel as if you're in an exotic Caribbean destination (minus the water), gypsum sand is different from any sand you find at the beach. Pure gypsum sand is a fine, powder-soft texture that remains cool to the touch even on the hottest days. And while it's mesmerizing to sift through your hands and fun to dig, it gets into every nook and cranny of your sneakers or hiking shoes.
So unless you plan on walking several miles or really need the ankle support, I recommend wearing hiking sandals, an old pair of tennis shoes, or even going barefoot at White Sands National Park. I absolutely love my Keen hiking sandals because I can toss them in the washing machine when I get home!
Sage Advice: Even if you have adequate sun protection and plenty of drinking water, do not start a hike if the temperature is at or above 85F! In 2015, a French family's trip to White Sands ended in heartbreak after attempting a hike on a 100F day.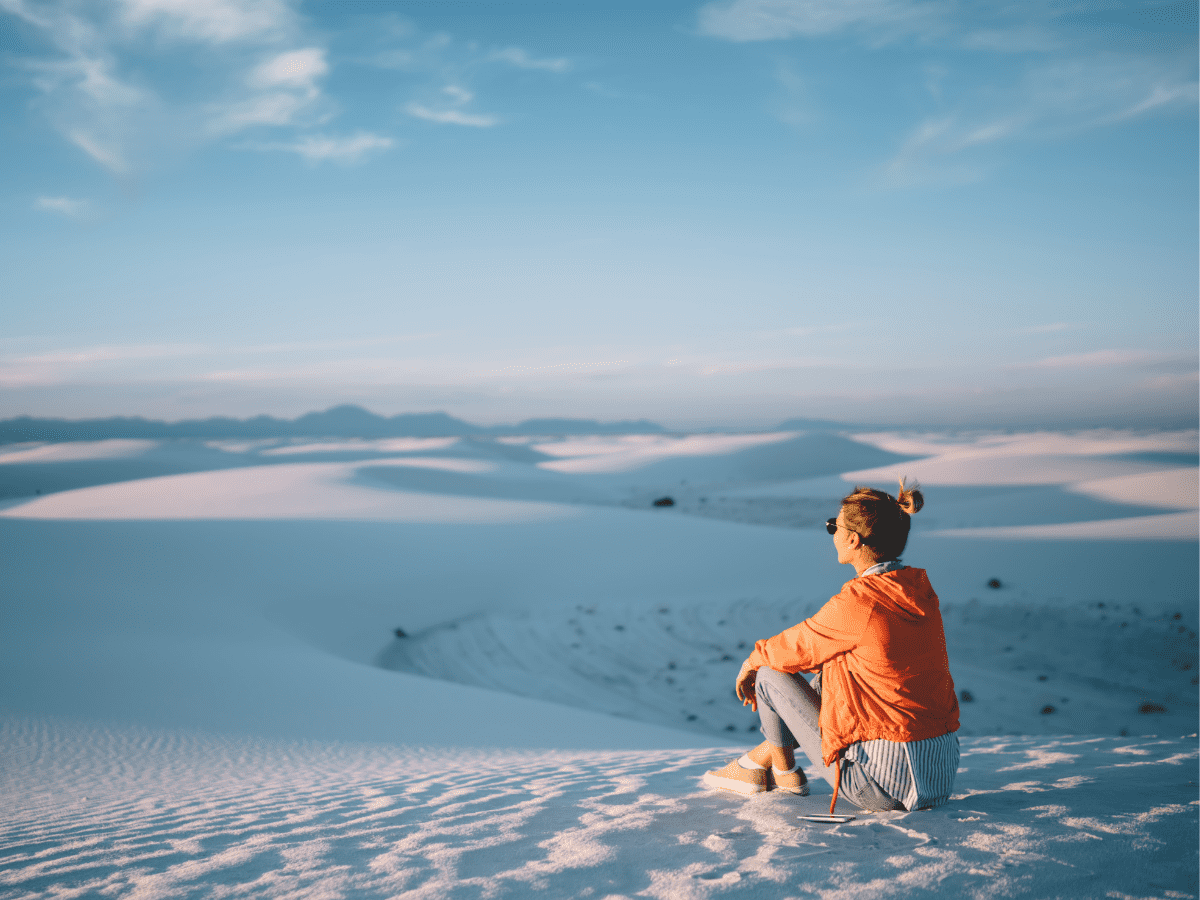 It's not uncommon to experience a 30 degree difference between day and night at White Sands. That means a day that reaches 80F can quickly drop to 50F once the sun sets. When that happens, you'll want to pull pants over your shorts and a hoodie over your tank top. Therefore, I recommend dressing in layers so you can easily strip down or bundle up accordingly.
Whether you're dressing for the heat or prepared for the cold it's a good idea to wear bright colors at White Sands. Gear that is hot pink, highlighter yellow, or hunter safety orange will make it easier for others to spot you if you get lost or disoriented.
You don't need to be decked out in head-to-toe neon 80s fashion, but wearing at least one brightly colored item at White Sands National Park – a sweatshirt, windbreaker, hat, or backpack – is a safer choice than a palette of pale colors.
The final thing you should wear to White Sands is a whistle. Why? Because a whistle is louder and carries farther than a human voice, which is especially important for a person who is disoriented, suffering from dehydration, or some other form of distress in the desert.
Whether you visit during the cooler, windier days of winter or the hottest summer months, wearing these eight items to White Sands National Park will help you enjoy your experience to the fullest.
Have You Visited White Sands National Park?
What did you wear when you visited White Sands? Any additional tips or tricks to pass along? Share your experiences in the comments section below.
Looking for more information to plan your New Mexico vacation? Check out my additional recommendations to help you plan your trip to New Mexico including what to see and do in New Mexico, the best places to stay in New Mexico, where to eat in New Mexico, and more!
Ready to Go?
Use These Helpful Links to Book Your Trip!
More Articles You'll Love!