If you're one of the 12 million Americans visiting Europe this year, this detailed list will help you plan and enjoy your experience to its fullest, especially if you are visiting Europe for the first time.
I am an American who was lucky enough to spend about half of my formative childhood years living and exploring travel destinations in Europe . I've been able to return to Europe regularly since then, both for work and for pleasure, and have used that experience to build out this detailed list to help you when visiting Europe for the first time.
Visiting Europe for the First Time
Scroll down to browse all of the tips, or use these quick links to immediately access a specific category:
To help offset the costs of running EverydayWanderer.com, you'll find affiliate links lightly sprinkled throughout the site. If you choose to make a purchase via one of these links, there's no additional cost to you, but I'll earn a teeny tiny commission. You can read all of the legal blah blah blah (as my little niece says) on the full disclosure page.
Visiting Europe for the First Time: Planning Your First Trip to Europe
1 – Focus
Yes, Europe is the second smallest continent on Earth, but that does not mean it's small! If you plan to hike a glacier in Iceland, cruise the fjords of Norway, cross the English channel by ferry, take a selfie at Neuschwanstein Castle, and climb the Acropolis of Athens all in one week, you are only setting yourself up for disappointment.
When visiting Europe for the first time, focus. Pick a place or two, depending on the time and budget you have to explore Europe, and really experience it.
Pro Tip: This comprehensive travel planner is a great tool if you're visiting Paris for the first time.
2 – Appreciate that Europe is made up of many different countries
While the United States is one country made up of 50 states, Europe is a continent of similar size made up of 50 different countries. Each country has its own history, culture, foods, and language. Don't let the Euro as a common currency in about 20 of those countries trick you into thinking France and Germany are alike. They are actually quite different.
Related Article: Looking for European destinations that are less visited than London, Paris, and Rome? Consider visiting one of these up and coming European destinations.
3 – Do your homework before visiting Europe for the first time
Americans are notoriously ignorant about the world outside of our borders. Rise above the reputation and take the time to educate yourself in advance about the places you're visiting in Europe. At a minimum, you should know historical highlights, key cities, the currency, and the languages spoken.
Pro Tip: Looking for an unusual European destination that is filled with hidden beauty, hipster hangouts, and delicious wine? Then consider adding Moldova to your European travel plans.
4 – Learn a few words and phrases in the local language
Sadly, only one in five Americans believes learning another language is important. In contrast, about half the people in the European Union speak at least two languages, and about 40% speak English. While it's generally very easy for Americans to get around Europe, I still recommend learning a bit of the local language.
Knowing a few expressions in the local language has helped me order breakfast in Berlin, ask for directions to a cash machine in Italy, and get a colleague's suitcase out of a locked room after hours in Sweden (accompanied by world-champion level charades).
Learning a second language is hard, especially if you're trying it for the first time as an adult. Make it easier by carrying a phrase book with you, or keeping a cheat sheet of important words either printed out or on your phone. If you have easy access to Google Translate, it can help you through most language barriers. Duolingo is also a fun, free way to build local language skills before visiting Europe for the first time.
Pro Tip: Will your first trip to Europe take you to Paris? If so, you'll want this complete guide to three days in Paris.
5 – Research local holidays
Public holidays vary by country. Most European countries recognize Christmas Day and New Year's Day as public holidays as we do in America, but they also recognize additional religious and country-specific holidays that may be foreign to most Americans. For example, many sites and shops will be closed around Easter. In some countries, the subsequent holidays of Ascension Day and Pentecost are also observed. No one in Europe celebrates America's Independence Day on July 4th, but Sweden celebrates the summer solstice on Midsummer's Day near the end of June, France celebrates Bastille Day on July 14th, and Belgium celebrates Armistice Day on November 11th.
6 – Consider the time of year when planning your first trip to Europe
If you're looking for the perfect time of year for visiting Europe for the first time, I recommend late May and early June. The weather is nice, the days are long, but most Europeans are still in school and not competing with you for rooms and restaurants while on their own vacations. Note that air conditioning isn't very widespread in Europe. If you don't like the heat, you'll want to avoid visiting Europe for the first time in July and August.
7 – Check the expiration date
Be sure your passport will be valid for the entire duration of your trip, and then some. You never know when volcanic activity in Iceland or some other unexpected event may keep you in Europe longer than planned.
8 – Flying times
My preference is to fly to Europe in the evening. I have found that I do best when I get on my Transatlantic flight, eat dinner, and try to get some sleep before landing the next day. When I arrive in Europe, I have a little energy to do and see a few things before going to bed at a reasonable time. Returning to the US, I prefer an early morning flight home so that I arrive in time to say hello to my loved ones, eat dinner, and go straight to bed.
Pro Tip: Avoid these 20 Mistakes When Visiting Europe for the First Time
Visiting Europe for the First Time: Preparing to Travel to Europe
9 – Make copies
Be sure you have multiple copies of your important documents including your passport, detailed itinerary, credit and debit cards, and medical insurance card. Keep one set of copies with you at all times, ideally in both a printed and digital format. I like to keep a scanned copy of my documents both on a flash drive that travels with me and posted to Evernote or Google Drive. I also recommend keeping a second set of documents in another location, like with a traveling companion or hidden in your suitcase. Be sure to leave a full set with a loved one back in the United States, too.
10 – Take US embassy and consulate information with you
As part of your important document packet, take the address and phone number of the nearest US embassy or consulate with you, especially the emergency after-hours phone number. They are ready and able to assist you with any emergency that may arise when visiting Europe for the first time. Visit the State Department's website to find this information.
11 – Take your extra passport photo with you
You know how you're always given two passport photos but only need one to get your passport? Pack that extra photo! It can be a lifesaver when visiting Europe for the first time. If your passport is lost or stolen while you're abroad, you'll be glad you have your extra photo with you and don't have to also mess with getting a new passport picture taken.
Pro Tip: Will your first trip to Europe include the kids? Get detailed tips and tricks about traveling in Europe with a baby by European city.
12 – Jot down the conversion rate
If you are only visiting countries that use the Euro, this isn't such a big deal. But, if you will be using multiple currencies during your trip, this will help you a ton. Last fall, I visited Denmark, Sweden, Germany, Czech Republic, and Hungary. Two weeks, five countries, and five different currencies. In Hungary, when I went to tip the cab driver, I had a different exchange rate in my head and ended up tipping about 10x more than I intended. My mistake was realized only when I looked back to see the cab driver counting his tip and acting as if he'd won a small lottery.
13 – Consider Purchase travel insurance
I don't think I ever purchased travel insurance until it was mandatory for my daughter's choir trip. Now, I don't know how I ever traveled abroad without it! From a medical coverage perspective alone, I'll never travel internationally again without it. Be sure to purchase travel insurance when visiting Europe for the first time.
14 – Contact your bank
Be sure to contact your bank before visiting Europe for the first time. Not only will you want to fully understand the costs associated with using your cards abroad — including withdrawing cash from an ATM — you'll also want them to know that you'll be traveling abroad so that they don't turn off your cards when foreign transactions start coming in.
If the conversion fees are reasonable, consider converting some cash into the currency of your destination before you go. Because I bank with USAA that has no brick and mortar presence in my area, I never bother to convert currency before my trip, and it's never been a problem. However, I do have friends whose banks will allow them to easily and inexpensively convert US Dollars into Euros. In that case, and especially for Euros which are widely accepted even in the countries not officially using the Euro, it's not a bad thing to consider doing.
15 – Fill 'er up
Ensure you have an adequate supply of any prescription medication before your trip. Trying to get a refill in Europe will be difficult, if not impossible. Do the same with any over-the-counter medications you take regularly or anticipate you might need including vitamins, herbal supplements, essential oils, cold and flu medicine, cough drops, and allergy tablets.
16 – Can you hear me now?
While Wi-Fi access is fairly prevalent throughout Europe, international phone and data charges can quickly add up. Contact your cell phone provider before visiting Europe for the first time to be sure you understand your coverage options, plan costs, and other charges. Take step-by-step directions for any phone settings that need to be changed when you arrive in Europe and how to make a local call from each country.
17 – Contact your healthcare provider
While the local US embassy or consulate can help you obtain medical care abroad, you still need to know what coverage you have abroad and what to expect in case of a medical emergency. Depending upon your medical plan, trip insurance may be a worthwhile expense to help provide you with adequate coverage in case of emergency.
18 – Book some sightseeing tickets in advance
Once you have finalized your dates and destinations, start purchasing some of the hotter sightseeing tickets in advance. When I was in Milan, I waited too long to look into tickets for Leonardo da Vinci's Last Supper and they were all sold out. If ascending the Eiffel Tower is on your sightseeing list, purchasing those tickets in advance can save you hours of time wasted waiting in line. That said, don't pre-book every single activity leaving you no room for flexibility or adjustments based on the weather.
19 – It is okay to skip the things that aren't of interest to you!
Growing up, my artist mother dragged me to every art museum in Western Europe. While I love Impressionist artists like Claude Monet, I have absolutely no appreciation for the dark, gory, religious paintings of the Baroque period. I don't think twice about skipping the sections of the Louvre that don't appeal to me or skipping the Louvre completely in lieu of the Musee d'Orsay. While Disneyland Paris may have rave reviews online, but it's about the last place on earth I'd visit if I were in France.
Pro Tip: For advice on what to do and see when visiting Paris for the first time, check out this three-day itinerary.
20 – Pack snacks
I recommend high protein, low sugar snacks like nuts, protein bars, granola bars, beef jerky, and trail mix. Plus also, emergency chocolate can come in handy when visiting Europe for the first time. You never know when you'll be stuck at an airport and the shops are closed or when you'll wake up in the middle of the night from jet lag and be hungry.
Pro Tip: Speaking of packing, this carry-on only packing list is one of my favorites to help ensure I don't leave any essentials behind.
21 – Square peg in a round hole
American electronics will not plug into European outlets, so be sure you have the proper outlet converters before visiting Europe for the first time. Note that the United Kingdom has different outlets than continental Europe. Therefore, I recommend an all-in-one converter. Yes, they are a little bit more pricey, but you're pretty much set for any outlet in the world with one of these bad boys!
I usually take three converters with me so that I can use or charge multiple items at once. I also recommend carrying at least one converter with you on the plane so you can immediately recharge your phone, laptop, or any other device on the ground in Europe, as needed. If you don't want to spend they money for an all-in-one converters, this is one of the best simple adapters for Europe.
22 – Plan to be without your suitcase for 24 hours
While my luggage has never been lost on an international flight, planning to be without it for up to 24 hours helps prepare you for that possibility. I always carry at least one clean t-shirt, a fresh pair of undies, a toothbrush and toothpaste, and a day's worth of snacks with me. Tucking everything (except the snacks) in a small compression packing cube keeps my change of clothes together, saves space in my carry-on, and prevents my undies from accidentally falling out with my tablet.
Pro Tip: If you wear contacts or take medication, be sure you have contact solution, your glasses, and your medication in your carry-on luggage, as well.
Pro Tip: As you prepare for your first trip to Europe, this guide will help you find the best travel backpack based upon your needs. And, if you plan on backpacking around Europe, don't miss this complete backpacking gear list.
23 – Block it
Any US passport issued since 2006 includes an RFID chip that allows your passport to be read with ease. While I've read mixed things about RFID blocking holders — some say you absolutely need one, others say they are unnecessary — I've chosen to take no chances.
Visiting Europe for the First Time: Getting to Europe
24 – Drink lots of water on the plane
Airplane cabin humidity levels are generally lower than the Sahara Desert, and dehydration amplifies jet lag, so be sure to drink plenty of water on your flight.
Pro Tip: If you plan to visit the Alps or another area of Europe that is at a higher altitude than your home, be sure to read these tips for adjusting to higher altitudes. And get answers to all of your embarrassing altitude sickness questions in this related article.
25 – Keeping germs at bay
The good news is that your Transatlantic flight will be filled with people from many countries around the world. The bad news is that you never know what germs you might be exposed to in the hours you spend with them in the relatively close quarters of the airplane. Known as Thieves by Young Living customers, On Guard by dōTERRA fans, and Immune Strength by Rocky Mountain Oils lovers like me, I swear by one of these essential oil blends to help protect me from the germs on board the plane, from the common cold in the seat next to me to the potential flu bug a few rows back.
I apply the essential oil at least 30 minutes before boarding the plane and then another time or two while on board. With clove, cinnamon, and orange oils as key ingredients in this blend, I find the scent of these blends to be quite pleasing and reminiscent of Christmas. One of my co-workers refers to my oils as Hot Damn! because it reminds her of cinnamon schnapps.
26 – Try to sleep
As someone who has a hard time sleeping in the comfort of my own bedroom most nights, I feel like a bit of a hypocrite giving this advice, but resting as much as you can will help you enjoy your time on the ground when visiting Europe for the first time. You'll be excited for your trip and distracted by the in-flight movies and entertainment.
Pack a neck pillow (inflatable is best so it doesn't take up much room), face mask, and earplugs to help you get comfortable and get some rest. I also pack lavender essential oil to help me calm down and relax. And I always have tart cherry extract (which contain natural melatonin) as well as melatonin tablets with me.
Pro Tip: You do not need to pack a full-sized pillow or bring a quilt with you; the airline will have a small, sanitized pillow and blanket for each passenger.
27 – Minimize alcohol intake
Most international flights will include beer and wine at no additional charge. When it's included in your ticket price, and especially if you are a bit nervous or excited, it's easy to over-indulge on wine on the plane. Enjoy a cocktail before dinner or a glass of wine with your meal, but try to limit your alcohol to one glass so you can stay hydrated and sleep on the flight.
28 – Brushing your teeth
If you want to brush your teeth on the plane before you land, do not brush your teeth with the water from the tap in the bathroom. Take a cup of bottled water in with you instead.
29 – Don't pass up a chance to pee
When you land in Europe, don't pass up the first chance you get to use a real restroom on the ground. Once you get in line to enter the country and have your passport stamped, you might not see a restroom for a while and sometimes the lines can be quite long.
Visiting Europe for the First Time: Getting Around Europe
30 – If at all possible, do not drive when visiting Europe for the first time
The cars, roads, and parking spots are much smaller than in the US. The signs vary by country and are all quite different than back home. In many cases, signs may only be in the local language. And, it's another whole ballgame if you're visiting the United Kingdom where they drive on the left side of the road.
If you must drive in Europe, be sure to research license requirements in advance. In many countries, your American license alone is not enough. You may be required to supplement it with an International Driving Permit. And, because manual transmission vehicles are the norm in Europe, be sure you reserve a car
with automatic transmission well in advance to help ensure one is available when you arrive, unless you look forward to driving a stick shift.
Pro Tip: If you do choose to drive when visiting Europe for the first time, here are 12 tips to help you save on a car rental. And if you decide to tour Italy by car, you'll want to read this guide to driving in Italy.
31 – Bring good walking shoes
Whether you're in a big city like Amsterdam or a smaller town like Maastricht, walking is one of the fastest, scenic, most efficient ways to get around the historic, densely populated continent of Europe. Cobblestones are prevalent in towns and cities of all sizes, so flat, comfortable, practical shoes are a definite must.
32 – Expect bicycles everywhere
Bicycles are very common throughout Europe, perhaps nowhere as much as in The Netherlands where they outnumber people. It's relatively easy to rent a bike throughout much of Europe, especially now that kiosk options exist.
Pro Tip: Before you hit the road on a bicycle, be sure you know (and follow) these important biking rules!
33 – Take advantage of mass transit when visiting Europe for the first time
If you don't use public transportation frequently in the US, European mass transit can sometimes be a bit confusing or even overwhelming. Within cities, subways like the Paris Métro and city buses can quickly and affordably get you to the places that are beyond walking or biking distance.
Between cities, consider buses or trains for affordable travel. In many stations, tickets can be purchased directly from a kiosk. This is a fast, convenient way to purchase tickets if know what you're doing, but a confusing option if you don't. While the lines are often long, especially during peak travel, don't be afraid to stand in line at the ticket counter to work with someone face-to-face. Once your ticket is purchased, it often still needs to be stamped at the machine on the platform before you board.
34 – Security in public places
Don't be alarmed if you see police officers decked out in what looks like combat gear carrying heavy-duty machine guns in airports, train and bus stations, and even at popular tourist locations.
35 – Transportation strikes
These can be a relatively common occurrence, especially in France and Italy. While they sound scary and are absolutely a nuisance, they are usually announced in advance. Watch for any signs announcing an upcoming strike, and ask your hotel front desk for more information and assistance. A transportation strike hit France a few years ago on the day I was scheduled to fly home. The hotel staff knew how to contact an independent, Vietnamese cab driver who wasn't striking, and I was able to get to the airport without any trouble!
36 – All aboard!
Once you're on board a train, be mindful of local customs. While Americans will happily chat up a stranger on a flight, this is less common in Europe. Even within your travel party, be mindful of the volume and nature of your conversation. One American colleague and I took the train from Amsterdam to Paris and sat in business class seats across the aisle from one another. On board we carried out a work conversation at our normal speaking voices for about 30 minutes before another passenger very politely told us that we shouldn't be talking in this train car because everyone else was there to work during the trip.
37 – Air travel within Europe
If you travel by plane within Europe, be mindful that the airline travel rules vary. For example, most European airports I've been in recently do not require you to remove your shoes. Watch for signs, nearly all of which are in English, and look ahead of you in line to see what others are doing.
38 – Hidden fees
Like many domestic carriers do, several continental airlines will charge you for each checked bag. You may also be asked to pay extra fees if your bag weighs more than the domestic carrier's limit.
Visiting Europe for the First Time: Experiencing Europe
39 – Be mindful of pickpockets
Just like you would in any large city in the world, be especially mindful of pickpockets, especially in heavy tourist areas, when stopping to observe a street performer, and when using mass transit. I recommend taking a small, cross-body bag to keep your essentials safe on your first trip to Europe. Men, put your wallets in your front pocket. Split your cash and bank cards up, and stow them in a few different places, like your wallet, zipped into an interior pocket of your purse or backpack, and in the safe at your hotel. Do not walk around with your phone in your hand unless you're using it at that moment to snap a photo or look something up.
I wish I didn't have as many firsthand stories from American colleagues who have had their cell phones, passports, or purses stolen in Paris as I do! From the seasoned American traveler whose instincts told her to wrap her arms around her cross-body purse when a small group of gypsies approached her by the Notre Dame (only to realize they'd slipped her cell phone from her hand while she protected her purse) to a Dutch colleague whose phone was lifted from a table at a sidewalk cafe while she was telling the others in her travel group about the importance of not leaving your phone on the table.
40 – If you have a hard time communicating, don't get frustrated
And absolutely do not raise your voice.
While Americans are fortunate that most Europeans speak English, chances are you'll likely have at least one encounter with someone who do not. After all, there are 84 languages spoken in Europe, plus more localized dialects. When you play charades and your team doesn't understand what you're trying to convey, you have to take a different approach. That will serve you well in this case, too.
Use simple English words free of idiomatic expressions or slang. Speak slowly. Try gestures, but be mindful that the gestures we use in the US don't always translate the same way across the Atlantic Ocean. For example, a thumbs up sign signaling that something is okay is akin to ordering one of something in Europe.
41 – We'll never be royal
Most Europeans will have learned Queen's English and will use British, not American, words like lorry (truck), trolley (cart), lift (elevator), bin (trash can), courgette (zucchini), crisps (potato chips), chips (French fries), and rocket (arugula). So you might even need to learn a few new words in your mother tongue before traveling!
42 – Watch what you say
While you may not be able to understand the conversations around you, nearly everyone you pass can understand you. Be thoughtful about what you say in front of others!
43 – Expect a different sense of personal space when visiting Europe for the first time
In a continent three times more densely populated than ours, Europeans from all countries tend to have a different sense of personal space than Americans. As someone who lives in the Midwest, where things are even more wide open and spacious than the big cities on either coast, I have to be especially conscious about not taking a step back to add space to my interactions with European colleagues. Don't feel threatened or like someone is "all up in your space" if they are closer than is typical back in the US.
44 – Handshakes and social kissing
While American handshakes are all about a strong grip and length (at least two or three "pumps"), European handshakes are typically soft and short in comparison. After an initial introduction, I've found it common for personal and professional acquaintances from all European countries to move from handshake greetings to social kissing. While Americans are more likely to hug, reserving kisses for extremely close friends and families, the opposite is typically the case throughout Europe.
When it comes to social kissing, here are a few guidelines. Limit your smooch to the cheek, and always start with the right. Know how many kisses are typical in each country, like usually two kisses in France and three in The Netherlands, but don't worry about it too much as it's usually pretty easy to follow the lead of your European counterpart.
45 – Typically not a 24/7 kinda world
While Americans from cities and towns of all sizes are fairly accustomed to extended hours at grocery stores, transportation counters, and pharmacies, this isn't as common throughout Europe. Many businesses may be closed on Sundays, for local holidays, and many stores will close by 6:00 pm most days of the week. Do your best to plan ahead, and always double-check the posted hours.
46 – What's in a name?
Many cities are known by different names based on the language. What is Prague to Americans is Praha to the Czech. The German town of Aachen is listed as Aix-la-Chappelle in the neighboring, French-speaking part of Belgium. Knowing each city on your itinerary by its various names is especially important when driving or taking mass transit.
47 – Always be aware of your surroundings
In the four decades I've lived in or traveled within Europe, I've experienced anti-American protests in London, Occupy Wall Street protests, violent brawls between Algerian and French World Cup soccer fans in Paris, and pro-Democracy riots in Istanbul. As you admire the architecture, savor the new foods, and drink in the experiences that surround you, watch for warning signs. Some of the most obvious are crowds of people chanting, streets lined with police vans, and people carrying gas masks. Look at the locals — shopkeepers, people carrying grocery bags, front desk personnel at your hotel — and watch for any signs of hesitation or concern. Know the areas of town you should avoid after dark by doing your homework and checking with the hotel staff.
Visiting Europe for the First Time: Getting a Good Night's Sleep
48 – Room for one
While Americans are used to hotel rooms that usually contain either one king or two queen-sized beds and enough bath towels for four people, European accommodations are usually quite different. There is such a thing as a single room, and it is what it sounds like: a room with a single bed and one bath towel. A room with a double bed is not uncommonly two single beds pushed together.
Pro Tip: Determine the perfect part of Paris for your lodging with this detailed guide by arrondissement.
49 – Washcloths
There are usually no washcloths in Europe, so if you regularly use one, be sure to pack one plus a plastic bag to keep it in if it's not fully dried when you check out.
50 – Double duty
The sleep mask you used to block out light and catch a few zzzzzs on your flight across the ocean will also come in handy in your hotel room. If you visit Europe in the summer, you'll likely experience much earlier sunrises and much later sunsets than back home. Unless you're visiting Europe for the first time from Alaska.
51 – Double duty, part deux
While grocery stores and pharmacies might close by 6:00 pm most days, the bars and nightclubs throughout Europe are often open until nearly dawn. The earplugs you used on your flight to Europe will also minimize the sounds of the locals stumbling home in the wee hours.
52 – The key to keeping electricity costs low
To help manage electricity costs, many hotels require you to place your room card in a special slot near the door before any lights or electrical outlets will work. Keep in mind that when you leave your room and take your key, the power outlets often cease to work. I learned this the hard way when I left my laptop charging while I went to grab breakfast only to learn that it wasn't charging at all! Most hotels are willing to give you a second room key, so grab a second key if you need to charge your electronics while you're out.
53 – Stairway to heaven
Especially in older, more historic hotels, elevators are small. And by small, I mean that you and your bag may be the only items that will fit in some of the elevators! Unless you are on a high floor, are lugging heavy suitcases, or have a physical condition that makes it difficult, the stairs are usually used to leave the elevators open for other guests.
54 – Ground zero
While Americans consider the ground floor to be the first floor, Europeans consider the first floor above the ground floor to be the first floor. This tidbit will help you find your hotel room. And it will help you count how many more flights of stairs you have to lug your suitcase in a building without an elevator.
Visiting Europe for the First Time: What to Eat and Drink
55 – Amazing food
While it is possible to find a bad meal in Europe, it's usually pretty hard. After hundreds and hundreds of meals in Europe, only two have been less than stellar. Most restaurants prepare foods from scratch with fresh, seasonal ingredients. Along the coasts, fish and seafood is often caught and served the same day. Desserts are incredibly flavorful and not as sickly sweet as they often taste in the US. Enjoy the food to the fullest, and know that you're likely walking enough to compensate for any incremental calories!
Pro Tip: Experience Italy's amazing cuisine in a unique way by taking a cooking class in Florence.
56 – Eat away from tourist attractions when visiting Europe for the first time
To increase your chances of an amazing meal, eat at places away from the main attractions. Research your options online, read reviews, or ask a local contact for recommendations.
57 – Stretch your food budget
To experience as much as possible while getting the most bang for your buck, eat at least one nice, big meal a day. For the other meals, try grabbing a coffee and a baked good from a local bakery, a sandwich from a street stand, or items from a grocery store. Sample the local beers, wines, and spirits by purchasing them at a store rather than a bar.
58 – Request an English menu when visiting Europe for the first time
If one is not automatically offered to you, ask your server if they have an English menu. Most restaurants have a few available, and they make it easier for you to order your meal.
59 – With gas or without?
This is often one of the first questions you're asked in a restaurant. The term "with gas" translates to "carbonated water" to us Americans, and is a common option throughout Europe.
60 – Chill out
From water to beer, drinks throughout Europe are typically served without ice and at warmer temperature than Americans tend to prefer.
61 – No "free" refills
The concept of unlimited drinks is very American and not common elsewhere. I've read several theories about why there aren't unlimited refills in Europe. One theory is because sodas in Europe are served from individual glass bottles rather than the huge fountain dispensers common in the US. Another reason cited is that European beverages use real sugar instead of high-fructose corn syrup, and that increases the cost. Either way, expect to be charged several Euros for a small bottle of soda in most of Europe and enjoy the quality — real sugar — over quantity — no 48 ounce glasses.
62 – In most countries, beer and wine can be consumed starting at age 16
I share this in case you are the parent of a child who is under 21 and headed to Europe.
63 – My food is looking at me
Seafood dishes will often be served with the heads still on the fish and full shrimp that need to be pulled apart before consuming.
64 – 100% Angus
Unless you're interested in trying horsemeat, don't eat any steak, chopped meat, or beef that isn't defined as 100% Angus. While it is usually listed as horsemeat on the local language menu, I've experienced at least one restaurant in France that only translated it as "chopped steak" on the English menu. Yes, my American colleague was grateful that I studied French and had a French menu in front of me.
65 – Dinner is an experience
Set aside plenty of time for dinner in Europe. It is an experience that should be savored and not rushed. Additionally, as you travel south in Europe, expect dinner to be later and later in the evening. Scandinavians typically eat around 6:00 pm, like the average American. Central Europeans eat around 7:00 pm, and Southern Europeans eat at 8:00 pm or later.
66 – Seat yourself
For drinks, refreshments, or meals at cafes or bistros, you can generally seat yourself and wait for someone to take your order. Avoid any table with a reserved sign, and only sit at an open table set with silverware if you plan on eating. If you're just grabbing a drink, opt for a table without silverware instead.
67 – Sharing tables
In some countries, especially in Germany, it's not uncommon to be seated at a table already partially occupied by other diners.
68 – Limit special requests
Unless you truly have a critical, life-threatening dietary restriction, avoid making changes to the dishes as listed on the menu. If you have a serious food allergy, pack allergy food cards translated into the languages of the countries you're visiting to help ensure you stay safe. There are laminated cards for gluten, milk, nut, shellfish, and other food allergies, translated into every European language that help make it easy for you to communicate this important information in every country you visit.
69 – Different meaning of the same word
The word entree in European dining usually refers to a first course, like an appetizer in America. Main dish is the term Europeans use for what Americans call an entree.
70 – Holler if you need anything
Because dining with friends is a social occasion, servers will not interrupt you every five minutes to ask if everything is okay. If you need something, simply make eye contact with your server or raise your right hand to signal that you need something.
71 – Request the check when ready
Because enjoying a delicious meal with friends is a social occasion, most European waiters will wait until you ask to bring you the check. Overall, the best way to ask is to either make eye contact or raise your right hand and make a signing motion. In some countries, it's rude to wave your hand, and in just about all countries, it's rude to snap your fingers.
Pro Tip: Earn bonus points as a seasoned world traveler by learning how to say, "Sir/Madam, the check please" in the local language!
72 – A tip about tipping
While we usually tip around 15% in the US, in part to fully compensate wait staff who receive lower hourly wages, tipping is much less expected throughout Europe. This is because most countries fully compensate their staff for their work and the service is already included in the prices listed on your bill.
If you order your food at a counter, you do not need to tip at all. However, if you are served by a waiter or waitress and want to add five to ten percent for excellent service, your server will usually appreciate the gesture. Whether paying in cash or by card, your server will typically want to know what you'd like the total charge to be at the time of payment. If your bill is €22 and you want to add a €3 tip, simply tell the waiter €25 when you hand him your card or cash.
Because European wait staff know that Americans tend to be generous tippers (by their standards), it's not uncommon for them to stamp "Service Not Included" on the receipt in English to try to get a 15%+ tip out of tourists. When in doubt, research the tipping customs for each country you plan to visit in advance.
73 – Hot dog!
In most European countries, it's not uncommon to see dogs in restaurants. They are usually very well behaved, resting patiently under the table for hours while their owners enjoy their meal.
Visiting Europe for the First Time: Paying for Things
74 – Always pay in local currency when visiting Europe for the first time
When swiping your debit or credit card, you might be asked if you'd like to pay in US dollars or the local currency. Always pick the local currency or you may unknowingly be charged an additional 3-5% for the "convenience" of having your purchase converted from the local currency to dollars.
75 – Cards with chips
While American banks and credit card companies began issuing cards with embedded chips in 2015, cards with chips have been prevalent across Europe for years. If you have both an embedded chip and a four-digit PIN for your card, you should be able to use your card in about every instance. Without a chip and PIN, you may experience issues at kiosks, like train station ticket machines, and with some point of sale machines.
76 – Don't let your credit card out of your sight
While Americans routinely sip their cards in bill portfolios that waiters whisk away to run at a register elsewhere in the restaurant, that doesn't happen in Europe. The wait staff will always bring a portable reader to your table to settle up with you.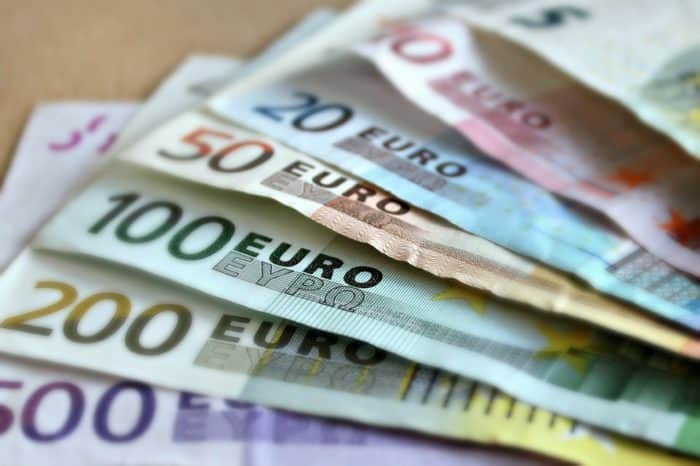 77 – Carry enough cash
While just about every business in America, including some vending machines, accept debit and credit cards, many small businesses and eateries only accept cash. And if you withdraw cash in Europe, be sure to follow these travel safety tips when using an ATM.
78 – Keep the change
The first Euro bill is a €5. Everything else is in coin form, so you may want to take coin purse along, even the men.
79 – Keep each currency in its own coin purse when visiting Europe for the first time
The last place we lived in Europe was in Maastricht, in the very southern tip of the Netherlands. In less than 30 minutes, we could be in either Belgium or Germany. Because this was before the Euro, my Mom usually had Belgian Francs, German Marks, and Dutch Guilders in her purse. She kept each in its own coin purse to keep things straight, a concept I still use on my trips today. I have a small coin purse for Euros and another for British Pounds. Any other currencies go into their own, super classy, snack-sized Ziploc bag marked with the currency and current exchange rate.
80 – No hidden charges
Taxes, while usually quite high, are included in the price as marked. There is nothing more to pay at the register, as is the case in most states.
Visiting Europe for the First Time: Other Tips and Tricks
81 – Not free to pee
You may need to pay a small fee, either via a coin-operated entry door or to a restroom hostess, to use the restroom in Europe. This is yet another important reason to be sure you have cash on you at all times, especially smaller coins.
Europeans typically call the restroom the "water closet" or WC. However, Joy from FatMoments.com joked that she believes that means "with coins."
Pro Tip: While it's usually not free to pee in Europe, check out this walking tour of London that includes a secret tip on where to pee for free.
82 – It's a small world after all
As mentioned above in the "personal space" section, the European continent is about three times more densely populated than the United States. Expect things to be much smaller than you're used to back home, from hotels to cars, from bathrooms to parking spaces.
83 – Twenty-four hours in a day
Europeans use 24-hour time, rather than AM and PM. Additionally, it's typically written with the hour, the local language abbreviation for hour, and the minutes. So what would be 4:24 pm in Chicago would be written as 16h24 in France. While it does take some getting used to, it's simple to convert any afternoon time to PM by simply subtracting 12.
84 – It's a date!
In addition to using 24-hour time, Europeans usually write dates following a Day/Month/Year format rather than the Month/Day/Year format used most commonly in America.
85 – Eight days a week
Unlike American calendars that start on Sunday and end on Saturday, European calendars typically start on Monday and end on Sunday.
86 – A logical measurement system
Farewell confusing, archaic imperial measurement system; hello brilliantly logical metric system! Prepare to hear the day's temperature in Celsius, not Fahrenheit. The distances between cities will be provided in kilometers, not miles, and the gas you fill into a rental car will be measured in liters, not gallons. The fresh cherries you purchase at the market will be weighed in kilos, not pounds.
87 – Breathe happy
If you are a non-smoker, be sure to pack a travel-sized bottle of Febreze. Not only do the residents of many European countries consume more cigarettes per person than in the US, but also they are allowed to smoke in places not commonly allowed anymore in the US. Febreze does a good job of reducing the lingering, second-hand smoke smell from the items you plan on wearing more than once — like jeans and jackets.
88 – Naked truth
Across the continent, Europeans have a much different philosophy about nudity and sex. Shower gel commercials will feature women's breasts, younger children will often be completely naked at the pool, and public service announcements promoting condoms to practice safe sex will be rather graphic.
89 – Pardon my French
American swear words aren't really swear words to Europeans who speak English as a second language and hear them regularly in American movies and song lyrics. Years ago, when my children were young and impressionable, my German friend regularly used the word ass around them when referring to her rear end because she'd never learned any different word for this part of one's anatomy. I've heard young elementary school children in Europe use the "f-word" without any context to how offensive and inappropriate a word that is in our country.
90 – When in Rome
Do your best to blend in rather than shining a bright spotlight on your nationality. Don't wear clothing with the American flag on it, or use a suitcase, backpack, or purse with one, either. Don't dress too casually by donning sweats, athletic shorts, beat-up tennis shoes, or yoga bottoms. Be mindful that some brands just scream American, like Uggs and North Face. So does sporting a t-shirt emblazoned with your favorite American sports team or alma mater.
91 – Sunday best
Be mindful and respectful of local customs when visiting religious sites. Most cathedrals, churches, synagogues, and mosques expect visitors to have their shoulders and knees covered. Women visiting mosques will be expected to cover their hair, and both men and women are expected to cover their heads when visiting a synagogue. Head coverings are often available for tourists. If you are visiting a warmer climate during the hotter months, stay cool and be appropriately covered by selecting a long skirt over short shorts. Carry a lightweight sweater with you to put on when entering sacred places to cover up any bare shoulders. Know which days of the week are worship days for each religion — Friday at mosques, Saturday for those of Jewish faith, and Sunday for Christians — and be mindful of religious holidays. Some site may be closed for religious holidays, as the Dohány Street Synagogue was for Rosh Hashana when I visited Budapest.
92 – All smiles
Most Europeans think Americans are super friendly, maybe too friendly. If the situation feels right, don't be shy about speaking to others. I made a new friend on the train between Paris and Normandy by striking up a conversation with the woman sitting across from me when she asked about my Dentyne gum, a treat she remembered from her trip the United States that she couldn't purchase in Paris. Nearly five years later, we still exchange Christmas cards.
However, don't be like my middle-aged, first time abroad co-worker who aggressively approached everyone he could — cab drivers, restaurant hostesses, train ticket agents — with a recurring soliloquy about where he was from, how wonderful America was, and how his great, great grandparents immigrated to the US from Croatia.
Visiting Europe for the First Time: Returning Home
93 – Perishable items
Be sure that any perishable items you purchase for your flight home from Europe are fully consumed before you deplane. This includes fresh fruit, sandwiches, or that one last amazing croissant. They're not allowed to enter the United States, and carrying any of these items through the customs line will only delay your return.
94 – Liquid refreshment
Wine, beer, spirits, perfume, or other liquids purchased in the duty-free shop at the airport or on the plane may cause problems if they're in your carry-on baggage and not in your checked luggage. Be thoughtful about making these purchases once your luggage has been checked for the United States.
95 – Anything to declare?
Shortly before your Transatlantic flight lands back in America, flight attendants will distribute declaration forms. Read the form carefully and thoroughly before you start to complete it. There's a very good chance that you won't have anything to declare if the items you purchased abroad are for your personal use or gifts.
96 – You smell suspicious
As you wait in line to officially re-enter the US, don't be surprised if officers with drug and bomb sniffing dogs are hard at work.
97 – No photos, please
You are prohibited to have a cell phone or recording device out while you wait in line. Watch for signs telling you to put your phone away, and know that they are serious about enforcing the rule.
98 – Meeting the man
When it's your turn to submit your papers and passport for inspection, answer any questions in a simple, straight-forward manner. The officer does not want to hear long-winded stories. Customs and Border Protection officers can search you or your belongings without a warrant to enforce US laws. Don't give them a reason to do so.
99 – Connecting flights
If you're not lucky enough to live in a city that has direct flights from Europe, you'll have to gather your luggage, carry it to the designated area, and go back through a dedicated airport security check. If you have any liquid items in your carry-on baggage, this is the time to move them to your checked luggage. It was heartbreaking to watch a group of first-time travelers throw away the snow globes they purchased as gifts and had carefully hand-carried on the plane in London because they were in violation of the domestic air travel laws in the US.
100 – Embrace your experiences
Whether you spend one week in one city or all summer exploring many countries, once you've expanded your horizons by experiencing another country and culture, your life will forever be changed. Incorporate this new knowledge and perspective into your life going forward, and do your part to foster peace and understanding in our world.
Visiting Europe for the First Time: Travel Hacks and Other Travel Advice
The additional tips below have been submitted by blog visitors. Do you have a tip to share with your fellow American visiting Europe for the first time? Be sure to leave your travel tip, travel advice, or travel hack in the comments section below!
101 – At some point the trip you've planned becomes the trip you're on
Heather from Heather Blog advises that no matter how meticulously you plan, something might go wrong. For example, Tip #35 Transportation Strikes. If you experience a roadblock, don't let it ruin your trip, put that American creativity and ingenuity to work and find a workaround!
102 – Slow down and savor every moment when visiting Europe for the first time
In the spirit of Tip #1 Focus and Tip #65 Dinner is An Experience, Englishman David Oakes suggests that Americans just slow down. There is no gold medal for rushing through your European adventures, so just slow down and take it all in!
103 – Train schedules at your fingertips
Building on the "Getting Around" section above, Jenn from The Solivagant Soul recommends using the German rail website for up-to-date train schedules across Europe. It's available in eight languages, including English.
104 – Get up occasionally and walk around the plane
Chasa has an important addition to the "Getting There" section. Occasionally get up and walk around the plane during long flights to help reduce the risk of blood clots.
105 – Stretch your budget
One common source of affordable meals is every city's downtown department store (think IKEA). Maggie from Totally Teen Travel further adds that there is always a bonus when the food market is on the top floor delivering a stunning view!