In addition to its fashion houses, Loire Valley castles, and the Eiffel Tower, France is known for its world-class wine and delicious, rich food. Don't miss out! These are some of the best French dishes to try in France, so be sure to work your way through this list of French foods before you leave France. Including the wine, of course!
To help offset the costs of running EverydayWanderer.com, you'll find affiliate links lightly sprinkled throughout the site. If you choose to make a purchase via one of these links, there's no additional cost to you, but I'll earn a teeny tiny commission. You can read all of the legal blah blah blah (as my little niece says) on the full disclosure page.
Even the most amazing bakery in the United States cannot produce bread and baked goods that taste as amazing as the average French boulangerie. Approximately 320 baguettes are consumed every second in France, making it a traditional French food you have to try.
While French baguettes are solid enough to stand alone, they are even better when made into sandwiches. Try a jambon sandwich to taste a baguette in a new light. Simply prepared by slicing the baguette lengthwise, spreading it with a schmear of fresh unsalted butter, and topping it with ham and a bit of lettuce, they are simply amazing.
Sage Advice: From Death by Baguette to The Little Paris Patisserie these are some of the tastiest novels set in France.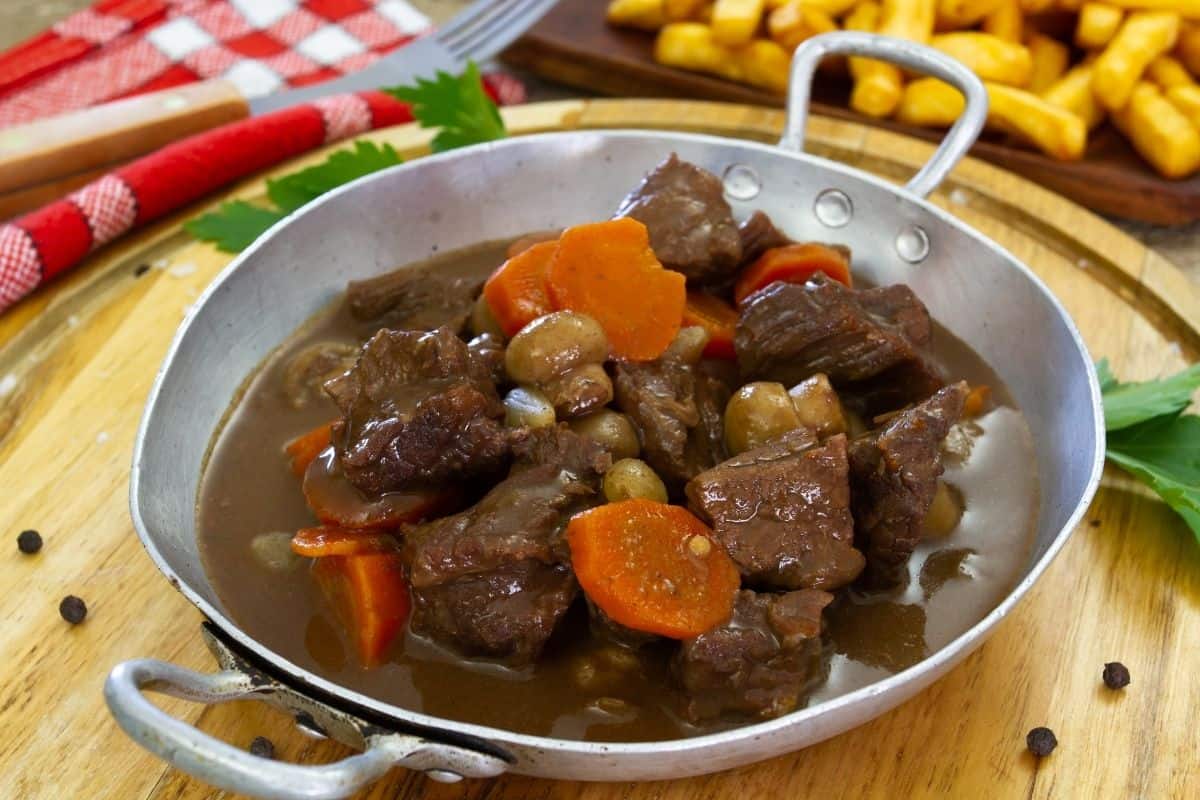 2. Boeuf Bourguignon (Beef Burgundy)
Braised in red Burgundy wine, boeuf Bourguignon is a hearty French dish with chunks of beef accented with pearl onions and mushrooms. Originally a "peasant dish" created to transform tougher cuts of meat into something tender, beef Burgundy has evolved into a more elegant entrée that is a French food you have to try.
Boeuf Bourguignon is often paired with potatoes like gratin Dauphinois, thinly sliced potatoes slowly baked with heavy cream and shredded Gruyere. A good choice if you're watching your calories? Probably not. Delicious? Absolutely!
Fun Fact: This hearty beef stew is one of Julia Child's most famous recipes. You can try Food.com's version of the traditional dish here. Or discover more than 100 other proven recipes by the woman nicknamed "The French Chef" with this cookbook.
Also inspired by a mission to not waste less desirable food, bouillabaisse is a fish stew created by French fishermen to eat bony rockfish that they caught but couldn't sell. Today it's not uncommon to enjoy mussels, crabmeat, and chunks of lobster in bouillabaisse.
The dish can vary quite a bit by season, household, or restaurant, so it is a French food you have to try more than once! Although a different combination of vegetables, fish, or shellfish may be used, they are always slowly simmered in broth to make this dish.
Sage Advice: Are you visiting France for the first time? These tips will help you enjoy your experience to the fullest. And once you've been to the Louvre and done the Eiffel Tower, check out these 30+ hidden gems recommended by Girl with the Passport.
Moving across the country to France's other coast on the English Channel, Calvados is from the province of Normandy. While this apple brandy is not technically a food, like wine, it can be used in cooking.
Enjoy it in chicken, duck, and pork dishes. Or, savor it in moules à la Normande, mussels cooked Normandy-style in cream and Calvados. More on moules below…
Sage Advice: Want to enjoy your delicious French foods with a view? Here is a restaurant recommendation with a view of the Eiffel Tower.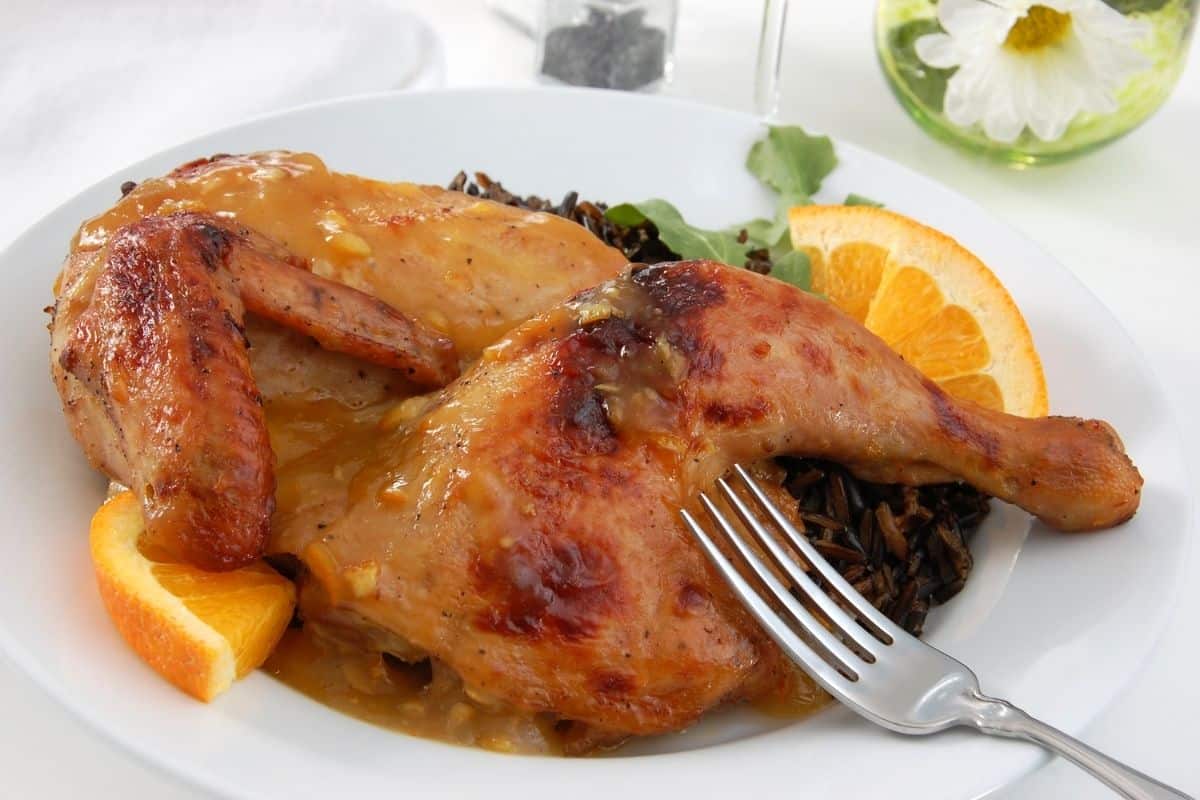 5. Canard à l'Orange (Duck in Orange Sauce)
I first tried this classic French dish when I was in middle school and my family lived in the southern part of the Netherlands. My French class took a long weekend trip to Paris where we were immersed in the French language, culture, and cuisine. Because I always shoot straight here at Everyday Wanderer, I'll admit that I struggle with duck. Even when drenched in a sunny orange sauce made from fresh oranges (especially freshly squeezed orange juice) and Grand Marnier.
I just absolutely love ducks — the live variety — especially mallards. So I have a very hard time eating them. Plus, no matter how well prepared, duck just always tastes a bit fatty and gamey to me. But, this is a list of French food you have to try before leaving France, not a list of foods you need to love before leaving France. So, despite my personal sentiments, canard à l'orange belongs on this list.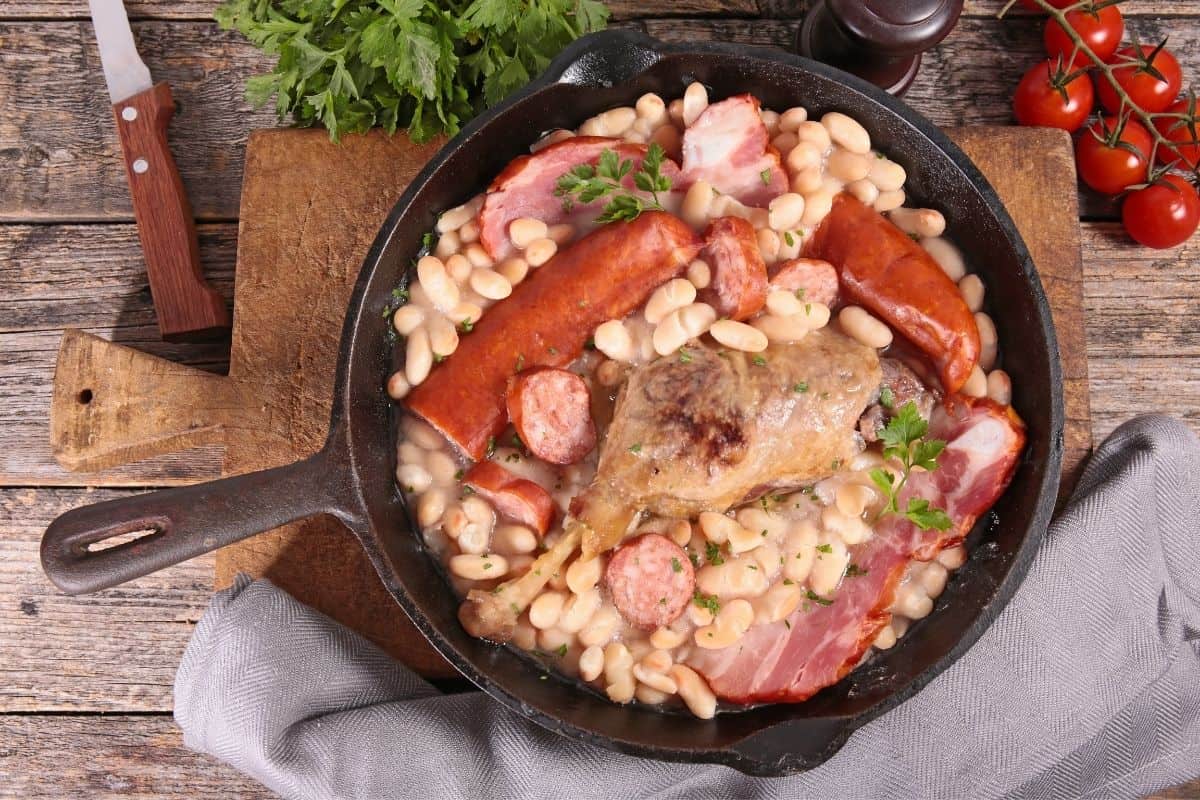 If a duck breast drenched in orange sauce seems like too much meat (or too much meat for a first go at duck), consider cassoulet instead. This dish from the south of France is another slow-cooked, stew-like concoction featuring white beans and meat.
Named for the round, earthenware dish in which it is cooked, the meat in cassoulet can be any combination of duck, lamb, pork, and sausage.
7. Coq au Vin (Chicken in Wine Sauce)
Coq au vin is like the white meat version of beef Burgundy. Both dishes are from France's Bourgogne region, but that's not where the similarities end. While food recommendation #2 is beef slow-cooked in red wine with pearl onions and mushrooms, coq au vin is chicken braised in red wine and accented with pearl onions and mushrooms.
Sage Advice: If you're like me and were raised to always pair chicken with white wine, consider ordering coq au vin blanc. This dish is typically prepared by cooking chicken breasts in a heavy cream and white wine sauce.
While there is a good chance you've had crème brûlée in the United States, there's an equally good chance that it will taste even better in France. That's not a dig against the US or some sort of snobby Francophile statement. Rather, there is something truly different about French dessert.
Maybe it's the quality or freshness of the cream. Perhaps it's the type of sugar or that the French seem to use much less of it. Who knows? But no matter what, I highly recommend you try one of these burnt sugar-topped custards when you visit France.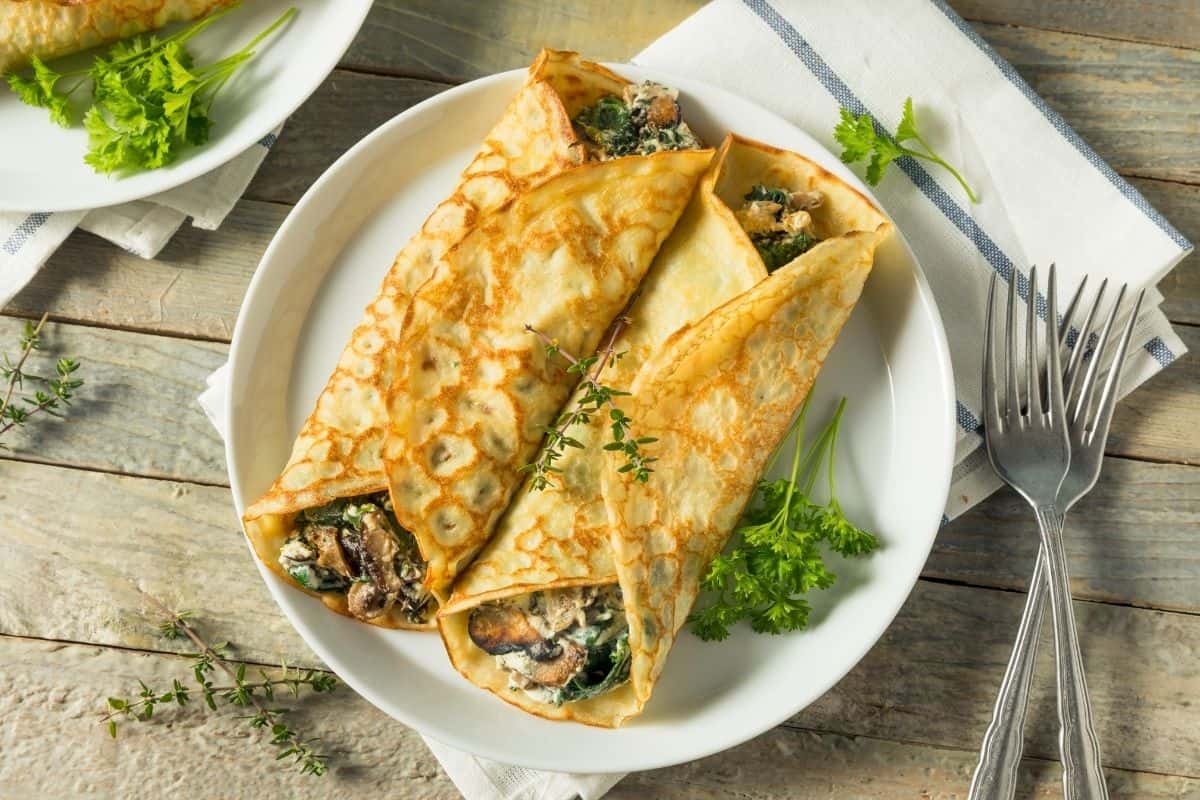 Try these thin pancakes two ways: savory and sweet. Crêpes salées (savory crêpes) are made with buckwheat flour and unsweetened. They can be stuffed with a variety of fillings in the meat, cheese, and vegetable categories and are served as a main dish for lunch or dinner.
Crêpes sucrées (sweet crêpes) are the savory crêpes' sweeter sister. They can be filled with everything from butter and sugar to Nutella to Grand Marnier sauce. These always seem to taste the best when purchased from a sidewalk stand or a small, walk-up window than in a sit-down restaurant.
Sage Advice: With so many delicious, carb-ladened and sweet items on this list of French food you must try, it is easy to go overboard on calories while traveling in France. Here are eight tips to help you make healthy food choices while traveling without missing out on the local flavors.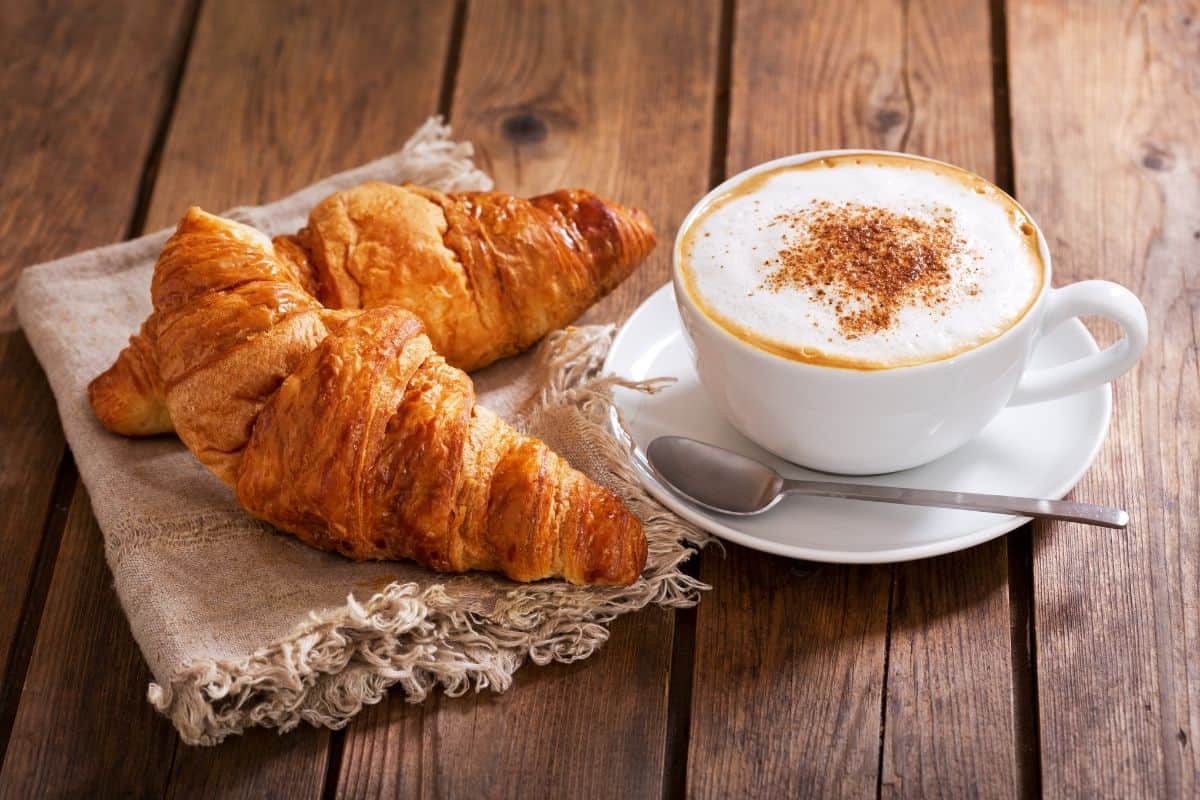 Back to the bread category, I've been hard-pressed to find French-quality croissants on this side of the Atlantic. Mass-produced croissants (think Costco and grocery stores) have next to no flaky layers. Higher quality bakeries get close, but are still missing a certain je ne sais quoi.
So when you're in France, croissants are another French food you have to try. I recommend eating as many croissants as you can stomach, because you will miss them when you are back at home.
Sage Advice: If you prefer your croissants filled with delicious chocolate, know that what Americans call a chocolate croissant is pain au chocolate (chocolate bread) in France.
Fun Fact: Along with crepes, macarons, and coq au vin, the croissants are one of the national dishes of France.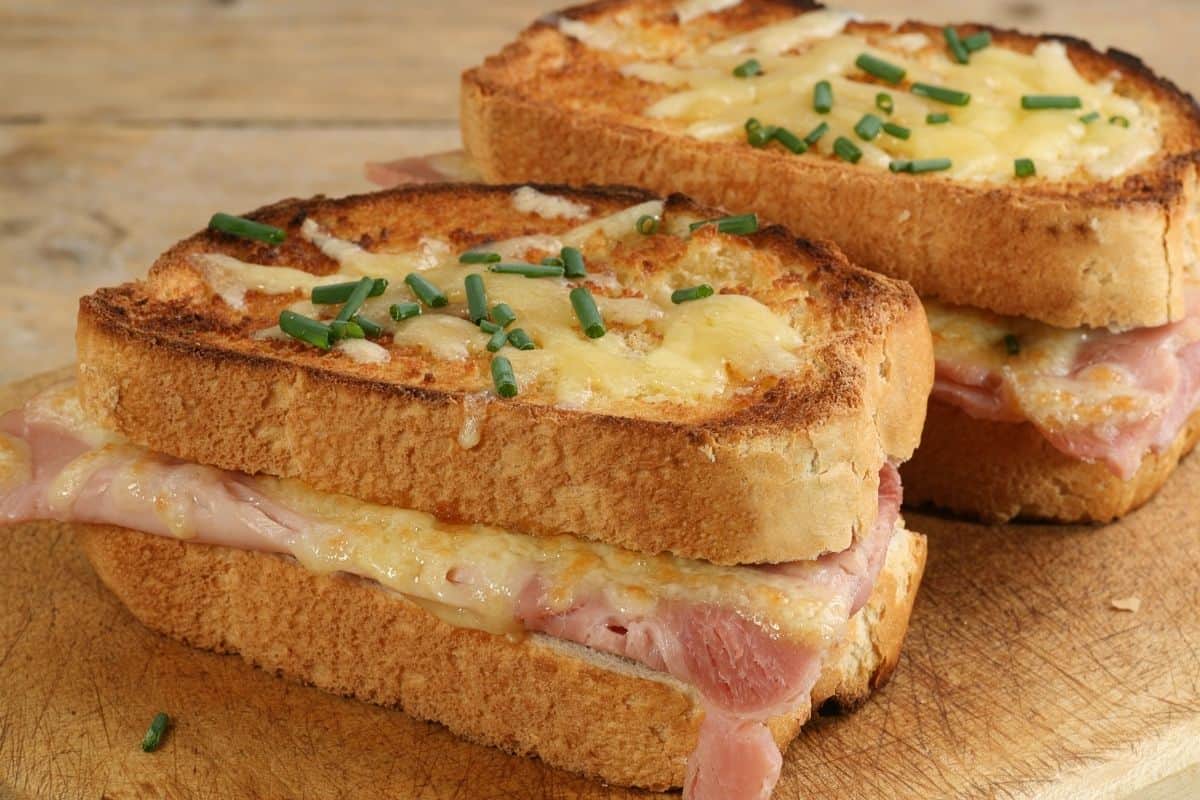 11. Croque Monsieur, Croque Madame, Or Croque Provencal
Who can make a grilled ham and cheese sound all Fancy Nancy and taste just as amazing?
The French.
Why?
Because a croque monsieur is so much more than a regular grilled ham and cheese sandwich!
Instead of spreading the slice of bread with butter or olive oil, a croque monsieur is dipped in an egg mixture. Once it's crispy on the outside and the Gruyère cheese is melted on the inside, it's plated and smothered in bechamel sauce.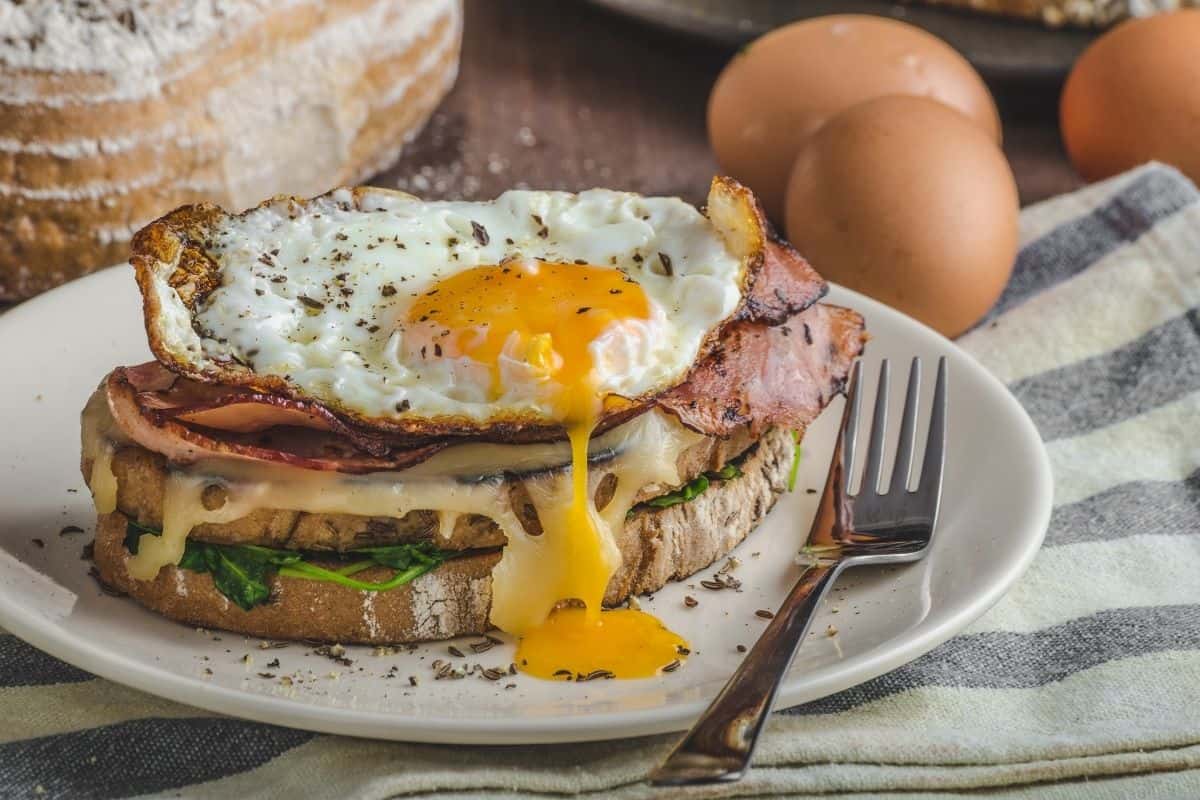 For a croque monsieur with a twist, try a croque madame. It's essentially a croque monsieur topped with an egg cooked sunny-side-up. Or a croque provençal that replaces the fried egg with sliced tomatoes.
Éclairs are the supermodel version of upcoming food recommendation #17. While made from the same choux dough, stuffed with the same cream, and topped with the same chocolate, they are simply taller and slimmer than your average cream puff.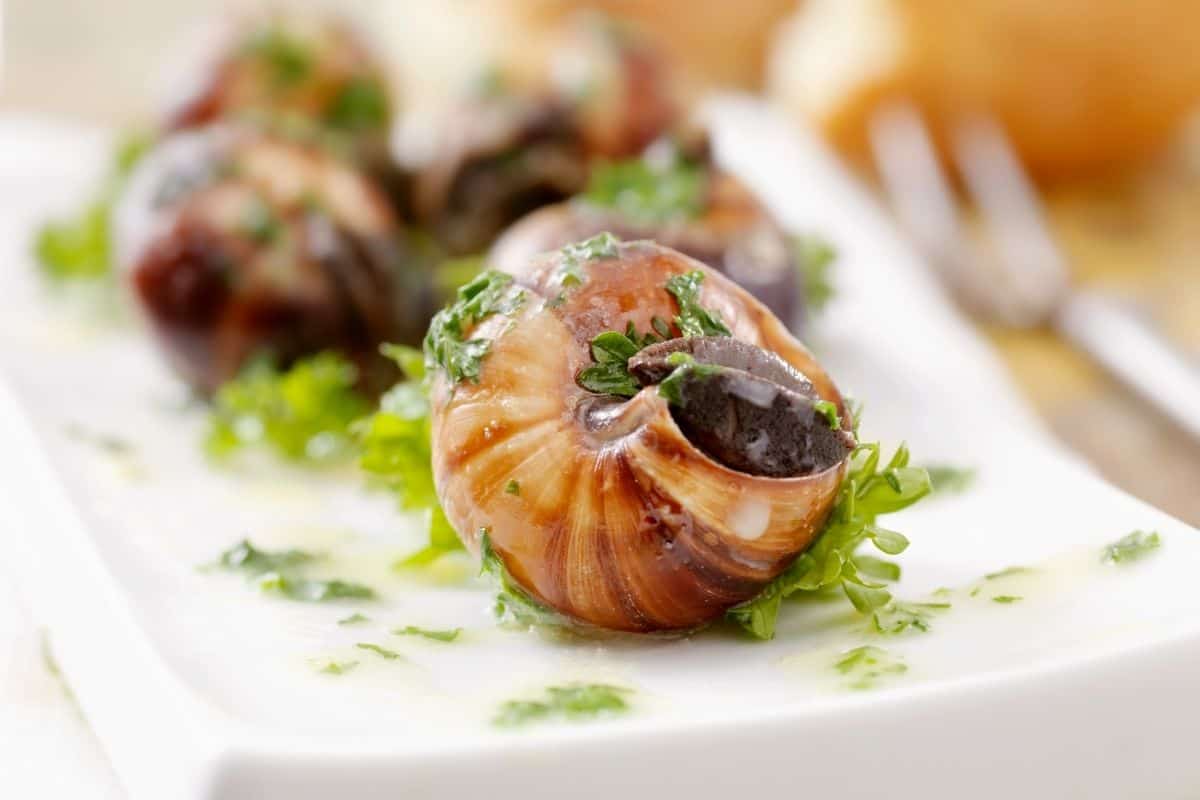 13. Escargots à la Bourguignonne
Everything sounds more elegant in French, and snails are no exception. If the thought of eating a slimy garden creature turns your stomach, I understand. But stick with me. Even if you can't eat the protein portion of this dish, you'll still love dipping chunks of baguette into the herbed butter part of this dish.
So go ahead and add this to your list of French food you have to try. Or, at least bum some of that herbed butter from a fellow dinner companion's order of escargots!
Sage Advice: If you still can't manage to try the escargots à la Bourguignonne, then how about a different type of escargot? A French breakfast pastry called pain aux raisins (raisin bread) is also known as an escargot. It's a spiral pastry similar to a danish that is filled with raisins.
And not slimy at all…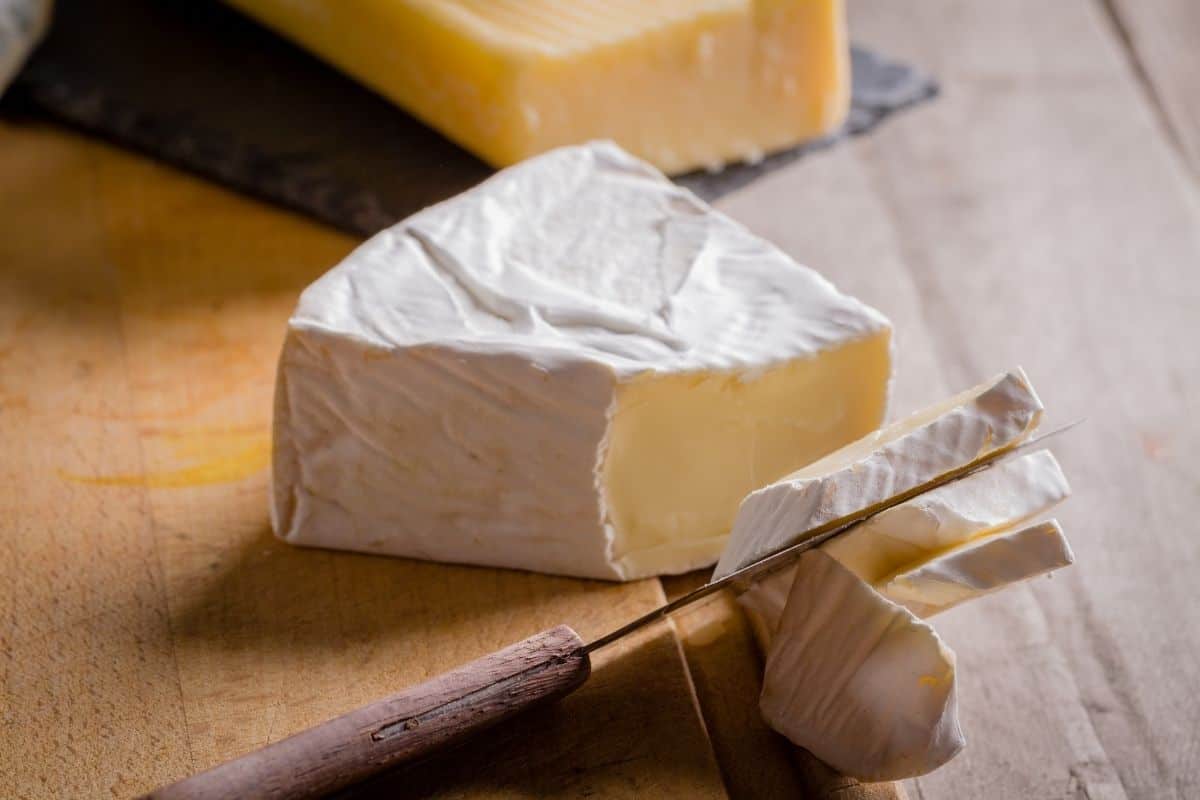 My high school French teacher told us that there are more French cheeses than days in the year. Depending on how you organize them, France is home to between 450 and 1,000 different types of cheese that fall into eight, distinct families that the French call les huit familles de fromage. The categories are based on factors like:
Type of milk (cow's milk, sheep's milk, or goat's milk),

Texture (soft to hard) and

Type of processing and aging (or lack thereof)
From the mild, creamy taste of brie to the strong-smelling epoisses, there is a French fromage for every palate.
Fun Fact: Epoisses was one of Napoleon's favorite cheeses. Made from raw cow's milk with a rind washed with pomace brandy, epoisses is allegedly so stinky that it's been banned from public transport like Paris's Metro.
Although many people associate these colorful meringue cookies filled with jam or chocolate with France they actually originated in neighboring Italy. When Catherine de Medici left her native Italy to marry King Henry II and become the Queen of France, she brought macarons with her. But back in 1533, macarons were single layer cookies, not sandwich cookies with fillings.
In the early 20th century, upscale Parisian pâtisserie Ladurée transformed the Italian import into the double-decker sandwich-like treat that you know and love today. From classic flavors — like chocolate and vanilla — to fruity flavors — like lemon and orange blossom — to more exotic flavors — like rose petal and lavender — Ladurée sells 15,000 macarons each day. And that's when I'm not in town!
Sage Advice: In addition to 10 locations across the Paris metropolitan area, Ladurée has bakeries in large cities on every continent but Antarctica.
16. Moules-Frites (Mussels with French Fries)
When you see the word frites after another on a French menu — like steak-frites or moules-frites — know that it will be served with a big side of delicious French fries. Okay, technically French fries are from neighboring Belgium. But they were invented in the French-speaking part of Belgium and the French still have mad skills when it comes to frites.
Back to the mussels…
While Belgium and the Netherlands are also well-known for their moules, the fact is the mussels are pretty amazing wherever they are pulled fresh from the North Sea daily, including France's Normandy region. Classically-prepared, mussels are steamed in a white wine, butter, and garlic broth. But in Normandy, where dairy cows munch green grass under apple trees, try the moules à la Normande where mussels are paired with a cream-based broth infused with the Calvados recommended back up in #4.
The plain Jane version of the éclairs recommended in #12, profiteroles look like everyday cream puffs. But the filling can range from the standard custard to whipped cream to ice cream.
Hailing from the Mediterranean coastal city of Nice, salad Niçoise features tuna, tomatoes, hard-boiled eggs, olives, and anchovies tossed in a classic vinaigrette dressing. Outside of Nice, it's not uncommon to find salad Niçoise served with blanched green beans and chunks of al dente new potatoes. But those veggies are not commonly included in salad Niçoise in the southeast of France.
Sage Advice: Visiting Paris doesn't have to be expensive. Check out these fantastic Paris hostels that are perfect for backpackers, solo travelers, couples, and families.
19. Soupe à l'Oignon (French Onion Soup)
Like macarons which arrived in France via Italy and received a makeover, so did soupe à l'oignon. While onion soup dates back to Roman times, the French modernized the dish in the 18th century. When you order this dish in France today, expect a bowl of caramelized yellow onions in a beef broth and red wine sauce topped with sliced baguette and broiled cheese. Ooh la la!
Sage Advice: Want to give French onion soup a try at home? Use this French recipe from Tangled Up in Food.
Whether it's cooked in a dish — like mussels, coq au vin, or French onion soup — or paired with each course, going to France and not trying its world-renowned wine would be like visiting Paris and not seeing the Eiffel Tower. Enough said!
Frequently Asked Questions About French Food
France is well-known for its world-class wine and delicious cuisine. Some traditional French foods include croissants, crepes, escargots, bouillabaisse, canard a l'orange, and much more. Scroll up and browse this list to discover 20 delicious French foods you'll want to try when you visit France!
While some French dishes use ingredients that aren't as popular in the United States (like duck, rabbit, and snails), French cuisine includes a wide range of items and you're sure to find something you like!
Whether you select soup, salad, a sandwich, or a main dish, you'll typically find that it is made from fresh ingredients and perfectly seasoned.
Yes, quiche is considered a French food. However, there are reports that it originated in Germany.
Quiche is prepared by scrambling eggs with heavy cream and baking it in a flaky pastry crust.
What Are Your Favorite French Foods?
What are your favorite French dishes? Have you cooked traditional French foods at home? Is there a French food you can't wait to try the next time you're in France? Share your thoughts in the comments section below.
Ready to Go?
Use These Helpful Links to Book Your Trip!
More Articles You'll Love!