When President John F. Kennedy's burial was televised on November 25, 1963, it was the first time Americans from coast to coast could participate in the funeral of a leader without being physically present. And by selecting the 624-acre site in the nation's capital, rather than a plot in the family's home state of Massachusetts, Jackie Kennedy established a site for the Kennedy family graves that made Arlington National Cemetery a destination that Americans visit when they tour the nation's capital.
Buried in late November 1963, President Kennedy was the first member of the family interred in the Kennedy family plot in Arlington National Cemetery. As tragedy struck again a few years later, JFK's little brother was assassinated and interred nearby. You may know that JFK is buried next to his wife, Jackie, with an eternal flame encircled with Cape Cod granite burning above their gravestones, but are you aware of these five little-known facts about the Kennedy family graves at Arlington National Cemetery?
Pro Tip: Having a hard time keeping track of generations of Kennedys? Beginning with Joseph P. Kennedy and Rose Elizabeth Fitzgerald, the parents of President John F. Kennedy, this interactive Kennedy family tree branches to include more than 100 names.
To help offset the costs of running EverydayWanderer.com, you'll find affiliate links lightly sprinkled throughout the site. If you choose to make a purchase via one of these links, there's no additional cost to you, but I'll earn a teeny tiny commission. You can read all of the legal blah blah blah (as my little niece says) on the full disclosure page.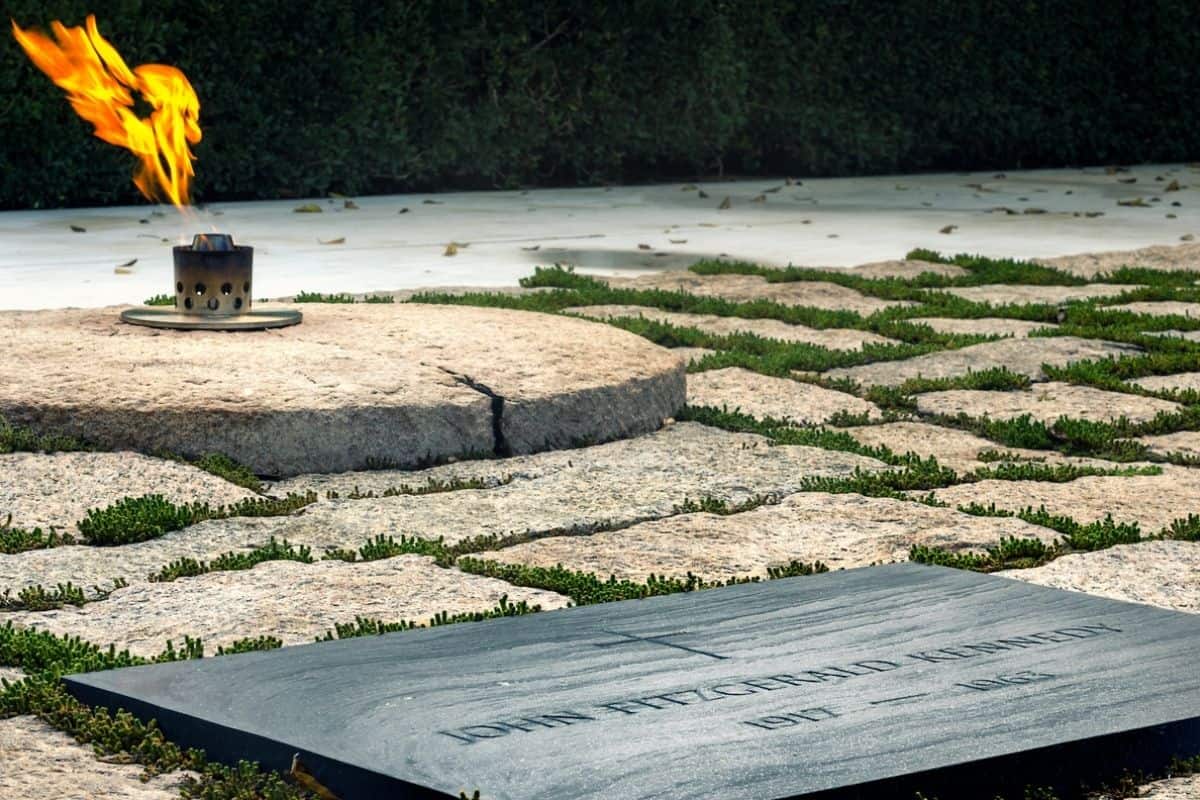 1. Why JFK Was Buried at Arlington National Cemetery
After President John F. Kennedy's shocking assassination in November 1963, First Lady Jackie Kennedy wanted his gravesite to be as accessible as possible, saying, "He belongs to the people." As preparations were made, many citizens from across the United States believed that JFK would be interred in Massachusetts where he was born and raised. After all, at that time, only two presidents were buried outside of their native states and in the nation's capital.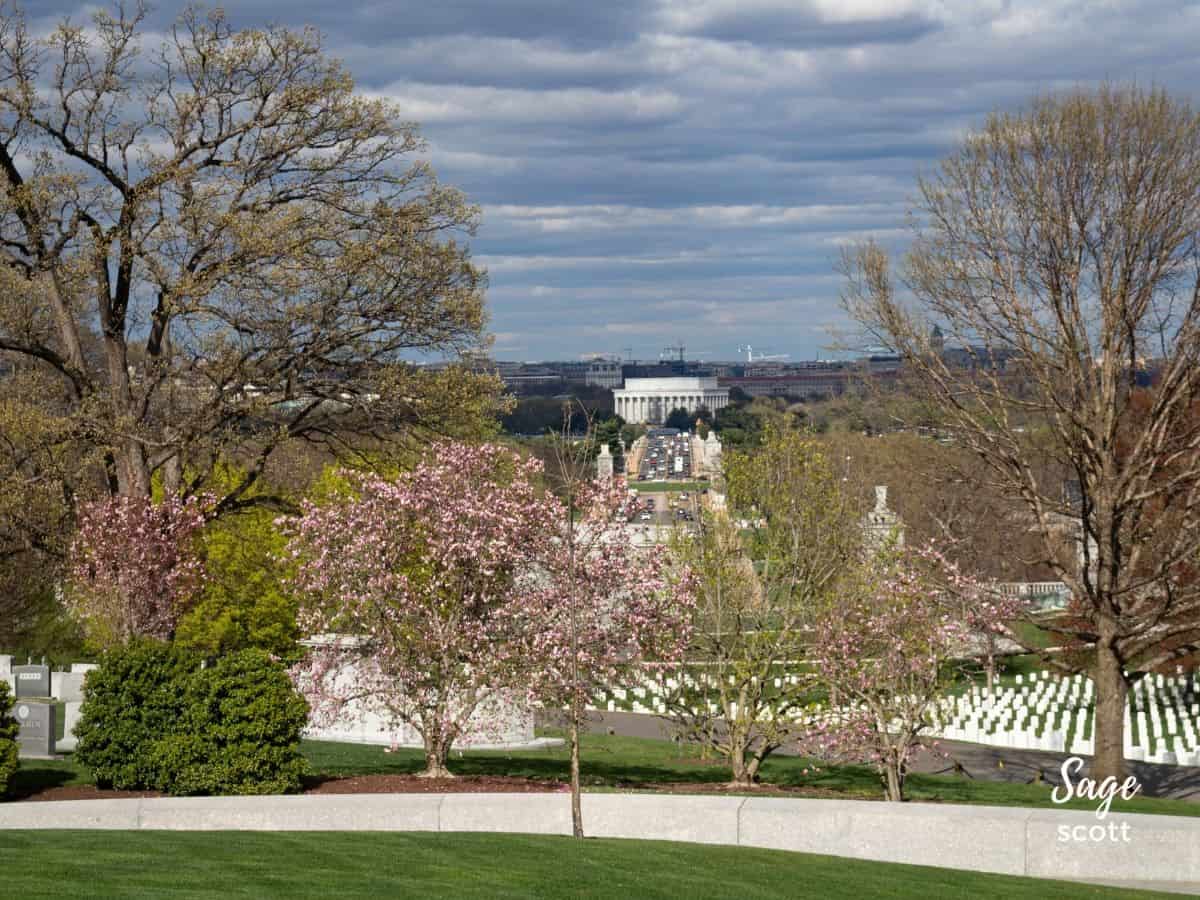 While visiting Arlington National Cemetery on Veterans Day, just a few weeks before his death, JFK stood on the grounds of the Arlington House high on a hill above the national cemetery. As he took in the sweeping views of the rolling green hills and fall foliage, his eyes continued across the Potomac River to the Lincoln Memorial and Washington Monument. He wistfully said that the views were so spectacular that he "could stay here forever."
And so, in consultation with JFK's younger brother, Robert F. Kennedy (AKA "Bobby"), and Secretary of Defense Robert S. McNamara, Jackie selected a plot just below Arlington House. This established the site of the Kennedy family graves and offered her late husband the forever view he requested.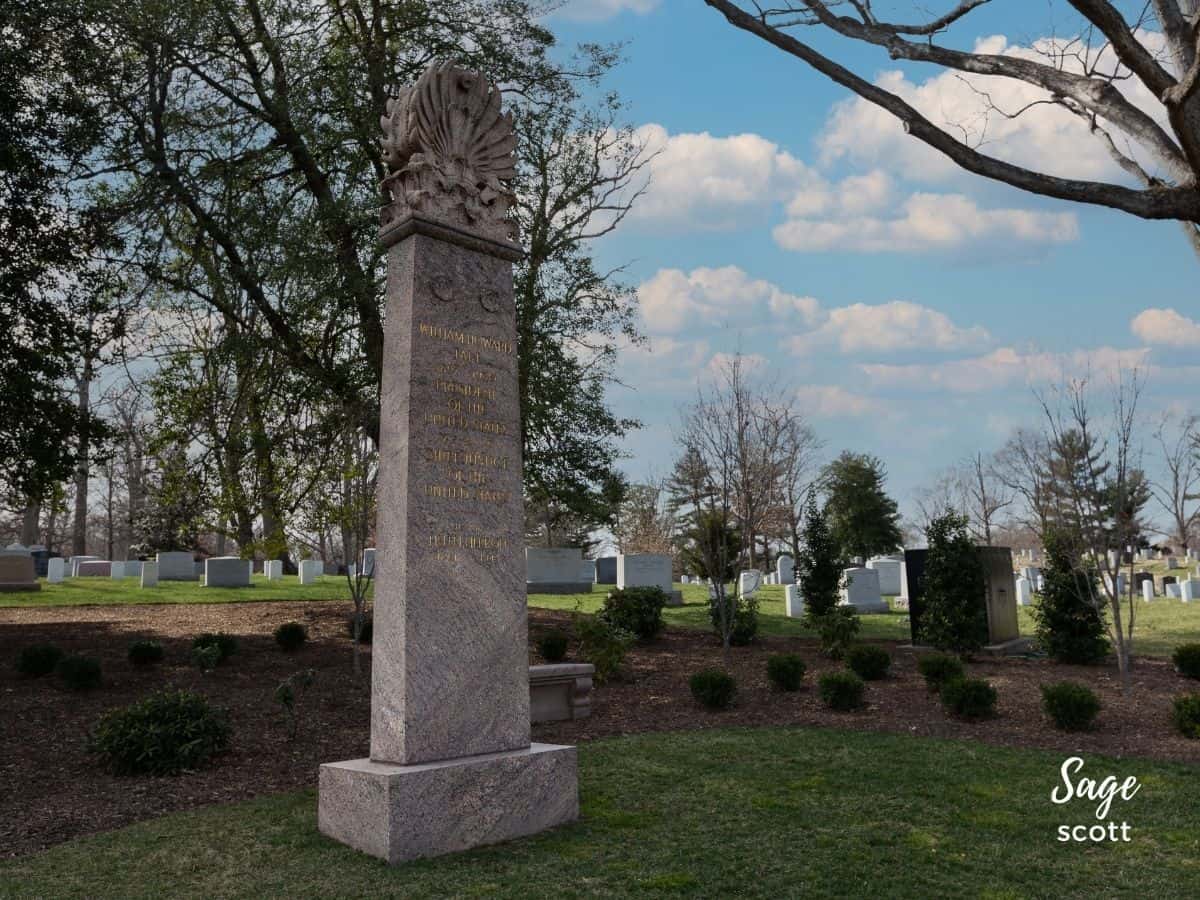 2. John F. Kennedy is NOT the Only President Buried at Arlington
Approximately three million people visit Arlington National Cemetery each year, and JFK's grave is one of the most visited within the 624-acre site. But JFK is not the only US president buried at Arlington.
William Howard Taft (AKA POTUS #27) was laid to rest at Arlington National Cemetery in March 1930 after passing away at his home. He was the first president and the first chief justice buried at Arlington National Cemetery, and he remains the only American in history to serve as both president and chief justice.
3. Why JFK's Grave Has an Eternal Flame
Around the world, an eternal flame is a symbol of everlasting life. An eternal flame incorporated into a war memorial symbolizes a nation's gratitude and desire to forever remember the sacrifices of those being honored.
As a veteran of World War II, Purple Heart recipient (the only president to earn the medal), and president assassinated in office, it's easy to understand why Jackie wanted President Kennedy honored with an eternal flame. For it was at her request that it quietly flickers above his headstone in the Kennedy family plot.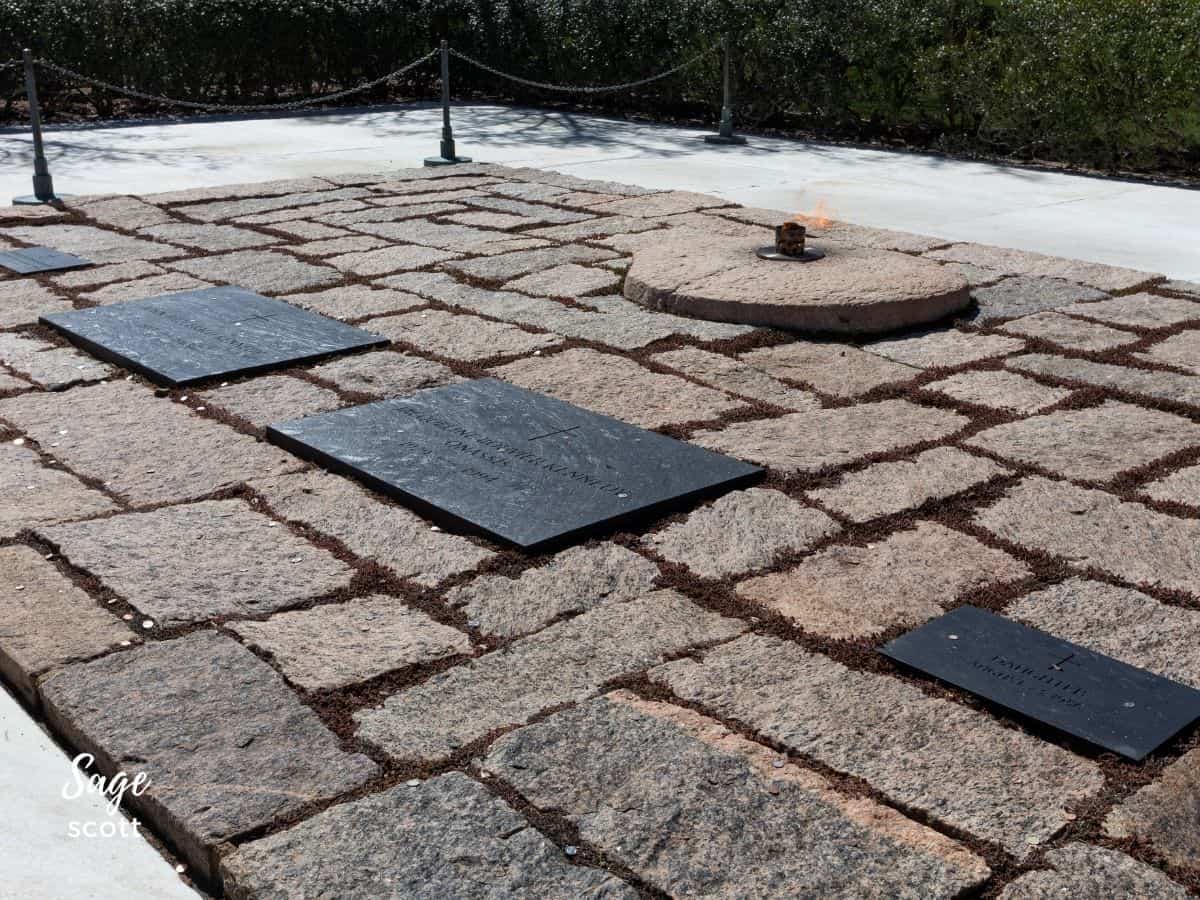 4. JFK is Buried with Several Family Members at Arlington National Cemetery
First Lady Jacqueline Bouvier Kennedy Onassis is buried next to JFK at Arlington National Cemetery. Resting on either side of Jack and Jackie are two of their four children who died as infants. Arabella Kennedy was stillborn in August 1956, and Patrick Bouvier Kennedy lived only a few days, dying just a few months before his father in 1963.
In addition to Jackie and two infant children, JFK is buried near two of his brothers. Assassinated after winning the California Democratic primary in 1968, Bobby Kennedy is buried a few steps away from Jack under a plain white cross with a simple marker. And his youngest brother, Ted, who passed away in 2009 at the age of 77, is also buried nearby.
JFK's oldest brother, Joe, was killed in World War II when his plane exploded over the English Channel. Although he is buried at the Cambridge American Cemetery in England, Joe is honored with a white cross in the Kennedy family plot at Arlington.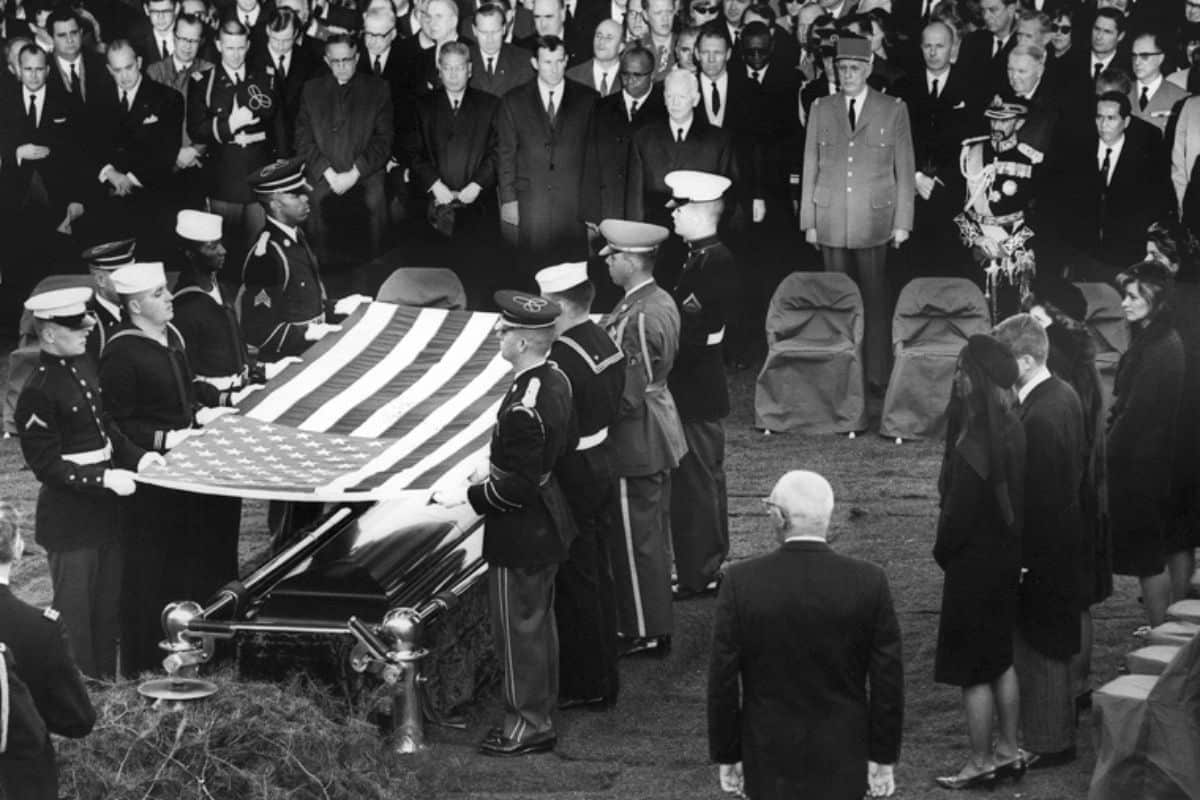 5. The Gravesite You Visit at Arlington Today is Not JFK's Original Gravesite
While grieving the sudden loss of her husband, dealing with the tragic loss of her infant son, and tending to her two small children, First Lady Jackie Kennedy played an active role in her husband's funeral arrangements. She requested an eternal flame for JFK's grave, which was fueled by copper tubing from a propane tank a football field's length away from the gravesite.
President Kennedy was laid to rest in Arlington National Cemetery on November 25, 1963, as dignitaries from around the world paid their respects and millions of viewers watched by television. Toward the end of the graveside service, Jackie lit the eternal flame.
In the three years that followed, more than 16 million visitors stopped at JFK's gravesite. Cemetery officials wanted to better accommodate the crowds and implement a safer, more permanent eternal flame. After two years of construction, officials exhumed JFK's casket in March 1967 and moved his body to its current location just a short distance away.
In a private ceremony attended by just a few people, including Jackie, JFK's two surviving brothers, and President Lyndon Baines Johnson, the 35th president was interred in his present location. At the same time, the couple's two infant children, Arabella and Patrick, were moved from Massachusetts to their current resting place next to their father.
The eternal flame lit during JFK's burial in November 1963 was replaced with a permanent natural gas line. It features a continuous electronic spark that reignites the flame in case it is extinguished by rain or wind.
Frequently Asked Questions About the Kennedy Family
How many children did Joseph P. Kennedy and Rose Elizabeth Fitzgerald have?
Married in 1914, Joe and Rose Kennedy had nine children:
Joseph Patrick Kennedy Jr, a US Navy lieutenant killed in action during World War II
John Fitzgerald Kennedy, a graduate of Harvard University who served as a senator and the 35th president of the United States until his assassination in 1963
Rose Marie Kennedy, also known as Rosemary Kennedy
Kathleen Agnes Kennedy, an American socialite nicknamed Kick
Eunice Mary Kennedy, a philanthropist who founded the Special Olympics
Patricia Helen Kennedy
Robert Francis Kennedy, an American attorney and senator also known as Bobby
Jean Ann Kennedy, an American diplomat, activist, and author
Edward Moore Kennedy, a US senator from Massachusetts for more than 45 years
How much is the Kennedy family worth?
A Newsweek article published in 2018 stated that the top 30 members of the Kennedy family are worth a combined estimate of $1.2 billion.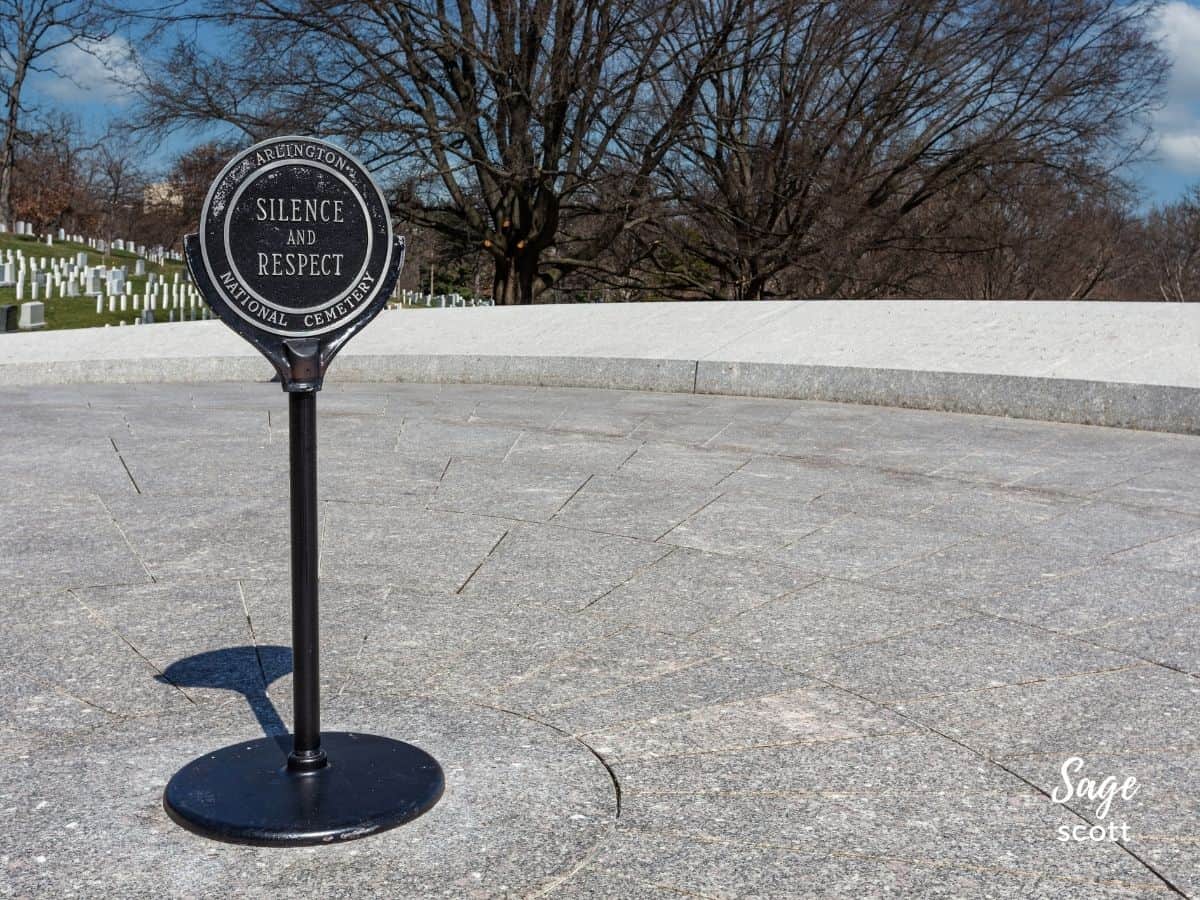 John F. Kennedy is buried at Arlington National Cemetery , just down the hill from Arlington House, the former home of Robert E. Lee. His gravesite is notable for its eternal flame and sweeping views of Washington, DC.
How far is John F. Kennedy's grave from the Arlington National Cemetery Welcome Center?
The Kennedy family graves are about a half-mile directly west of the visitor's center. It's a ten-minute walk, and portions of the route are hilly.
Who is buried with JFK at Arlington Cemetery?
John F. Kennedy is buried next to his wife, Jackie, and two children who died as infants — daughter Arabella Kennedy (born August 23, 1956) and son Patrick Bouvier Kennedy (born August 7, 1963).
Two of JFK's brothers are buried a few steps away — Robert Francis Kennedy (AKA Bobby Kennedy) and Edward Moore Kennedy (AKA Ted Kennedy).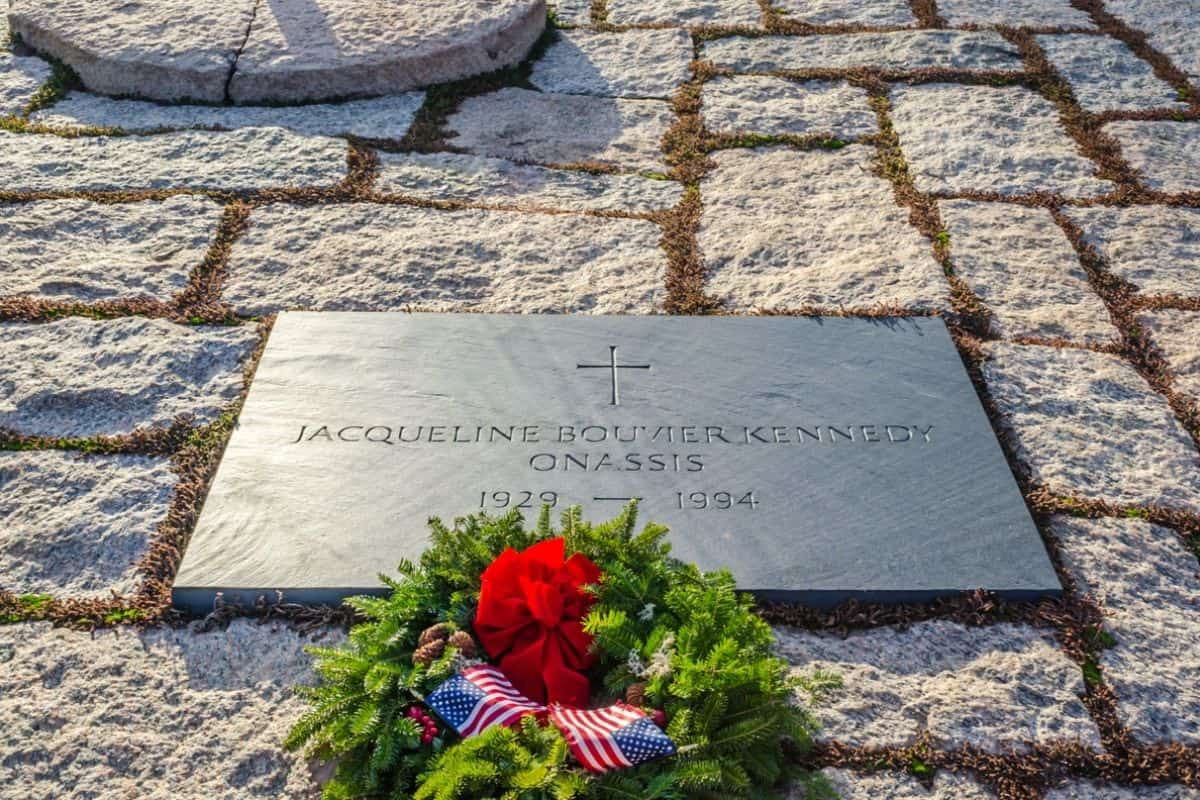 Where is Jackie Kennedy buried?
Whether known as a senator's wife, America's First Lady, or JFK's widow, Jacqueline Kennedy is often described as fashionable, elegant, and sophisticated. But I also think she was incredibly strong and brave. In 1963, Jackie tragically lost both a newborn child and her husband while remaining incredibly courageous while the eyes of the world were upon her.
Although she remarried after John F. Kennedy's tragic death, Jackie Kennedy is forever a first lady. Also known as Jackie O, Jackie Kennedy is buried next to President John F. Kennedy in Arlington National Cemetery.
What killed Jackie Kennedy?
On May 19, 1994, Jackie Kennedy died in her New York City apartment surrounded by friends and family. She was 64 and had been battling lymphatic cancer for several months.
What Kennedy family members are buried in Arlington?
President John F. Kennedy and his wife Jackie are buried at Arlington National Cemetery along with their two children who died as infants. JFK's brothers, Bobby and Ted, are also laid to rest nearby.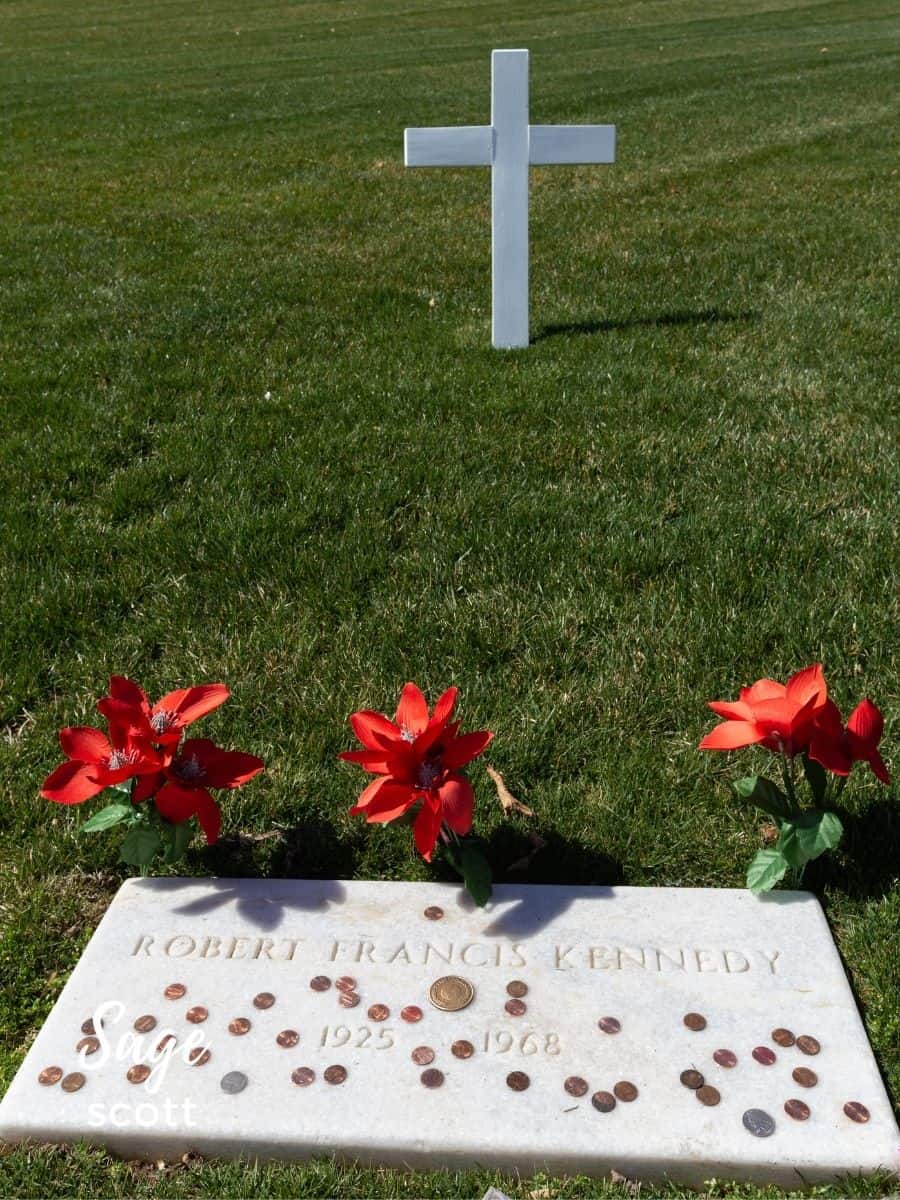 Where is Bobby Kennedy buried?
Why was Bobby Kennedy buried at night?
After a high requiem Mass at St. Patrick's Cathedral in Midtown Manhattan, Bobby Kennedy's body was transported by rail from Penn Station in New York to Union Station in Washington, DC, for burial at Arlington National Cemetery.
The train was scheduled to arrive in the nation's capital at 4:30 pm, but it had to travel at a greatly reduced speed due to crowds of mourners lining the tracks. The funeral train arrived in DC at 9:10 pm, and Bobby Kennedy's casket arrived at Arlington National Cemetery at nearly 10:30 pm where the presidential candidate was laid to rest by the light of 1,500 candles.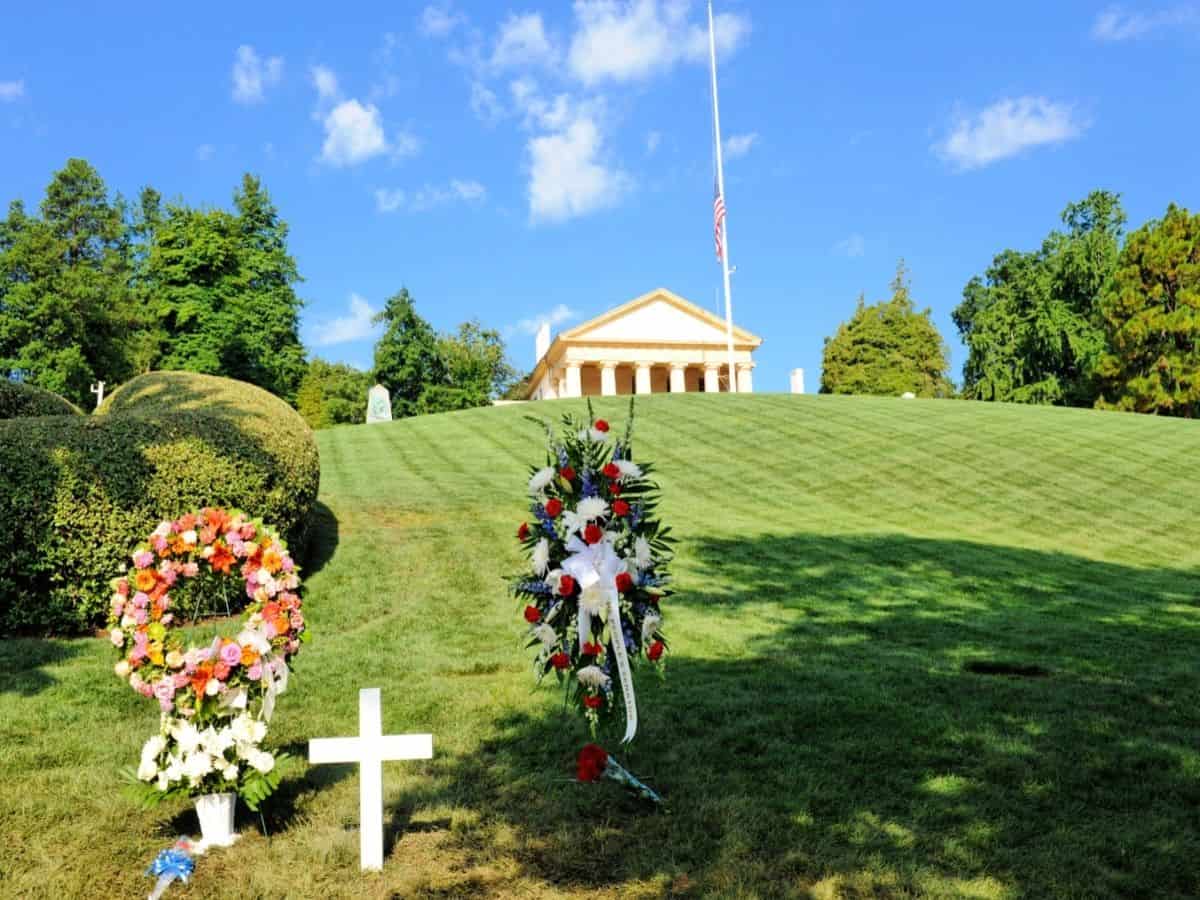 Where is Ted Kennedy buried?
Ted Kennedy is buried at Arlington National Cemetery near his brothers, John and Bobby.
Where is Arabella Kennedy buried?
Arabella Kennedy was the stillborn daughter of John and Jackie Kennedy. She is buried with her parents at Arlington National Cemetery under a marker that reads "daughter."
Where is Patrick Bouvier Kennedy buried?
Patrick Bouvier Kennedy was the youngest child born to John and Jackie Kennedy. He lived only a few days, dying a few months before his father was assassinated 1963. He is buried by his parents at Arlington National Cemetery.
Where is John F. Kennedy Jr. buried?
Also known as John Jr., JFK and Jackie's son perished in a plane crash in July 1999. Rather than join his parents and siblings at the Kennedy family graves at Arlington, John Jr. was given a somber burial at sea from the USS Briscoe, a Navy destroyer.
Where is Rose Kennedy buried?
President Kennedy's mother, Rose Elizabeth Fitzgerald Kennedy, is buried with her husband at Holyhood Cemetery in Brookline, Massachusetts.
Why are there coins on the Kennedy family gravestones?
According to our tour bus guide, it was a popular tradition during the Vietnam War to place a coin on military graves:
A penny demonstrates that you knew them
A nickel says you trained with them
A dime shows you served with them
A quarter indicates you were there when they died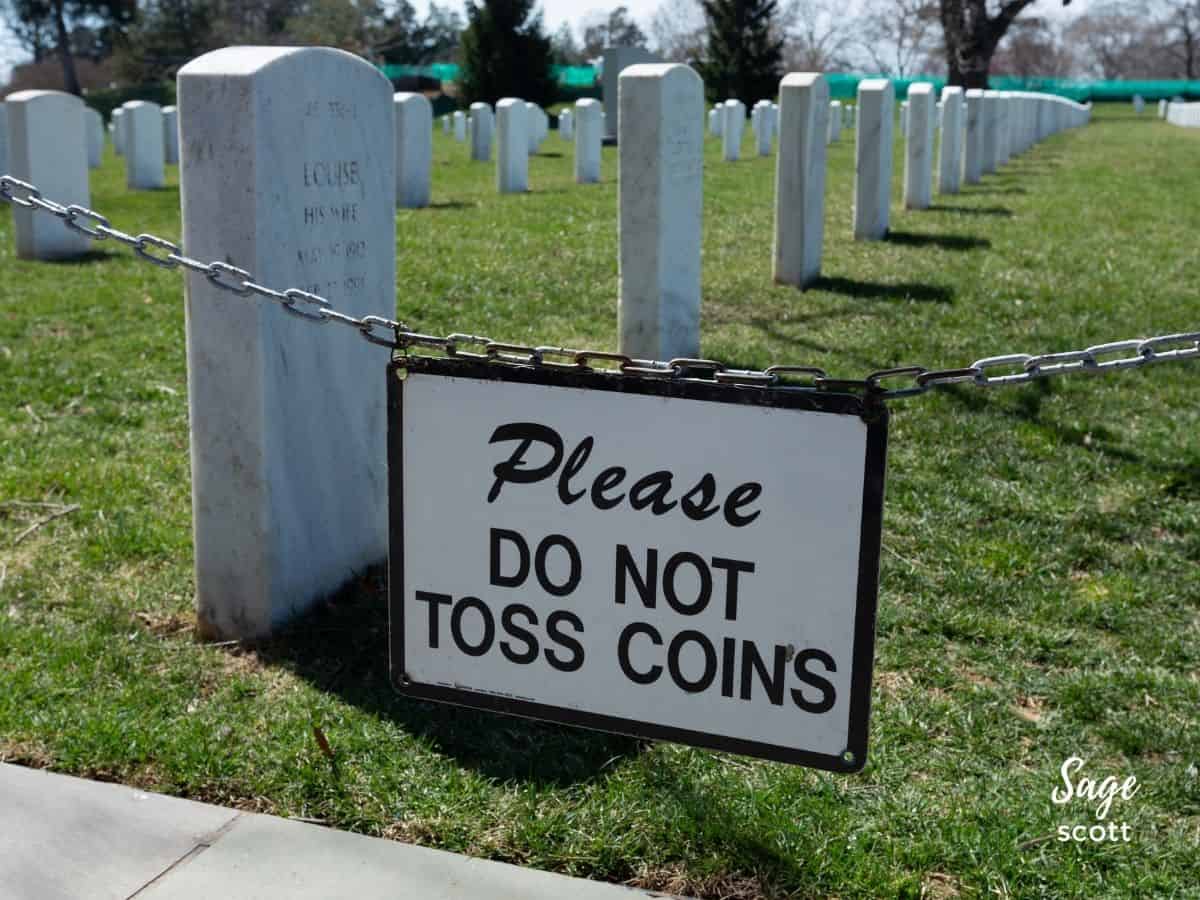 At the Kennedy graves, it's not uncommon to see visitors throwing coins at the graves. Do not join in this disrespectful behavior!
Visiting the Kennedy Family Graves at Arlington National Cemetery
The Kennedy family graves are a 15-minute walk from the Arlington Cemetery Metro Station and a 10-minute walk from the Arlington National Cemetery Visitor Center. If you choose to purchase a ticket for the cemetery tram, the gravesite is just a few steps (albeit uphill) from the nearest stop on the Arlington National Cemetery bus tour.
Absolute silence is expected at JFK's gravesite, and men should remove their hats. While you may see others tossing coins at graves, this is not appropriate behavior. The Kennedy family finds the practice especially disrespectful and has the coins removed and donated to charity a few times each year.
Where is the Arlington Cemetery located?​
The address for the Arlington National Cemetery is simply Arlington National Cemetery, Arlington, Virginia. Most search engines and map applications can find the cemetery using that information. The cemetery is located just across the Potomac River from Washington, DC, and can be reached using the DC Metro via the blue line.
What hours is the Arlington National Cemetery open for visitors?
Arlington National Cemetery is open daily from 8:00 am to 7:00 pm April through September and 8:00 am to 5:00 pm October through March.
Is there a fee to visit Arlington Cemetery?​
There is no admission fee to visit Arlington National Cemetery. However, tickets are required for the tram that winds through the cemetery. Discounted tickets are offered to active-duty military, veterans, seniors, and children, and they can be purchased just inside the Arlington National Cemetery entrance.
For the latest information, including special exhibits and events, visit the Arlington National Cemetery website.
Have You Visited the Kennedy Family Graves at Arlington National Cemetery?
What was your experience like? Any additional tips or advice to pass along to others who are planning a visit to Arlington? Share your thoughts in the comments section below.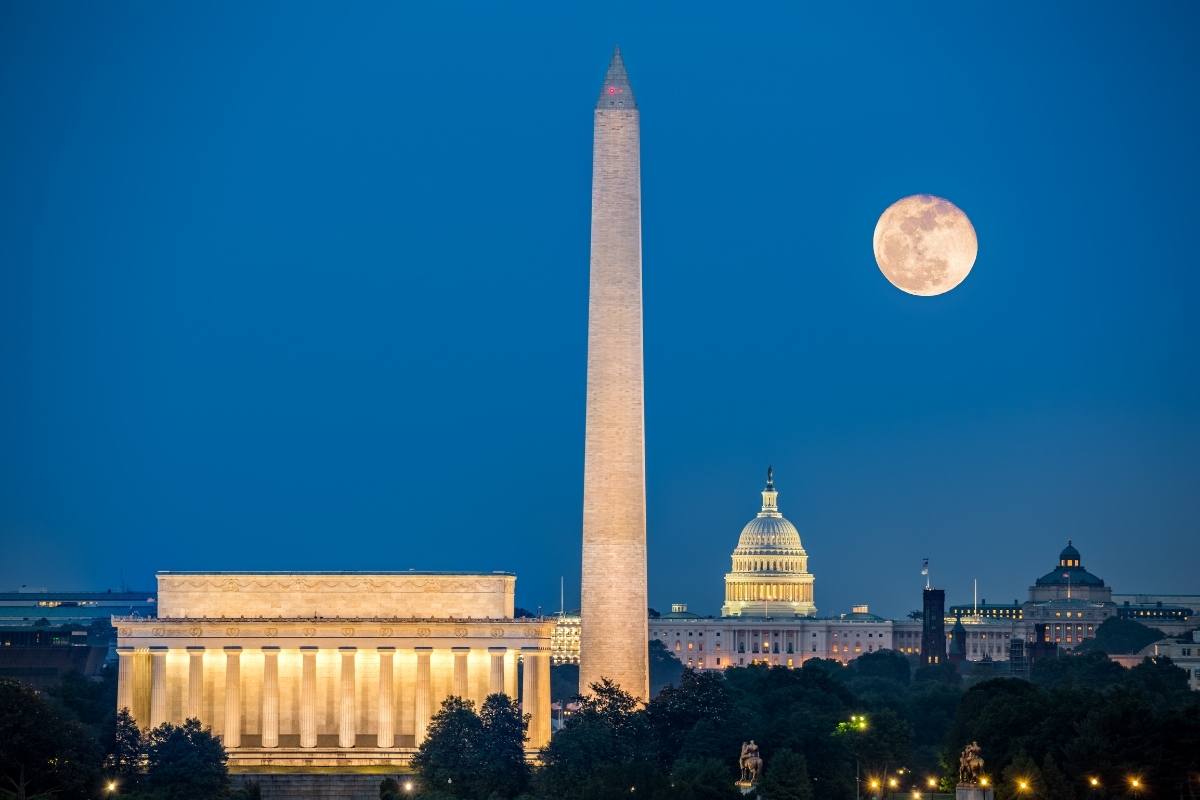 Looking for more information to plan your Washington DC vacation? Check out my additional recommendations to help you plan your trip to Washington, DC, including what to see and do in Washington DC, the best places to stay in Washington DC, where to eat in Washington DC, and more!
Ready to Go?
Use These Helpful Links to Book Your Trip!
More Articles You'll Love!