The Big Sky state of Montana is the land of everything huckleberry. That means you'll find everything from huckleberry barbeque sauce to huckleberry jelly beans to huckleberry air freshener. (Yes, you read that right. Air freshener. I'm not joking!) Whether you grab a bite for lunch or dinner or enjoy a sweet treat throughout the day, these are the best huckleberry dishes in Montana.
Because I have beloved family that lives in Montana, I visit Big Sky Country at least once a year. I paid full price to try plenty of pieces of huckleberry pie, enjoy several scoops of huckleberry ice cream, and otherwise try everything huckleberry I could get my hands on to bring you this list of the best huckleberry dishes in Montana. But you can count on me to always share my honest opinions, regardless of who foots the bill.
Packed with antioxidants, a good source of iron, and full of vitamin C and potassium, huckleberries are as good for you as they are delicious. These dark-colored berries look like blueberries, but huckleberries are a unique fruit with a distinct taste.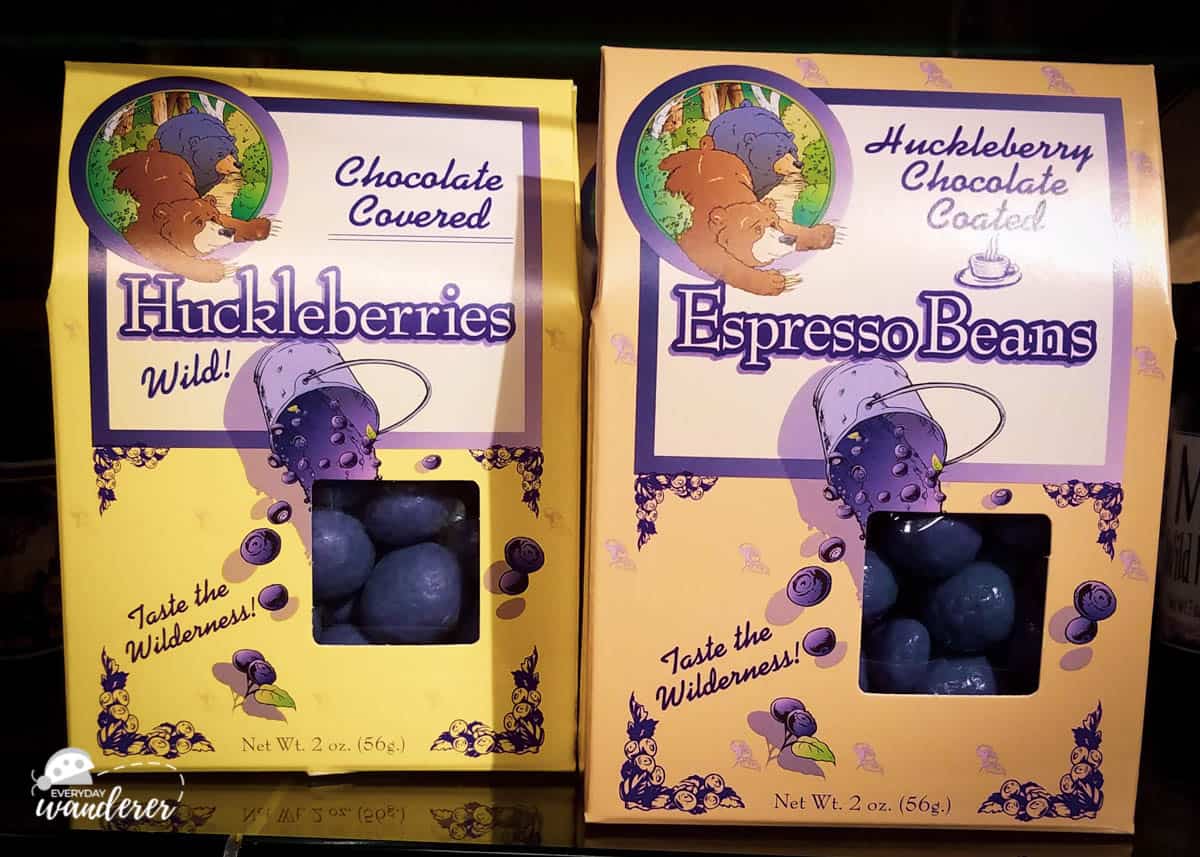 When you visit Montana, you'll quickly note that huckleberries are as popular as its majestic mountains, big skies, and world-class national parks. In fact, Montana oozes with everything huckleberry. You'll see huckleberry soda, huckleberry licorice, huckleberry hot sauce, huckleberry popcorn, huckleberry hand lotion, and the list goes on and on and on…
As you grab a bite for lunch or a sweet treat for dessert, these are the best huckleberry dishes in Montana.
But first, here are the answers to a few commonly asked questions about Montana's favorite berry.
When is Huckleberry Season in Montana?
August is typically huckleberry season. The berries start to ripen in mid- to late-summer and typically reach their peak in August.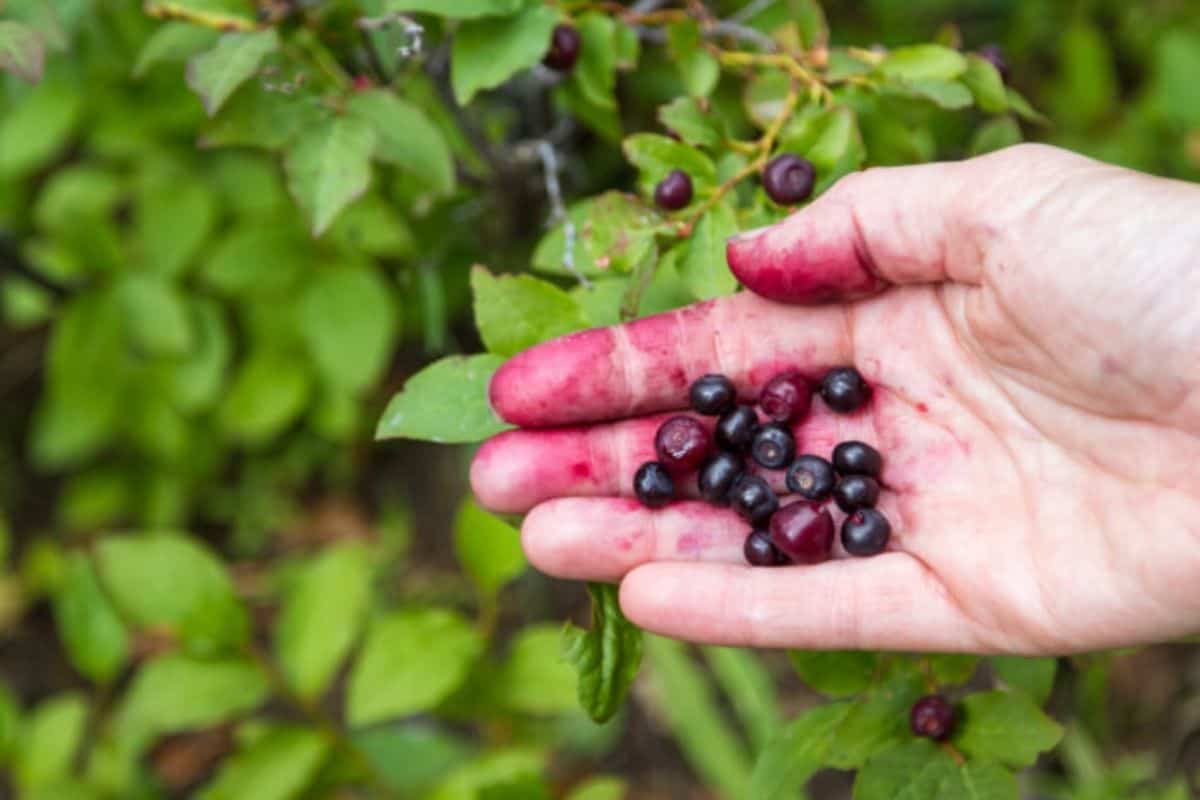 Where Can You Buy Huckleberries?
Even in August during huckleberry season, fresh huckleberries can be tough to find. Even in Montana. To buy fresh huckleberries, your best bet is a farmer's market, roadside stand, or specialty store.
But even then, most whole fresh huckleberries for sale are frozen due to their short shelf life. Across the United States, you can easily purchase frozen huckleberries online and have them shipped to you.
How Much Do Huckleberries Cost?
Because huckleberries grow wild and can't easily be cultivated, they must be picked by hand in the Montana mountains. And when you go huckleberry picking, you must be mindful of the bears, coyotes, deer, and birds who are also angling for their share of the delicious berries. All of these factors make huckleberries much more expensive than other fruits and berries like blueberries, cherries, and blackberries.
It's not uncommon to find huckleberries for sale for $65 per pound in Montana. And when you purchase huckleberries online, expect to pay at least $10 to $20 more per pound.
Sage Advice: From practical pot holders and oven mitts to adorable onesies and pajamas, I love the huckleberry themed items offered by LazyOne!
Are Huckleberries and Blueberries the Same Fruit?
No, huckleberries are a different kind of fruit, just like strawberries and raspberries or blueberries and blackberries are unique foods. However, because of their similarities (and because huckleberries are so expensive), many places mix blueberries (or another type of fruit) into their huckleberry pies.
All of this talk about my favorite berries from Montana is making me hungry, so let's get on to the best huckleberry dishes in Montana.
I'm Your Huckleberry Burger at Whitefish Handcrafted Spirits Kalispell
Whether made from ground beef or ground bison, you'll find amazing burgers all over Montana. But the "I'm Your Huckleberry" burger at Whitefish Handcrafted Spirits is one of the best of the best.

The ground-in-house beef patty is topped with either Havarti or goat cheese followed by caramelized onions and huckleberry compote. And if those aren't enough amazing ingredient combinations to set off flavor fireworks inside your mouth, the huckleberry burger is served on a toasted potato bun spread with an artichoke cream sauce.
Huckleberry Barbeque at the Montana City Grill & Saloon
As someone who lives in the Barbeque Capital of the World here in Kansas City and loves the huckleberries in Montana, this Montana restaurant is full of win/win options when it comes to the best huckleberry dishes in Montana. Just a 15-minute drive southeast from Helena, the Montana City Grill & Saloon has a housemade huckleberry BBQ sauce that is out of this world.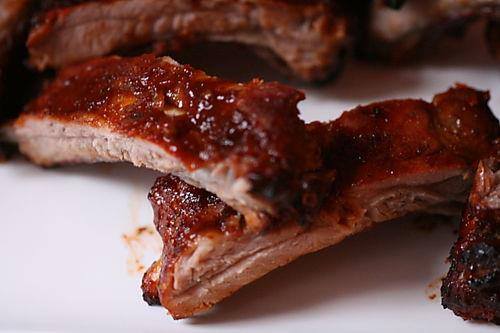 Enjoy the huckleberry barbeque sauce at the Montana City Grill smothered on a juicy barbequed chicken breast or glazed onto their tender pork ribs. You can also dunk crispy breaded chicken strips into the huckleberry barbeque sauce as a final step before you chow down each bite.
Sage Advice: While the word "barbeque" has been spelled more than five different ways over the course of history, Americans have settled on two ways to spell the word since the Civil War: barbecue and barbeque. Because Everyday Wanderer is published with love in Kansas City, the Barbeque Capital of the World, we follow the Kansas City Barbeque Society's lead and use a q.
Huckleberry Recipe: Huckleberry Barbeque Ribs
Want to try huckleberry barbeque ribs at home? This tasty huckleberry dish simmers huckleberry jelly whisked with Worcestershire sauce, apple cider vinegar, chili powder, and more to create a homemade huckleberry barbeque sauce. The delicious sauce is then poured over baby back ribs and slow cooked in a crockpot in this recipe for huckleberry barbeque ribs.
Huckleberry Walnut Salad at The Montana Club
If you're a vegetarian (or just looking for lighter fare than burgers and barbeque), The Montana Club's huckleberry walnut salad is one of my favorite huckleberry dishes in Montana. The culinary team at The Montana Club starts with a bed of fresh salad greens and then adds shredded carrots, tart green apples, and then finishes things off with chopped walnuts, bleu cheese crumbles, avocado chunks, and Montana huckleberries.

Established more than 30 years ago in Missoula, you can now also enjoy this delicious huckleberry dish at The Montana Club locations in Great Falls, Kalispell, Butte, and Billings.
Huckleberry Vinaigrette Dressing at Montana's Rib & Chop House
Since this momma believes that you should always eat your meal before sweets, let's start with the huckleberry vinaigrette at Montana's Rib & Chop House. Founded in the Treasure State in 2001, Montana's Rib & Chop is well-known for its premium steaks, fresh seafood, and award-winning baby back ribs. And while my family definitely loves all of those things, we absolutely never miss the chance to enjoy their huckleberry vinaigrette.
With the distinct taste of huckleberries paired with tangy vinegar, the huckleberry vinaigrette is the perfect housemade dressing to start your meal with a house salad or enjoy an entree-sized fried chicken salad.
You'll find Montana's Rib & Chop House in several Montana cities including Billings, Butte, and Livingston. You can also enjoy their huckleberry vinaigrette in Rocky Mountain locations outside of Montana including Casper, Wyoming; Colorado Springs, Colorado; and St. George, Utah.
Huckleberry Recipe: Huckleberry Vinaigrette Recipe
While my family has been known to carefully pack a to go container of Rib & Chop's huckleberry vinaigrette in our checked luggage in order to bring this delicious huckleberry condiment home from Montana, I now have an alternative. And this option is a lot less risky tan a pint of huckleberry salad dressing potentially bursting open at 32,000 feet and drenching your clothing with huckleberry goodness!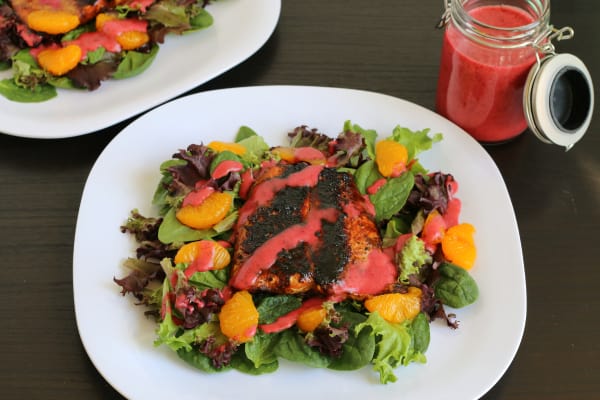 To enjoy huckleberry vinaigrette at home, blend a half cup of frozen huckleberries with these five ingredients. The huckleberry salad dressing in this huckleberry recipe is the perfect finishing touch on blackened salmon, fried chicken, or steak salads. It also dresses up a basic tossed salad with flavors that will take your taste buds back to the majestic mountains of Montana.
Huckleberry Ice Cream at Sweet Peaks Ice Cream
With a few healthy huckleberry dishes out of the way, let's discuss huckleberry desserts! Warm summer days scream for ice cream. And when you're enjoying the sunshine in Montana, you'll want huckleberry ice cream. In a state with everything huckleberry, you're sure to find huckleberry ice cream many places. But I promise you, the best huckleberry ice cream in Montana is at Sweet Peaks.
Established in 2010 in Whitefish, Montana, this artisan ice creamery hand-crafts ice cream using quality ingredients sourced locally (as often as possible) that showcase the unique flavors and personality of the Rocky Mountain region.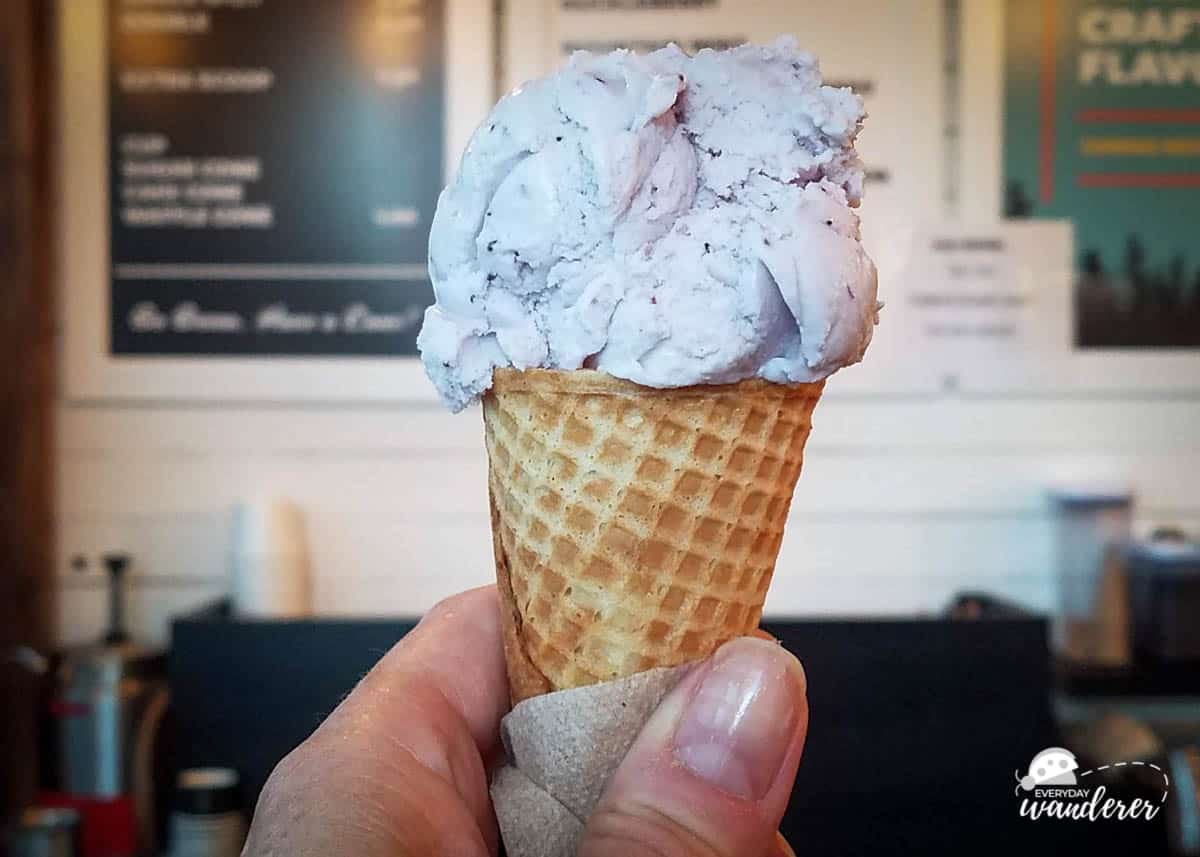 The huckleberry ice cream at Sweet Peaks is made with huckleberries picked in the Cabinet Mountains in the northwestern part of Montana near the border of Idaho. Fresh huckleberries are blended into the fresh milk and sweet cream sourced locally in Montana, and, yes, it's as good as that sounds!
Score a scoop of huckleberry ice cream at a Sweet Peaks Ice Cream in Bozeman, Kalispell, Missoula, or Whitefish, Montana. You can also find huckleberry ice cream outside of Montana at the Sweet Peaks location in Spokane, Washington.
Huckleberry Ice Cream Sandwich from Wilcoxson's Ice Cream
For more than a century, Wilcoxson's has been making ice cream with locally-sourced Montana ingredients including the state's beloved huckleberries. Look for their three-ounce rectangular chocolate cookie sandwiches stuffed with Wilcoxson's huckleberry ice cream in the freezer cases of most grocery stores, chalet shops, and gift shops across Big Sky Country.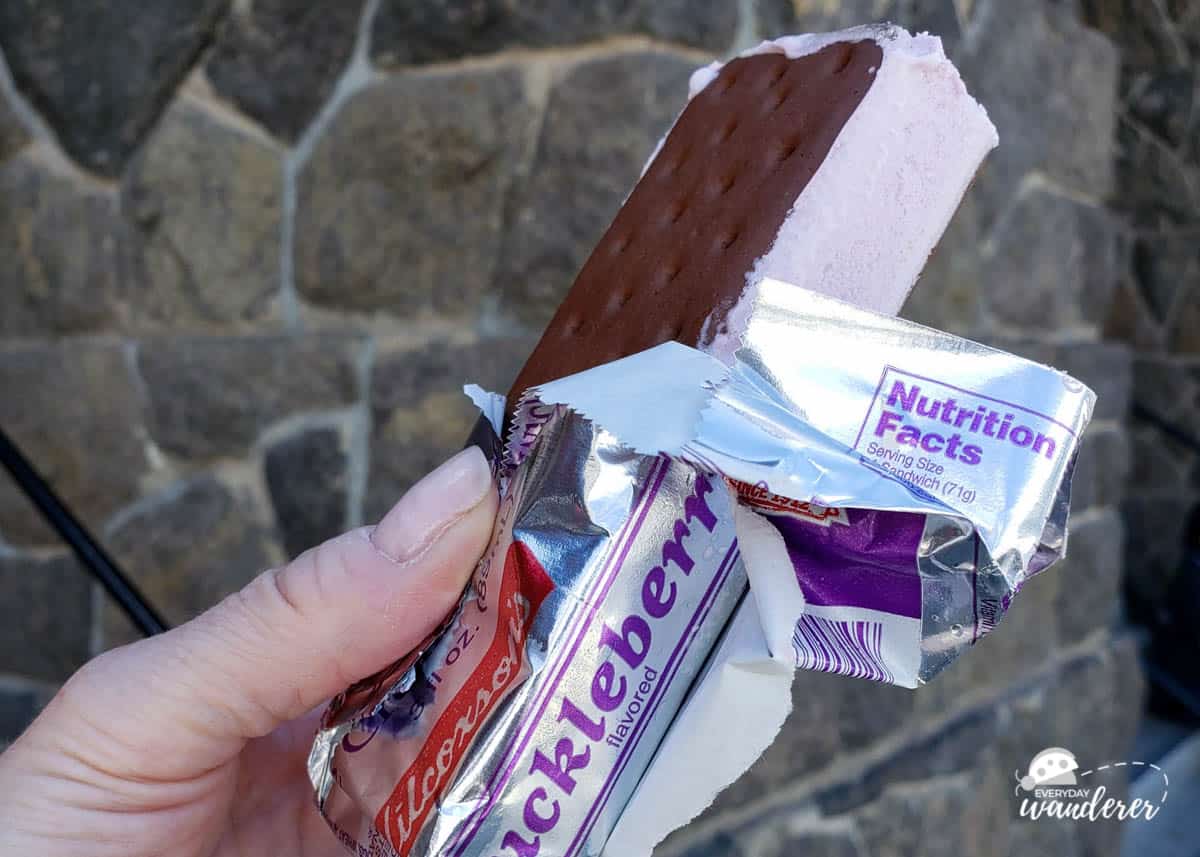 Huckleberry Pie at the Glacier Highlands Restaurant
One of the most traditional ways to enjoy huckleberries as a dessert is baked into a pie. But because huckleberries can be quite expensive, many bakeries and restaurants mix huckleberries with other fruits when baking huckleberry pie. Although huckleberries and blueberries are two different fruits, they are similar. So you'll often find huckleberry pie mixed with blueberries. It's also common to see huckleberry-peach and huckleberry-plum pies on menus and in bakery cases across Montana.
I've lost count of all the pieces of huckleberry pie I've consumed during all of my trips to Montana, but I promise you that the very best huckleberry pie is at the Glacier Highland restaurant just outside the west entrance to Glacier National Park. What makes the huckleberry pie at the Glacier Highland restaurant the best in Montana? Beyond the perfect flaky crust, their huckleberry pie filling is made exclusively with huckleberries.
Huckleberry Recipe: Huckleberry Pie
To bake a bit of Montana at home, try this huckleberry pie recipe. While my grandmother was a pastry chef who made perfect pie crust, I don't possess her talent (or want to spend the time) making my crust from scratch. And this huckleberry recipe focuses on the important stuff — mixing fresh or frozen huckleberries with orange zest, sugar, and other ingredients — while using a prepared pie crust.
Have You Tried One of These Huckleberry Dishes in Montana?
What is your favorite way to enjoy huckleberries in Montana? Is there a huckleberry dish you'd add to this list? Share your experiences in the comments section below.
Looking for more information to plan your Montana vacation? Check out my additional recommendations to help you plan your trip to Montana including what to see and do in Montana, the best places to stay in Montana, where to eat in Montana, and more!
Ready to Go? Use These Helpful Links to Book Your Trip
Huckleberry Drinks. From huckleberry vodka to huckleberry syrup, these are the best options in Montana.