On the edge of America's first national park, the Grizzly and Wolf Discovery Center is a not-for-profit wildlife park. The educational facility is dedicated to giving visitors the opportunity to observe the magnificent wild animals at the facility and learn how to co-exist with them in a shrinking world. Here are five reasons you should visit the Grizzly and Wolf Discovery Center as part of your Yellowstone National Park vacation.
In the 18th and 19th centuries, wild game hunters would travel to faraway places to trap beautiful birds, cuddly critters, and ferocious beasts. These magnificent animals would be ripped from their homes and shipped far away where they were kept on palace grounds or displayed in zoos as curious onlookers peered at them through metal bars.
Thankfully, times have changed. And the animals you'll meet at the Grizzly & Wolf Discovery Center in West Yellowstone are there because they are unable to live a wild and free life.
Why?
In some cases, the animals were abandoned as small cubs or pups and didn't develop the life skills needed to survive in their natural habitats. In other instances, injuries robbed the creatures of the strength and ability to successfully hunt for food. And in some situations — especially with the bears — the animals lost their natural fear of humans.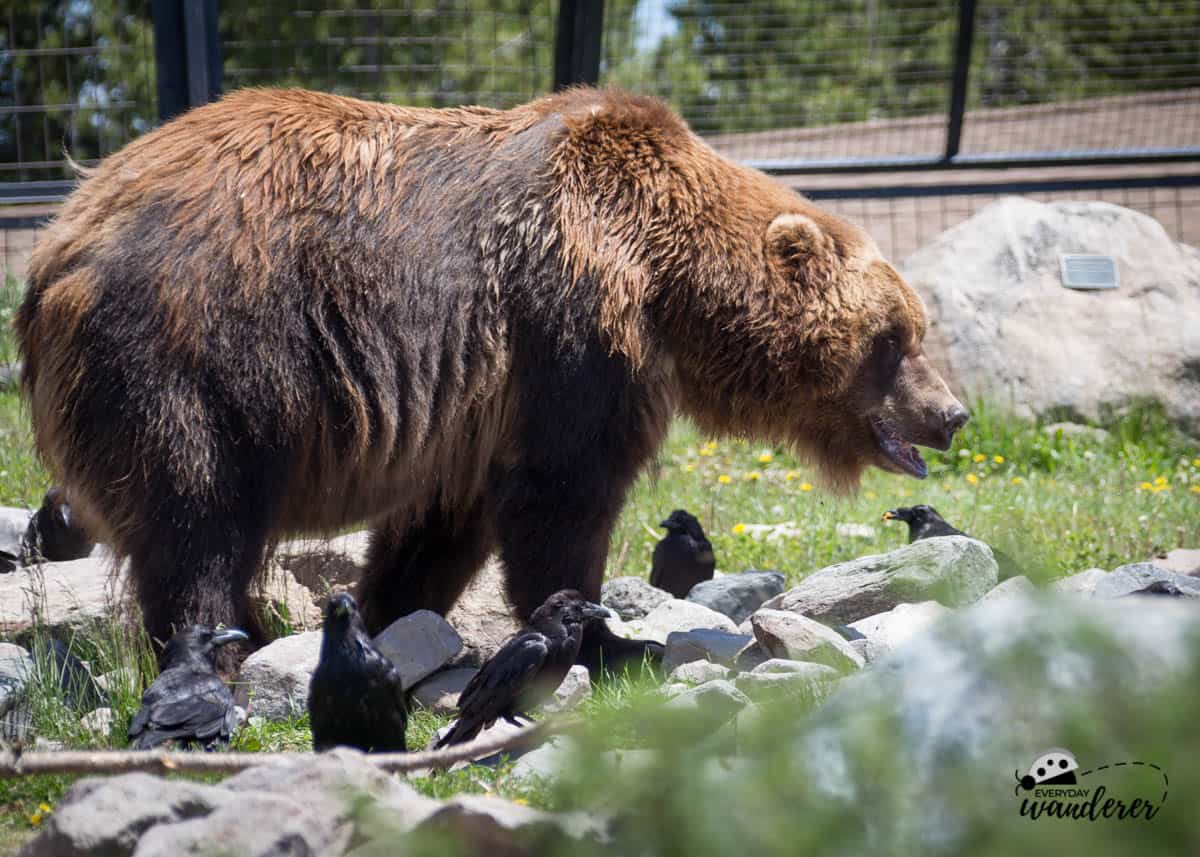 Known as "nuisance" bears, these creatures are a danger to the humans that share their communities and to themselves. Because they prefer to wander into neighborhoods and dig through dumpsters searching for human food rather than forage for insects and berries in the woods, bad things happen. Not only does this cause a spike in bear attacks, but nuisance bears are likely to be shot and killed as parents protect their children and farmers protect their livelihood.
To help offset the costs of running EverydayWanderer.com, you'll find affiliate links lightly sprinkled throughout the site. If you choose to make a purchase via one of these links, there's no additional cost to you, but I'll earn a teeny tiny commission. You can read all of the legal blah blah blah (as my little niece says) on the full disclosure page.
The Grizzly and Wolf Discovery Center gives visitors the chance to get close to these amazing animals in their natural habitat. While you're likely to see bison, elk, and many other animals when you continue on to Yellowstone National Park, it's important to keep your distance. America's national parks are not petting zoos, and all of the animals at Yellowstone are wild.
But at the Grizzly and Wolf Discovery Center, visitors are able to watch grizzlies forage for food and wolves napping in the afternoon sun from just a few yards away. While the grizzly bears get top billing, you'll also get to observe Yellowstone wolves and river otters. There are also birds of prey at the center including owls, hawks, eagles, and falcons.
Sage Advice: Watch brown bears, grizzly bears, and 30+ other animals via these live animal feeds.
2. Feed the Bears (in an Appropriate Way)
From its establishment in 1872 until nearly 100 years later, it was common to feed bears at Yellowstone National Park. Bear feeding stations popped up around the park. No steps were taken to prevent bears from rummaging through garbage cans, and visitors actively fed bears. These actions helped build a community of beggar bears who regularly approached accommodating humans.
But there's a common expression in bear country: A fed bear is a dead bear. Because bears who are attracted to human food sources are going to end up in trouble.
No, you won't be hand feeding a full-grown grizzly at the Grizzly and Wolf Discovery Center. However, kids between the ages of 5 and 17 can sign up for a unique 30-minute program that allows them to go into the bear habitat and hide food for the grizzlies. Once the tidbits are hidden (and all the children are safely removed from the enclosure), they can watch how bears forage for food.
Sage Advice: The Keeper Kids and Keeper Crew programs are ridiculously affordable at just $5 per child. However, space is limited, so plan ahead!
Sage Advice: Enjoy the most iconic experiences in Big Sky Country by working your way through this free Montana bucket list.
3. Learn Important Bear Safety Tips
As an AZA accredited not-for-profit wildlife park and educational facility, the Grizzly and Wolf Discovery Center puts a heavy emphasis on education. And when you explore the beauty of bear country, you should know (and always follow) bear safety tips. Throughout the discovery center, you'll gain an understanding and appreciation for the animals as well as learn how to co-exist with them in our rapidly shrinking world.
Join one of the many expert-led programs scheduled throughout the day when you visit the Grizzly and Wolf Discovery Center. Not only are they included with your admission (except the Keeper Kids program), but you'll learn important skills for exploring bear country like:
what attracts bears to areas populated by humans (and how to stop it),

how to correctly use bear spray, and

discover how to properly observe wildlife within Yellowstone National Park.
Sage Advice: See what programs are scheduled the days you plan to visit the Grizzly and Wolf Discovery Center.
Fun Fact: Montana has the largest grizzly bear population in the contiguous United States. Here are some other fun facts about Montana.
4. Watch Bears Work as Product Testers
While teddy bears are soft and cuddly, grizzly bears are not. With sharp claws as long as human fingers, grizzly bears can tear into regular trash cans and camping coolers faster than a hot knife cuts through butter.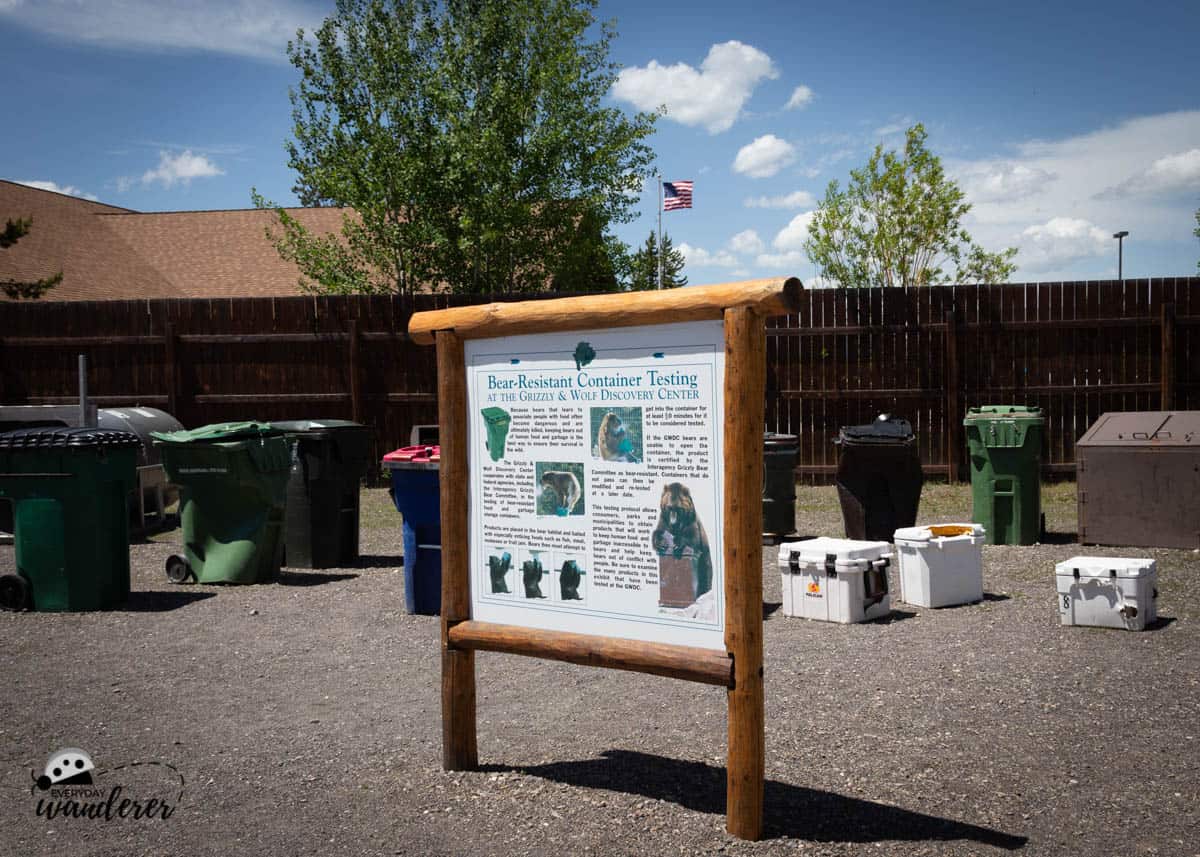 One of the ways the grizzly bears at the Grizzly and Wolf Discovery Center earn their keep is by testing garbage cans, dumpsters, food containers, and other products. A piece of fish, a drizzle of honey, and other foods the bear loves are placed inside the container. After an hour of trying, if the bear is unable to get into the container, it is certified as bear resistant. But if the bear can get to the food in under 60 minutes, the product's designers go back to the drawing board.
If you visit the Grizzly and Wolf Discovery Center on a day when the bears aren't testing products, be sure to explore the outdoor display that showcases a variety of previously tested products.
Sage Advice: If you love grizzly bears, check out the mugs, note pads, pajamas, socks, and other bear items and apparel offered by LazyOne.
5. Get Tips on How to Coexist with Grizzlies in Bear Country
Near the display of dented garbage dumpsters and shredded trash cans are other outdoor displays that help humans coexist with grizzlies in bear country. For example, examine the type of bear trap used to humanely capture nuisance bears in residential areas and safely move them to another location. Or, learn how locals set up their summer vegetable gardens to be bear-resistant in bear country.
To Visit the Grizzly and Wolf Discovery Center Near Yellowstone National Park
Where is the Grizzly and Wolf Discovery Center?
The Grizzly and Wolf Discovery Center is located at 201 S. Canyon St. in West Yellowstone, Montana. It's just a few blocks south of the intersection of Targhee Pass Hwy and N. Canyon St., just outside the west entrance to Yellowstone National Park.
When is the Grizzly and Wolf Discovery Center Open?
Although the center is open 365 days a year, Grizzly and Wolf Discovery Center hours vary by season. You can expect the center to open daily at 8:30 am and close between 4:00 pm (winter hours) and 8:00 pm (summer hours).
What does it cost to visit the Grizzly and Wolf Discovery Center?
An adult general admission ticket is currently $15.00, and admission to the Grizzly and Wolf Discovery Center is good for two consecutive days. This gives visitors the opportunity to observe the animals and participate in programs at different times over those two days. Discounts are offered to seniors, students, and children. (No ticket is required for visitors under the age of five.)
As a reminder, Grizzly and Wolf Discovery Center prices include all expert-led programs with the exception of the Keeper Kids and Keeper Crew programs.
For the latest information, including special exhibits and events, visit the Grizzly and Wolf Discovery Center website.
Have You Visited the Grizzly and Wolf Discovery Center?
What was your experience like when you visited? Any additional tips and tricks to pass along to others considering this stop as part of a trip to Yellowstone National Park? Share your experiences in the comments section below.T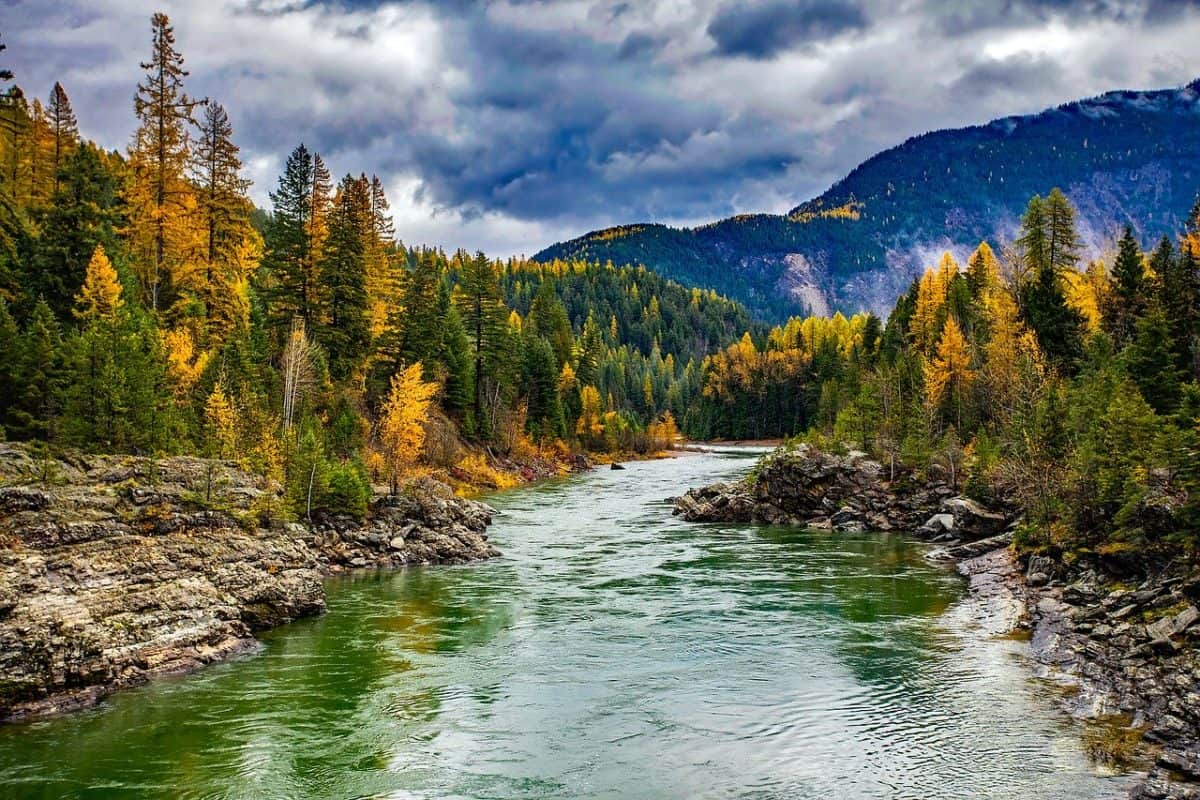 Looking for more information to plan your Montana vacation? Check out my free Montana travel guide to help you plan your trip to Montana including the best time to visit Montana, what to see and do in Montana, the best places to stay in Montana, where to eat in Montana, and more!
Ready to Go? Use These Helpful Links to Book Your Trip!