The American Southwest is experiencing a "super bloom" this year thanks to a wet winter. Look for an abundance of blossoms as Arizona wildflowers in orange, purple, red, and yellow cover the desert floor like a blanket and accent mountainsides.
I hate winter in the Midwest. I hate the cold. I hate being cold. And once the initial excitement of the first snow of the season has come and gone, I'm already counting the seconds until spring. And while I'm lucky to be able to occasionally thaw out at my sister's house in Phoenix, I often miss the trees, grass, and other greenery that surround me at home in Kansas City.
Unless it's spring.
There are few sights more breathtaking than the desert in spring. Majestic saguaro cacti and other prickly plants stand tall under a cerulean sky dotted with puffy, white clouds. At their feet is a cornucopia of colorful wildflowers.
To share the beauty of the desert in bloom with you, I've created this guide to Arizona wildflowers. It is designed to help you identify the most common flowers in Arizona blooming from Flagstaff to Tucson and every hillside and trail in between.
To help offset the costs of running EverydayWanderer.com, you'll find affiliate links lightly sprinkled throughout the site. If you choose to make a purchase via one of these links, there's no additional cost to you, but I'll earn a teeny tiny commission. You can read all of the legal blah blah blah (as my little niece says) on the full disclosure page.
One of the best ways to see Arizona's wildflowers is to hike one of the many nature trails or drive through one of the Arizona state parks. But this year's super bloom means you'll also see large swaths of color in nearly any open space.
Here are some of the best places to view Arizona wildflowers:
Boyce Thompson Arboretum

– Located about an hour east of Phoenix in Superior, Boyce Thompson is the oldest botanical garden in Arizona and one of the largest botanical gardens west of the Mississippi River.

Peridot Mesa – Because the Peridot Mesa is located on the San Carlos Indian Reservation, a permit must be purchased to travel to the prime viewing location to see Arizona wildflowers. You can still see acres and acres of wildflowers simply by driving along US Highway 70 between Roper Lake and Superior, Arizona.

Saguaro National Park

. In Tucson, this national park is full of majestic saguaro cacti surrounded by colorful wildflowers.

San Tan Mountain Regional Park

. This regional park is just south of the Phoenix suburb of Queen Creek. Use

this map

to assess the length and difficulty of each trail so you know before you go searching for the beautiful wildflowers of Arizona.

Tonto National Forest

. At 2.8 million acres, this is the fifth largest national forest in the US stretching from the

Lost Dutchman State Park

in the south to Flagstaff and beyond. This area of the Grand Canyon State offers amazing mountain views trimmed with ribbons of wildflowers.
Pro Tip: In addition to hiking Arizona in search of wildflowers, consider exploring these Arizona slot canyons. These narrow canyons formed in rock feature beautifully colored walls that twist and turn and are every bit as captivating as Arizona wildflowers.
Orange Arizona Wildflowers
As we hiked several trails at the destinations listed above, my sister and I thought these orange wildflowers were related to sage or oregano. After all, they grow in clusters that reach about three feet tall and the small orange blossoms of these wildflowers are surrounded by green leaves that look like those herbs. But, we were wrong. Globemallows typically thrive after a forest fire and provide food and shelter to animals like the desert tortoise.
Ranging in color from lemon yellow to butterscotch orange, golden poppies are the state flower of California. Sure, you can travel to the Antelope Valley north of Los Angeles to see acres upon acres of these beauties in bloom, but why fight the crowds when you can have these beautiful orange wildflowers all to yourself in Arizona?
Purple Arizona Wildflowers
In one variety or another, lupines are widely distributed around the world from North America to South America and from North Africa to the Mediterranean countries of Europe. In the desert of the Southwest, you can see their flowery purple stalks nearly everywhere since they are one of the three most common wildflowers of Arizona.
The chuparosa's long, slender crimson flowers make it easy to identify against a background of desert hues. Hummingbirds love the sweet nectar at the center of its blooms giving this red wildflower the nickname "hummingbird bush."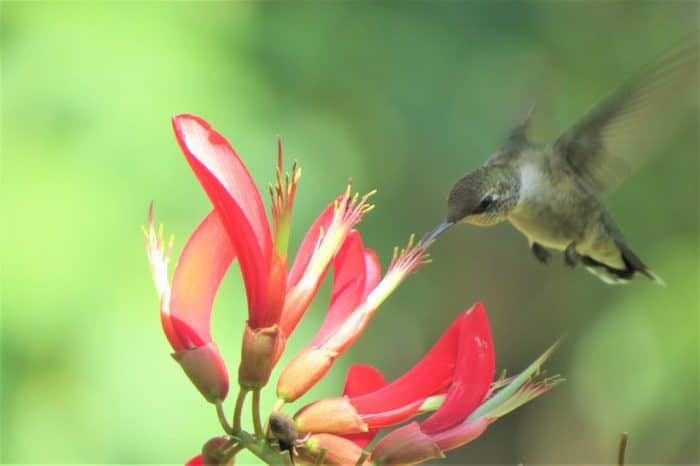 Yellow Arizona Wildflowers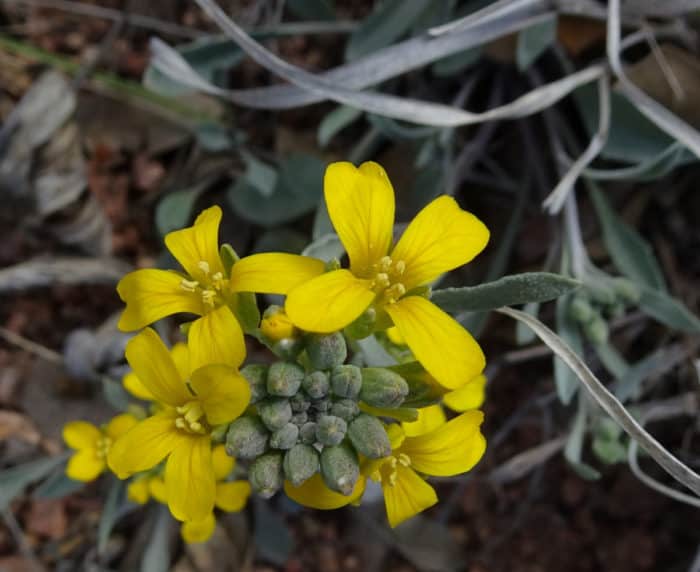 While bladderpods can be found in several colors, the most common shade blooming in Arizona right now is a bright, sunny yellow. Look for these yellow flowers blanketing the desert floor as if Mother Nature spilled a ton of lemon jelly beans on her desert-themed living room floor.
A member of the sunflower family, brittlebush is a dainty desert cousin to the state flower of my home state. And, you don't need a PhD in botany or a DNA kit to see the resemblance. To identify these yellow wildflowers in Arizona, look for petite scallop-edged petals with a cluster of small round seed-like pods in the center.
As suggested by its name, these yellow Arizona wildflowers are as nocturnal as a vampire, but without the fangs. Evening primrose's daffodil-colored petals open in the evening and close the following morning.
It's hard to step outside and not see poppies blooming in Arizona. I didn't see any red poppies (which are quite common in California), but red and yellow poppies are literally everywhere in the 48th state.
What Arizona Wildflowers Have You Seen This Year?
What are your favorite Arizona wildflowers? Which was more plentiful when you visited — orange wildflowers, purple wildflowers, yellow wildflowers, or red wildflowers? Where do you like to search for wildflowers in Arizona? Share your thoughts in the comments section below.
Ready to Go? Use These Helpful Links to Book Your Trip