The inside of the large, cube-shaped stone building standing 14 stories tall in the heart of historic downtown Dallas is filled with wonder. At the Perot Museum of Nature and Science, visitors can explore the universe, gaze at gigantic gems, experience an earthquake, analyze their jumpshot, and so much more. Here's what you'll want to know BEFORE you head to this engaging educational museum in Texas.
A special thanks to the Perot Museum of Nature and Science for inviting me to experience its engaging interactive museum in Dallas. Although the museum provided my daughter and me with complimentary general admission tickets, we purchased our lunch at the museum. But you can count on me to always share my honest opinions, regardless of who foots the bill.
Fueled by a generous donation from the five adult children of Ross and Margot Perot, the Perot Museum of Nature and Science merged the Dallas Museum of Natural History, Science Place, and Dallas Children's Museum into a mega-museum. Since its opening in December 2012, the non-profit Perot Museum of Nature and Science has been focused on inspiring the next generation of star seekers, fossil finders, robotics engineers, and other science and technology experts. Here's what you can expect when you spend a day at this exciting, educational, and engaging museum in the heart of historic downtown Dallas, Texas.
Sage Advice: Save on admission to the Perot Museum and other top Dallas attractions with the Dallas CityPASS. How much will you really save? I did the math.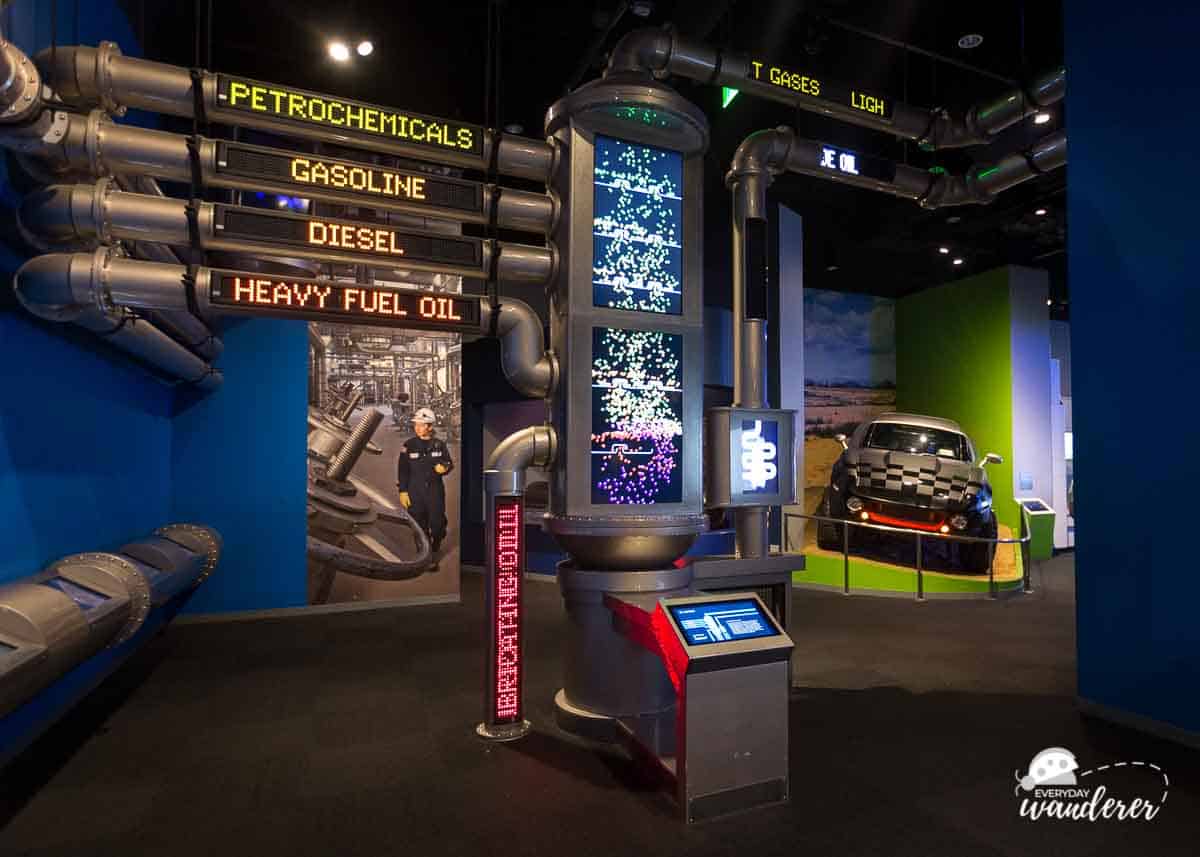 To help offset the costs of running EverydayWanderer.com, you'll find affiliate links lightly sprinkled throughout the site. If you choose to make a purchase via one of these links, there's no additional cost to you, but I'll earn a teeny tiny commission. You can read all of the legal blah blah blah (as my little niece says) on the full disclosure page.
1. The Perot Museum in Dallas is HUGE!
Texans like to say, "everything is bigger in Texas." Apparently that includes their museums, because the Perot Museum of Nature and Science has five spacious floors with eleven permanent exhibits that fill a 180,000-square-foot space.
Start your visit by taking the T. rexcalator to the fourth floor. The continuous flow escalator initially pulls visitors up a glass-enclosed structure that extends outside the building toward a T. rex skeleton. Jump off the escalator and snap a selfie with a ferocious dinosaur or gaze up at the gigantic fossil skeleton of an Alamosaurus and learn more about a new species of dinosaur discovered in Alaska by Perot Museum paleontologists.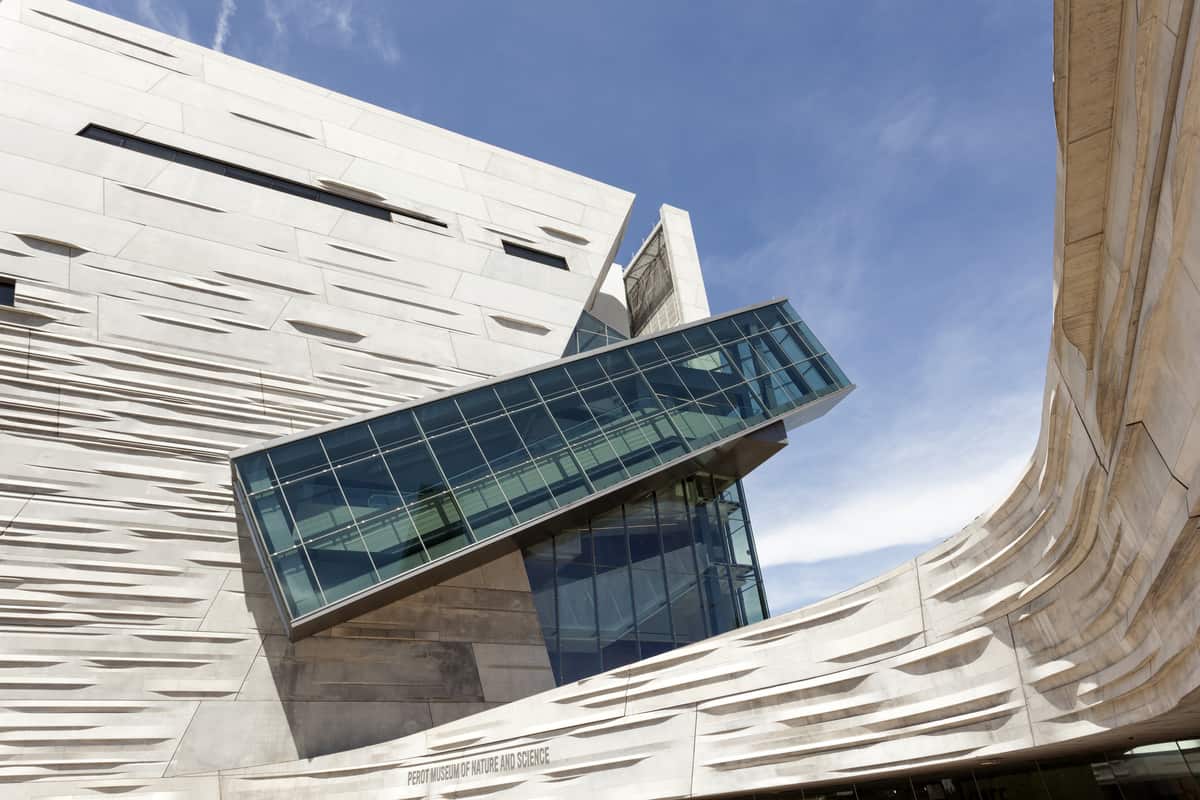 2. It's One of the Greenest Museums in the US
Founded by the Chicago-based Pritzker family via its Hyatt Foundation in 1979, the Pritzker Architecture Prize is the architectural world's equivalent of the Nobel Prize. And the 2005 winner, Thom Mayne, designed the Perot Museum. Called "the boldest piece of modern architecture to hit Dallas" by the Dallas Morning News, the building looks like a giant textured cube letting down a crystal drawbridge. And I wish I'd known that the Perot Museum offers building tours on select weekend days throughout the month.
But whether or not you see a modern masterpiece when you behold the building's cubed exterior, you can feel good about the reduced carbon footprint associated with that shape versus a typical rectangular building. In addition to a soaring glass atrium that leverages natural light to its fullest, the Perot Museum incorporates light wells that fill interior rooms like the learning labs with natural light, reducing the dependency on artificial lighting.
Additionally, the museum's roof is designed to collect rainwater in two 25,000-gallon cisterns. The water is used for the museum's plumbing and the grounds' irrigation needs. And all of the building's water is heated by solar panels.
3. The Perot Museum is Easily Accessible via Alternative Transportation
Although our party of six arrived at the Perot Museum via Lyft, the building's location in Victory Park near historic downtown Dallas makes it easy to visit using public transportation. Known as DART, the Dallas Area Rapid Transit system includes both buses and a light rail.
If you're staying in downtown Dallas, you can also walk or bike to the science museum via the Katy Trail.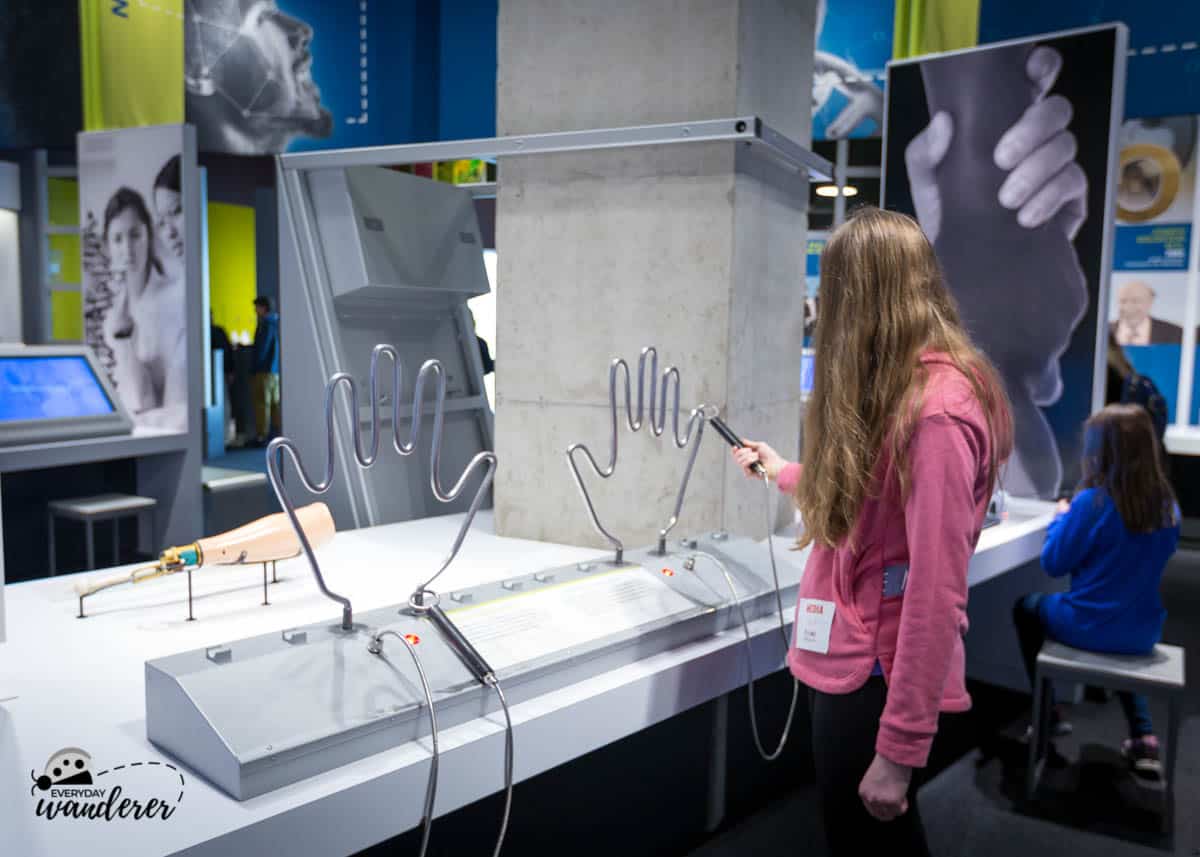 4. It's Incredibly Interactive
Americans are long past the days of "look, but don't touch" science museums, especially those that want to inspire the next generation of STEM majors. But while many museums feature interactive exhibits, I can't think of one as interactive as the Perot Museum of Nature and Science (and I visit a lot of museums).
Every exhibit has some sort of "please touch" experience incorporated into the experience, from dancing with dinosaurs to experiencing an earthquake, from interactive games and puzzles to racing a professional athlete.
5. The Perot Museum Offers Unique Exhibits
Yes, dinosaur skeletons are impressive. Of course, standing nose to nose with a moose is amazing. Who doesn't think visiting another planet in our solar system would be out of this world? But many nature and science museums around the world feature exhibits that are quite similar to one another.
What makes the Perot Museum of Nature and Science stand out as an extraordinary museum are experiences like:
dancing with digital dinosaurs,

running like a paralympic super star,

examining a Nobel Prize,

experiencing an earthquake of varying magnitudes,

racing a professional athlete,

and so much more!
And these unique and interactive exhibits were unlike anything I've ever experienced in any other museum in the world.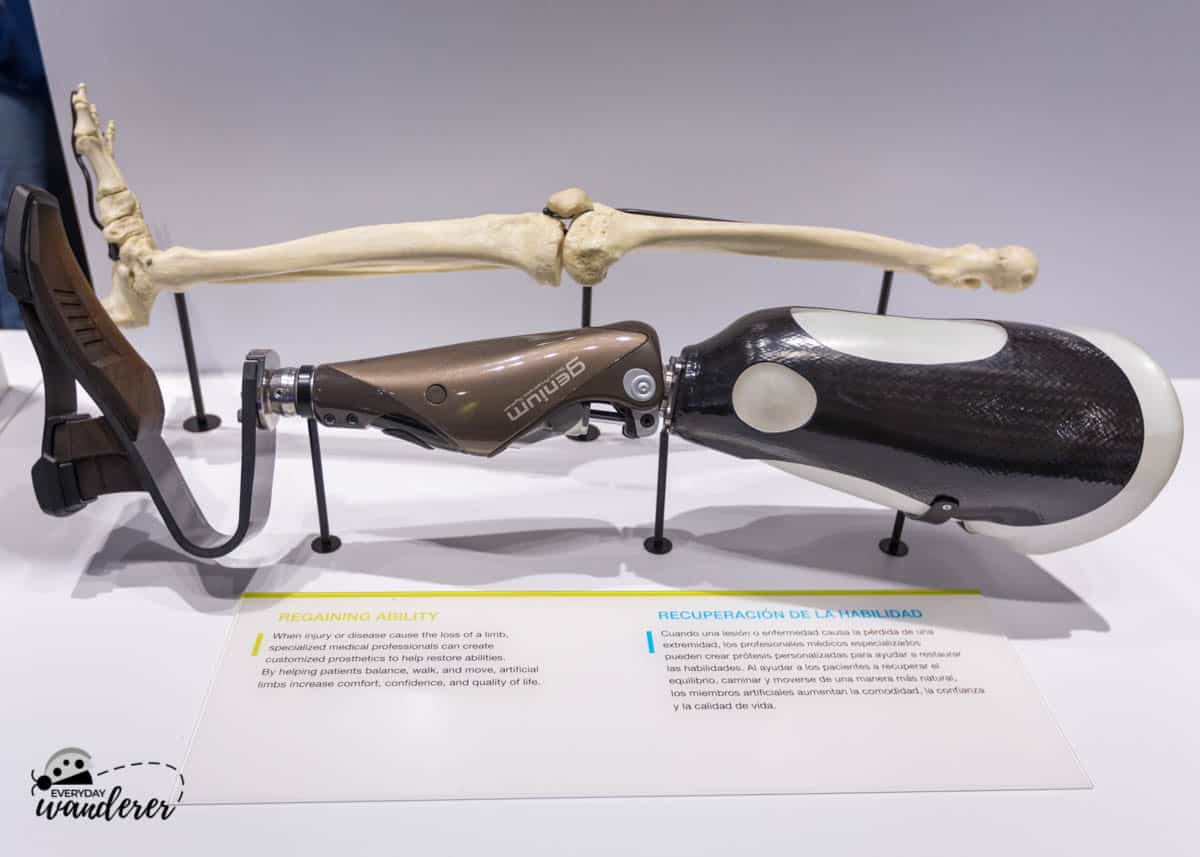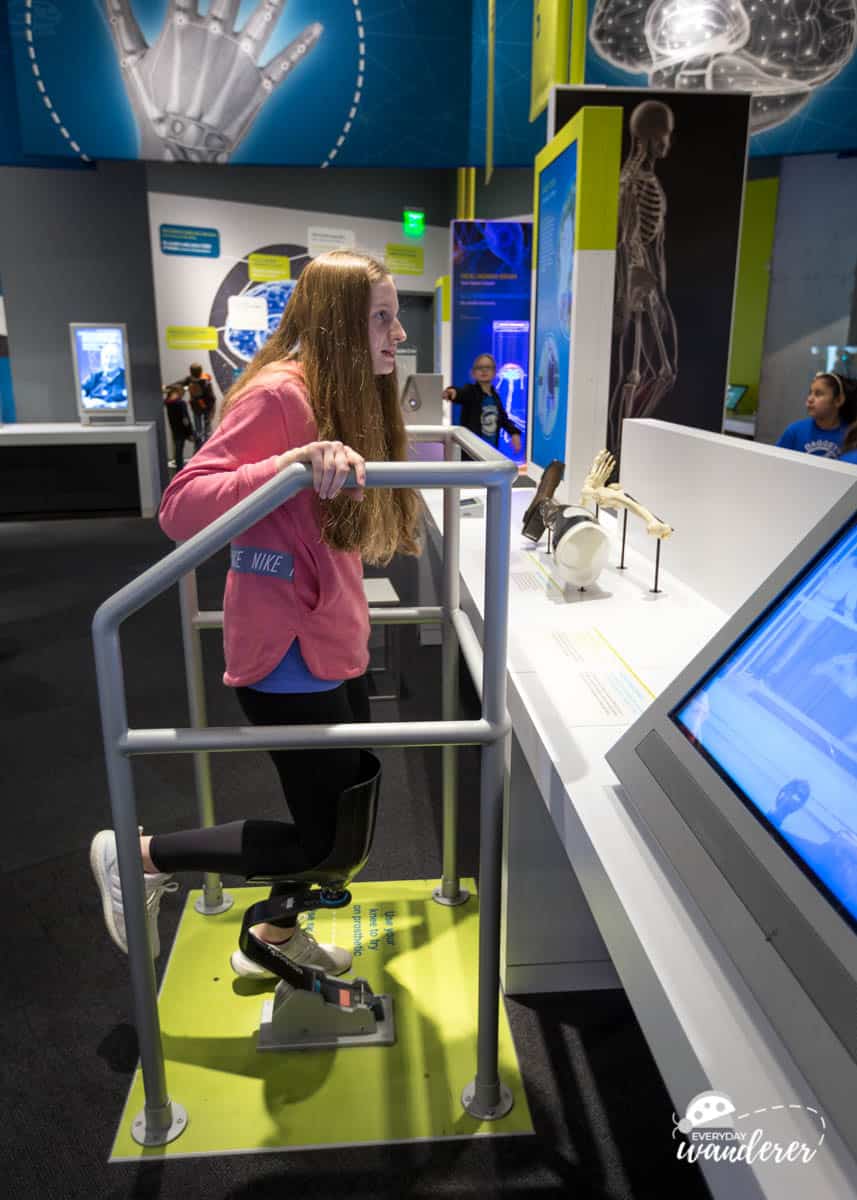 6. They Have Deliciously Healthy Options for Lunch
After exploring the Perot Museum for about an hour, our stomachs started growling. I expected the on-site cafe to only offer a typical kids meal menu featuring hot dogs, chicken tenders, and French fries. Those options are definitely available, but so are a variety of deliciously healthy soups, salads, paninis, and grab-and-go options.
After our visit, I discovered that the Perot Café (as well as the events held at the Perot Museum) are managed by the Wolfgang Puck Food Company, a worldwide food service organization named after the Austrian-American chef. No wonder everything was so delicious!
Fun Fact: Keeping with the Perot Museum's green certifications, the café uses reusable and biodegradable materials.
7. The Staff at the Perot Museum is Amazing
Our group's situation when we visited the Perot Museum was a bit unique as we arrived directly from the airport with six carry-on suitcases and six backpacks in tow. While the museum regularly cordons off a 90-degree angle of the cube-shaped, sun-drenched atrium for the sack lunches brought in by field trippers, the space isn't really set up for luggage storage. But the staffer monitoring the area went out of her way to carve out room for our belongings under the T. Rexcalator. It gave us the peace of mind we needed to fully explore the massive museum without worrying about our luggage.
Sage Advice: If you're seeking a more secure option to stow your luggage while visiting the Perot Museum, look for a Vertoe location nearby.
Throughout our visit, there were just the right number of staffers sprinkled among the exhibits and an incredibly sweet and patient woman in the café who guided my eight-year-old niece to the bins for recycling and landfill as she cleared her place after lunch.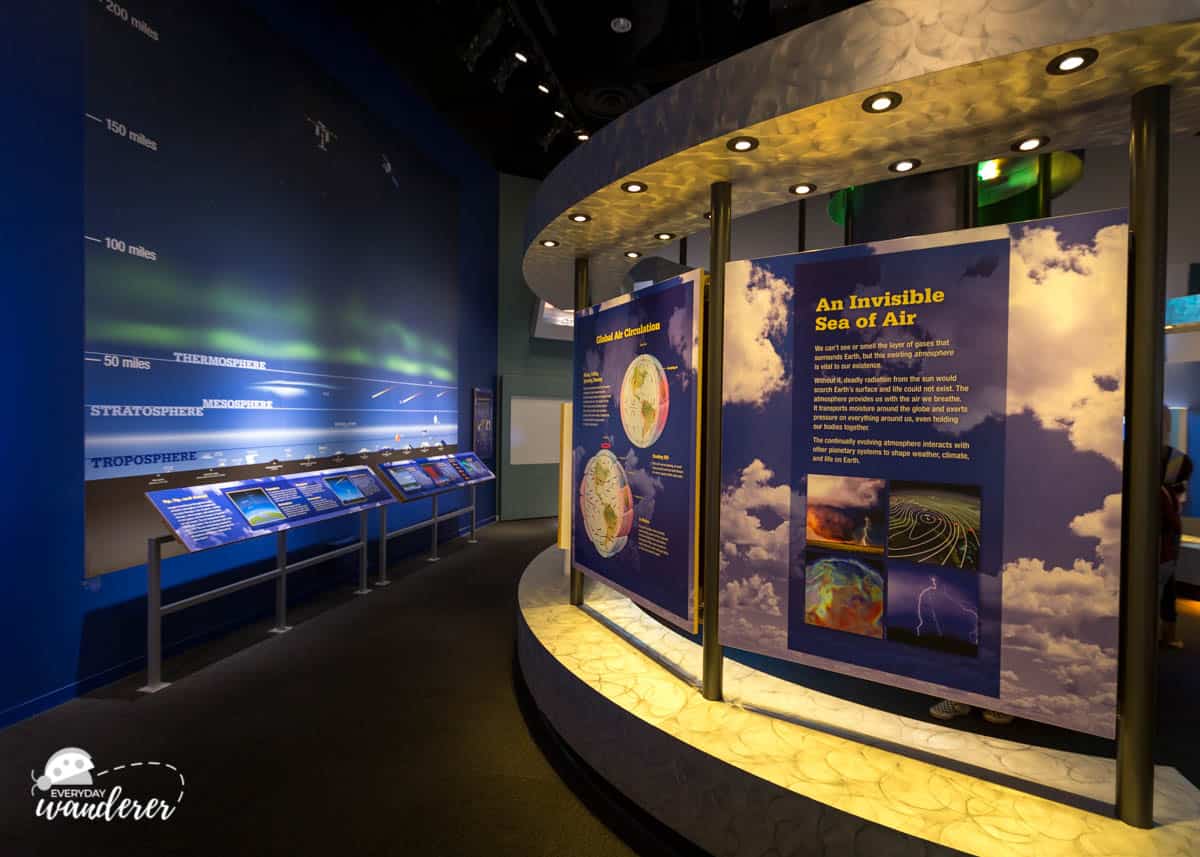 8. If You Visit the Perot Museum on a School Day, Stay Past 2:00 pm
Because we visited the Perot Museum on a weekday, it was filled with local school children enjoying a field trip to the exciting and interactive science museum.
But when the students queued up to board the school buses shortly after our late lunch, we had the place practically to ourselves. So we retraced our steps, starting with an escalator ride all the way to the fourth floor, and revisited the entire museum. This time, the lines to the interactive exhibits were practically non-existent. And in the less crowded environment, we saw new things that we had missed the first time.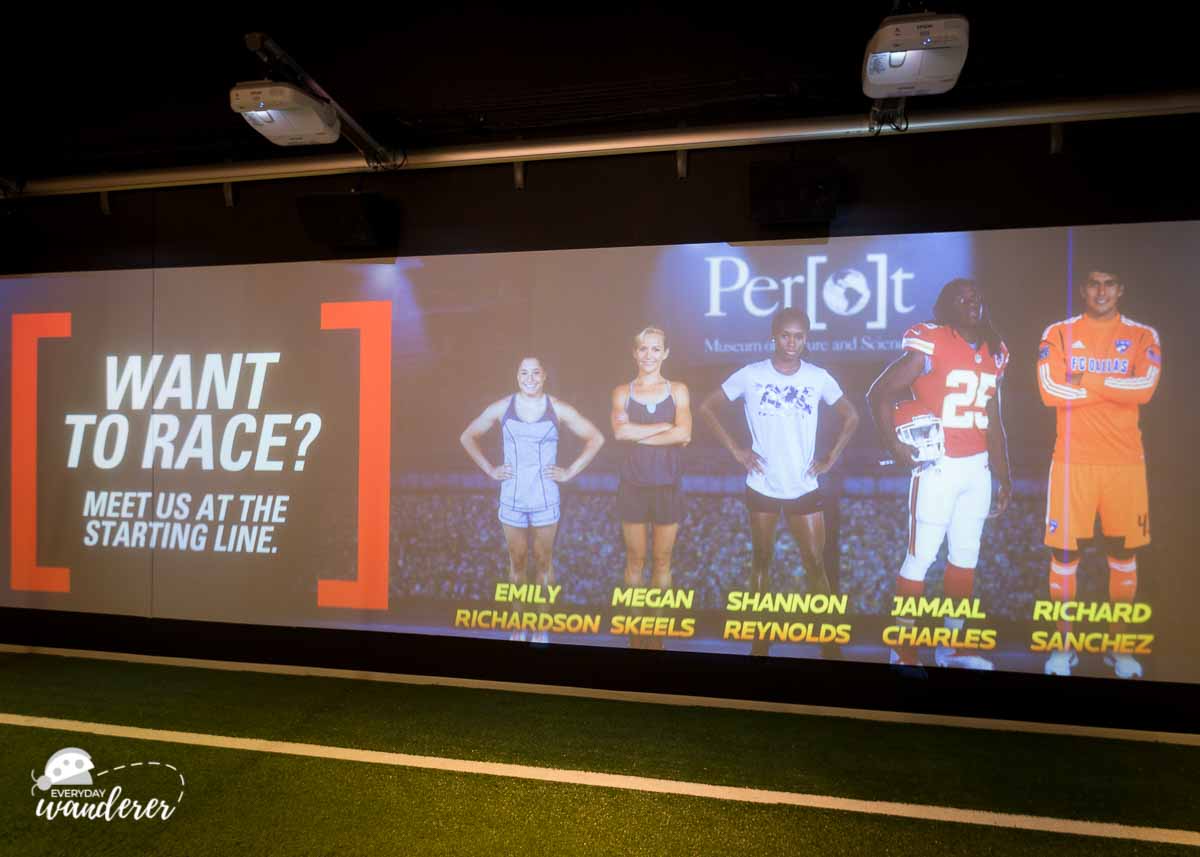 9. The Perot Museum is Fun for All Ages
Some adults may think of interactive educational museums as experiences that are primarily for children. But not only were my mom, sister, and I sucked into the exhibits at the Perot Museum, so were many other adults visiting that day. Moms sat down at remote controllers to race erector set vehicles against their kids, and dads attempted to throw a game-winning touchdown pass like their favorite quarterback in the Lamar Hunt Family Sports Hall.
My sister and I each dragged our middle-aged selves into the sprint lane on the left side of the sports hall to join our middle school-aged daughters (and a professional athlete). And I posed for a pic with the ferocious dinosaur at the top of the T. Rexcalator thanks to my oldest niece. After all, one 13-year-old girl's embarrassing mother is another young teen's cool aunt.
To Visit the Perot Museum of Nature and Science
Perot Museum Address. The Perot Museum of Nature and Science is located at the intersection of N. Field and Broom Streets at 2201 N. Field St. in Dallas, Texas.
Perot Museum Hours. The Perot Museum is open Mondays through Saturdays from 10:00 am to 5:00 pm. On Sundays, the museum opens an hour later, beginning at 11:00 am.
Perot Museum Parking. The main parking lot for the Perot Museum of Nature and Science is located under the Woodall Rodgers Freeway. Non-member parking is $10, but museum members can enjoy a discounted rate of just $5.
Perot Museum Tickets. Save on tickets to the Perot Museum and other popular Dallas attractions by purchasing a Dallas CityPASS. How much will you actually save with the Dallas CityPASS? I did the math.
Have You Visited the Perot Museum of Nature and Science?
What did you like most about your visit to the Perot Museum in Dallas? Any additional tips and tricks to pass along? Share your experiences in the comments section below.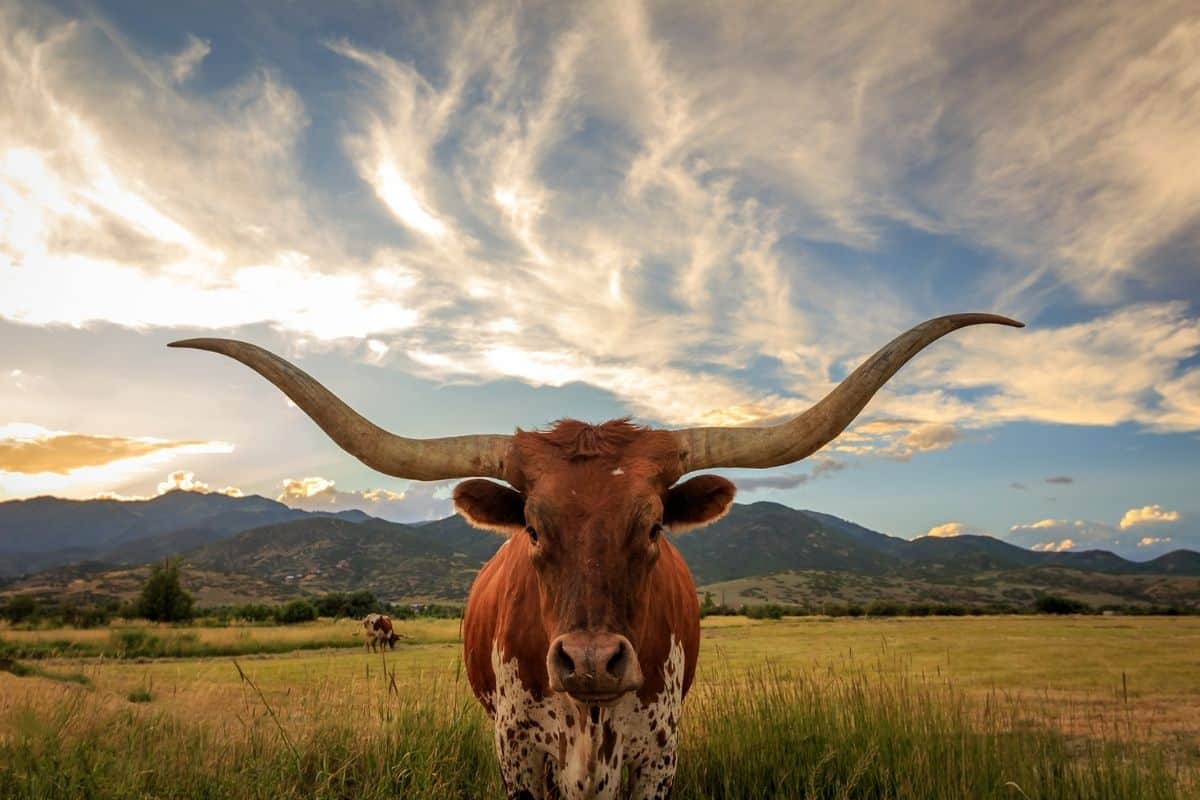 Looking for more information to plan your Texas vacation? Check out my additional recommendations to help you plan your trip to Texas including what to see and do in Texas, the best places to stay in Texas, where to eat in Texas, and more!
Ready to Go?
Use These Helpful Links to Book Your Trip!
More Articles You'll Love!