While Yosemite National Park is forever linked to Half Dome, the massive granite monolith immortalized by landscape photographer Ansel Adams, it's also home to many fabulous flowing waterfalls. Bridalveil and Yosemite Falls are two of the most famous Yosemite waterfalls, but here are several others you'll want to check out when you visit Yosemite National Park.
Hotels.com asked me to share my experience in Yosemite National Park.
Plunging hundreds of feet into rivers and creeks below, the waterfalls at Yosemite National Park thunder past a smooth granite backdrop. Yosemite waterfalls are powered by melting snow and spring rains, so the flowing falls are at their prime in May. Most of the waterfalls at Yosemite are easily spotted from designated viewpoints or after a short walk along paved paths. While it's difficult to see all of the waterfalls in Yosemite, these nine falls are the most spectacular.
Sage Advice: Find the perfect accommodations for chasing waterfalls with one of these hotels near Yosemite National Park.
To help offset the costs of running EverydayWanderer.com, you'll find affiliate links lightly sprinkled throughout the site. If you choose to make a purchase via one of these links, there's no additional cost to you, but I'll earn a teeny tiny commission. You can read all of the legal blah blah blah (as my little niece says) on the full disclosure page.
How to Use This Map
Zoom in or out using the + and – keys in the bottom left corner.
Click the icon on the left side of the map title to view and learn more about a specific point of interest on this map
Click the sharing icon on the top right side of the title bar to share this map via social media
And click the rectangular icon in the top right to view a larger map
Fun Fact: While Joshua Tree National Park near Palm Springs is slightly larger, Yosemite is the largest national park in Northern California.
Bridalveil Fall In Yosemite Valley
Going to Yosemite and not visiting Bridalveil Fall is like going to Yellowstone and not seeing Old Faithful. So, if you only have time to see one of the Yosemite waterfalls, be sure it's this one. The easiest way to see Bridalveil Fall is to park in the designated lot just east of where Southside Drive hairpin curves into Wawona Road. There is a short, 0.5-mile walk along a paved path from the Bridalveil Fall parking area to a viewpoint where the fall is visible across Bridalveil Creek.
While several waterfalls at Yosemite are reduced to a trickle (or evaporate completely) in the dry season, Bridalveil Fall flows year round. However, you'll likely hear a thundering sound if you visit in May when the flow is at its fullest.
Sage Advice: When visiting the waterfalls at Yosemite, I love wearing my Keen hiking sandals. They're as easy to wear and comfortable as flip flops, but provide much better support. Plus, they're machine washable!
Yosemite Falls in Yosemite Valley
Equally famous is the park's namesake waterfall. Made up of three falls — upper, middle, and lower — Yosemite Falls spans 2,425 feet, crowning it the tallest in the park (and one of the most massive waterfalls in the world). As a result, Yosemite Falls is visible from a variety of vantage points in the Yosemite Valley.
The easiest way to view Yosemite Falls is via the relatively flat 1.2-mile Lower Yosemite Falls Trail loop. For even more spectacular views of Yosemite Falls, trek the 7.2-mile, out-and-back Upper Yosemite Falls Trail that largely hugs the west side of the falls. As you might expect from a trail that leads to the top of the park's tallest waterfall, this strenuous hike has a 2,700-foot elevation gain, which is the equivalent of walking up a 250-story skyscraper.
If the hike to the top of Yosemite Falls sounds daunting, take the trail just two miles to Columbia Rock. Climbing this 1,000-foot elevation will treat you to gorgeous views of the Yosemite Valley, including Half Dome and Sentinel Rock. Just 0.5 miles down the road, you'll get an amazing view of the Upper Fall without having to hike the entire trail.
Unfortunately, Yosemite Falls only flows part of the year, typically from November through July, peaking in May and drying out for several months in late summer and early fall.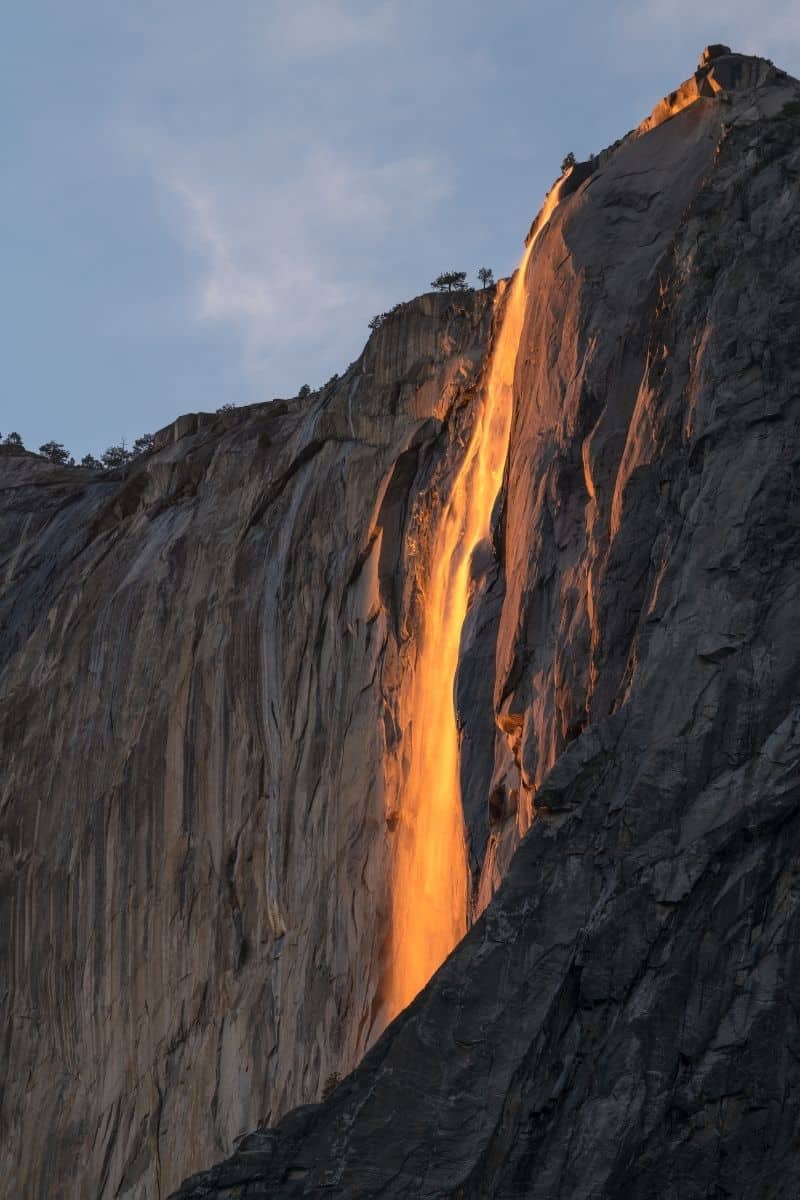 Horsetail Fall In Yosemite Valley
From plunge falls that flow without touching the cliff face (like Bridalveil Fall) to tiered varieties that stream down the side of a mountain in segments (like Yosemite Falls), waterfalls are classified into at least 10 types. Resembling a long appendage protruding off the backside of a rock wall, it's easy to see how the horsetail type of fall got its name.
Tumbling more than 1,000 feet off the east side of El Capitan, Horsetail Fall swishes into the Merced River as gracefully as a thoroughbred flicks at a fly. When it's flowing, typically between December and April, it's easy to see Horsetail Fall from Northside Drive. You can also glimpse this Yosemite waterfall from the El Capitan picnic area east of the fall on Northside Drive.
Sage Advice: One of the most magical times to visit Horsetail Fall is during Firefall. In mid- to late February, the setting sun's rays are perfectly positioned to cast a reddish glow on the upper portion of Horsetail Fall, making it appear as if the fall is on fire.
Ribbon Fall In Yosemite Valley
Ribbon-type waterfalls plunge to earth in a long narrow strip. And another beautiful (yet generically named) Yosemite Valley waterfall is Ribbon Fall.
Most visitors are so enamored with Bridalveil that they overlook this nearby attraction on the other side of El Capitan. Plunging more than 1,600 feet into Ribbon Creek, Ribbon Fall features one of the highest single drops in North America, so don't miss it!
Ribbon Fall typically flows from March through June and is best viewed in May. To see this fall, look north just after El Capitan Meadow when traveling westbound on Northside Drive. (For a longer gaze, stop in a turnout.)
Vernal Fall and Nevada Fall In Yosemite Valley
With layer after layer of sedimentary rock, Mother Nature built a "grand staircase" that allows visitors to climb 1,280 feet to Vernal Fall. And experienced hikers seeking a strenuous route can continue to Nevada Fall.
Like many Yosemite waterfalls, the best time to see these falls plunging hundreds of feet into the Merced River is in May. While these Yosemite Valley waterfalls don't dry up completely in the summer months, Vernal Fall does split into multiple falls as the water flow diminishes.
There are several options for viewing the Vernal and Nevada waterfalls. If you have limited time or interest in hiking, drive to Glacier Point. At the end of the 0.6-mile, paved Glacier Point Trail, you'll discover panoramic views of the Yosemite Valley, including Half Dome and at least three Yosemite waterfalls — Yosemite, Vernal, and Nevada Falls.
Sage Advice: Glacier Point is closed to cars during the winter months.
For closer views of Vernal Fall, hike the Mist Trail to the Vernal Fall footbridge. Rated as moderate, this 1.6-mile round-trip hike gains 400 feet in elevation. To reach the top of Vernal Fall, continue along the Mist Trail, but note that this section of the trail is significantly steeper! To see Nevada Fall, continue hiking another mile along the increasingly steep Mist Trail.
Chilnualna Falls In Wawona
While most waterfalls plunge straight down over rock cliffs into clear pools, Chilnualna Falls twists and turns so much during its 2,200-foot descent that it's impossible to see the entire fall from one spot. Although it's less than 10 miles inside Yosemite National Park via the southern entrance in Fish Camp, California, Chilnualna Falls isn't visible from the road. So the only way to see this stunning sight is via a rather strenuous, 8.2-mile hike with a 2,400-foot elevation gain. Fortunately, it's one of the Yosemite waterfalls that flows year round, so your eyes will be handsomely rewarded for the rest of your body's efforts.
Wapama Falls in Hetch Hetchy Valley
About 15 minutes inside the Hetch Hetchy Entrance to Yosemite, on the north side of the Hetch Hetchy Reservoir, Wapama Falls is another Yosemite waterfall that flows year round. Fed by Lake Vernon, Wapama Falls drops more than 1,000 feet in three pieces into the reservoir below.
It's easy to see Wapama Falls from the O'Shaughnessy Dam parking lot in the southwest corner of the Hetch Hetchy Reservoir. But if you have a few hours to spare, get closer via a 5.5-mile round-trip hike to the falls. Look for the trailhead near the parking lot of the dam and begin your trek around the reservoir and up to the falls. If you visit Wapama Falls in the spring, colorful wildflowers will surround you. You'll also pass Tueeulala Falls plunging 880 feet in a single drop before you reach Wapama Falls.
While a spring visit aligns with peak waterfall flow in May, if you are visiting Yosemite National Park after winter with heavy snowfall or during a very wet spring, the water gushing through Wapama Falls can be so forceful that it flows over the footbridge at its base. Be sure to heed trail closure and other warning signs so you're not swept away like these backpackers.
Sage Advice: If the calm, cool water of the Hetch Hetchy Reservoir seems inviting after your hike, note that swimming is off-limits because this body of water serves as a drinking water source for area communities.
Waterwheel Falls In Tuolumne Meadows
One of the most unique Yosemite waterfalls is in the Tuolumne Meadows region of the park about 20 miles north of Half Dome. As the largest waterfall in this area rushes toward the Tuolumne River, it hits speed bumps of rock that force the water into the air before gravity pulls it back down.
This is another amazing Yosemite waterfall that can only be reached on foot. The hike to Waterwheel Falls is an 18-mile round-trip adventure via the moderately challenging Glen Aulin Trail. However, this video from California Through My Lens lets you hike to Waterwheel Falls in Yosemite without taking a step.
Practical Tips For Visiting Yosemite Waterfalls
Yosemite National Park is located in central California, about a three-hour drive east of the San Francisco Bay Area.
What is the best time to visit Yosemite National Park?
Yosemite offers beautiful scenery in every season, but if you're chasing Yosemite waterfalls, then the best time to visit is in May or June. In late spring and early summer, the snowfall is melting and the wet season is ending, creating peak runoff for the park's waterfalls.
How many waterfalls are in Yosemite?
There are more than 25 waterfalls at Yosemite National Park, ranging in size from the 100-foot-tall Alder Creek Falls to the 2,425-foot-tall Yosemite Falls. Many of the most famous waterfalls at Yosemite can be seen from designated viewpoints or after a short walk along paved, wheelchair-accessible trails. But other Yosemite waterfalls can only be viewed from hiking trails.
When do Yosemite waterfalls dry up?
Yosemite waterfalls are fed by melting snow and spring rains, so they are at their peak flow in May. As the dry, hot summer months progress, many of the Yosemite waterfalls reduce to a trickle or completely dry off. A few waterfalls at Yosemite that flow year round include Bridalveil Fall, Chilnualna Falls, and Wapama Falls.
Which Yosemite entrance should I use?
There are five entrances to Yosemite National Park.
If you're visiting Yosemite from San Francisco, Oakland, or the East Bay Area, the Big Oak Flat Entrance is most direct. It's about three hours and 45 minutes to the Big Oak Flat Information Station just inside this entrance. And you'll travel another 45 minutes along Highway 120 and Big Oak Flat Road in the park to reach Half Dome.
From San Jose and the South Bay Area, you have two options that take roughly the same time; the biggest variable is how you want to navigate around Henry W. Coe State Park. If you travel north around Coe State Park, you'll drive through Livermore (one of my favorite California wine regions) on your way to the Big Oak Flat Entrance. If you travel the southern route, wind through the town of Gilroy and enter Yosemite through the Arch Rock Entrance.
Sage Advice: As the name promises, you'll get to drive under a rock arch when you chase Yosemite waterfalls via the Arch Rock Entrance.
From any starting point in the Bay Area, if you bypass the Big Oak Flat Entrance and continue north along Highway 120, the Hetch Hetchy Entrance is the path less traveled. While Yosemite waterfalls, Half Dome, and other sights draw about five million visitors each year, only one percent enter through the Hetch Hetchy Entrance.
Sage Advice: While the Hetch Hetchy Entrance is open year round, this gate has reduced hours during the winter months. Be sure to check operating hours and road conditions before you go!
To visit Yosemite from Southern California cities like Los Angeles and San Diego, opt for the South Entrance in Fish Camp, California. And, if you are visiting Yosemite from Mammoth Lakes, after exploring Death Valley, or while on a road trip from Las Vegas, navigate to the Tioga Pass Entrance.
Which Yosemite Waterfalls Have You Visited?
How many waterfalls did you see at Yosemite? Which was your favorite? Any additional tips and tricks to pass along? Share your experiences in the comments section below.
Looking for more information to plan your California vacation? Check out my additional recommendations to help you plan your trip to California including what to see and do in California, the best places to stay in California, where to eat in California, and more!
More Articles You'll Love!