Tulips are one of the world's most beloved and popular flowers, symbolizing a deep and perfect love. Here are more than 100 tulip quotes to usher in spring and caption your photos.
With their soft petals and a rainbow of colors and patterns that range from deep red to creamy white, tulips have captured hearts for centuries, inspiring poets, artists, gardeners, and others around the world. In addition to serving as a beacon for spring, tulips symbolize unconditional love and devotion, which makes them the perfect flower not just as a romantic gesture, but also for friends and family members.
As the cold days of winter melt into spring, people all over the world admire the beauty of colorful tulips in bloom. While the Netherlands is especially famous for its tulip fields with ribbons of color stretching from your feet to the horizon, you can also find these elegant blooms in gardens and parks all over the northern hemisphere, typically in March and April.
Whether you are admiring a bouquet of tulips on a table in your home or planning a bucket list trip to the Netherlands this spring, these beautiful quotes about tulips will inspire you and add a little sunshine to your day.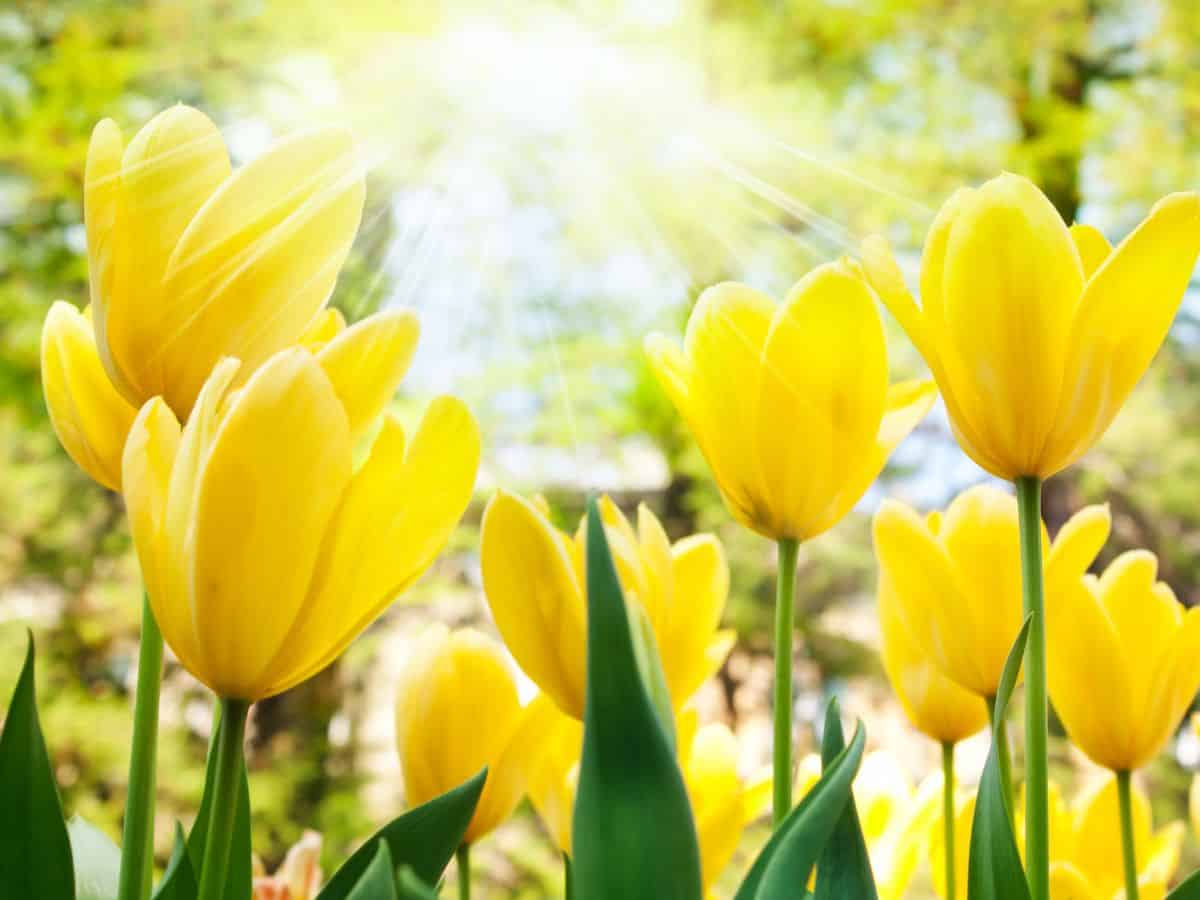 To help offset the costs of running EverydayWanderer.com, you'll find affiliate links lightly sprinkled throughout the site. If you choose to make a purchase via one of these links, there's no additional cost to you, but I'll earn a teeny tiny commission. You can read all of the legal blah blah blah (as my little niece says) on the full disclosure page.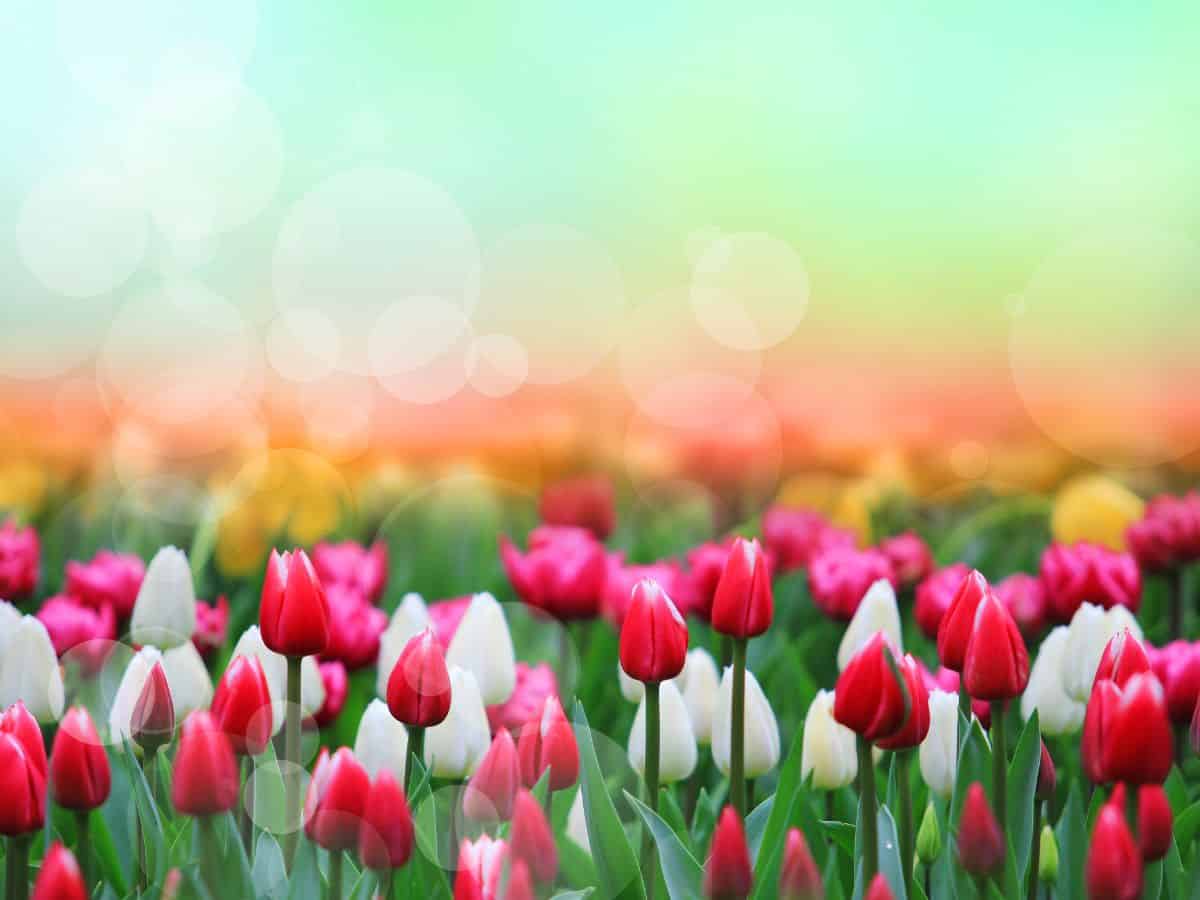 Happy Quotes About Tulips
"Flowers heal me. Tulips make me happy. I keep myself surrounded by them as soon as they start coming to the island from Canada, and after that when they come from the fields in La Connor, not far from where I live."
– Rebecca Wells
"Sweet scents, red tulips. Red tulips bring such happiness. Our hearts are full of pleasure."
– Natasa To
"A flower blossoms for its own joy."
– Oscar Wilde
"Flowers always make people better, happier, and more helpful; they are sunshine, food, and medicine to the soul."
– Luther Burbank
"What sunshine is to flowers, smiles are to humanity."
– Joseph Addison
"Flowers are restful to look at. They have neither emotions nor conflicts."
– Sigmund Freud
"You're strictly a tulip girl—a red tulip girl."
– Alyson Noel
"I must have flowers, always and always."
– Claude Monet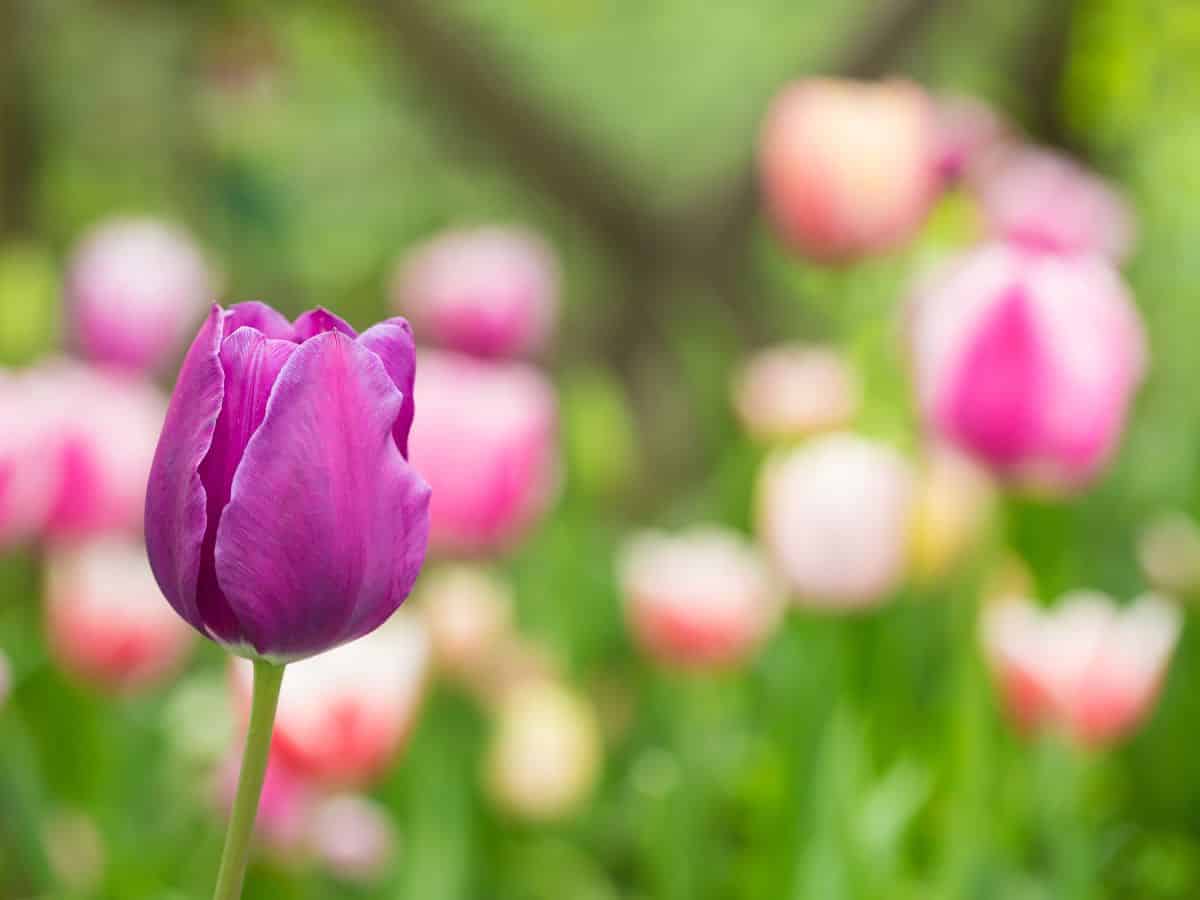 Inspirational Tulip Quotes
"A tulip doesn't strive to impress anyone. It doesn't struggle to be different than a rose. It doesn't have to. It is different. And there's room in the garden for every flower."
– Marianne Williamson
"To plant a garden is to believe in tomorrow."
– Audrey Hepburn
"There are always flowers for those who want to see them."
– Henri Matisse
"Where flowers bloom, so does hope."
– Lady Bird Johnson
"Even when petals have flaws, all you see is a beautiful flower."
– Adrianne Elizabeth
"If we could see the miracle of a single flower, clearly our whole life would change."
– Buddha
"Don't let the tall weeds cast a shadow on the beautiful flowers in your garden."
– Steve Maraboli
"Every flower must grow through dirt."
– Laurie Jean Sennott
"A world of grief and pain, flowers bloom—even then."
– Kobayashi Issa
"Even the tiniest of flowers can have the toughest roots."
– Shannon Mullen
"May the petals teach me the art of letting go."
– Xan Oku
"Be a tulip in a field of weeds."
– Unknown
"Give me peonies and tulips, orchids or gardenia. Those were flowers with character."
– Justina Chen
"The flower that follows the sun does so even on cloudy days."
– Robert Leighton
"I will not be another flower, picked for my beauty and left to die. I will be wild, difficult to find, and impossible to forget."
– Erin Van Vuren
"Wherever life plants you, bloom with grace."
– French Proverb
"A little flower that blooms in May, a lovely sunset at the end of a day, someone helping a stranger along the way. That's heaven to me."
– Sam Cooke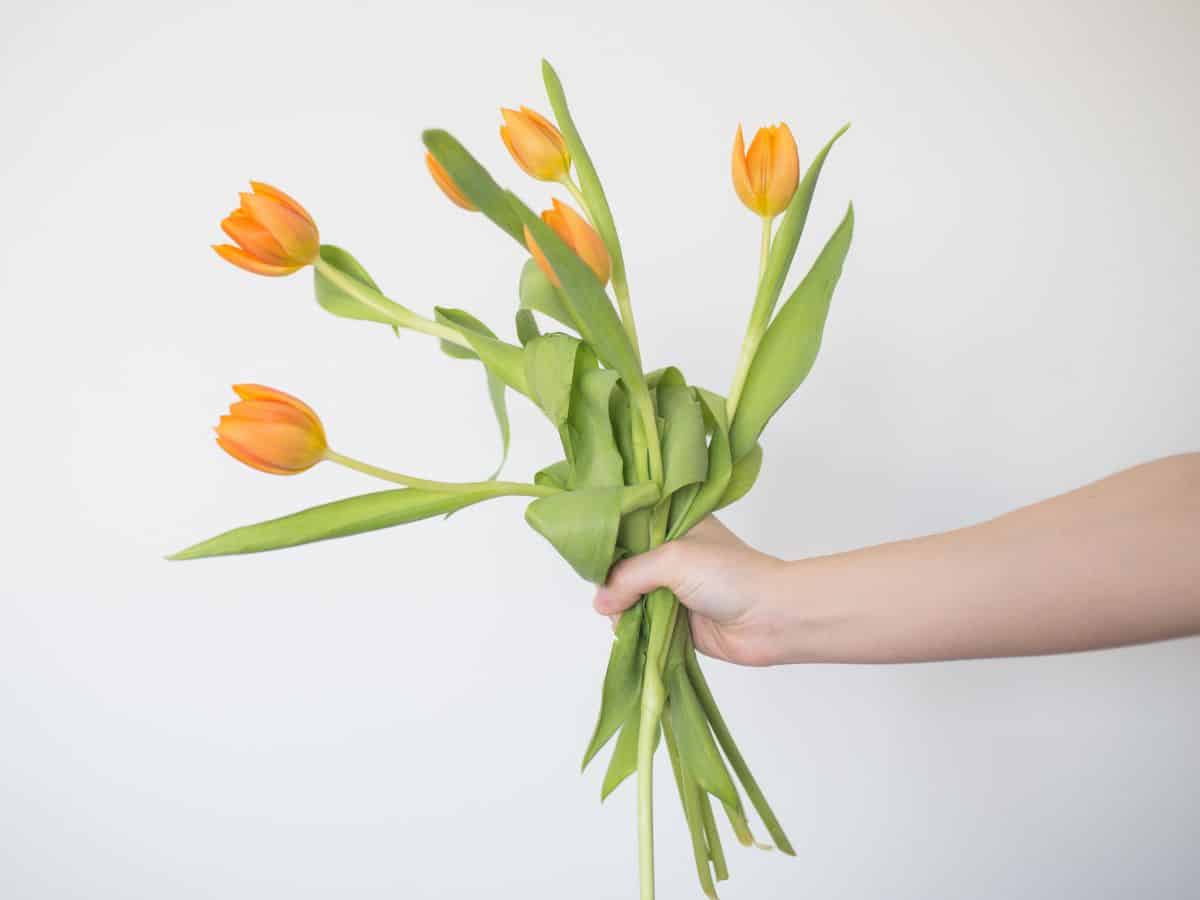 Quotes About Tulips and Spring
"I love tulips better than any other spring flower; they are the embodiment of alert cheerfulness and tidy grace, and next to a hyacinth look like a wholesome, freshly tubbed young girl beside a stout lady whose every movement weighs down the air with patchouli. Their faint, delicate scent is refinement itself; and is there anything in the world more charming than the sprightly way they hold up their little faces to the sun?"
– Elizabeth von Arnim
"You can cut all the flowers, but you cannot keep spring from coming."
– Pablo Neruda
"Spring: a lovely reminder of how beautiful change can truly be."
– Unknown
"It's spring fever. That is what the name of it is. And when you've got it, you want to — oh, you don't quite know what it is you do want, but it just fairly makes your heart ache, you want it so!"
– Mark Twain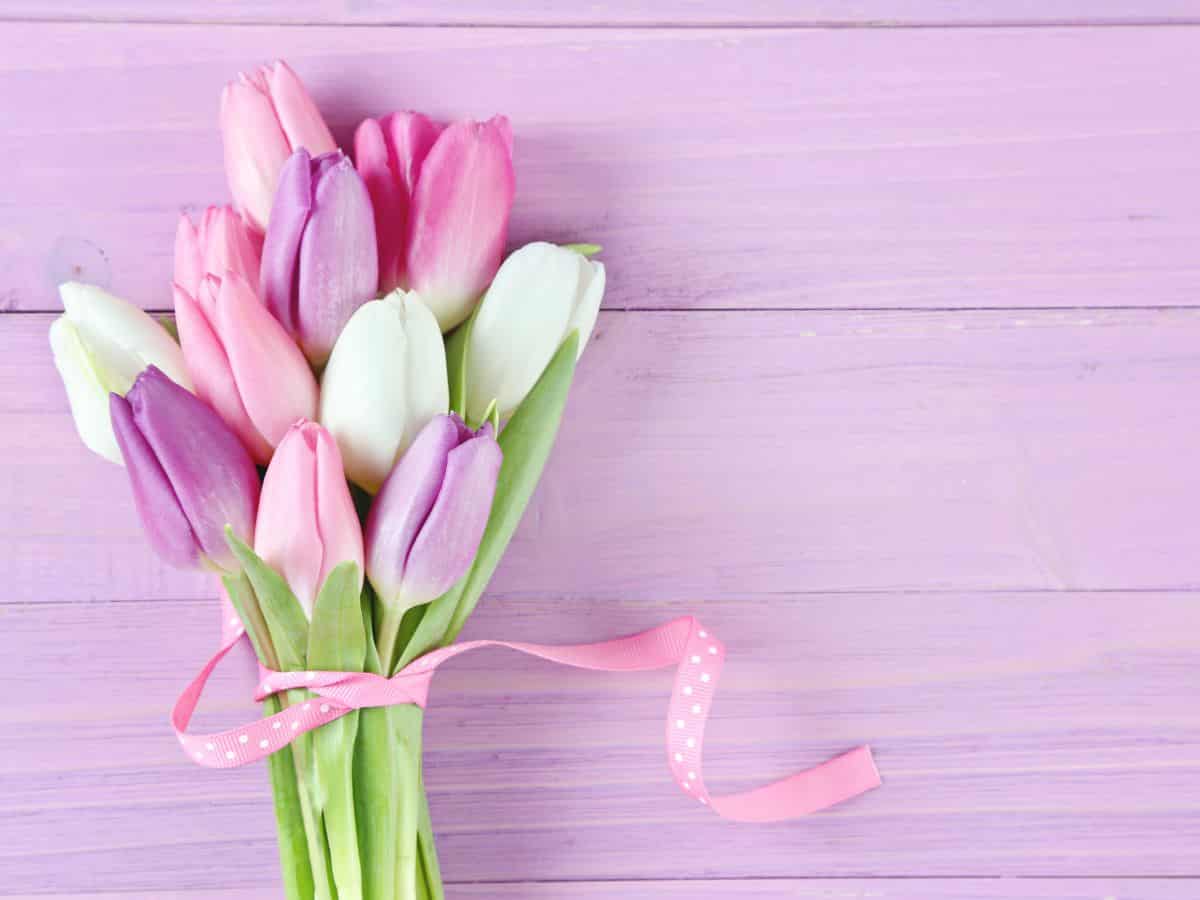 Quotes About Tulips and Love
"I want to preserve your love in a field of tulips, safely living in it."
– Fathima Shamla
"Love is the flower you've got to let grow."
– John Lennon
"Mama was my greatest teacher, a teacher of compassion, love, and fearlessness. If love is sweet as a flower, then my mother is that sweet flower of love."
– Stevie Wonder
"A flower cannot blossom without sunshine, and man cannot live without love."
– Max Muller
"He thought of the grammar of Gaelic, in which you did not say you were in love with someone, but that you 'had love toward' her, as if it were a physical thing you could present and hold – a bundle of tulips, a golden ring, a parcel of tenderness."
– Jodi Picoult
"And in the end, love tastes like tulips having rain tea in a colored cup."
– Fathima Shamla
"If I had a single flower for every time I think about you, I could walk forever in my garden."
– Claudia Adrienne Grandi
"Love is like a beautiful flower which I may not touch, but whose fragrance makes the garden a place of delight just the same."
– Helen Keller
"She loved him the way one loves an old bridge or a wool sweater or the sound of a growing tulip."
– Joseph Fink
"Life is the flower for which love is the honey."
– Victor Hugo
"Love speaks in flowers. Truth requires thorns."
– Leigh Bardugo
"I love your roots, not the flower everybody sees!"
– Akilnathan Logeswaran
"In a flowerpot of love lives a beautiful tulip plant, and then was the passer by with words to attract it; for, it was just like a passing glance and the sense of love, and they were both attracted to each other."
– Edward Kofi Louis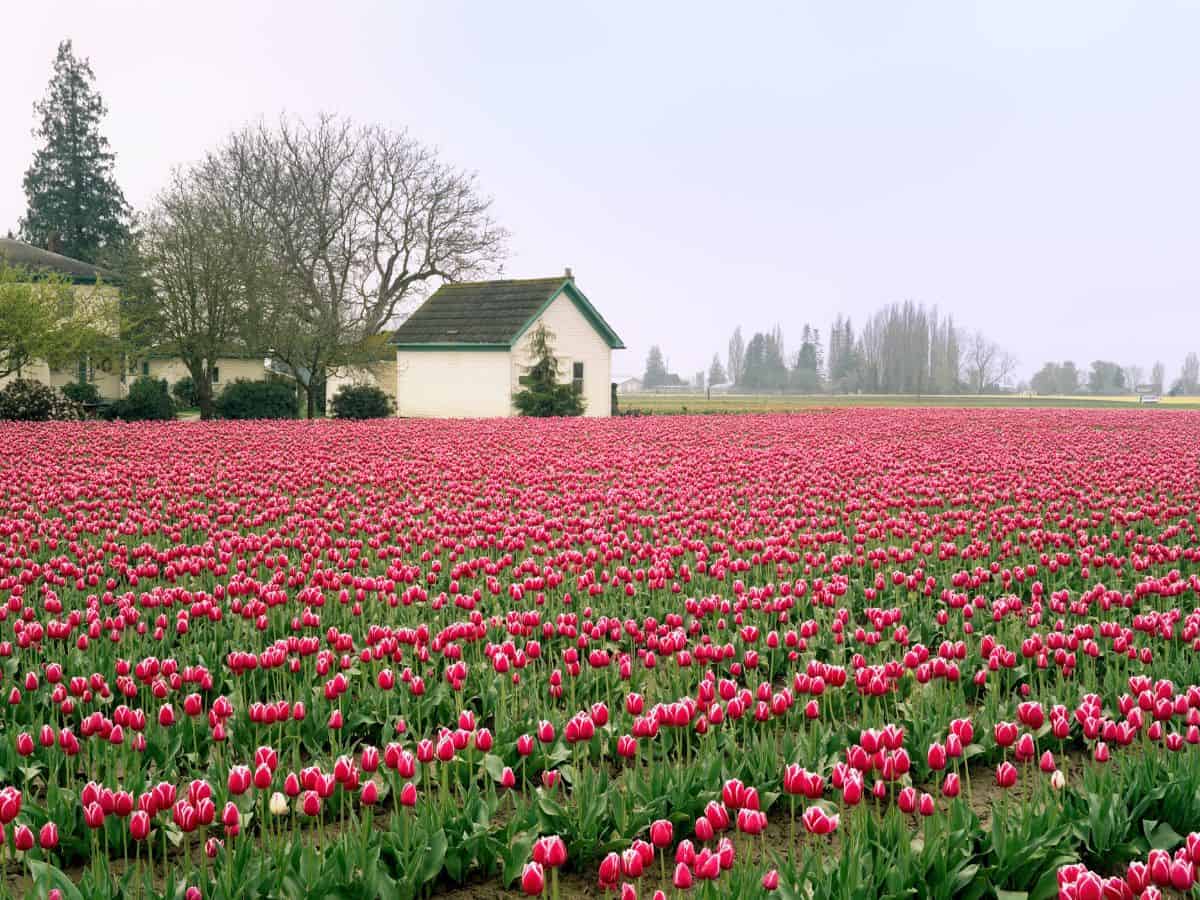 "The earth laughs in flowers."
– Ralph Waldo Emerson
"Friends are like flowers. They fill the world with beauty."
– Celeste Barnard
"The tulip is the loveliest of all flowers. So whoever despised the tulip offends God immeasurably."
– Alexandre Dumas
"For flowers that bloom about our feet.
For tender grass, so fresh, so sweet.
For song of bird and hum of bee.
For all things fair we hear or see
Father in heaven, we thank Thee!"
– Ralph Waldo Emerson
"In joy or sadness, flowers are our constant friends."
– Okakura Kakuzo
"Tulips were a tray of jewels."
– E. M. Forster
"Bloom beautifully, dangerously, loudly, softly, however you need, just bloom."
– Rupi Kaur
"After women, flowers are the most divine creations."
– Christian Dior
"So, in the tulip, we have a flower of beauty and grace of charm, refinement and distinction. It is a powerful flower and it knows it."
– Tadashi Shoji
"Here are the tulips, budded and full-blown, their swoops and dips, their gloss, and poses, the satin of their darks."
– Margaret Atwood
"Flowers don't worry about how they're going to bloom. They just open up and turn toward the light and that makes them beautiful."
– Jim Carrey
"Every flower is a soul blossoming in nature."
– Gerard De Nerval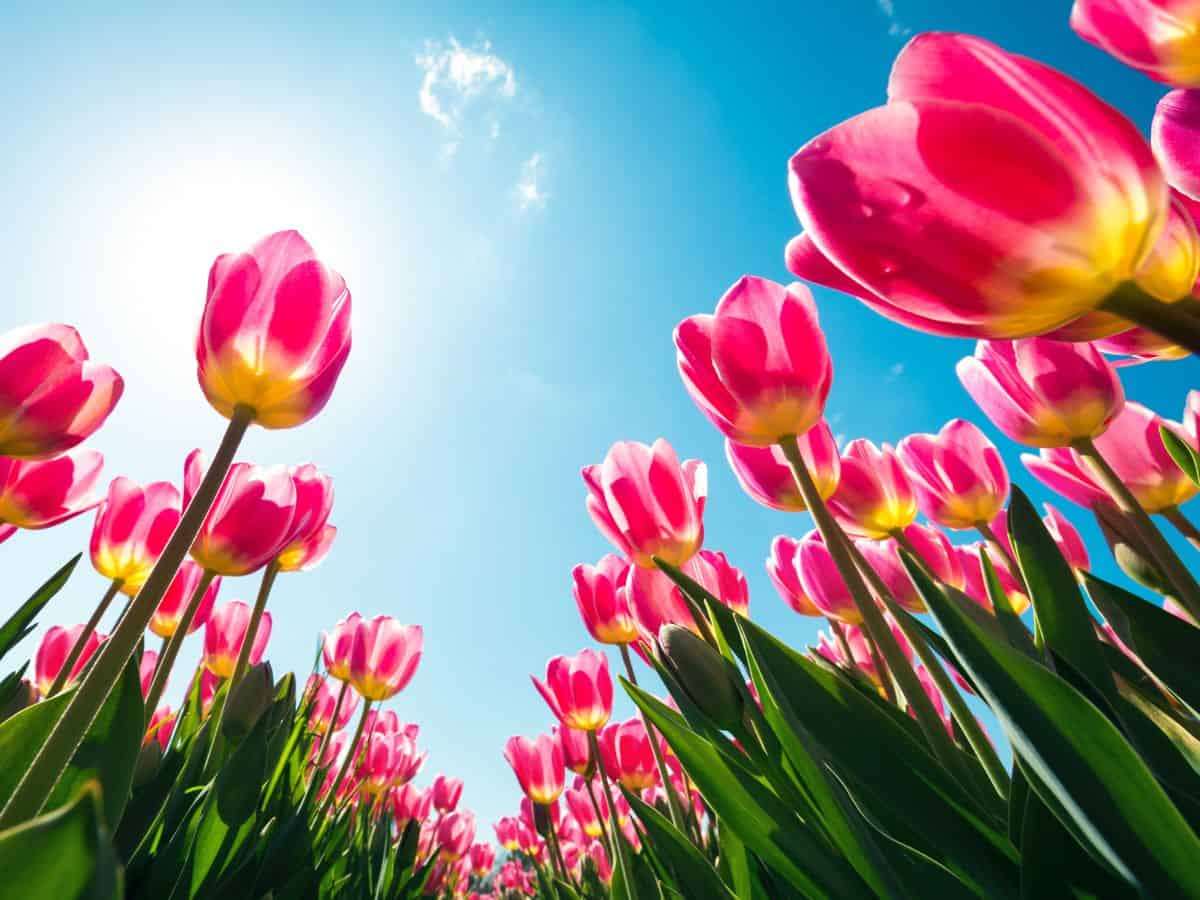 "Life isn't a tiptoe through the tulips."
– Shannon Hoon
"Some tulips last so long you could almost dust them off, and others you can't trust over night."
– Constance Spry
"Guarded within the old red wall's embrace, Marshalled like soldiers in gay company, The tulips stand arrayed. Here infantry wheels out into the sunlight."
– Amy Lowell, "A Tulip Garden"
"In Holland, everyone is an expert in painting and in tulips."
– Albert Camus
"Normality is a paved road; It's comfortable to walk, but no flowers grow on it."
– Vincent Van Gogh
"I think of the poetry of René Char and all he must have seen and suffered that has brought him to speak only of sedgy rivers, of daffodils and tulips whose roots they water, even to the free-flowing river that laves the rootlets of those sweet-scented flowers that people the milky way."
– William Carlos Williams.
"On my first day shooting '13 Going on 30,' Jennifer Garner had yellow tulips sent to my trailer. I'll never forget them."
– Christa B. Allen
"The bubble logic driving tulipmania has since acquired a name – 'the greater fool theory.' Although by any conventional measure, it is folly to pay thousands for a tulip bulb. As long as there is an even greater fool out there willing to pay even more, doing so is the most logical thing in the world."
– Michael Pollan
"When tulip mania dies down, all that remains are pretty flowers."
– Adam Cohen
"Here tulips bloom as they are told; Unkempt about those hedges blows an English unofficial rose."
– Rupert Brooke
"How can you be content to be in the world like tulips in a garden, to make a fine show, and be good for nothing?"
– Mary Astell
"I'm going to do an adaptation of the Italian film Bread and Tulips. I really like that film."
– Norman Jewison
"The oppressed martyrs of our culture have shed blood that nourishes the red tulips of our nation."
– Mahmud Tarzi
"If a purple tulip could talk, she would say something calm, cool, and wise, without the flash of a soothing balm."
– Amelia Brown
"Like tulip-beds of different shape and dyes, bending beneath the invisible west-wind's sighs."
– Thomas Moore
"Snow is on both sides of the same page. It covers the grave and the tulip."
– Richard L. Ratliff
"Dutch tulips from their beds, flaunted their stately heads."
– James Montgomery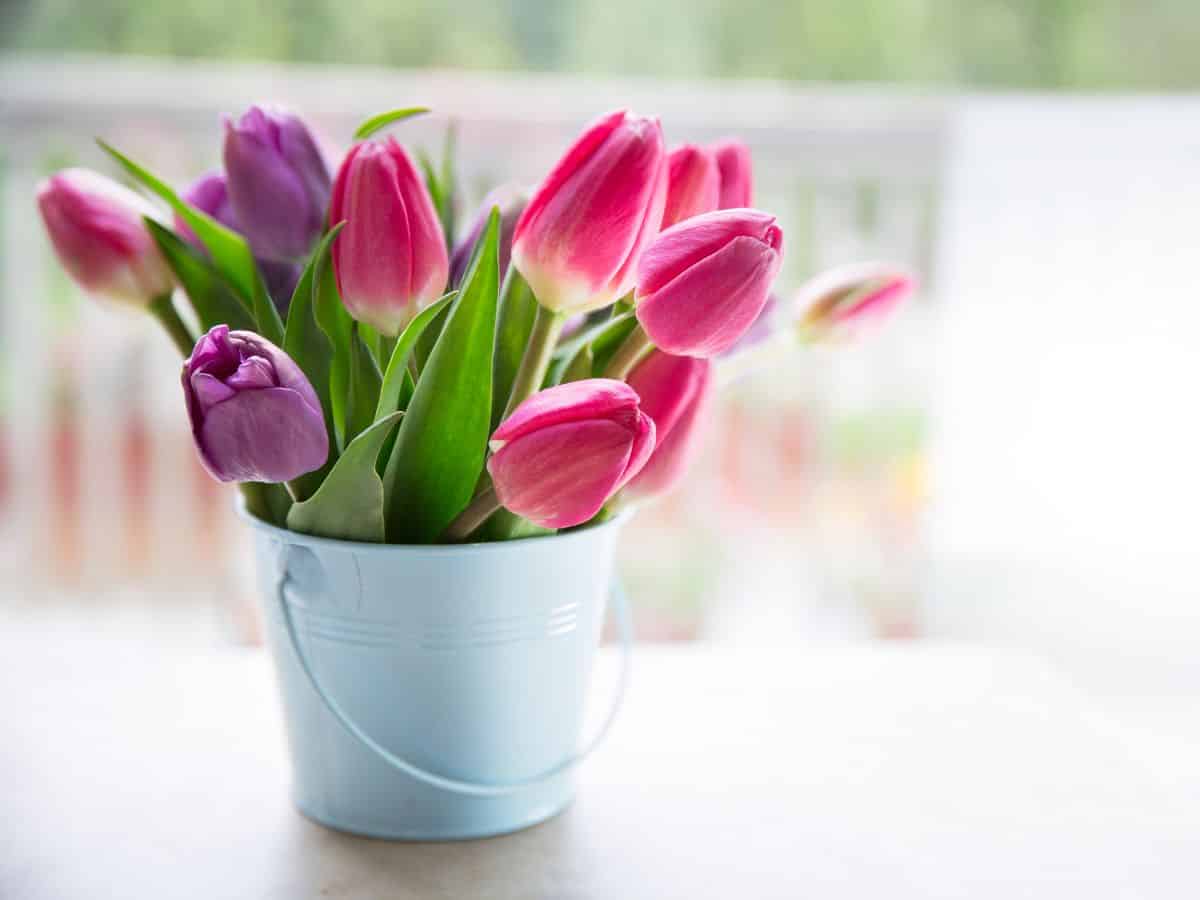 Tulip Quotes for Instagram
Whether you admire a patch of tulips in a small garden or walk among ribbons of color that stretch to the horizon in a tulip field, find inspiration for your photo captions and Instagram posts with these short quotes, catchy captions, and fun puns.
50 shades of tulips

A day in a tulip field is a good day

A love letter to tulips

A pocketful of sunshine and a field full of tulips

A tulip field a day keeps the worries away

A tulip field is the place to be

After the rain falls, flowers bloom

Always say yes to flowers

Bloom with kindness

Don't just live – bloom!

Dreaming of wandering in the tulip fields

Enjoying life one tulip at a time

Even when a petal has a flaw, all you see is a beautiful flower

Every spring, I hope for the same thing: a garden full of tulips and you

Find me frolicking in the tulips

Flower child

Flower power

Follow me to the tulip fields

From the tulip fields, with love

Girls just wanna have

sun

Got lost in the tulip field, but found myself

Happiness blooms from within

Hello, spring!

Hello, tulip season!

I like big

blooms

and I cannot lie

I love you like tulips love the sun

I'd rather be in a tulip garden

I'd rather have tulips in my hands than diamonds around my neck

If friends were flowers, I'd pick you

In a field of grass, be a tulip

In tulip heaven

It's tulip time!

Know how flowers whistle? Through their

tulips

Let your dreams blossom

Life is better with tulips

Living life in full bloom

Lost in a sea of tulips

My favorite color is tulip

My love for you blossoms every day

Naturally beautiful

Never met a tulip field I didn't like

No rain, no flowers

Nothing says spring like a field of tulips

Ok,

bloomer

Once upon a time in a tulip garden …

Powered by sunshine

Rainbow fields

Soaking up the sun

Spring fever is contagious

Spring forward this March with tulips

Spring has sprung

Spring is in the air

Spring is nature's way of saying, "Let's party!"

Still life with tulips

Stop and smell the tulips

Sunshine and tulip fields

Sunshine is the best medicine

Sweeter than tulips

Strictly a tulip girl

Take me to the tulips

Take time to smell the flowers

Tiptoe through the tulips with me

Today's good mood is brought to you by tulips

Tulip season puts a little

spring

in my step

Two lips

Use

tulips

to kiss winter goodbye

Walking on sunshine

Wandering in the tulip fields

Watch me bloom like spring after a long, cold winter

Watching bulbs blossom

Water your roots so your soul can blossom

We all need beauty in our lives

When in doubt, add tulips

Who needs therapy when you can frolic through a tulip field?

You can never have too many tulips

You can't buy happiness, but you can buy tulips – and that's basically the same thing

You

grow

girl!

You're never too old to wander in the tulip fields
What is your favorite color tulip? Do you have a favorite tulip quote? Is there a quote about tulips missing from this list? Share your thoughts in the comments section below.
Ready to Go?
Use These Helpful Links to Book Your Trip!
More Articles You'll Love!