About an hour east of the tall palm trees and lush golf courses that dominate Palm Springs, the desert landscape is dotted with gnarly trees that look like they belong in a Dr. Seuss book. But there's more to do than just admire the Joshua trees when you visit this national park about two hours east of Los Angeles. Here are ten incredible things to do in Joshua Tree National Park.
Getting to Joshua Tree National Park
If you're visiting Joshua Tree as part of an epic road trip in America's Southwest, it's a great stop roughly halfway between Las Vegas and San Diego. Plan on about three hours in the car from either of those cities.
If you plan to visit Joshua Tree as a day trip from a closer destination, like Palm Springs, there are two routes to consider. Take California Hwy 62 through Desert Hot Springs and enter the park through the west entrance or the north entrance just west of Twentynine Palms. You can also travel I-10 through Indio and access the park through the south entrance near Cottonwood Spring.
Sage Advice: We opted for a circular route on our day trip to Joshua Tree from Palm Springs, entering the park through the west entrance, zipping up to the Oasis of Mara near the north entrance, and then following Pinto Basin Road to the south entrance where we exited the park and took the Interstate back to Palm Springs.
Regardless of the entrance you choose, be sure to stop at one of the three visitor centers for exhibits about the park, to get your National Park Passport stamped, recommendations from park rangers, and more. The Joshua Tree Visitor Center is located near the west entrance, the Oasis Visitor Center is located near the north entrance, and the Cottonwood Visitor Center is located at the south entrance.
Sage Advice: Find the perfect Joshua Tree accommodation with one of these budget-friendly hotels near Joshua Tree National Park.
Joshua Tree National Park Map
How to Use This Map
Zoom in or out using the + and – keys in the bottom right corner.
Click the "More options" text link in the upper left corner to open this embedded map in a new browser window and take advantage of more options including the ability to send these directions to your phone.
To help offset the costs of running EverydayWanderer.com, you'll find affiliate links lightly sprinkled throughout the site. If you choose to make a purchase via one of these links, there's no additional cost to you, but I'll earn a teeny tiny commission. You can read all of the legal blah blah blah (as my little niece says) on the full disclosure page.
Even if you're simply passing through the area as you travel between Las Vegas or Phoenix and Southern California, I highly recommend a scenic drive. From Cottonwood Spring to the Oasis of Mara, from Arch Rock to Skull Rock, the majority of the park's most popular sights are easily accessible by car. And, along the way, you'll see plenty of fuzzy-looking chollas, unique rock formations, and (of course) gnarly Joshua trees.
If your schedule allows, spend 20 minutes driving up the Little San Bernardino Mountains to Keys View. At an elevation of more than 5,000 feet, this is the highest point in the park and offers gorgeous panoramic views of the Coachella Valley and surrounding mountains, including the Santa Rosa Mountains and San Gorgonio Mountain. If you visit Joshua Tree National Park on a clear day, you may be able to spot Signal Mountain in Mexico.
Sage Advice: The elevation at Joshua Tree National Park ranges from about 500 feet above sea level to 5,800 feet atop Quail Mountain. That's more than a mile high! Because an altitude change of just a few thousand feet can trigger altitude sickness, be sure to read these tips for adjusting to altitude with ease.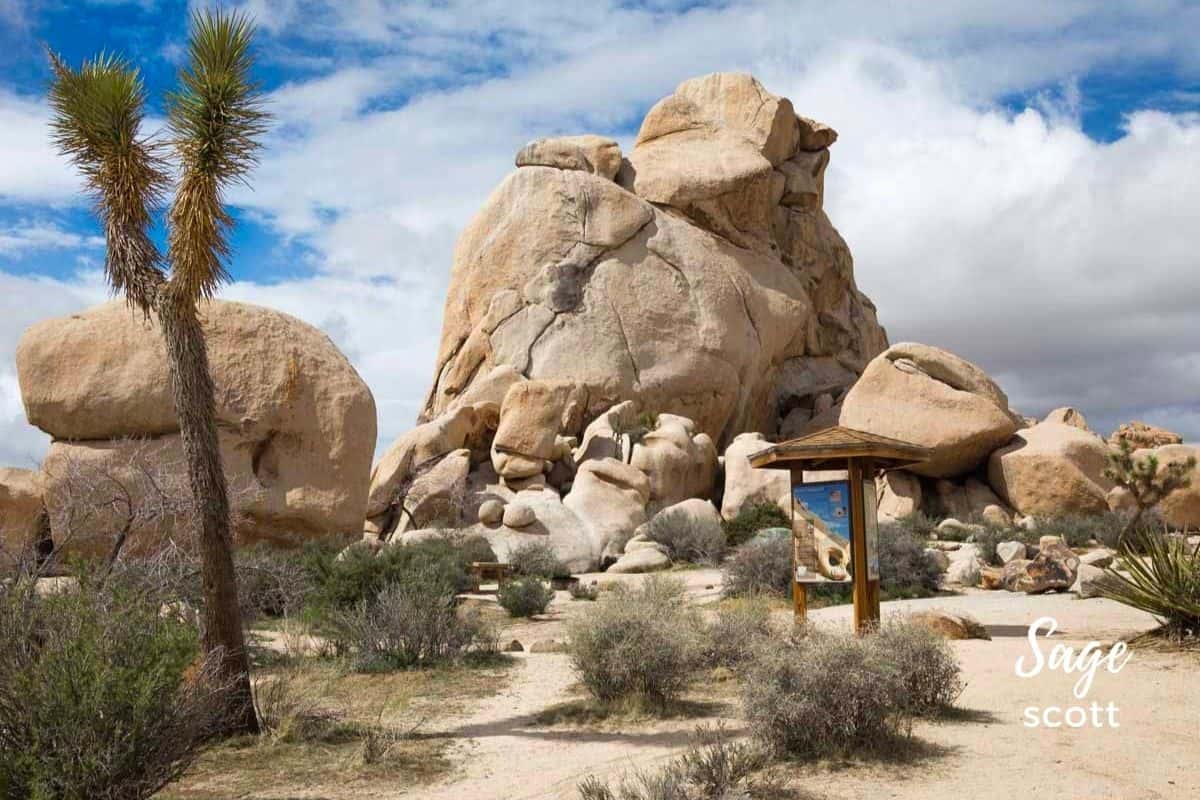 One of the best ways to explore this unique landscape is to get out of the car and hit the trails. With more than 35 miles of paths winding through the park, Joshua Tree offers a variety of hikes from fully accessible nature trails to multi-day backcountry hiking.
For a wide range of experiences at Joshua Tree, I recommend the Arch Rock, Cholla Cactus Garden, Keys View, and Oasis of Mara nature trails. Each of these treks is less than a half-mile long, but you'll experience a delicious sample of what the park has to offer, including rock formations, cool cacti, amazing mountain views, and a lush oasis in the desert.
For a longer hike, Hidden Valley, Barker Dam, and Skull Rock are all between one and two miles long. Each of these experiences is a great opportunity to see the desert landscape and rock formations that draw visitors to Joshua Tree National Park.
Hard-core hikers are sure to love the three- and four-mile hikes like 49 Palms Oasis, Lost Horse Mine, and Ryan Mountain. Allow two to four hours for each of these moderately strenuous adventures, and be sure to take plenty of water with you!
Sage Advice: If you like to travel with your four-legged best friend, he's welcome to hang out with you (on a leash, of course) in picnic areas and campgrounds. However, pets are not allowed on hiking trails, in the backcountry, or in park buildings where they might disturb the wildlife or other visitors. The one exception is the paved Oasis of Mara Trail near the north entrance.
After all, they're pretty plentiful in this dusty landscape where the Mojave and Colorado Deserts meet. Of course you'll want to admire the park's namesake plant. But did you know that Joshua trees aren't actually trees? Rather, they are succulents that are closely related to agave, the plant used to make tequila. While John C. Fremont, the man who mapped the Oregon Trail, called them "the most repulsive tree in the Vegetable Kingdom," Mormon settlers making their way west saw the silhouette of the Prophet Joshua in the unique tree's branches. (Guess which name stuck?)
Joshua trees don't bloom every year, but when they do, usually between March and May, it's quite impressive. Large, dense clusters of soft, white, trumpet-shaped blooms appear on the spikey tips at the end of the tree's branches, releasing a fragrance that is as unique as the blooms look.
When you visit, don't be so enamored with the Joshua trees that you overlook the Cholla Cactus Garden. At the heart of the park, you'll find a beautiful desert garden with plants blooming throughout much of the year, especially from January through May. While the circular yellow buds of the groundcherry and the deep blue flowers on the indigo bush are sure to catch your eye, the garden is named for the soft and fuzzy-looking (but very sharp) cholla cactus with good reason.
Fun Fact: If you visit Joshua Tree National Park in search of the iconic tree sprouting up between Bono and Adam Clayton on the inside cover of U2's The Joshua Tree album, you're sure to be disappointed. The famous photo was snapped at Zabriskie Point, more than 200 miles north of Joshua Tree National Park in Death Valley.
"The desert was immensely inspirational to us as a mental image for this record."
— Adam Clayton, bassist for U2
From tortoises lumbering along the dusty desert to roadrunners zipping past tumbleweeds, watch for a variety of wildlife at Joshua Tree National Park. If you associate the desert with lizards and snakes, you'll be delighted to know that nearly 50 species of reptiles have been spotted in Joshua Tree.
If you prefer to bird watch, the park is full of Gambel's quail, red-tailed hawks, hummingbirds, and cactus wren. In addition to these commonly spotted, year-round residents, you can see up to 250 species of birds at Joshua Tree National Park, especially during the winter months when a wide variety of song birds, shorebirds, and other feathered creatures migrate with the seasons.
5. Observe an Oasis (and Search for an Abandoned Gold Mine)
Located near the north and south entrances to Joshua Tree, several spots provide a calming respite from the dry desert. In the north, take a moment to explore the Oasis of Mara, for this area gave the neighboring town of Twentynine Palms its name. According to Serrano legend, a medicine man told the indigenous tribe that this was a good place to live. He encouraged them to plant a tree each time a baby boy was born in their community, and 29 palms were planted in the oasis the first year. Take a few moments to stroll the 0.5-mile Oasis of Mara nature trail to drink in its beauty.
Near the southern entrance of Joshua Tree National Park, Cottonwood Spring was once an important source of water for prospectors searching for gold in the region. That's why you'll see the remains of a primitive gold mill and concrete ruins if you explore the area.
6. Climb High (But NOT in a Joshua Tree)
Rock-climbing enthusiasts flock to Joshua Tree National Park to scale the steep face of the park's rock formations. In fact, it's hard to spend a day at the park and not see climbers, boulderers, and highliners holding on to the side of a steep rock as if they were Spiderman.
If you're seeking a Joshua Tree climbing adventure, this page provides lots of helpful information. But if you're afraid of heights (like me) and prefer to watch the action with both feet firmly planted on the ground, then keep an eye out for plenty of photo opportunities.
Whatever you do, just don't pull a Miley and climb a Joshua tree…
In addition to the Serrano tribe and gold miners, this part of the Mojave Desert was also inhabited by cattle ranchers. While the area surrounding Joshua Tree is no longer as rugged as it once was, a ranger-led tour of Keys Ranch helps visitors imagine what it was like to live in this remote location at the end of the 19th century.
During the half-mile, 90-minute walking tour, you'll visit several buildings at this National Historic Register Site, including the Keys family's home, schoolhouse, store, and workshop.
Sage Advice: Due to high daytime temperatures, Keys Ranch can only be toured from October to May.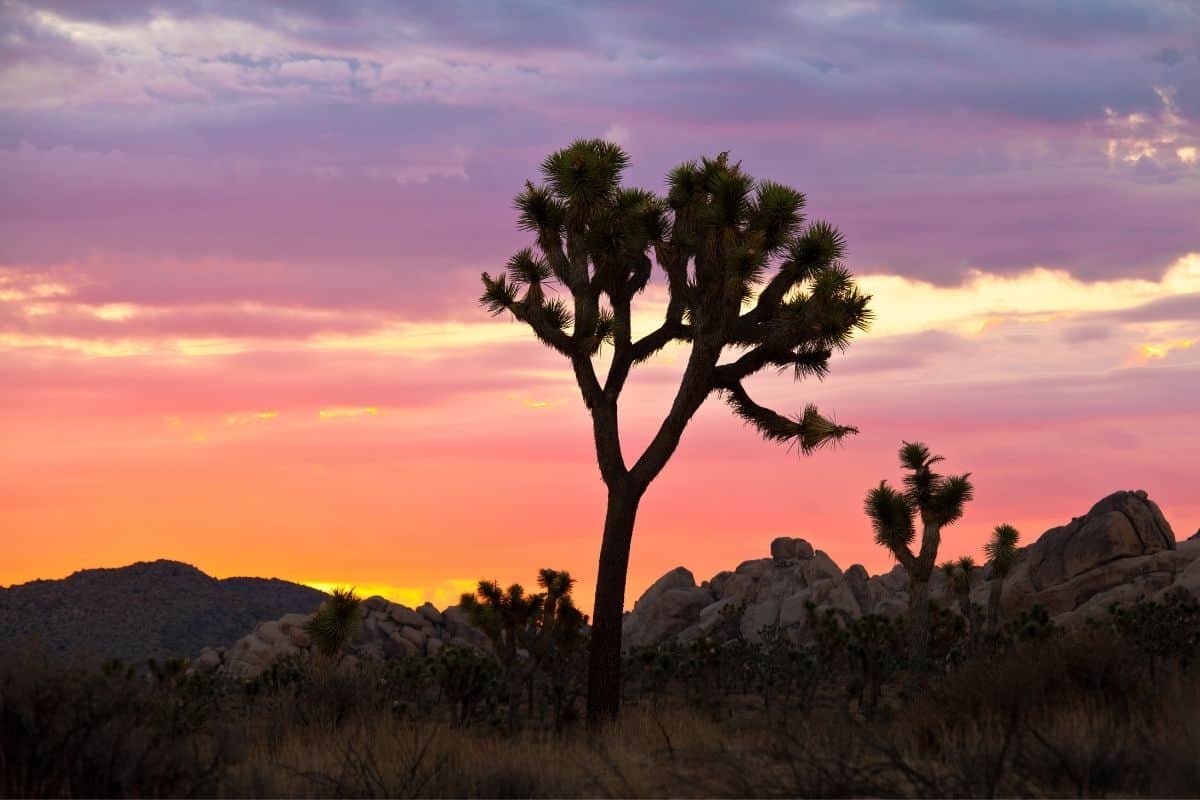 8. Behold the Setting Sun
Sunsets can be spectacular. Over the years, I've watched technicolor rays bursting from the horizon as the sun slipped behind the ocean or disappeared behind snow-covered mountains. But watching the sun set behind a collection of Joshua trees truly took my breath away. Even if you can only visit Joshua Tree briefly, or as part of a day trip, don't miss the sunset!
Sage Advice: If you're not able to visit Joshua Tree National Park in person, explore it virtually with these videos, photos, and other online resources.
When you travel hundreds of miles from the neon lights of Las Vegas and the light pollution produced by the sprawling cities in Southern California, the stars are nothing short of spectacular. So, if you are visiting Joshua Tree at night, be sure to look toward the heavens where you'll see thousands of stars twinkling in the sky and maybe even the Milky Way!
For the best stargazing experience at Joshua Tree, plan your visit around the moon. Because a bright full moon hogs the sky like an attention-craving starlet in a spotlight, it's best to visit during a new moon. Although in a desert, Joshua Tree stargazing can quickly turn chilly when the sun sets. Be sure to bring nighttime clothing appropriate for temperatures in the mid- to high 30s on winter evenings and in the 60s if you stargaze in the summer.
10. Sleep Under the Stars
From pitching a tent to sinking into an RV's full-size bed, you can watch the enchanting night sky until you fall asleep when you camp (or glamp) at Joshua Tree National Park. There are a wide range of sites available across nine Joshua Tree campgrounds. Just remember that campers are not allowed to tie lines of any kind to Joshua trees and junipers, so leave your hammock at home.
With only 18 sites, the Belle Campground is one of the best for gazing at the night sky. But it's also one of the more primitive options with pit toilets and no water. In contrast, Black Rock, Indian Cove, and Jumbo Rocks all have around 100 campsites. Black Rock is the swankiest option with flush toilets, water, and a dump station. It's even got a dedicated space for horse owners who are visiting with their four-legged rides.
Sage Advice: Looking for the perfect words to pair with your amazing Joshua Tree National Park pics? Find inspiration in these camping quotes.
To Visit Joshua Tree National Park
What is the Joshua Tree entrance fee?
The standard entrance fee for Joshua Tree National Park is currently $30 per vehicle, and it's good for seven days. Discounts for weekly passes are offered for motorcycles and people visiting by bike or on foot. If you plan to visit several national parks during the year, see if an America the Beautiful annual pass is a good fit for your travel plans.
How far is it from Joshua Tree National Park to Palm Springs?
Whether you take Hwy CA-62 and approach Palm Springs through Desert Hot Springs from the north or travel I-10 through Indio and approach Palm Springs from the south, it's about an hour from Joshua Tree National Park to Palm Springs.
When is the best time to visit Joshua Tree National Park?
Located in the American Southwest, the dry, dusty desert surrounding Joshua Tree National Park is very hot in the summer. Daytime temperatures frequently exceed 100F and rarely dip below 75F at night. I find the Joshua Tree weather most pleasant in the spring and autumn. High temperatures in March through May and September through November typically fall between 70F and 90F.
Is a Joshua Tree a Cactus?
Just like Rhode Island isn't actually an island, Joshua trees aren't actually trees. Instead these tall desert plants that branch into spiky clusters are succulents. While they look a bit like palm trees, they are actually members of the asparagus family and close relatives of agave, the plant used to make tequila.
Have You Been to Joshua Tree National Park?
What did you do when you visited this unique national park in Southern California? What was your favorite activity? Any additional tips and tricks to pass along? Share your experiences in the comments section below.
Looking for more information to plan your California vacation? Check out my additional recommendations to help you plan your trip to California including what to see and do in California, the best places to stay in California, where to eat in California, and more!
Ready to Go?
Use These Helpful Links to Book Your Trip!
More Articles You'll Love!