No flavor personifies Big Sky Country quite like the sweetly tart taste of huckleberries. Locals add huckleberry drink syrup to their morning lattes, pour a shot of huckleberry vodka to chilled glasses of lemonade, and sip handcrafted huckleberry liqueur at the end of the day. From Billings to Missoula (and in smaller towns around the state), these are the best huckleberry drinks in Montana.
Although they look like blueberries, huckleberries are a unique fruit with a distinct taste. They grow wild in the majestic mountains of Montana and are full of antioxidants, packed with iron, and a good source of both vitamin C and potassium.
As soon as you step off the plane or cross the state line, you'll quickly see that Montana is the land of all things huckleberry. You'll find everything from huckleberry soda and huckleberry hot pepper jelly to huckleberry licorice and huckleberry lotion.
And the list of huckleberry delicacies doesn't stop there. You can enjoy huckleberry coffee in the morning, an iced huckleberry tea after a hike, or a huckleberry cocktail as a nightcap. After much tasty research, I declare these the best huckleberry drinks in Montana.
To help offset the costs of running EverydayWanderer.com, you'll find affiliate links lightly sprinkled throughout the site. If you choose to make a purchase via one of these links, there's no additional cost to you, but I'll earn a teeny tiny commission. You can read all of the legal blah blah blah (as my little niece says) on the full disclosure page.

Huckleberry Sweet Cream Liqueur
Willie's Distillery in Ennis
About an hour northwest of Yellowstone National Park, the tiny town of Ennis is wrapped around a bend on the left bank of the Madison River. If the trout-packed, crystal-clear waters don't call you to this part of Southern Montana, then perhaps the smooth spirits distilled at Willie's will do the trick!
Named for its founder, a North Carolinian from Appalachia's moonshine country, Willie and his wife Robin distill the region's fresh mountain water and locally grown grains into some of the smoothest vodka, whiskey, and liquor you'll ever drink. And while everything we sampled at Willie's was phenomenal, the huckleberry sweet cream liqueur was beyond amazing.
In the summertime, Willie's huckleberry sweet cream liqueur is best poured over a tall glass of iced cream soda. But since it's awfully cold in Montana during the other nine months of the year, it can also be enjoyed stirred into a steaming mug of hot chocolate and topped with fresh whipped cream. (I like to garnish my whipped cream with freshly grated dark chocolate shavings for good measure!)
Sage Advice: Before bidding adieu to Ennis, grab a burger at the Gravel Bar right across Main Street from Willie's Distillery. You can keep things basic with a grilled beef patty topped with lettuce, tomato, onion, and pickle, or go wild with the Bandito (pepper jack cheese and guacamole), the Cowboy (cheddar cheese, barbeque sauce, and onion rings), or the Sphinx (Swiss cheese, mushrooms, and caramelized onions).
Huckleberry Liqueur Drink Recipes
Here are two of my favorite ways to enjoy Willie's huckleberry sweet cream liqueur at home:
I'll Be Your Huckleberry
1.5 oz Willie's huckleberry sweet cream liqueur
6.5 oz cream soda
Fill a tall glass with ice. Pour in the cream soda and top with huckleberry sweet cream liqueur. Gently stir and enjoy!
Huckleberry Hot Cocoa
1.5 oz Willie's Huckleberry Sweet Cream Liqueur
6.5 oz of your favorite hot cocoa
Whipped cream
Dark chocolate shavings
Top your favorite mug of hot cocoa with 1.5 oz of Willie's huckleberry sweet cream liqueur. Garnish with whipped cream and dark chocolate shavings.
Whitefish Handcrafted Spirits in Kalispell
Another husband-and-wife team converting melted mountain snow and local ingredients into small, handcrafted, smooth-as-silk spirits is Tom and Danette Sefcak. Originally from California, Tom spent several years working in the Bakken oil fields in neighboring North Dakota to save the money to open the Whitefish Distilling Company. Today he's living his dream in northwestern Montana. Visiting the cozy tasting room at Whitefish Spirits feels like relaxing at an old friend's mountain lodge. So after you've experienced all of the best things to do at Glacier National Park, sit back and enjoy their fine spirits with a premium cigar or delicious dishes that would make James Beard proud.
While you are sure to enjoy the Montana wheat vodka and hand-crafted gin, you will absolutely fall in love with the huckleberry liqueur. Because nothing reminds you that you are in Montana quite like this huckleberry-infused rum and the gorgeous mountain town setting. While the liqueur can certainly be mixed into a delicious huckleberry drink, it's also delicious all on its own.
Sage Advice: If your taste buds are screaming for more huckleberry, order the I'm Your Huckleberry Burger at Whitefish Handcrafted Spirits. A ground-in-house, all-beef patty is topped with your choice of Havarti or goat cheese and caramelized onions and huckleberry compote.
Ted's Montana Grill in Bozeman
Through a nationwide chain of upscale restaurants, Ted Turner and George W. McKerrow re-introduced the protein-packed, vitamin-rich meat of bison to American diners. In the college town of Bozeman, where millions of bison used to roam the plains, nothing pairs with a bison burger, bison short ribs, or bison brisket like a huckleberry margarita at Ted's Montana Grill.
Sage Advice: If you aren't into bison, have no fear! Ted's also serves a delicious selection of salad, poultry, seafood, and beef dishes.
But what's better than a huckleberry margarita? Two huckleberry margaritas! And that's exactly what you'll find on the menu at Ted's. Stick with the basics by ordering the plain Jane version of this huckleberry drink that shakes Jose Cuervo tequila and Cointreau with huckleberry-infused sour mix. Or spice things up with the jalapeno huckleberry margarita that uses jalapeno-infused tequila to give this version a bit of a kick.
Huckleberry Margarita Recipe
Make your own huckleberry margarita at home with this delicious recipe (or take a shortcut with this margarita mix).
Huckleberry Margarita
Sea salt
One lime (zest and wedges)

Handful of

fresh huckleberries

(substitute with blueberries, as needed)

2 oz silver tequila
1 oz orange liqueur
1 oz agave nectar
1 oz lime juice
Zest about one-quarter of a lime into a plate of sea salt. Mix gently to blend. Wet the rim of a margarita glass with a lime wedge then dip into the lime and salt mixture.
Add a small handful of fresh huckleberries to the glass and gently muddle to release the juice. (NOTE: If you don't have fresh huckleberries, you can use fresh blueberries.)
Pour the remaining liquid ingredients into a drink shaker filled with ice. Cover and shake for about a minute. Strain into the salt-rimmed glass with muddled berries. Garnish with a lime wedge.
Part restaurant, part lounge, and part casino, you'll find The Montana Club in several of Montana's most popular cities, including Billings, Butte, Great Falls, Kalispell, and Missoula. But before you sit down to a sizzling steak, enjoy one of the best huckleberry drinks in Montana, a huckleberry mule. (Or, a Montana mule, as we call this refreshing huckleberry vodka drink at our house.)
Served in a chilled copper mug designed to enhance the fizzy flavor of the ginger beer, this huckleberry vodka drink uses Wild Roots huckleberry vodka and whole huckleberries to craft this Montana-minded cocktail (even though Wild Roots vodka is handcrafted in Oregon). This distillery doesn't mess with artificial extracts, colors, and flavors. Each bottle is infused with over a pound of real huckleberries, delivering the perfect punch of tart and sweet in each cocktail.
The Montana Club offers several other signature cocktails with a huckleberry twist, including:
Huckleberry mojito – rum, huckleberries, simple syrup, and club soda with a squeeze of lime and a sprig of fresh mint

Huckleberry colada – a blended tropical island classic topped with huckleberries and whipped cream
Want to make a huckleberry mule at home? Here's my tried and true
recipe for Montana mules
. Made with huckleberry vodka, ginger beer, freshly squeezed lime juice, and topped with a handful of huckleberries, you can sip the flavors of Big Sky Country anywhere!
Sage Advice: Enjoy the most iconic experiences in Big Sky Country by working your way through this free Montana bucket list.
Huckleberry Coffees and Teas
At more than 20 locations across the Treasure State, as well as in the neighboring states of North Dakota and Wyoming, City Brew can kick start your day with a variety of huckleberry drinks. If you want to keep things simple first thing in the morning, ask the barista to add a few pumps of huckleberry syrup to your latte or hot chocolate. For a more exotic hot huckleberry drink, try a huckleberry white mocha or huckleberry steamer that adds a sweet, fruity huckleberry flavor to steamed milk.
To cool off after a long hike in the fresh mountain air, check out City Brew's huckleberry green tea frappe or sparkling huckleberry lemonade. And the best thing about City Brew is that you can add huckleberry syrup to just about anything on the menu for less than a dollar.
Sage Advice: Before you leave Montana, stock up on huckleberry coffee beans roasted in northwestern Montana at Montana Coffee Traders.
Flathead Lake Gourmet Soda
Wild huckleberries are abundant in Northwestern Montana, so it's not surprising that the area surrounding Glacier National Park is home to the nation's largest population of grizzly bears in the contiguous United States. Or that they inspired the creation of a locally produced fizzy drink filled with huckleberry flavor.
Look for huckleberry Flathead Lake Gourmet Soda in grocery stores and speciality shops throughout Big Sky Country.
Sage Advice: If you're are all huckleberried out, try Flathead Lake Gourmet Soda in another flavor like sour cherry, black raspberry, granny apple, or strawberry orange.
What's Your Favorite Huckleberry Drink?
Do you prefer huckleberry drinks that are hot or cold, boozy or benign? Share your thoughts in the comments section below.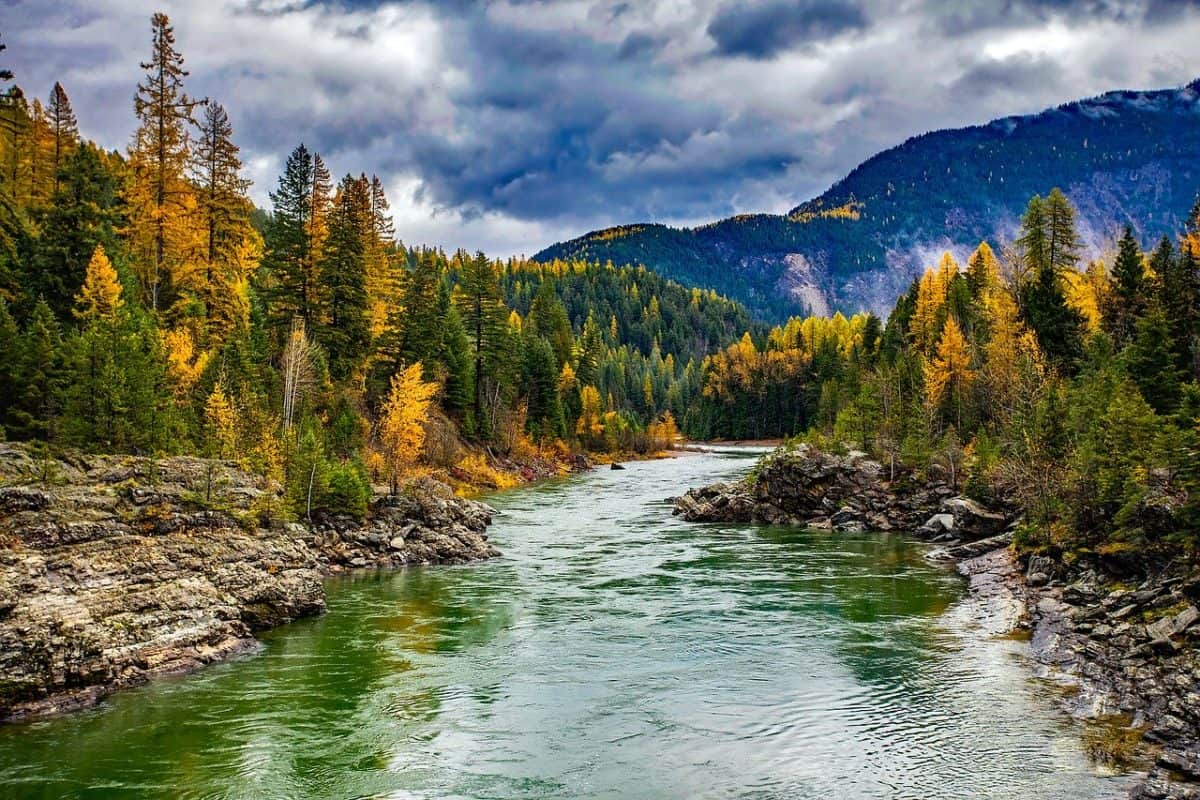 Looking for more information to plan your Montana vacation? Check out my free Montana travel guide to help you plan your trip to Montana including the best time to visit Montana, what to see and do in Montana, the best places to stay in Montana, where to eat in Montana, and more!
Ready to Go?
Use These Helpful Links to Book Your Trip!
More Articles You'll Love!