Essential oils offer a powerful, plant-based way to reduce travel anxiety, help cure jet lag, and battle motion sickness. But do you have what you need to keep your oils safe when you travel? Here's how to pick the perfect essential oil travel case.
I have an MBA (and not an MD), so the advice in this article is based on my personal experience and how I travel with essential oils. It should in no way be perceived as medical advice as I'm clearly lacking the letters required on my diploma to be a physician.
While it's easy to tuck your essential oils in a cool, dry place away from direct sunlight at home, traveling with essential oils can be more complicated. To keep your oils organized, prevent leaks, and ensure the amber bottles don't break en route, you'll want an essential oil travel case.
To help offset the costs of running EverydayWanderer.com, you'll find affiliate links lightly sprinkled throughout the site. If you choose to make a purchase via one of these links, there's no additional cost to you, but I'll earn a teeny tiny commission. You can read all of the legal blah blah blah (as my little niece says) on the full disclosure page.
In order to pick the best essential oil travel case for your specific needs, consider the following:
1. What Oils Do You Travel With?
Do you travel with a single 10-ml roller bottle, three to six 15-ml essential oil bottles, or 50+ essential oil bottles of various sizes? Choosing the best essential oil travel case for your needs is highly dependent on the number of essential oils and the types of bottles you need to transport.
2. What Sort of Protection Do Your Oils Need When Traveling?
A pretty wooden box may provide adequate essential oil storage at home, but this type of case can be heavy, and it doesn't typically provide the type of protection that glass bottles need when you are traveling.
Do you plan on packing your essential oils in your checked luggage or your carry-on? If your oils will go in a checked suitcase, I recommend a hard exterior with a foam insert that will provide additional protection as your bag is tossed around during its journey and other suitcases are piled on top of it. But if your oils will always be in our carry-on bag, then you might prefer a lightweight, soft-sided essential oil storage case.
3. Do You Need Additional Storage Space in Your Essential Oil Travel Case?
The list of essential oil travel cases I evaluated ranged from silicone sleeves for individual roll-on applicators to small, soft-sided cases for a handful of oils to a large, hard-sided case that can hold up to 72 bottles of essential oil. Each of these cases is a high-quality solution, and prices range from $7 to $29 (before tax and shipping).
5. What Sort of Return Policy or Guarantee is Important to You?
Sometimes the online purchase that you've carefully researched doesn't look as good in person as in the photos, or perhaps it doesn't work quite the way you imagined. If you want the confidence of returning your essential oil travel case for a full refund, should it not meet your expectations, be sure to research the return policy before you buy. And if you want some reassurance that the manufacturer will stand behind its product after you've taken a trip or two with your essential oil travel case, be sure to also understand any warranty or guarantee offered.
Can I Travel with Essential Oils?
Yes, you can absolutely travel with essential oils. But when you do, you'll want to ensure that they retain their potency by keeping them in a cool, dry place and out of direct sunlight – just like you do at home.
How to Travel by Car with Essential Oils
If you're traveling by car, be sure not to leave your oils in a hot vehicle for an extended period of time. If you want to leave your oils in your car while you spend the day hiking at Yellowstone National Park or exploring the Smithsonian museums, consider putting them in a cooler.
To use your essential oils when you travel by car, consider a car vent diffuser. Lemon and other citrus oils are great to pack on a road trip because they brighten moods and help the driver focus on the road. If you're traveling with passengers who suffer from motion sickness, diffuse lavender, ginger, or spearmint essential oil to help curb their symptoms.
Sage Advice: If you travel with fur babies, be sure that any essential oils are pet-friendly before diffusing them in your car.
How to Travel with Essential Oils on a Plane
Because I want them handy and to ensure that they aren't ever any hotter than I am, I always pack my essential oil bottles in my carry-on luggage. In the United States, airline passengers are currently restricted to a quart-sized bag of liquids in containers that are 3.4 ounces or less each. Because essential oils are typically sold in 5ml, 10ml, or 15ml bottles – and because a 15ml bottle is roughly 0.5 ounces – I've always been able to pack my "must-have" essential oils for travel in my carry-on luggage.
If you must pack your essential oils in your checked luggage, consider sealing them or your essential oil travel case in a large Ziploc bag to protect your clothing and other belongings against spills.
Sage Advice: Because other travelers may be sensitive to the scent of your essential oils, consider applying them before you board.
How to Pack Essential Oils for Travel
Regardless of your transportation mode, here are helpful tips for packing your essential oils for travel.
While you may have a wide range of oils at your fingertips at home, you don't need to bring all of them with you on your trip. If you focus on a few oils that have a wide range of uses, you'll be able to pack lightly without any issues. I've traveled the world with these four oils, and I've never needed any others while on the road.
Clearly Label the Bottles
If your oils are traveling with you in their original bottles, you should be all set. But if you are downsizing – pouring 5ml of lavender oil from your 15ml bottle into a smaller container, for example – be sure to clearly label each bottle. Essential oil stickers are one labeling option, but you can also use a label maker or simply write the name of the oil on a small piece of masking tape affixed to the bottle.
Best Essential Oil Travel Cases
To write this article, I personally evaluated a wide range of highly rated essential oil carrying cases. Beyond my personal assessment, these attractive options received glowing customer reviews and are offered at budget-friendly prices. Whether you're seeking a soft- or hard-sided container or need to carry a single roller bottle or up to 70 essential oil bottles, you're sure to find the perfect essential oil case from the list below!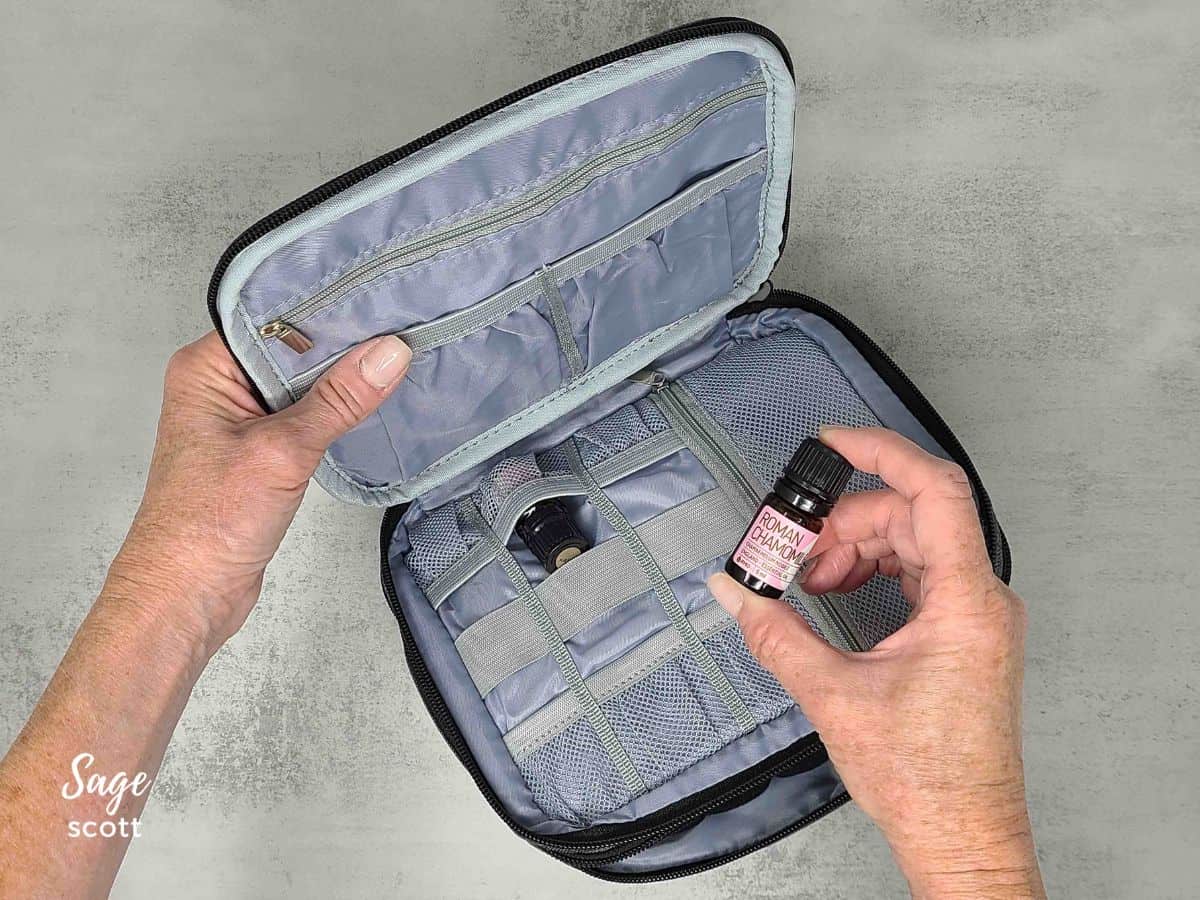 Best Large, Soft-Sided Case: Luxja Carrying Case
This double-layer, soft-sided carrying case holds up to 30 essential oil bottles of all sizes – 5ml to 30ml – including 10ml roller bottles. It also features zippered compartments and pouches that make it easy to pack essential oil accessories like droppers, labels, and funnels in the case. This case is available in black, purple, gray, lavender, and pink. If you need a slightly smaller size, try this option that holds up to 20 essential oil bottles.
Best of Both Worlds: Luxja 12-Bottle Essential Oil Carrying Case
If you need to carry up to 12 bottles of essential oil as well as accessories, this double-decker, soft-sided clutch bag is a compact option that provides plenty of space for both. This carrying case is available in black, blue, gray, and purple. And if you want a slightly smaller version of this travel case, Luxja also offers a single-layer option.
Largest Carrying Capacity: Fitnate Essential Oil Case
For a hard-sided, lightweight travel case, this is a great option. The molded foam insert has slots for up to 30 bottles of oil and can accommodate 5ml, 10ml, and 15ml containers. If you need a larger essential oil carrying case, there is also a 70-bottle option.
This travel case includes a multifunctional bottle opener that makes it easy to remove roller balls or plastic reducer caps without using your fingernails. It also comes with a sheet of colorful round labels to place on the top of each essential oil cap to help you find the desired oil in the case.
This essential oil carrying case is only available in black with robin's egg blue trim.
Best Value: Beschan Essential Oil Case
If you need a large, travel-ready storage container that works at home or on the road, this is the perfect essential oil travel case for you. With a molded foam insert as well as elastic straps, this durable carrying case makes it easy to pack a wide range of essential oil containers – including rollers and 5ml, 10ml, and 15-ml bottles – as well as accessories. This case also comes with four sheets of label stickers, a bottle wrench, four droppers, and more.
While it's only available in basic black, you can select from two sizes based on what works best for you, including the largest carrying capacity that holds up to 70 bottles of oil.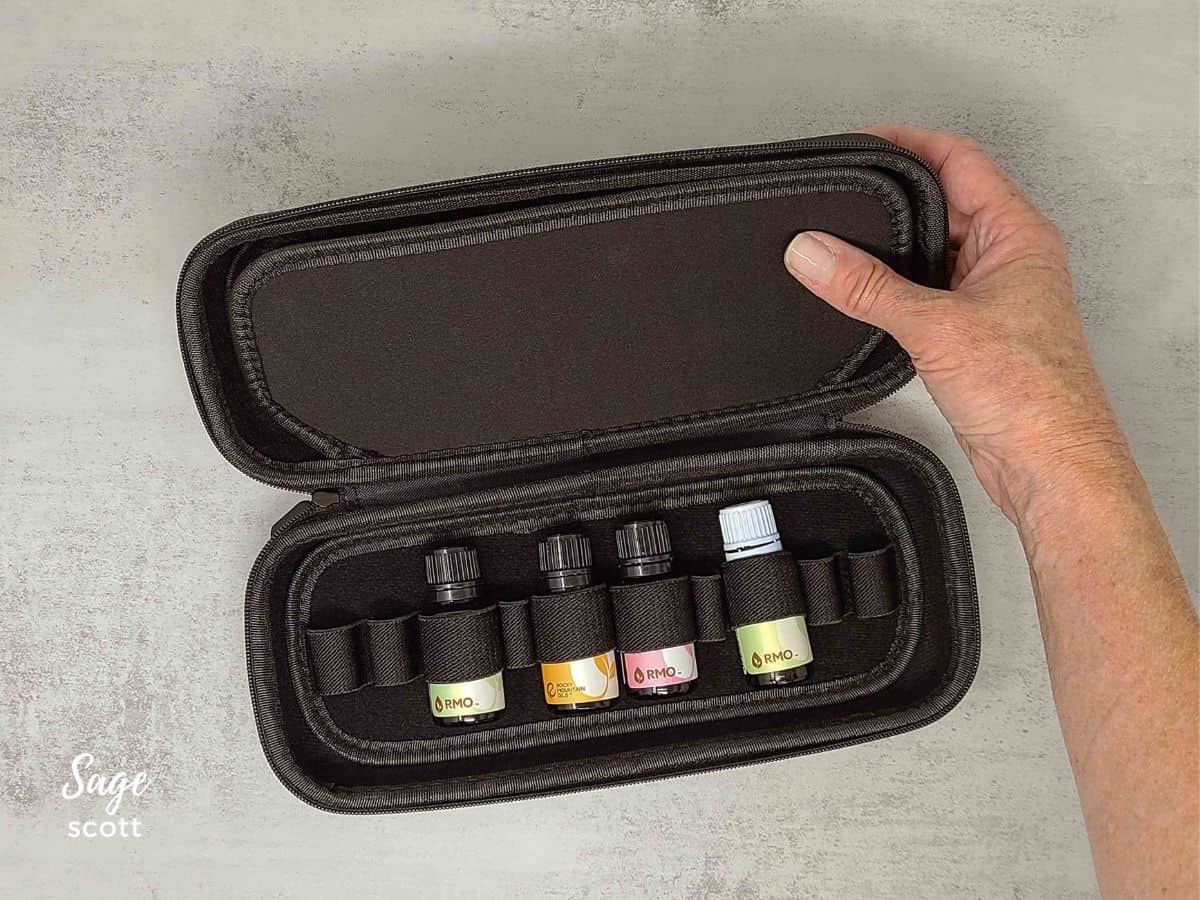 Best No-Frills Option: Hipiwe Hard-Shell Essential Oil Case
For a lightweight option that holds up to 20 bottles of essential oils, including 10-ml roller bottles, this durable carrying case gets the job done. Although it's only available in black and purple, this water-resistant, hard-shell case with a foam divider will protect your oils from breakage, sunlight, and other potential damage when you travel.
Best Essential Oil Purse: Evoon Essential Oil Carrying Case
Designed to look more like a purse than a box, this zipper-top essential oil bag can hold up to 12 bottles of essential oils of all sizes: 5 ml, 10 ml, and 15 ml. A mesh zipper pouch built into the top provides storage space for labels, droppers, and other accessories, and there is additional space between the rows of bottles. This case is available in green, light blue, and red.
Best Compact Size Hard-Shell Case: Aroma Outfitters 10-Bottle Essential Oil Case
Not only does this hard shell case protect your glass bottles from breakage, but it also insulates your oils to ensure that any leaks or spills don't damage other items in your purse, backpack, or suitcase. This compact-size case holds up to 10 roller bottles and fits perfectly in a purse, glovebox, or diaper bag. It's available in black, light blue, and pink.
Sage Advice: If you are looking for something a little bit larger, this hard case is also available in a 14-bottle size.
Best Compact Size Soft-Side Case: Two-Pack Polka Dot Carry Case
If you want to store essential oils in two places, this option is best for you. Each of these zippered soft-side cases holds up to six bottles of oil, making it easy to keep one in your purse and one in your glove compartment, carry-on, or diaper bag. Each two-pack includes one blue and one green polka dot essential oil bag.
Best for the Minimalist: Zippered Key Chain Pouch
If you really want to travel lightly, this bottle holder stores up to ten mini amber vials in a zippered pouch that can easily be clipped to your purse, backpack, or another travel bag. Fill each container with your favorite essential oils or a teaspoon of carrier product (like fractionated coconut oil, grapeseed oil, or almond oil) to ensure that you have what you need for your trip, but in travel-sized quantities.
Best for 10-ml Rollerball Containers: Silicon Sleeves
If you mostly travel with rollerball containers of oil, this set of six silicon roller bottle sleeves is the best option for you. Simply slide a bottle into the roller bottle holder sleeve and easily attach it to your purse, backpack, or diaper bag using the adjustable strap.
Do You Have a Favorite Essential Oil Carrying Case?
What type of travel case do you prefer for your essential oils when you travel? What do you like about it? Any additional tips and tricks to pass along to help others pick the perfect travel case? Share your experiences in the comments section below.
Ready to Go?
Use These Helpful Links to Book Your Trip!