With bald eagles soaring above, black bears lumbering through the meadows, and herds of wild bison stopping traffic, Yellowstone National Park is an animal lover's paradise. These are the best places to see Yellowstone animals when you visit America's first national park.
From mammals to birds and fish to amphibians, there are hundreds of animal species in Yellowstone National Park. In fact, Yellowstone is home to one of the largest concentrations of wildlife in the lower 48 states. While it's usually easy to see a wide range of animals there with little effort, these are the best places to see animals in Yellowstone.
Fun Fact: Montana is home to the most native mammal species in the United States. Here are some other fun facts about Montana.

I've partnered with Hotels.com to share my experiences observing and photographing animals in Yellowstone National Park.
To help offset the costs of running EverydayWanderer.com, you'll find affiliate links lightly sprinkled throughout the site. If you choose to make a purchase via one of these links, there's no additional cost to you, but I'll earn a teeny tiny commission. You can read all of the legal blah blah blah (as my little niece says) on the full disclosure page.
Where to See Animals at Yellowstone National Park
How to Use This Map
Zoom in or out using the + and – keys in the bottom right corner.
Click the "More options" text link in the upper left corner to open this embedded map in a new browser window and take advantage of more options including the ability to send these directions to your phone.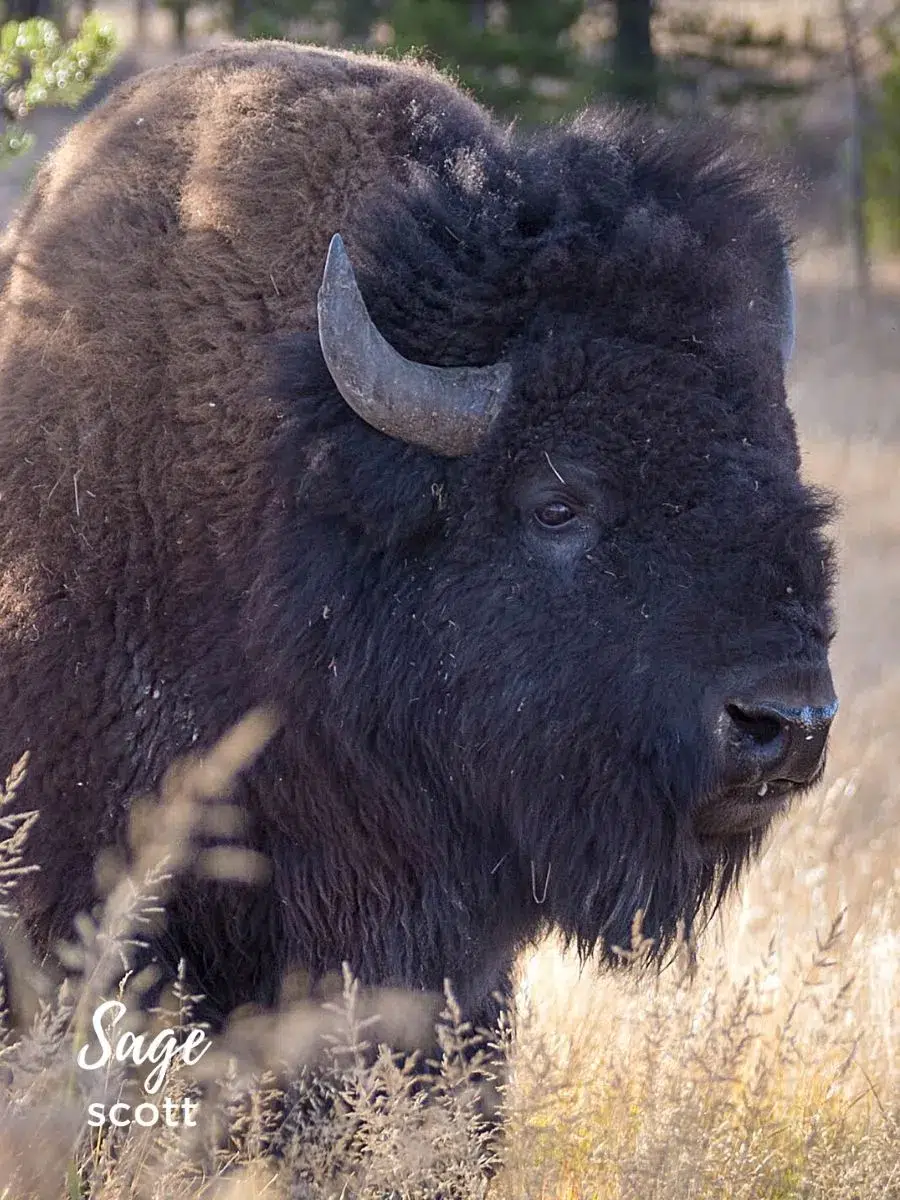 After traveling the Beartooth Highway from Red Lodge, Montana, to the northeast entrance of Yellowstone Park, it's hard to imagine witnessing anything more breathtaking than the road just traveled. The 90-minute journey climbs to a height of nearly 11,000 feet above sea level, delivering panoramic views of the snow-capped mountains and winding past crystal-clear lakes.
Shortly after crossing into Yellowstone National Park at the Cooke City-Silver Gate entrance, you'll find yourself in the Lamar Valley. The first time I surveyed the tallgrass prairie filled with hundreds of wild bison, I felt as if I'd been transported into a scene from Dances with Wolves. The moment took my breath away, and each year when I return, the sight is just as captivating.

In addition to a substantial bison population, the Lamar Valley is a great place to see bears. About half the size of the more ferocious grizzlies, black bears are often spotted in the Lamar Valley. It's important to note that, despite their name, black bears aren't always black. In fact, many of the black bears at Yellowstone are cinnamon colored with reddish-brown fur that often causes visitors to mistake them for grizzlies.
Sage Advice: Increase your chances of spotting bison, bears, wolves, eagles, and other wildlife with this Lamar Valley hiking tour.Lamar Valley Safari Hiking Tour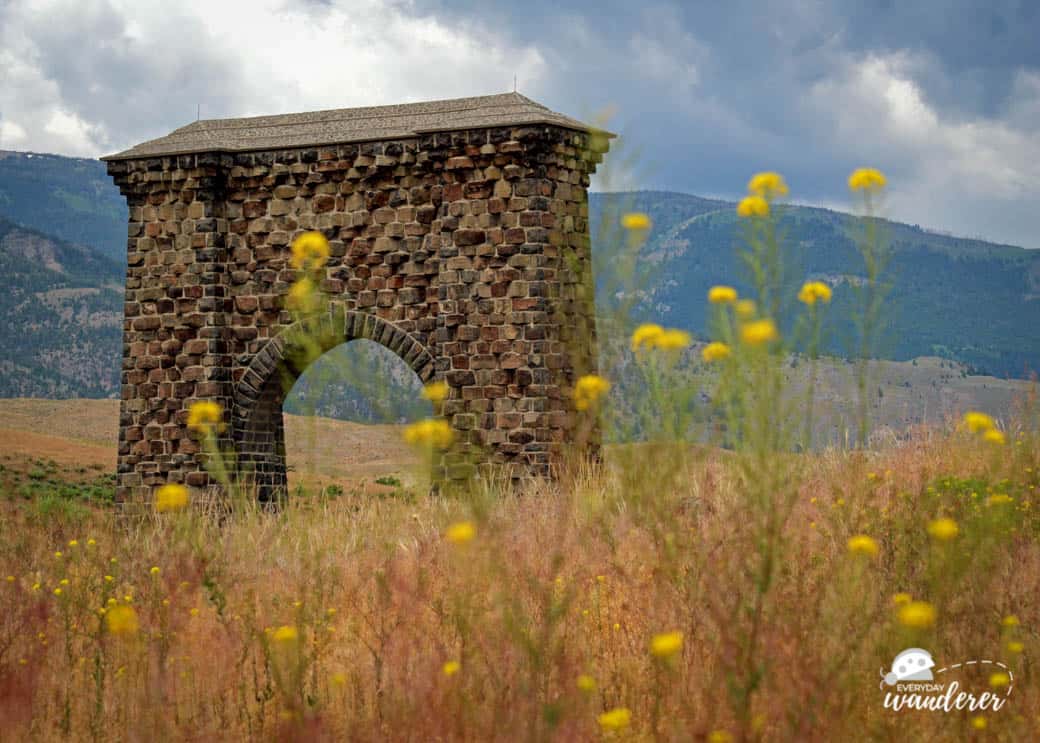 Traveling counterclockwise, another great spot to see animals in Yellowstone National Park is near the Roosevelt Arch. Rising 50 feet above an open meadow sprinkled with wildflowers, the stone arch was the original entrance to America's first national park.
Where crowds gathered in 1903 to watch President Theodore Roosevelt lay the arch's cornerstone, today you'll likely see mule deer and pronghorns grazing in the tall grass. Scanning the area, you're also likely to find ground squirrels standing up on their hindlegs, surveying the scene.
Sage Advice: Yellowstone is not a petting zoo, and the animals in Yellowstone are intentionally wild. Maintain a safe distance by viewing the animals through a long camera lens or binoculars. And never feed the animals, no matter how much that adorable ground squirrel or chipmunk seems to beg!
3. Along the Yellowstone River
The park's namesake river runs through the Montana town of Gardiner, traveling south and draining into a lake that also bears its name. Regardless of where you encounter the Yellowstone River during your visit, look up at any large trees along its banks.
If you see what appears to be a large golf ball, you've likely discovered a bald eagle, so stop for a closer look. America's emblematic birds typically build nests in trees near the water. In addition to providing shelter, the nests also serve as a vantage point to hunt fish and waterfowl.
Where the Yellowstone River runs through the Hayden Valley, watch for American river otters. Seeing one of these industrious, water-loving mammals is a rare treat, because they typically lounge in their dens during the daytime hours. While I'm not a fan of the cold temperatures at that time of year, winter is one of the best seasons for spotting river otters at Yellowstone National Park. When snow blankets the ground, their brown coats stand out in contrast to the winter landscape.
Sage Advice: Don't forget to pack your National Park Passport and collect your passport stamp at one of the Yellowstone National Park visitor centers!
4. North Entrance of Yellowstone National Park
With up to 20,000 head of elk at Yellowstone National Park, seeing one of these magnificent mammals is about as likely as spotting a bison. Elk are nearly always present at the north entrance to Yellowstone near Gardiner. They often spill out of the park into the town, making themselves comfortable on Gardiner High School's football field where their antlers often frame the Roosevelt Arch rising behind them in the park. (Unfortunately for these massive members of the deer family, the school's mascot is a bruin.)
Your best opportunity to spot the curved horns of bighorn sheep at the park is in the mountain passes of the northern edge of Yellowstone. Using a long camera lens or binoculars, carefully scan the rocky areas where the grassy meadows rise toward the mountains.
Fun Fact: The rings on a bighorn sheep's horns can be used to determine the animal's age.
Sage Advice: If you see a crowd at Yellowstone, stop and take a look! (Pull safely off the road first, of course.) Chances are they've spotted a black bear roaming in the woods, a moose cow with a calf, or another large mammal worth seeing.

The town of West Yellowstone, Montana, runs parallel to Yellowstone National Park, and leads to the west entrance of the park. This entry point is the fastest way to the Grand Prismatic Spring, a scalding hot, 160-foot-deep, rainbow-rimmed hot spring.
It's also the best route to Old Faithful, the geyser that shoots thousands of gallons of boiling water and steam more than 100 feet into the air on a predictable schedule. As you travel through the western part of Yellowstone on your way to these popular Yellowstone sights, you're likely to see bison.
Sage Advice: For guaranteed grizzly bear, Yellowstone wolf, river otter, and bald eagle sightings, visit the Grizzly & Wolf Discovery Center in West Yellowstone before entering Yellowstone National Park.
Yellowstone National Park is home to about 200 moose that spread out over 2.2 million acres. As the moose population continues to decline, it's becoming harder to spot my favorite mammal at the park. The best place to see moose at Yellowstone is in the southwest portion of the park. Watch for the long-legged creatures wading in the Lewis River or feasting on aquatic plants in lakes.
Sage Advice: Grand Teton National Park is just a short drive from Yellowstone National Park's south entrance. And if you visit the area in winter, here are six wonderful things to do in Jackson Hole (besides skiing).
As you pass calm lakes and slow-moving streams in the southwestern part of Yellowstone, keep an eye out for trumpeter swans. With black beaks, this swan variety looks more like a white goose with an ebony bill rather than the elegant, long-necked variety with a black mask and orange beak.
Sage Advice: You're more likely to see trumpeter swans in Yellowstone in the winter when they're migrating from Canada.
Like watering holes bringing Africa's wide range of predators and prey together, Yellowstone Lake plays a similar role. Located in the heart of Yellowstone Park, Yellowstone Lake is a great place to spot animals, including many species of birds and many species of fish. In fact, Yellowstone Lake has one of the largest inland populations of cutthroat trout in the world!
Watch for American white pelicans paddling on the lake or look for cream-breasted ospreys swooping down to pluck cutthroat trout from the lake with their sharp talons. As you scan the clear water, look for a large, brown figure that may be a moose swimming just below the surface. If you wait patiently, you'll likely see him emerge for air, with a wide rack of velvety antlers leading the way.
Scan the shoreline of Yellowstone Lake for bears. Both grizzlies and black bears are often seen in this area, especially in the early spring. Because it's more difficult for bears to sense humans when they are splashing in or strolling near the water, be extra bear aware if you spot one near Yellowstone Lake.
While a 600 pound grizzly bear may not seem that fast, he can easily run 35 miles per hour. To put that speed into context, Usain Bolt runs approximately 23 miles per hour. So never EVER think you can outrun a grizzly!
Sage Advice: One of the best ways to see animals at Yellowstone Lake is by spending the day on the water in a kayak.
At the northern tip of Yellowstone Lake, a log fishing bridge spans the Yellowstone River as it pools into the lake. While fishing is no longer permitted from the bridge, it's still a great perch to spot native fish species like cutthroat trout and Arctic grayling.
Sage Advice: If the Yellowstone animals seem to tolerate humans, don't let that fool you. Their temperament can change in an instant, especially if they are caring for their young or are sick or injured. Follow these guidelines to make the most of your visit.
Continuing north over the fishing bridge, you'll arrive in Hayden Valley. Like the Lamar Valley, this is a fantastic spot to see animals in Yellowstone National Park. Herds of bison, elk, and pronghorn are often grazing in this area. If you want to see a bear at Yellowstone, the Hayden Valley is a great place to look for both grizzlies and black bears.
Over the years, I've also seen coyotes in the Hayden Valley. One was hopping through the tall, golden prairie grass, most likely hunting a small mammal for lunch. Another time, when I was photographing a herd of bison in the distance, a coyote ran across the road, paused to look at me, and then continued on in a hurry.
Sage Advice: Throughout the park, watch for coyotes along the road. While they're happy to pounce on squirrels, rabbits, and gophers, they're equally happy to lazily scoop up roadkill for a meal.
To Visit Yellowstone National Park
Where is Yellowstone National Park?
Located primarily in the northwestern corner of Wyoming, Yellowstone National Park is a 2.2-million-acre park that spills into Montana and Idaho.
How much of Yellowstone is in Montana?
The majority of Yellowstone National Park (about 96 percent) is in Wyoming. About three percent of the park (73,000 acres) is in Montana, and a sliver of the park touches eastern Idaho.
When is Yellowstone National Park Open?
Once an entrance to Yellowstone has opened for the season, it is accessible 24 hours a day. The north entrance to Yellowstone National Park in Gardiner, Montana, is open year round. However, all entrances are subject to closures throughout the year based on weather conditions, forest fires, and other factors. Be sure to confirm that your selected entrance is open before heading to Yellowstone National Park.
What's Your Favorite Place to See Animals in Yellowstone National Park?
Have you been to Yellowstone? What animals did you see? Any additional tips and tricks to pass along? Share your experiences in the comments section below.
Looking for more information to plan your Yellowstone National Park vacation? Check out my additional recommendations to help you plan your trip to Yellowstone National Park including what to see and do in Yellowstone, the best places to stay near Yellowstone, where to eat near Yellowstone, and more!
More Articles You'll Love!