Located at the center of a circle that could be drawn by connecting Chicago, Indianapolis, Nashville, and Kansas City, St. Louis is a first-rate destination for second city travel, delivering brand-name recognition and world-class experience without the crowds.
A special thanks to Explore St. Louis for inviting me to experience their fair city. (<– See what I did there?) But you can count on me to always share my honest opinions, regardless of who foots the bill.
When you hear the term "second city" you may immediately think of Chicago. After all, Second City has been one of Chicago's many nicknames since the early 1900s.
I always picture The Second City, the improv club that helped create comedic legends like Gilda Radner, John Candy, Eugene Levy, Catherine O'Hara, Chris Farley, Tina Fey, Amy Poehler, Kate McKinnon, and so many others.
But there's a new second city term that's trending: second city travel.
To help offset the costs of running EverydayWanderer.com, you'll find affiliate links lightly sprinkled throughout the site. If you choose to make a purchase via one of these links, there's no additional cost to you, but I'll earn a teeny tiny commission. You can read all of the legal blah blah blah (as my little niece says) on the full disclosure page.
What is Second City Travel?
It's all about exploring lesser-known, often overlooked destinations in lieu of bustling megacities teeming with crowds. So instead of visiting the Windy City — the Midwest's largest metropolitan area with a population of 9.5 million people spanning 16 counties and three states — travelers visit smaller cities in the region.
While there are many fabulous second city travel options in the Midwest, here's why I recommend St. Louis as an amazing alternative to Chicago.
1. St. Louis is Easy to Navigate
Whether you're road tripping into St. Louis, landing at St. Louis Lambert International Airport, or arriving by rail, St. Louis is an easy city to navigate. If you're driving, you'll find conveniently laid-out highways and well-marked signs. And when it comes to parking your personal vehicle, you'll find plenty of garages and metered curbside spaces.
Visitors without a car in St. Louis will find its public transportation to be reliable and convenient. MetroLink, St. Louis's light rail system, has been crowned one of the best mass transit systems in the country. Most lines run 21 hours a day, from 4:00 am to 1:00 am the next day. Visitors can purchase a one-day, unlimited use pass for just $5.00. The city also offers bus service.
And, of course, Lyft and Uber drivers are also readily available to get you from where you are to where you want to be
2. Ample Green Space and Outdoor Activities
One of the reasons second city travel destinations are growing in popularity is because they are less crowded and give visitors some space. Here are just a few of my favorite outdoor activities in St. Louis.
Covering more than 1,370 acres, the site of the 1904 World's Fair is larger than New York City's Central Park and offers just as much to see and do. Stroll the grounds of the World's Fair Pavilion, rent a bike or a boat, or enjoy a picnic. Forest Park is also home to the St. Louis Zoo.
Gateway Arch National Park
Covering 90 acres under the towering 630-foot-tall silver monument to the Westward Expansion of the United States, and stretching from the Old Courthouse to the Mississippi River, the Gateway Arch National Park is one of the nation's newest national parks.
Sage Advice: Learn more about the Gateway Arch and surrounding area with this fun interactive scavenger hunt.
Located on 105 green and wooded acres, the Laumeier Sculpture Park pairs the great outdoors with beautiful art. Take a long, leisurely stroll in this unique open-air art museum, curl up with a book on a bench, or enjoy a picnic.
Missouri Botanical Garden
In bloom nearly year round, outdoor enthusiasts will surely love the quiet beauty of the Missouri Botanical Garden. Filled with bright bulbs in the spring and fragrant roses at the end of summer, it also includes Japanese and Victorian gardens. And at the center of it all is the Climatron, a giant glass dome that is the world's first air-conditioned greenhouse.
Fun Fact: Established in 1859, the Missouri Botanical Garden is the country's oldest continuously operated botanical garden.
For a truly unique outdoor experience in St. Louis, visit the World Bird Sanctuary. For more than 40 years, this internationally recognized organization has nursed injured birds back to health at its on-site Wildlife Hospital, provided sanctuary for non-releasable birds, and protected endangered species through breeding programs. Stroll through the outdoor exhibits to meet owls, vultures, and eagles, or take a hike on one of several trailheads on the 300-acre reserve.
3. St. Louis Has Many Free Attractions
Did you know that St. Louis is second only to Washington DC when it comes to admission-free attractions? From museums to breweries, these are some of the amazing free attractions that make St. Louis a fantastic second city travel destination.
Sage Advice: While tours of Anheuser-Busch have been a popular free thing to do in St. Louis for decades, the brewery is no longer offering complementary tours. Consider one of their Budweiser Brewery experiences or check out this St. Louis bar crawl instead.
The Museum at the Gateway Arch
Built into the base of the Gateway Arch, visiting the Museum at the Gateway Arch is completely free. Updated and reopened in July 2018, interactive galleries guide visitors through 200 years of American history about the westward expansion and the role the Gateway City played.
Sage Advice: Even though there is a small fee to ride the tram to the top of St. Louis's most famed attraction, it's reasonably priced and delivers unparalleled views of the city.
While you can expect to pay around $25 to explore either the Field Museum or Art Institute in Chicago, you can visit the Saint Louis Science Center, Saint Louis Art Museum, and other Forest Park museums for free.
Also located in Forest Park, the zoo is another free attraction in St. Louis. Stretching along Wells Drive on 90 acres in the southern part of the park, the St. Louis Zoo exhibits 12,000 animals of 500 species in spacious, natural enclosures.
Sage Advice: Just because a St. Louis attraction is free doesn't mean that it comes with free parking. Expect to pay approximately $10 to $15 per attraction to park a car in St. Louis.
4. The Gateway to the West is a Great Sports Town
Whether you enjoy the sound of a ball connecting with a bat or blades cutting into the ice, St. Louis is a great sports town, especially for baseball and hockey fans.
A red sign trimming the top of Busch Stadium spotlights the St. Louis Cardinals's 11 world championships (and counting) from 1926 to 2011. And the block surrounding the red brick stadium includes the Cardinals Hall of Fame, shops sporting cardinal red and white merchandise, and bars and eateries filled with adoring fans.
Sage Advice: The seats that curve around home plate offer gorgeous downtown views that include the Gateway Arch.
Although St. Louis's professional hockey team has fewer national championships to its credit than its baseball counterpart (just one in 2019 — so far), the St. Louis Blues are every bit as loved by the locals as the Cards. On the southeastern side of St. Louis Union Station, just a few blocks from Busch Stadium, you can catch a game at Enterprise Center when you visit St. Louis between October and April.
From ascending the Gateway Arch to cheering on the Cards, exploring St. Louis is likely to make you hungry. So you'll be delighted to discover plenty of unique and delicious foods when you visit St. Louis.
Related Article: 12 Delicious Dishes to Try in St. Louis
Just like the biggest city in the Midwest, St. Louis has a namesake style of pizza. But instead of the buttery deep dish you'll find in Chicago, St. Louis pizza features a cracker-like crust. But that's not all. It's topped with Provel cheese — a combination of cheddar, swiss, and provolone — and the pies are always cut into squares, not slices. My favorite St. Louis-style pizza parlor is Imo's, and you'll find many locations throughout the city.
What's better than homemade ravioli? Ravioli that's been breaded and deep-fried! Although the chef and restaurant credited with this delicious invention are both long gone, head to The Hill, St. Louis's Italian neighborhood, to try this delicious St. Louis dish.
St. Louis welcomed a large number of Bosnian immigrants after a brutal, decade-long civil war tore apart the former Yugoslavia. Today, approximately 20% of St. Louis residents are Bosnian immigrants, where they form the largest Bosnian community outside of Bosnia. Try a variety of Bosnian dishes at Balkan Treat Box, where James Beard semi-finalist Loryn Nalic's talent has generated nation-wide attention.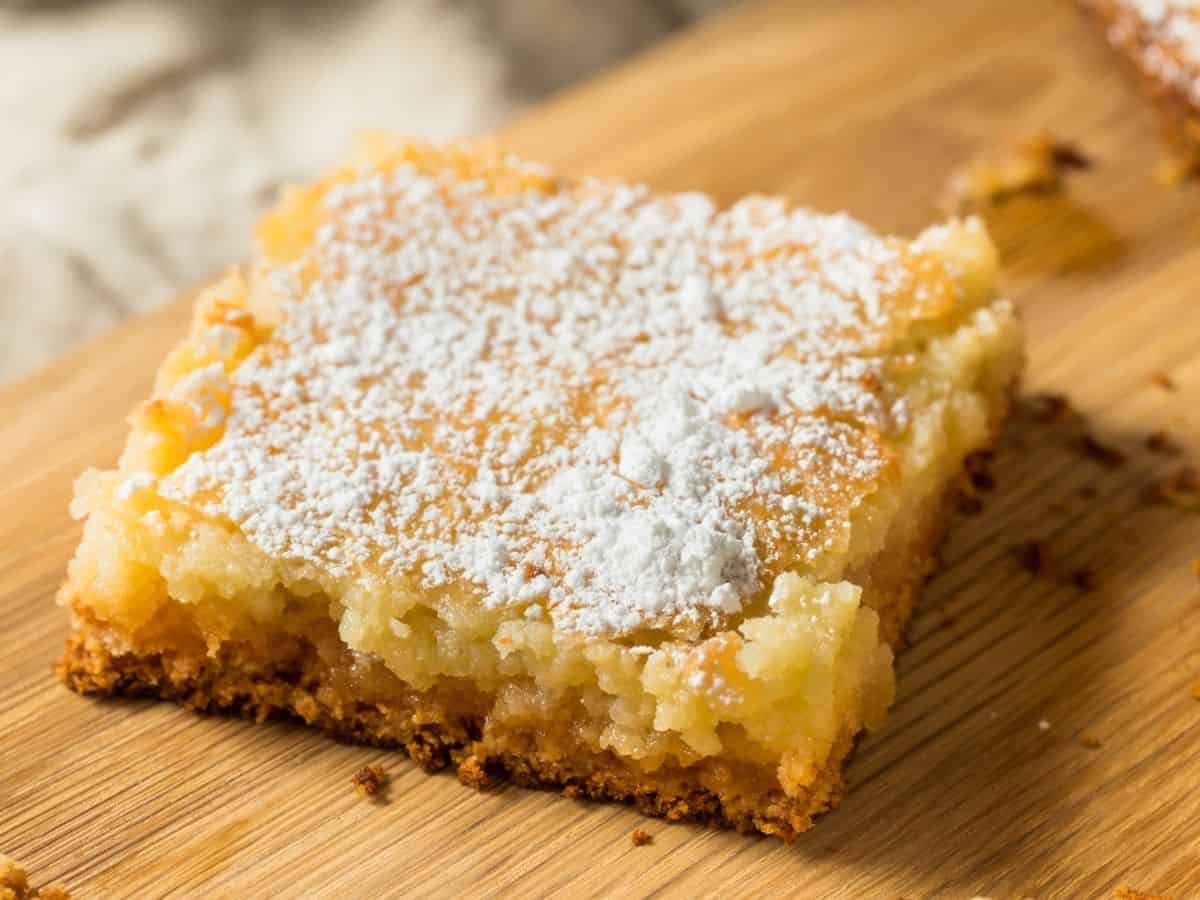 Cake for breakfast? Totally okay if it's gooey butter cake in St. Louis! You'll find slices of this flat, powder sugar-dusted pastry at coffee shops, bakeries, grocery stores, and just about anywhere else food is sold in St. Louis.
Order online and have gooey butter cake from Park Avenue Coffee delivered to you via Grubhub.

Easy to navigate and full of fun, St. Louis is a first-rate destination for second city travel in the Midwest.
Practical Information for Visiting St. Louis
St. Louis is on the eastern border of Missouri where the Mississippi and Missouri rivers intersect.
What state is St. Louis in?
St. Louis — home of the Gateway Arch, Budweiser beer, and St. Louis Cardinals — is in Missouri. Although it sounds similar, East St. Louis is a completely different city — across the Mississippi River — in Illinois. Although East St. Louis offers unparalleled views of the St. Louis skyline reflecting in the Mississippi River, it has made regular appearances on most dangerous cities lists over the years and should be visited with caution.
How far is St. Louis from Chicago?
St. Louis is about 300 miles southwest of Chicago. Allow about five hours to travel from Chicago to St. Louis by car.
How far is St. Louis from Kansas City?
St. Louis is about 250 miles east of Kansas City. Allow about four hours to travel from Kansas City to St. Louis by car.
What time is it in St. Louis?
St. Louis is in the US Central time zone which is the same time zone as Chicago and Kansas City.
How many people live in St. Louis?
St. Louis has a population of about 310,000 people.
What are the best places to stay in St. Louis?
Have You Explored St. Louis?
What did you like most about the Gateway to the West? Any additional tips and tricks to pass along? Share your experiences in the comments section below.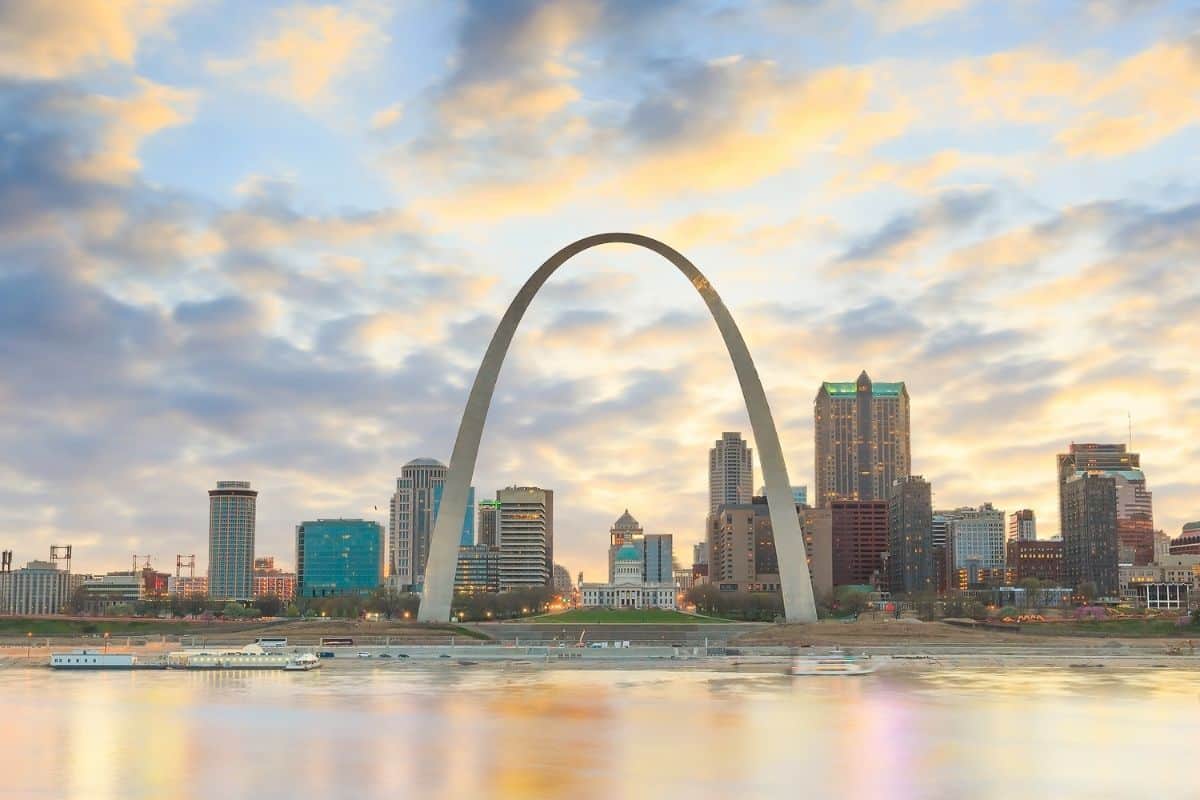 Looking for more information to plan your St. Louis vacation? Check out my additional recommendations to help you plan your trip to St. Louis including what to see and do in St. Louis, the best places to stay in St. Louis, where to eat in St. Louis, and more!
Ready to Go? Use These Helpful Links to Book Your Trip!
More Articles You'll Love!