With its perpetually burning eternal flame, John F. Kennedy's gravesite, is one of the most notable graves at Arlington National Cemetery. But the Kennedy Memorial at Arlington National Cemetery honors more than the late president. Don't miss the opportunity to pay your respects to JFK's brothers, his wife Jackie, and his two infant children when you visit the Kennedy Family Graves at Arlington.
While there is no fee to visit and pay your respects to the Kennedys buried at Arlington National Cemetery, I did pay full price to ride the shuttle bus through the cemetery. But you can count on me to always share my honest opinions, regardless of who foots the bill.
Near the center of a cemetery the size of more than 470 American football fields, America's 35th president lies in eternal rest near an ever-burning gas flame. More than 400,000 men and women, interred between the Civil War and the present day, surround him in the serene setting just across the Potomac River from the nation's capital. They include military veterans, high-ranking federal government officials, Medal of Honor recipients, famous actors, other notable Americans, and their loved ones.
President Kennedy is one of two presidents buried at Arlington National Cemetery. (William Howard Taft, the 27th president, was laid to rest at Arlington National Cemetery in March 1930 after passing away at his home.) Buried next to JFK at Arlington are his wife Jackie, and two of their four children. And interred near the 35th president are his brothers, all of whom are military veterans.
Here is a complete guide to the Kennedys buried at Arlington National Cemetery.
To help offset the costs of running EverydayWanderer.com, you'll find affiliate links lightly sprinkled throughout the site. If you choose to make a purchase via one of these links, there's no additional cost to you, but I'll earn a teeny tiny commission. You can read all of the legal blah blah blah (as my little niece says) on the full disclosure page.
President John F. Kennedy (1917 - 1963)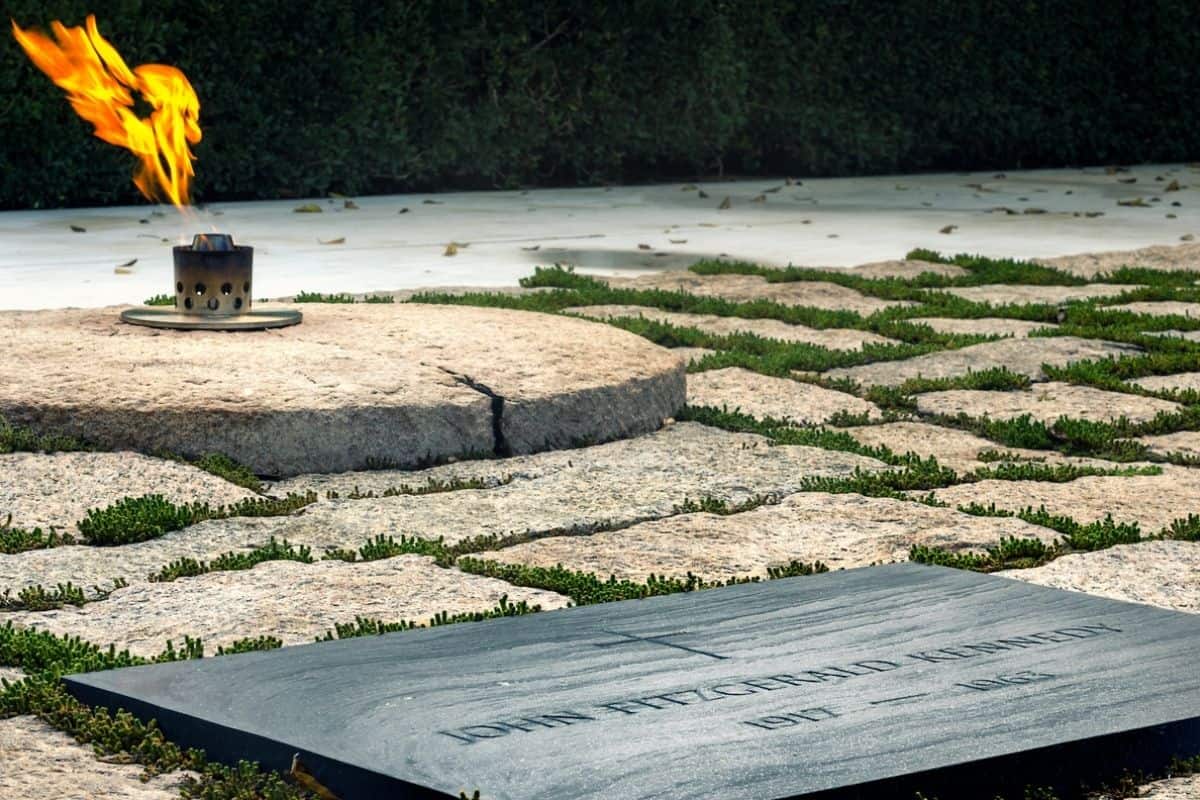 Just two weeks before his assassination, President Kennedy visited Arlington National Cemetery on Veterans Day. As a Navy veteran and the only president to date to earn a Purple Heart, JFK regularly sought opportunities to honor others serving in the military.
After laying a wreath at the Tomb of the Unknowns, the president took in the sweeping views of the Potomac River Valley and Washington, DC, from Arlington House, the former home of Robert E. Lee. As his eyes swept over the green manicured hills and colorful fall foliage, he announced to an aide that the scene was so magnificent that he "could stay here forever."
So when the President was laid to rest with one million people lining the funeral procession route, dignitaries from around the world paying their respects, and millions of viewers watching on television at home, his request was honored.
When you visit Kennedy's grave at Arlington today, you're actually visiting the second spot where he was interred. After visitors to JFK's original gravesite proved to be more than officials anticipated, and in order to make his eternal flame a more permanent fixture, the president was exhumed in March 1967 and moved a short distance to his current resting spot. The move was made in secret, with only a few people in attendance: his widow, his brothers, Ted and Bobby, and President Lyndon Baines Johnson.
First Lady Jacqueline Bouvier Kennedy Onassis (1929 - 1994)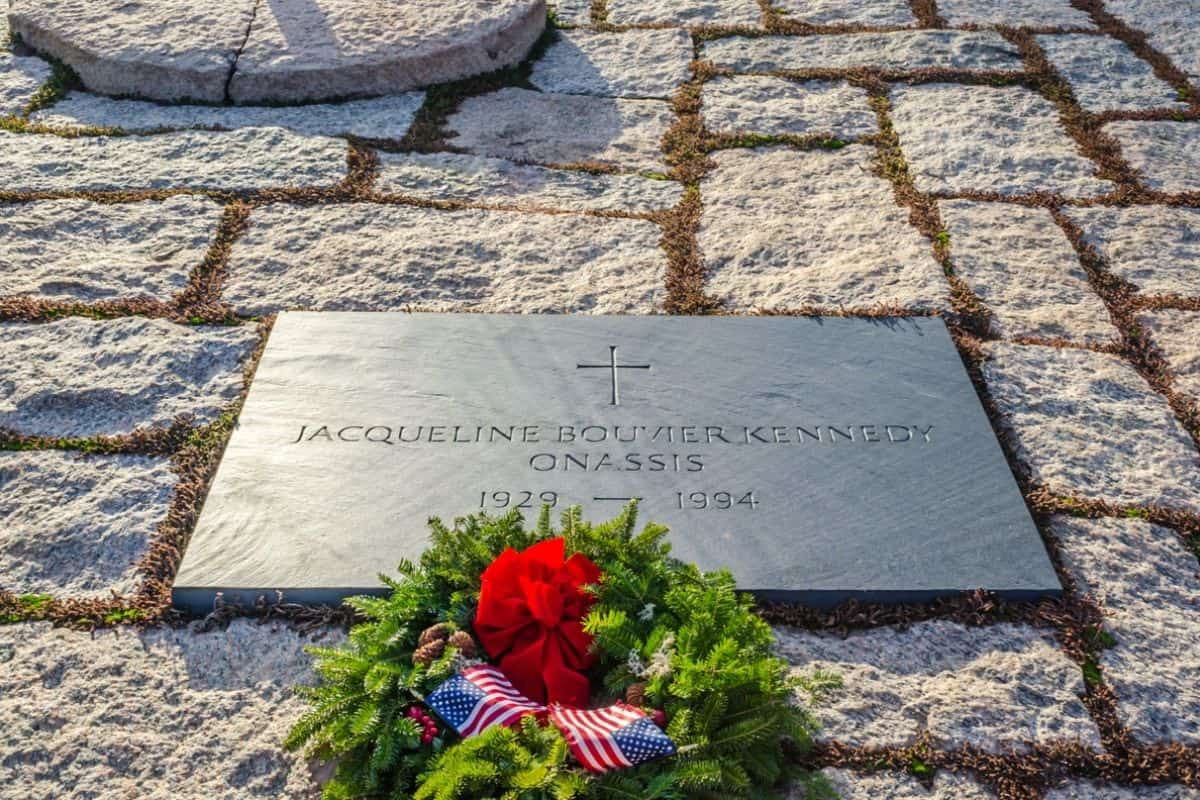 Born and raised in New York, Jacqueline Lee Bouvier studied at the Sorbonne in France and earned a Bachelor of Arts degree in French literature from George Washington University in 1951. Jackie married Jack Kennedy in Rhode Island on September 12, 1953, and became the first lady in January 1961 when her husband was sworn into office after narrowly defeating Richard Nixon the previous November.
Whether known as a senator's wife, America's First Lady, or JFK's widow, Jackie is often described as fashionable, elegant, and sophisticated. But I also think she was incredibly strong and brave. In 1963, Jackie lost a child and her husband and navigated both in the public eye with incredible courage and grace.
Although she remarried after John F. Kennedy's tragic death, Jackie Kennedy is forever a first lady. Also known as Jackie O, she is buried next to the president, and you can't miss visiting her grave when paying your respects to JFK.
Sage Advice: When you visit Arlington National Cemetery, you're likely to see coins on the gravestones. Here's the history behind the gesture, and why you should not participate in this activity.
Daughter Arabella Kennedy (August 23, 1956) and Son Patrick Bouvier Kennedy (August 7, 1963 - August 9, 1963)
There is nothing more heartbreaking than the gravestone of a newborn. And, tragically, JFK and Jackie are buried with two infant children at Arlington.
While daughter Caroline and son John Jr. are well-known members of the Kennedy clan, JFK and Jackie had two other children. Before Caroline — currently a 60-something author, attorney, diplomat, wife, and mother — the Kennedys had a daughter, Arabelle, who was stillborn.
And, just a few months before JFK was assassinated, Mrs. Kennedy gave birth to a son, Patrick, who only lived for two days. Both infants are buried alongside their parents at Arlington National Cemetery in Washington, DC.
Sage Advice: As you leave JFK's and Jackie's graves, don't overlook the quotes engraved into the curved stone wall. They include excerpts from some of President Kennedy's most famous speeches, and just beyond the wall, you'll see the Lincoln Memorial and Washington Monument.
Where is John Jr. Buried?
JFK and Jackie's son, John Jr., perished in a plane crash in July 1999. Rather than join his parents and siblings at the Kennedy family graves at Arlington, John Jr. was given a somber burial at sea from the USS Briscoe, a Navy destroyer.
Robert Francis Kennedy (1925 - 1968)
In addition to JFK's nuclear family, all three of his brothers are honored at the Kennedy family plot at Arlington National Cemetery. With four sisters and eight years separating them, Jack was especially close with his younger brother Bobby.
The brothers shared many things in common:
Both attended Harvard

Both served in the Navy (although JFK fought in World War II and Bobby served in the reserves)

Both were US senators
When JFK became president, Bobby served as his attorney general, and after his brother's assassination, Bobby aspired to be the next Kennedy in the White House. Instead, he was gunned down shortly after winning the California primary in 1968.
Although he had said he wanted to be buried in the family plot in Massachusetts, his surviving family felt he should be interred near his brother. As you leave JFK's grave and follow the path to the right, you'll find Bobby laid to rest under a plain white cross and a simple marker.
Edward Moore Kennedy (1932 - 2009)
At 15 years younger than JFK, Ted Kennedy was the youngest of the nine children born to Joseph and Rose Kennedy. The only Kennedy brother to live a relatively full life, Ted passed away in 2009 at the age of 77 after nearly 47 years as a US senator from Massachusetts.
Along the same path that winds southward from JFK's grave in the shadow of the Arlington House, you'll find Ted Kennedy buried under a plain white cross and simple marker similar to Bobby's.
Joseph P. Kennedy Jr. was killed shortly after his 29th birthday when his Navy plane exploded over the English Channel during World War II. Although he is buried at the Cambridge American Cemetery in Cambridgeshire, England, you'll find a memorial marker at Arlington Cemetery.
Visiting the Kennedy Family Graves at Arlington National Cemetery
The Kennedy family graves are a 15-minute walk from the Arlington Cemetery Metro Station and a 10-minute walk from the Arlington National Cemetery Visitor Center. If you choose to purchase a ticket for the cemetery tram, the gravesite is just a few steps (albeit uphill) from the nearest stop on the Arlington National Cemetery bus tour.
Absolute silence is expected at JFK's gravesite, and men should remove their hats. While you may see others tossing coins at graves, this is not appropriate behavior. The Kennedy family finds the practice especially disrespectful and has the coins removed and donated to charity a few times each year.
To Visit the Kennedy Family Graves at Arlington National Cemetery in Washington, DC
Where is the Arlington Cemetery located?
The address for the Arlington National Cemetery is simply Arlington National Cemetery, Arlington, Virginia. Most search engines and map applications can find the cemetery using that information. The cemetery is located just across the Potomac River from Washington, DC, and can be reached using the DC Metro via the blue line.
What hours is the Arlington National Cemetery open for visitors?
Arlington National Cemetery is open daily from 8:00 am to 7:00 pm April through September and 8:00 am to 5:00 pm October through March.
Is there a fee to visit Arlington Cemetery?
There is no admission fee to visit Arlington National Cemetery. However, tickets are required for the tram that winds through the cemetery. Discounted tickets are offered to active-duty military, veterans, seniors, and children, and they can be purchased just inside the Arlington National Cemetery entrance.
For the latest information, including special exhibits and events, visit the Arlington National Cemetery website.
Have You Visited the Kennedy Family Graves at Arlington National Cemetery?
What was your experience like? What other graves and memorials did you see when you visited? Do you have other advice to add to this article? Share your experiences in the comments section below.
Looking for more information to plan your Washington DC vacation? Check out my additional recommendations to help you plan your trip to Washington, DC, including what to see and do in Washington DC, the best places to stay in Washington DC, where to eat in Washington DC, and more!
Ready to Go? Use These Helpful Links to Book Your Trip