On a typical spring morning in 1995, a bomb exploded outside the Murrah Federal Building in Downtown Oklahoma City. Within minutes, a nine-story office building was reduced to rubble, and 168 innocent lives were lost in what remains the deadliest act of domestic terrorism in US history. This is what you need to know before you walk through the Gates of Time to visit the Oklahoma City Memorial.
Hotels.com asked me to share my experience visiting the Oklahoma City Memorial in Oklahoma City.
Six years before four planes were hijacked on September 11th, 2001, a different terrorist attack shook the nation. And it was an inside job. Instead of al-Qaeda members flying commercial aircraft into buildings, a decorated US Army veteran parked a rented truck outfitted with a homemade explosive outside the Alfred P. Murrah Federal Building. Minutes later, just after 9:00 am local time on April 19, 1995, a diesel-fuel-and-fertilizer bomb exploded, leaving a gaping hole in the middle of downtown Oklahoma City.
Like the Pearl Harbor and September 11 national memorials, visiting the Oklahoma City Memorial is likely to leave you emotionally drained. In fact, I was surprised at how hard the experience gripped me. In some ways, it was much more devastating than my experiences in Honolulu and New York City. Perhaps it was because the terrorists were Americans who intentionally killed and injured their fellow countrymen. Maybe it was gazing at the 19 small chairs and imagining the grief that parents felt when their young children's lives were cut short. And when I saw a family — a mid-life mother and father with a 20-something daughter — placing flowers on what I assumed was a lost child's chair, the tears that had been brewing spilled down my cheeks.
While a trip to the Oklahoma City Memorial is heartbreaking, it's important to visit, to honor those who lost their lives that day and to remain vigilant against future attacks. Here's what you need to know before you visit the Oklahoma City Memorial.
To help offset the costs of running EverydayWanderer.com, you'll find affiliate links lightly sprinkled throughout the site. If you choose to make a purchase via one of these links, there's no additional cost to you, but I'll earn a teeny tiny commission. You can read all of the legal blah blah blah (as my little niece says) on the full disclosure page.
Sage Advice: From the Oklahoma State Capitol to the National Cowboy and Western Heritage Museum, Oklahoma City offers many other interesting sights. Find the perfect lodging in Oklahoma City with one of these accommodations.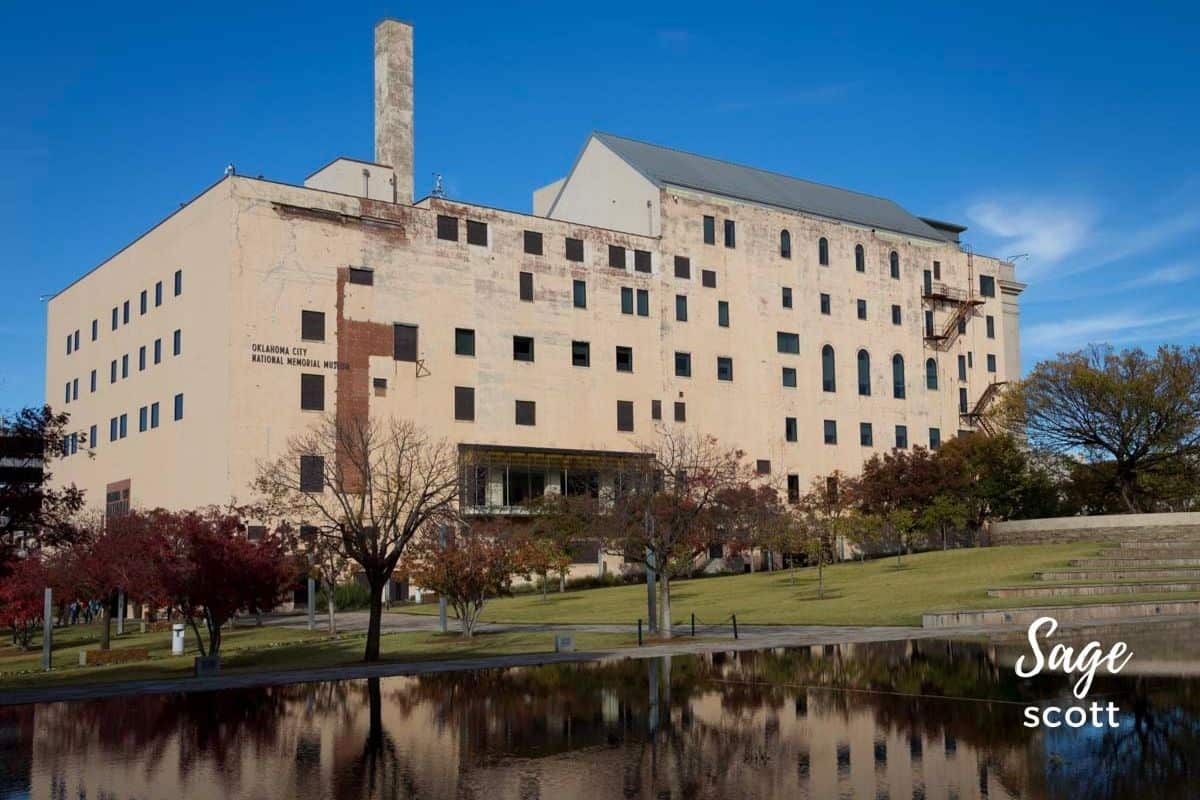 Although I remember exactly where I was when the Murrah Federal Building was attacked — and the Pulitzer Prize-winning photograph of a firefighter cradling a bloody baby in his arms will forever be seared into my memory — but a lot has happened since 1995. As I toured the Oklahoma City Memorial, I had a lot of questions and a spotty recollection. So, if your schedule allows, visit the museum first to learn more about that fateful day.
Ask a Park Ranger or Join a Ranger Program
If you only have time to visit the memorial, try to go when park rangers are on site (typically between 8:30 am and 5:00 pm). They can expertly answer your questions and lead ranger programs between Memorial Day and Labor Day.
Other Ways to Learn Important Oklahoma City National Memorial Facts
As you wander the park grounds, you will notice only limited information signs. These are a few of the facts I found myself Googling as I visited the Oklahoma City Memorial.
How many people died in the Oklahoma City bombing?
When the Murrah Federal Building was bombed, 759 people were injured, resulting in 168 deaths.
How many children died in the Oklahoma City bombing?
Tragically, 19 children in the building's day care facility died in the Oklahoma City bombing. Additionally, three unborn children perished with their mothers on April 19, 1995.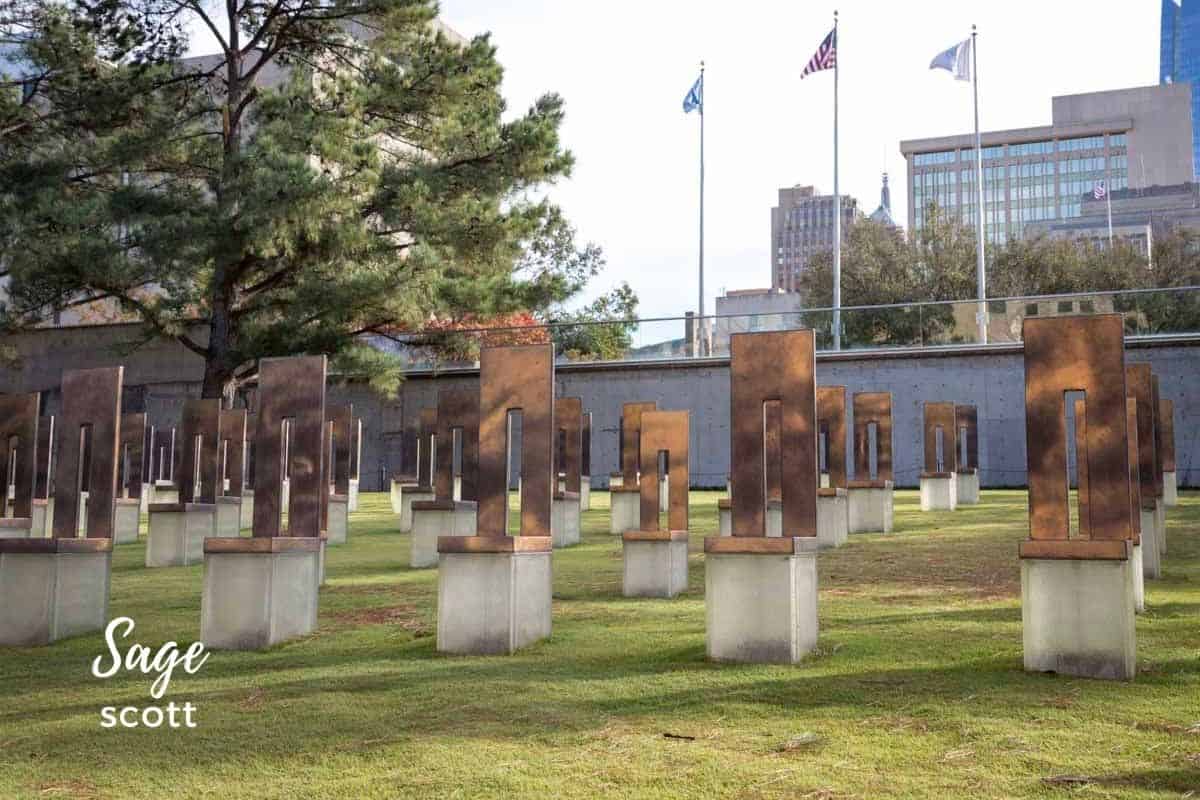 Who was behind the Oklahoma City bombing?
Timothy McVeigh and two of his Army buddies — Terry Nichols and Michael Fortier — were responsible for the Oklahoma City bombing that left 168 people dead. McVeigh was convicted on 15 counts of murder and conspiracy and sentenced to death. He was executed on June 11, 2001. Nichols was convicted of similar charges and is currently serving 161 consecutive life sentences without possibility of parole. Michael Fortier served approximately 10 years of a 12-year prison sentence, convicted on four federal charges that included not warning authorities of McVeigh and Nichols's plans and lying to the FBI. He and his wife Lori currently live under new names and identities in the witness protection program.
When was the Oklahoma City National Memorial Built?
Known officially as the Outdoor Symbolic Memorial, the Oklahoma City Memorial Park was dedicated on April 19, 2000, the fifth anniversary of the horrific explosion. The museum was dedicated less than a year later.
Who designed the Oklahoma City National Memorial?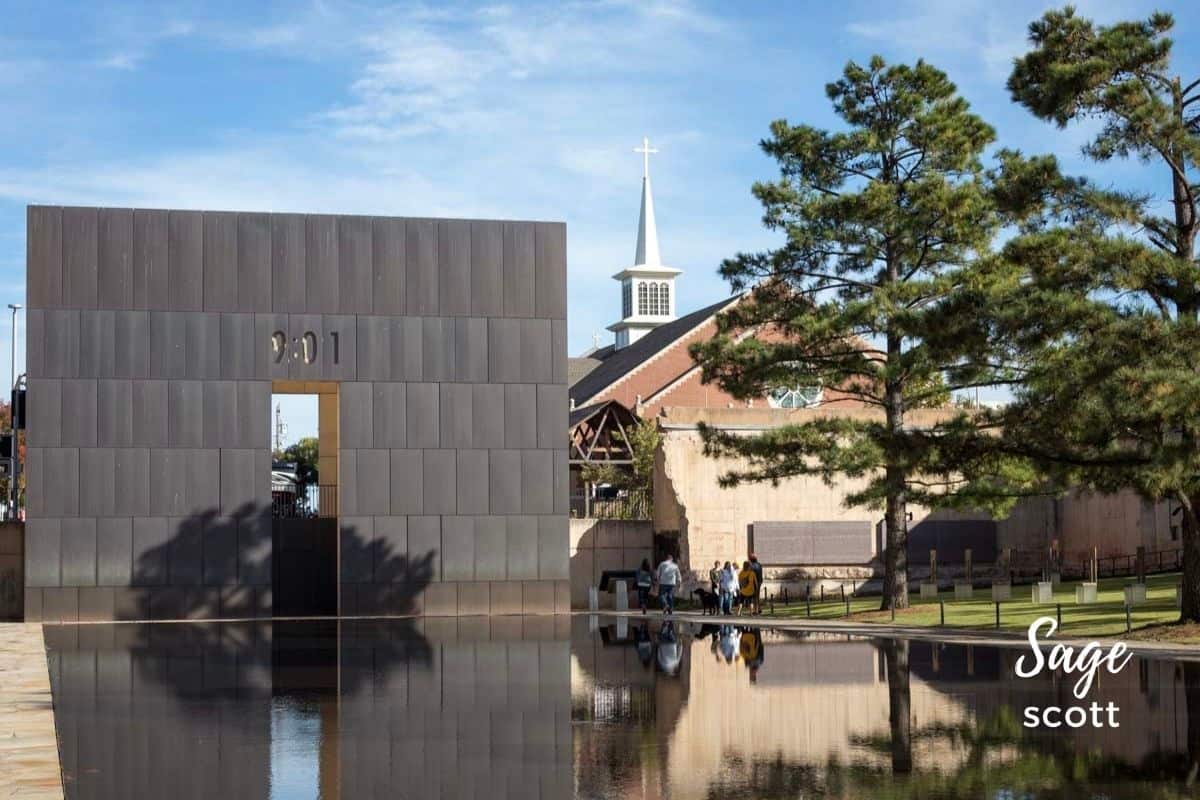 The Memorial is Full of Symbolism
The Outdoor Symbolic Memorial is built around a reflecting pool where the Murrah Federal Building once stood. It runs perpendicular to N. Robinson Ave. and N. Harvey Ave where NW 5th St. once connected the two streets. But after McVeigh parallel parked a truck loaded with explosives on the north side of the building, that section of road was closed forever.
The rectangular water feature is flanked by square arches known as the Gates of Time. The eastern gate displays a time of 9:01, the minute before the lives of Oklahoma Citians were changed forever. The western gate shows a time of 9:03, the minute after the horrific attack.
In a green field lined with trees just north of the reflecting pool, 168 empty chairs remember the lives lost. The engraved seats appear in two sizes, with the smaller chairs honoring the 19 children killed. At night, a light illuminating the glass base of each chair emphasizes each person's name while symbolizing the elimination of the fear of darkness.
Learn more about the other elements in the Oklahoma City National Memorial, like the Rescuer's Orchard, Survivor Wall, and Children's Area, with this
self-guided tour
and map.
The Oklahoma City Memorial is a Quiet Place of Reflection
Visitors should remember that the Oklahoma City Memorial is a quiet place of reflection and not a city park. In memory of the lives lost here, it's best to use similar etiquette to visiting a cemetery. Pets are not allowed.
Don't Miss This Famous Statue Nearby
At the corner of NW 5th St. and N. Harvey Ave. visitors will find "And Jesus Wept." With the west memorial arch in the background, this sculpture was installed by the Saint Joseph Catholic Church on the spot where its Parish House stood. The building was severely damaged in the explosion and was demolished.
To Visit the Oklahoma City National Memorial
Where is the Oklahoma City Memorial?
The Oklahoma City National Memorial & Museum is located between N. Harvey Ave. and N. Robinson Ave. just north of NW 4th St. in Oklahoma City's Business District. The museum is located in the adjacent former Journal Record Building.
What are the Oklahoma City Memorial Museum Hours?
The memorial site just north of the museum is open 24 hours a day, 365 days a year. There is no cost to visit the memorial, but expect to pay for metered parking if you are visiting by car.
The Oklahoma City National Memorial Museum is open seven days a week. An adult ticket is $15, with discounts offered for children, seniors, and military. Visit the museum website for specific hours of operation, special events, and other information.
Have You Visited the Oklahoma City National Memorial?
What stuck with you most about the experience? Do you have any additional information to contribute? Share your experiences in the comments section below.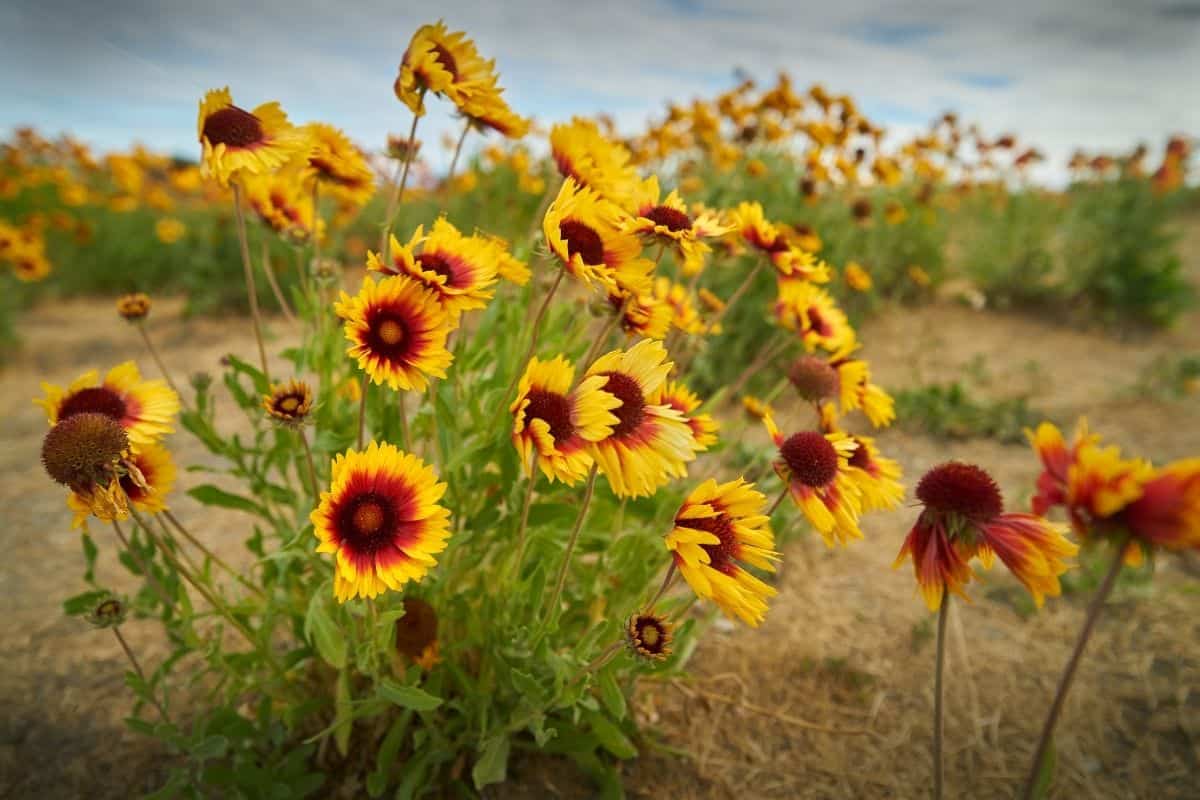 Looking for more information to plan your Oklahoma vacation? Check out my additional recommendations to help you plan your trip to Oklahoma including what to see and do in Oklahoma, the best places to stay in Oklahoma, where to eat in Oklahoma, and more!
Ready to Go?
Use These Helpful Links to Book Your Trip!