While the America's Presidents Gallery is one of the most popular things to see at the Smithsonian National Portrait Gallery, here are eight other works of art you won't want to miss when you visit Washington, DC.
Sage Advice: Looking for a complete list of museums in the Smithsonian Institution's portfolio? Jump to that section of this article via this link: list of Smithsonian museums.
Our family travel planning process starts with a list. Not a single list, but one list per person. Each of us force ranks what we want to do and see at our destination. Then, we put the lists together and ensure that everyone gets to experience at least their number one item. To that base, we add as many shared attractions as we can based upon the time and budget we have for our trip.
When my mom, Charlotte, Louise, and I planned our trip to Washington, DC, the Smithsonian National Portrait Gallery was unanimously at the top of each of our "must see" list. And after four days of going hard at the nation's capital, the Portrait Gallery remained one of our favorite activities.
In a beautiful building shared with the Smithsonian American Art Museum, the Portrait Gallery features 15,000 portraits, sculptures, and other works of art honoring a wide range of Americans who shaped our country's history. From Founding Fathers to First Ladies, from celebrities to Civil Rights leaders, from war heroes to business leaders, there is so much to see!
With portraits of each US President displayed in chronological order, the America's Presidents Gallery is one of the most popular destinations. But once you've spent an hour with America's Presidents, there's still so much to see at the Smithsonian Portrait Gallery. These are the things you can't miss when you visit the Smithsonian Portrait Gallery in Washington, DC.
To help offset the costs of running EverydayWanderer.com, you'll find affiliate links lightly sprinkled throughout the site. If you choose to make a purchase via one of these links, there's no additional cost to you, but I'll earn a teeny tiny commission. You can read all of the legal blah blah blah (as my little niece says) on the full disclosure page.
1 - UnSeen: Our Past in a New Light
It is a rare piece of art that will stop me in my tracks and pull me in for a closer look, especially when I'm on a mission to see something specific. But that's just what happened when I passed UnSeen on my way to the America's Presidents Gallery. In this special exhibit on display at the Portrait Gallery until early January 2019, Ken Gonzales-Day and Titus Kaphar use their art to show how minorities have been largely overlooked or misrepresented in American history books.
Sage Advice: If you don't know much about Titus Kaphar, stop what you're doing right now and spend ten minutes to watch his Ted Talk from 2017. It might be the best thing you do with ten minutes this week!
The piece that specifically pulled me in to explore this special exhibit was Kaphar's Behind the Myth of Benevolence. A portrait of Thomas Jefferson has been peeled back from the top, left corner revealing a black woman who is looking directly at the viewer with an expression that still haunts me. After all, this man revered for his role as a Founding Father and author of the Declaration of Independence owned more than 600 slaves and is rumored to have fathered children with Sally Hemings. Far from benevolent, indeed.
Related Article: See Why Charlottesville, Virginia, home to Thomas Jefferson's Monticello, is an up and coming US travel destination.
Large and in charge at the top of the grand staircase leading to the second floor is The Four Justices. At an impressive size of 9 ½ feet x 8 feet in its frame, this oil on canvas piece recognizes the four women who have presided over the nation's highest court. Beginning with Sandra Day O'Connor, the first woman appointed to the Supreme Court by Ronald Reagan in 1981, the portrait also features:
Ruth Bader Ginsburg, appointed by Bill Clinton in 1993,

Sonia Sotomayor, appointed by Barack Obama, and

Elena Kagan, also appointed by Barack Obama
Sage Advice: Check out this article on the Smithsonian National Portrait Gallery website to see the four female justices posing by The Four Justices.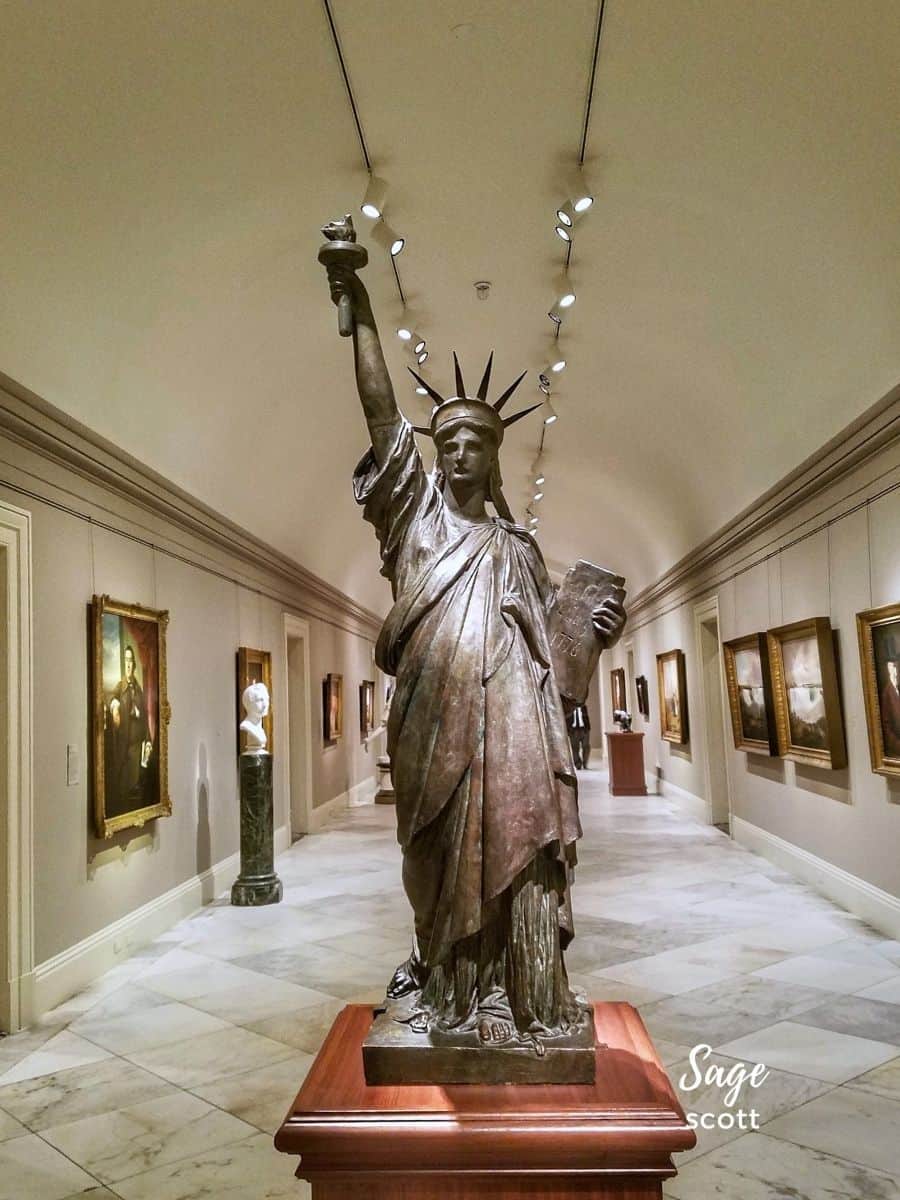 Speaking of strong, American women, don't miss the Statue of Liberty sculpture to the left of The Four Justices.
4 - Former First Lady Michelle Obama
After you've admired the most recent piece added to the America's Presidents Gallery — the portrait of POTUS #44, Barack Obama — climb a level to the 20th Century Americans exhibit on the third floor. Here you'll see Amy Sherald's oil on linen portrait of former First Lady, Michelle Obama.
As we entered the room and slowly worked our way up closer to the very popular piece, we heard another visitor exclaim, "Oh, no way! NO WAY! Her arms are WAY more toned than that!" Accurate arm muscles, or not, this colorful portrait of an admirable first lady is something you won't want to miss when you visit the Smithsonian National Portrait Gallery.
5 - Katharine Hepburn and Her Oscar Awards
In the other half of the 20th Century Americans exhibit, just across the hallway from Michelle Obama's portrait, don't miss legendary actress Kate Hepburn. While the portrait of Katharine Hepburn captures what I remember of her from her films, it's the Oscar Awards that really captured my attention.
When you think about all of the Oscars awarded since the first ceremony in 1929, very few are on public display. So, if you've ever wondered what the gilded, naked man statue so coveted by Hollywood looks like up close, this is your chance! You can see not one, but all four of Hepburn's Best Actress Oscars ranging from her first in 1933 for Morning Glory to her last in 1982 for On Golden Pond.
Fun Fact: Katharine Hepburn is the second most Oscar Award nominated actress in history (behind Meryl Streep). The Smithsonian National Portrait Gallery received her four Oscars for Best Actress from her estate in 2009.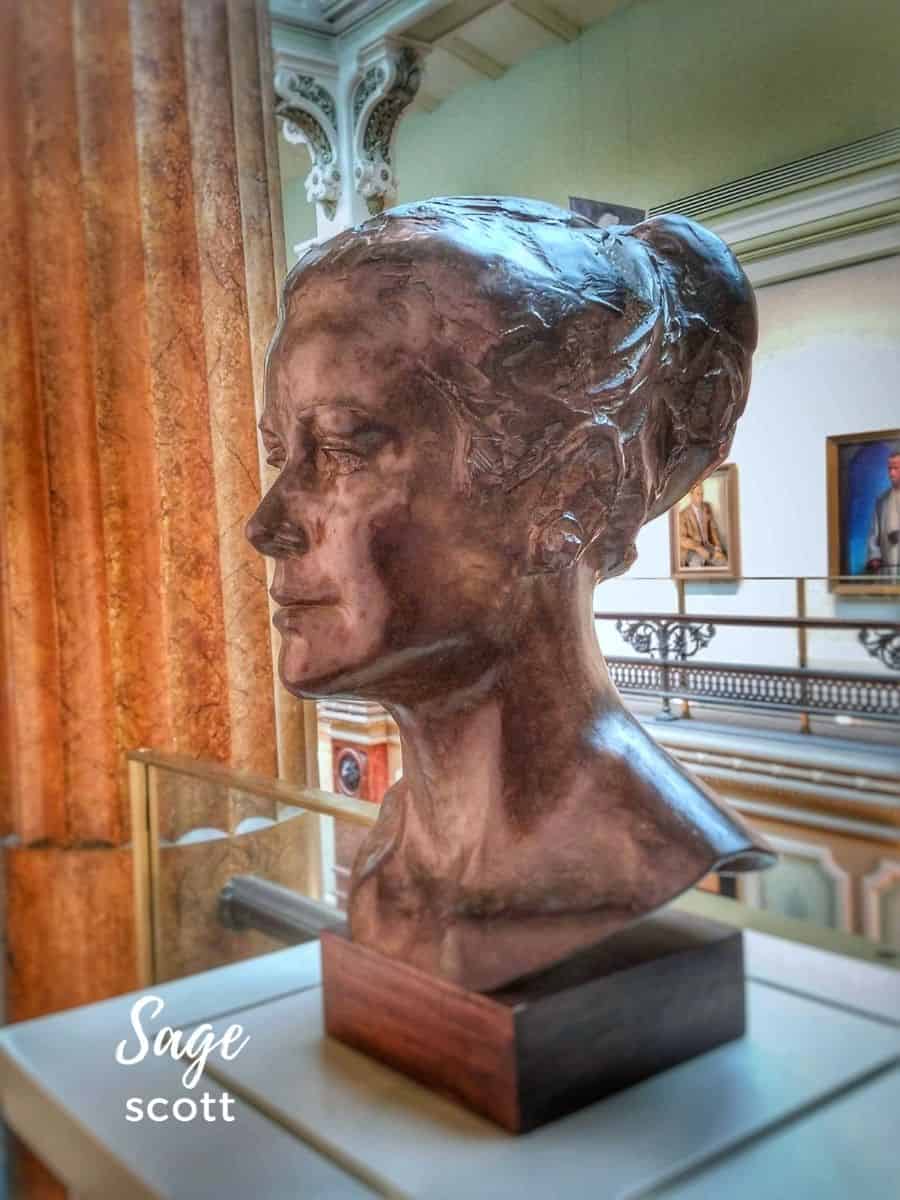 While on the 3rd floor of the National Portrait Gallery, and while you have Hollywood and heroes in mind, don't overlook the Bravo! and Champions collections on the third floor mezzanine. Here you'll find art honoring a wide range of celebrities and sports heroes.
Back on the main floor, be sure you don't miss the Kogod Courtyard. With its wavy, glass textured ceiling the courtyard at the center of the palatial museum is a beautiful place to take a break from all there is to do and see in Washington, DC and at the Smithsonian National Portrait Gallery.
8 - Ah Mare E Cuh's Preamble
With so much to see at the National Portrait Gallery, I nearly missed this gem. As the time approached 7:00 pm, museum guards started shepherding visitors toward the exit and out onto F St NW. But if you were milling through the museum store, like my mother, they were more patient. So when my mom peeked around the corner and emphatically gestured for me to follow her, I moved quickly.
In this piece, personalized license plates representing all 50 states and the District of Columbia are mounted in alphabetical order spelling out the preamble of the United States Constitution. In our text messaging world, it doesn't take much to follow artist Mike Wilkins' creative way of sharing this important text:
WE TH P PUL OF TH U NI DIDD ST8S INNOR DUR 2 4M A MOR PUR FEC UNE NONE S TAB LISH JUSTIZ N SURE DOME ESTIK TRAN KWILI T PRO VIDE 4 TH COM UN DE FENZ PRO MOT TH JEN R L WEL FARE N C CURE TH BLES NGS OF LIBBER T 2 R SELVS N R POS TERI T DO R DANE N S-TAB LISH THIS CON STI 2 10 4 TH U NI TID ST8S OF AH MARE E CUH
Sage Advice: The National Portrait Gallery is one of the Smithsonian Museums that is away from the National Mall. If you plan to visit those museums, check out this complete guide to the Smithsonian museums, galleries, and gardens on the National Mall.
To Visit the Smithsonian National Portrait Gallery
Have You Visited the Smithsonian National Portrait Gallery?
What did you enjoy most about it? Is there anything you would add to this list? Share your thoughts in the comments section below.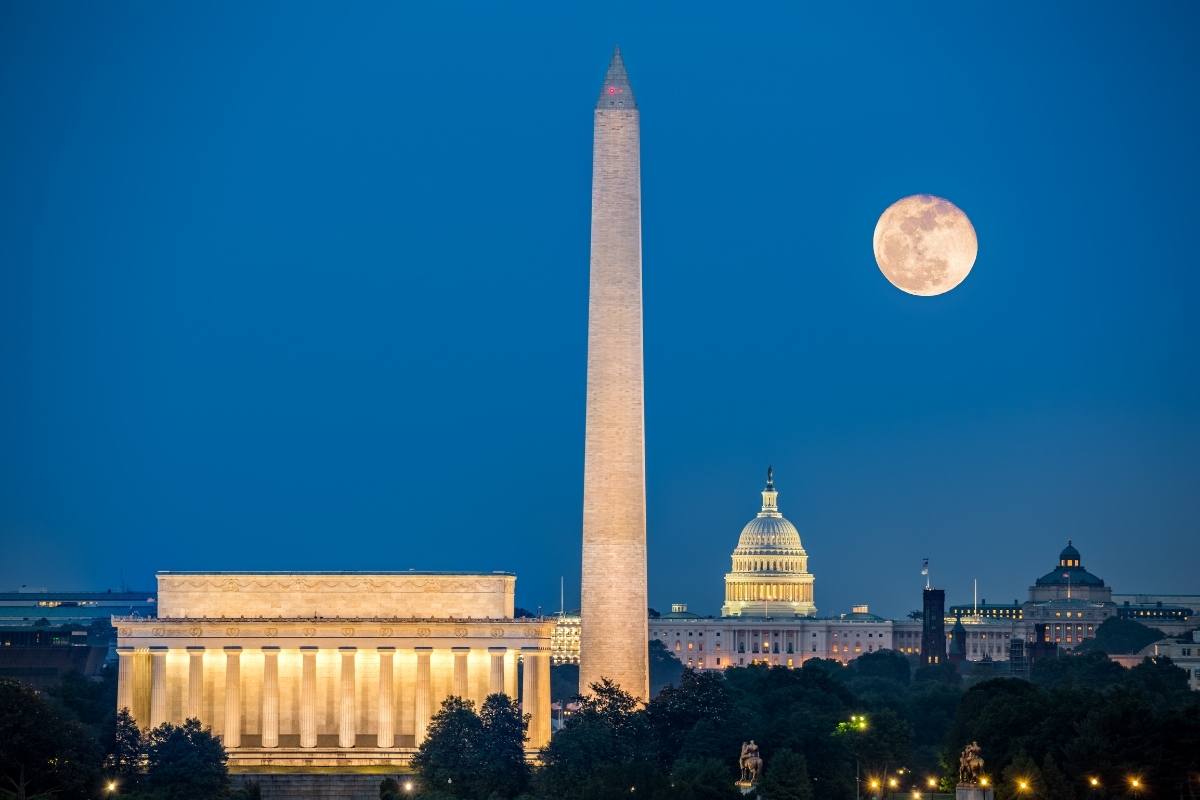 Looking for more information to plan your Washington DC vacation? Check out my additional recommendations to help you plan your trip to Washington, DC, including what to see and do in Washington DC, the best places to stay in Washington DC, where to eat in Washington DC, and more!
Ready to Go?
Use These Helpful Links to Book Your Trip!