The Las Cruces water tank murals use a modern day canvas to share the area's culture and history. See all of them in less than an hour using this guide. Map included!
Like many towns throughout the American southwest, large cylindrical tanks are visible in nearly every scenic view of Las Cruces, New Mexico. Each of these water tanks holds about two million gallons of water to support the people, farm animals, and fields of the state's second-largest city. But just as the picturesque Organ Mountains make Las Cruces, New Mexico unique, so do its water tanks.
The 32-foot tall water tanks could easily be eyesores that disrupt otherwise panoramic views of the southern New Mexico town. But in Las Cruces, local artists have turned the curved canvasses into works of art. Using a color palette inspired by Mother Nature to share the rich history of the area, the water tank murals share the stories of the Native Americans who originated in the area and the settlers who followed.
The talented artist behind the vast majority of the water tank murals is Tony Pennock. He completed his first water tank mural more than four decades ago while still a high school student in Las Cruces. Since then, Pennock has painted more than ten water tank murals, and his work extends beyond both water tanks and his hometown. He has completed nearly 50 other public art installations, from "Homeward," a mural at 575 N. Main St., to "Rio Grande Time," a large mosaic sundial on the new Las Cruces plaza. And if you're in Germany, be sure to visit Las Cruces' sister city of Nienburg. Although it's not a water tank, Pennock stuck with his water theme when he painted a mural on a municipal swimming pool building.
Here are seven "must see" Las Cruces water tank murals in New Mexico, plus two bonus water tower murals just a short drive away. The seven water tanks in Las Cruces are presented in a logical order to make it easy for you to visit all of them in under an hour, depending upon traffic and the time spent at each stop.
Sage Advice: To see some of the same views I share in my photographs, you may need a Jeep with four-wheel drive. Thank you, Dad, for taking me out in the dusty off-road areas needed to get some of these shots!
To help offset the costs of running EverydayWanderer.com, you'll find affiliate links lightly sprinkled throughout the site. If you choose to make a purchase via one of these links, there's no additional cost to you, but I'll earn a teeny tiny commission. You can read all of the legal blah blah blah (as my little niece says) on the full disclosure page.
Maps of the Las Cruces Water Tank Murals
1. New Mexico State University (NMSU) Water Tank Mural
Location: Near the NMSU Golf Course at Las Alturas Dr. & Geothermal Dr.
(Enter 5001 Shadow Mountain Road into your map app)
Artist: Unknown
The rolling green hills of the NMSU Golf Course stand out against the desert landscape as you drive along Las Alturas Drive to this water tank. Here in the shadow of Tortugas Mountain, known locally as "A" Mountain after the NMSU Aggies, the crimson colors of New Mexico's oldest and second largest four-year university wrap this water tank with school pride.
Fun Fact: Artist Tony Pennock has a bachelor's degree from New Mexico State University, and his mother is beloved Las Cruces artist Carolyn Bunch.
2. Jornada del Muerto Water Tank Mural (Now Known as La Entrada Water Tank Mural)
Location: Intersection of East Griggs Ave. and Triviz Dr.
(Enter 2350 E. Griggs Ave into your map app)
Artist: Tony Pennock
The Conquistadors called the dry, dusty 100-mile journey through the Chihuahuan Desert from Las Cruces to Socorro, New Mexico "Jornada del Muerto". This phrase loosely translates into "Route of the Dead Man," and it was the inspiration for the first water tank mural in Las Cruces. Working at night using a projector to help him transfer his design onto the curved surface of the gigantic water tank, it took 17-year-old Tony Pennock six months to complete this outdoor mural back in 1973.
When repairs were made to the water tower in 1991, Pennock was commissioned to replace the flaking, faded mural with an updated creation. Thus the Jornada del Muerto mural was transformed into La Entrada. In its present state, the mural shows Don Juan de Onate leading a procession of European settlers on horses and mules riding into the American southwest.
Sage Advice: All of the water tanks are behind barbed wire-topped fencing, and many have posted no trespassing signs that keep the public from getting too close. Be mindful of these barriers as you tour these impressive outdoor murals.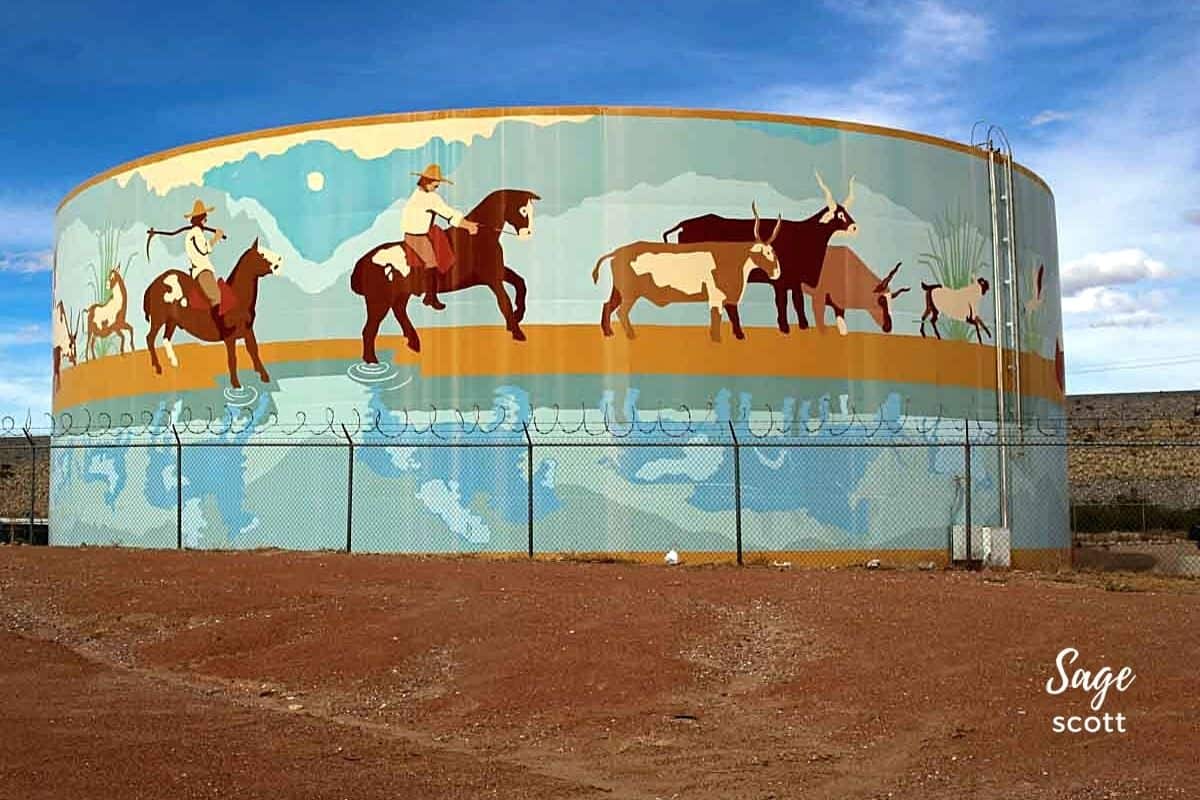 3. Agua Fria Water Tank Mural
Location: East Side of North Telshor Boulevard South of Spruce Ave.
(Enter 550 N Telshor Blvd into your map app and you'll see the Agua Fria water tank next door to the northwest)
Artist: Tony Pennock
Surrounded by desert dirt, the Agua Fria water tank offers eyes a cool drink of water. This gigantic water tank mural features the early farmers and settlers to the Mesilla Valley in the early 1800s. In this piece, the Rio Grande River supports them, their livestock, and their crops.
Sage Advice: Find the perfect Instagram caption for your water tank mural pics with these 100+ desert quotes.
4. Journey to Tlalocan Water Tank Mural
Location: South Sonoma Ranch Boulevard east of its intersection with Canyon Point Road
(Enter 548 Canyon Point Rd into your map app and then look directly east across Sonoma Ranch Boulevard)
Artist: Tony Pennock
If you are like me, you may not know how to pronounce Tlalocan. Or find it on a map. As it turns out, Tlalocan is an Aztec version of paradise. Surrounded by clouds, wearing a crown of heron feathers, and carrying rattles to make thunder, Tlaloc is the Aztec god of rain. He lives in Tlalocan with his companion, Matlalcueye (She Who Wears a Green Skirt), the goddess of freshwater lakes and streams.
Although I didn't see Tlaloc or Matlalcueye on the Journey to Tlalocan water tank, I did see a heavenly mural framed by the gorgeous Organ Mountains. While sea turtles swim and gentle waves swirl, horses ride through the surf and a heron soars overhead.
Sage Advice: Always watch for cacti and snakes when wandering in the rugged areas of Las Cruces.
5. Quail Morning Water Tank Mural
Location: Sonoma Ranch Boulevard just south of E. Lohman Ave.
(Enter 150 N Sonoma Ranch Blvd into your map app and then travel northeast on Lohman Ave from the Walmart)
Artist: Tony Pennock
While the roadrunner is the New Mexico state bird, it seems like Gambel's quail are even more prevalent in the Las Cruces area. Nearly every walk I take in Las Cruces, whether in a neighborhood or out in the open desert, I seem to see at least one family of Gambel's quail strutting in a line as if they are auditioning for a revival of The Partridge Family television series.
Quail Morning, featuring a family of Gambel's quail painted on the huge water tank at the Las Cruces Water Reclamation Plant, may be my favorite water tank mural. I love the rich colors in the background, especially the purple hues that remind me of the light a perfect sunset casts on the Organ Mountains at the end of a sun-drenched day.
6. Valley of the Moon Water Tank Mural
Location: North Roadrunner Pkwy & Millennium St.
(Enter 2564 Millennium St into your map app, and you'll see the Valley of the Moon water tank in their backyard)
Artist: Tony Pennock
Tucked behind homes with trees that grow taller and fuller each year is the Valley of the Moon water tank mural. It tells the story of Christopher Columbus' 1492 voyage across the Atlantic Ocean to the "new" world. Driving along Roadrunner Parkway, watch for a pod of dolphins frolicking in the open ocean.
But as you turn onto Millennium St and slowly drive past the mural surrounded by houses, the curved canvas of the huge water tank transforms into what I call a red chile dream.
7. Indian Canyon Water Tank Mural
Location: Sedona Hills Pkwy & Pagosa Hills Ave.
(Enter 4401 Galisteo Loop into your map app and you'll see the Indian Canyon water tank on the east side of Pagosa Hills Ave)
Artist: Tony Pennock
One of the newer water tank murals, Indian Canyon is the sixth water tank that Tony Pennock helped complete in Las Cruces. This mural was inspired by ancient petroglyphs near Las Cruces. As deer scamper around the 300-foot water tank, Native American symbols appeal to rain gods as water pools in a canyon. Understandably, all of the water tanks are protected with fencing. But with its stone wall to help hide some of the barbed wire, I think Indian Canyon is more picturesque than other water tanks.
Bonus Water Tank Mural - Buffalo Soldier in Radium Springs, NM
Location: Radium Springs, NM
(Enter Desert Edge Rd & DeBeers into your map app)
Artist: Anthony (Tony) Pennock
If you're visiting Las Cruces from the north or west, don't miss the Buffalo Soldier mural in Radium Springs. This water tank mural honors the Buffalo Soldiers, members of the black US cavalry, who were once stationed at nearby historic Fort Seldon.
Sage Advice: If you're traveling along I-25, be sure to stop in Hatch, New Mexico, the Chile Capital of the World. Enjoy the local flavors by grabbing a green chile cheeseburger at Sparky's just off the interstate. Or, if you need a break from green chiles, here are five alternative places to eat in Las Cruces.
Bonus Water Tank Mural - Space Murals Along US-70
Location: 12450 US-70
Artist: Royce Vann
While it's a short drive outside of Las Cruces, one of my favorite water tanks is the one dedicated to New Mexico's role in space exploration. If you plan to travel from Las Cruces to White Sands, don't miss this water tank mural along US Highway 70. Better yet, keep heading northeast and check out the New Mexico Museum of Space History in Alamogordo after you spend the day at White Sands.
The space murals also include a memorial to the seven crew members who perished in the Space Shuttle Challenger explosion back in 1986.
Sage Advice: If you are walking in the "rough" to get closer to the water tank murals, be sure to watch for cactus needles and snakes!
Have You Visited the Las Cruces Water Tank Murals?
What did you think about this creative form of street art? What about water tank murals in other parts of New Mexico or the United States? Share your thoughts and experiences in the comments section below.
Looking for more information to plan your New Mexico vacation? Check out my additional recommendations to help you plan your trip to New Mexico including what to see and do in New Mexico, the best places to stay in New Mexico, where to eat in New Mexico, and more!
Ready to Go?
Use These Helpful Links to Book Your Trip!
More Articles You'll Love!