While Mardi Gras is celebrated in many destinations around the world, New Orleans is THE place to celebrate Mardi Gras season in the United States. Beginning on January 6th (also known as Twelfth Night or Epiphany Eve) and leading up to Ash Wednesday, Mardi Gras is a time for festive floats, glittery costumes, deliciously fattening foods, and other revelry leading up to the Lenten season. These Mardi Gras tips will tell you everything you need to know before you head to the Big Easy.
When is Mardi Gras 2023?
The next Mardi Gras season starts on January 6, 2023 and ends on Fat Tuesday (also known as Shrove Tuesday), February 21, 2023.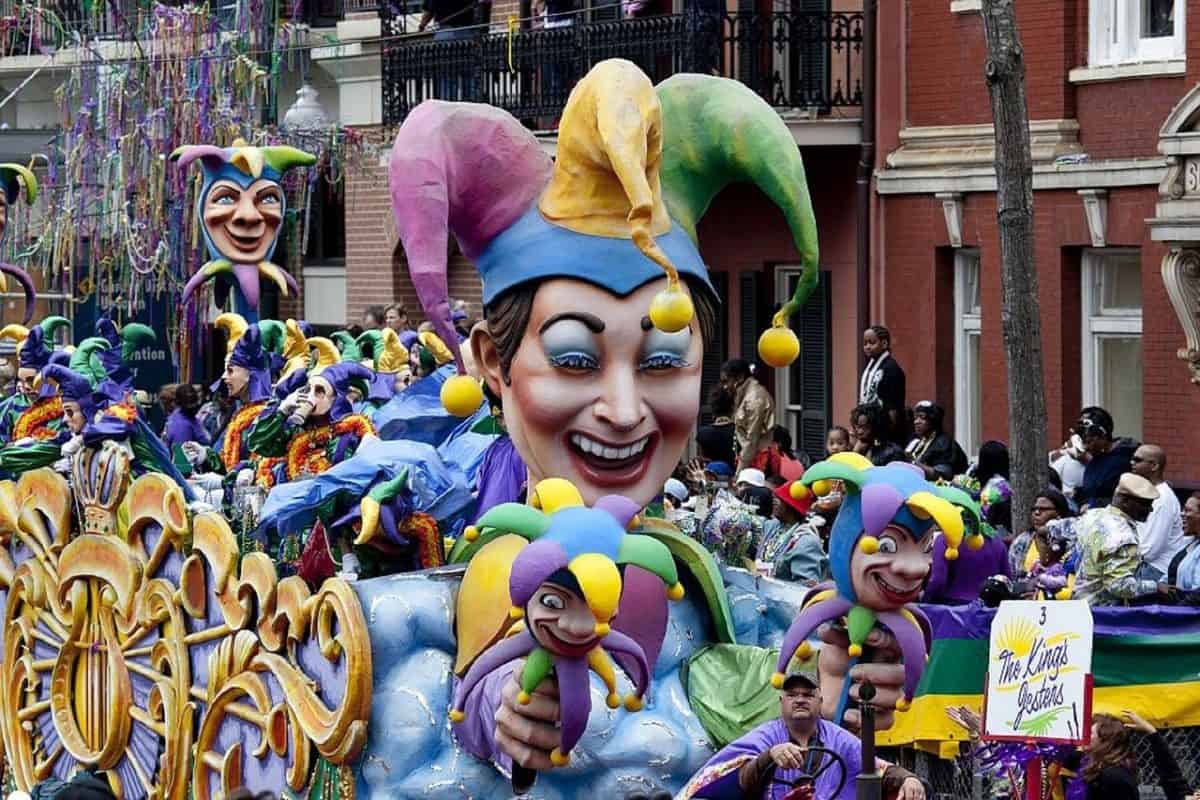 Although Mardi Gras in America typically conjures up visions of drunken crowds packed onto Bourbon Street in New Orleans where women flash their bare breasts in an attempt to have cheap plastic beads tossed their way, Fat Tuesday is celebrated around the world. With roots dating back to pagan festivals celebrated in Rome before the arrival of Christianity, pre-Lenten festivities are also popular in places with a high concentration of Catholics, like:
Brazil, from Recife to Rio de Janeiro,
Venice, Italy,
Limburg (in the southern part of the Netherlands), and
many other destinations around the world that have been influenced by the Portuguese, Italians, and Dutch (most notably the Caribbean and Central and South America).
If you're not from New Orleans, the expressions and traditions that accompany Mardi Gras may be foreign. So before you chow down on king cake or beg a parade float rider to "Throw me something, mister!" here's everything you need to know before you attend Mardi Gras.
To help offset the costs of running EverydayWanderer.com, you'll find affiliate links lightly sprinkled throughout the site. If you choose to make a purchase via one of these links, there's no additional cost to you, but I'll earn a teeny tiny commission. You can read all of the legal blah blah blah (as my little niece says) on the full disclosure page.
Important Mardi Gras Words
If you're not from New Orleans, and if you weren't raised Catholic, some of these Mardi Gras words may be a bit foreign. (And I don't just mean the French and Latin ones…)
Also known as Epiphany Eve, or the day before Epiphany, Twelfth Night takes place on January 6th. It's also the official start of the Mardi Gras season, and is aptly named because it takes place twelve days after Christmas.
Fun Fact: A note for all of you procrastinators out there: In some countries, it's considered bad luck to have Christmas decorations displayed after Twelfth Night.
Ash Wednesday kicks off the Lenten season leading up to Easter. Because I was raised Catholic, I know it as a holy day of prayer and fasting. We ate very light basic meals — like vegetable soup or grilled cheese — and were not supposed to eat anything with meat. Obviously.
During Ash Wednesday Mass, ashes from the previous Palm Sunday's fronds are ceremoniously spread across each parishioner's forehead. As the priest marks the sign of the cross in ash smudge, he pronounces, "From dust you came and from dust you will return."
Lent is a solemn reflective period 46 days (40 fasting days and six Sundays) before Easter. It begins on Ash Wednesday and ends on Easter Sunday. During Lent, Christians focus on faith and recognize the sacrifice Christ made when he died on the cross.
The Catholic Church's rules state that everyone 14 or older should abstain from eating meat on Ash Wednesday, Good Friday, and all Fridays during Lent. Additionally, Catholics who are between 18 and 60 are asked to fast on Ash Wednesday and Good Friday.
But just as faith and religion are deeply personal convictions, many Christians forge their own paths during Lent. Some people give up meat, fish, eggs, and fats entirely during Lent. Others abstain from consuming something they particularly enjoy during the Lenten season, like alcohol, candy, coffee, or Facebook.
In recent years, some people have chosen to augment their sacrifices with acts of kindness and generosity. In the US this is commonly known as Christian Random Acts of Kindness (#crak). Across the Atlantic, 40acts is an approach embraced by some in the UK. Although I am no longer a practicing Catholic, I absolutely support the idea of people being kinder to one another. Lord knows our world could use more of that!
But let's get back to the Mardi Gras season that leads up to Ash Wednesday and Lent!
Carnival is a name for the pre-Lenten festivities that begin on January 6th and lead up to Ash Wednesday. If you were raised Catholic, you might associate Lent with 40 days and 40 nights of a church-imposed vegetarian diet. (And if you were raised Catholic in my house, you'll further associate it with canned salmon made into a sub-par version of meatloaf and topped with creamed vegetables.)
Sage Advice: In some places around the world, this celebration is spelled Carnaval.
For anyone not fluent in Latin (which is quite possible since the language perished in the 8th century), the name Carnival is based on the word carnelevarium which means to remove meat. (See what I mean? A church-imposed vegetarian diet indeed!)
So What's the Difference Between Carnival (or Carnaval) and Mardi Gras?
Technically, Carnival is the entire pre-Lenten season, from January 6th to Shrove Tuesday. And whether you call it Shrove Tuesday, Mardi Gras, or Fat Tuesday, it is the final day of Carnival.
However, the term Mardi Gras is often used to mean both the Mardi Gras season (also known as Carnival in some parts of the world) and the final Tuesday before Lent starts. In other words, Mardi Gras can mean the entire period between the Twelfth Night and Mardi Gras or it can be that specific Tuesday before the Lenten season begins.
Not confusing at all, right?
Now that we're all on the same page, here are several important Mardi Gras tips to help you laissez les bon temps rouler (that's how they say "let the good times roll") in the Big Easy.
Mardi Gras starts 12 days after Christmas on January 6th. It runs through Fat Tuesday (literally Mardi Gras in French) and ends six weeks before Easter. Because Easter moves around the Gregorian calendar based on the phases of the moon, Mardi Gras can last anywhere from four to nine weeks.
What Does Mardi Gras Celebrate?
During the Middle Ages, Christians throughout Europe would eat up the rich fatty foods on hand — like meat, eggs, milk, and cheese — in the days leading up to the Lenten season. Modern Christians, especially Catholics, celebrate Mardi Gras as a last hoorah of fattening food, sweet treats, and alcohol before giving up meat, forgoing dessert, and fasting over the weeks that lead up to Easter.
How Did Mardi Gras Start?
It is believed that Mardi Gras is based on the pagan festivals of Saturnalia and Lupercalia that were celebrated throughout the Roman Empire. Occuring at the end of December, Saturnalia was an upbeat, party-like fete during which Roman social norms were set aside and role reversal was common. The tradition of wearing masks and dressing up in elaborate costumes can be linked to Saturnalia.
Taking place in February, Lupercalia was observed to keep evil spirits at bay, focus on good health, and encourage fertility as spring dawned. Lupercalia involved feasting, drinking, and all sorts of delightful debauchery. And you can probably see the link between Lupercalia to Mardi Gras, especially if you've ever celebrated Mardi Gras on Bourbon Street.
As Christianity spread throughout Europe in the Middle Ages, the centuries-old pagan celebrations evolved into church-sanctioned traditions. However, the opportunity to set aside social norms, cross-dress, eat, drink, and be merry, remained in tact.
Where Was the First Mardi Gras in the United States?
It depends who you ask.
In the US, the first unofficial Mardi Gras took place on March 3, 1699. After sailing from Brest, France, in October 1698, French explorers Pierre Le Moyne d'Iberville and Sieur de Bienville landed about 60 miles south of modern-day New Orleans that spring. With fond memories of the Mardi Gras celebrations they were missing back home, the explorers named the spot Point du Mardi Gras and held a small celebration. Louisianans cite this as the first Mardi Gras celebration in the US.
But just over the state line in Mobile, Alabamans stake a similar claim. Founded by the French in 1702, Mobile hosted its first Mardi Gras celebration in 1703. And while French explorers technically had a small pre-Lenten fete in Louisiana a few years earlier, New Orleans wasn't founded until 1718 and the first Mardi Gras on record wasn't held until 1857.
Where is Mardi Gras Celebrated?
Although specific traditions may vary from destination to destination, Mardi Gras is celebrated across Europe and throughout the Americas. The Monday and Tuesday before Ash Wednesday (also known as Lundi Gras and Mardi Gras) are public holidays throughout much of Europe. I'm not going to lie, missing two days of school for Carnaval only added to the awesomeness of this holiday as a kid living in Maastricht, the Netherlands.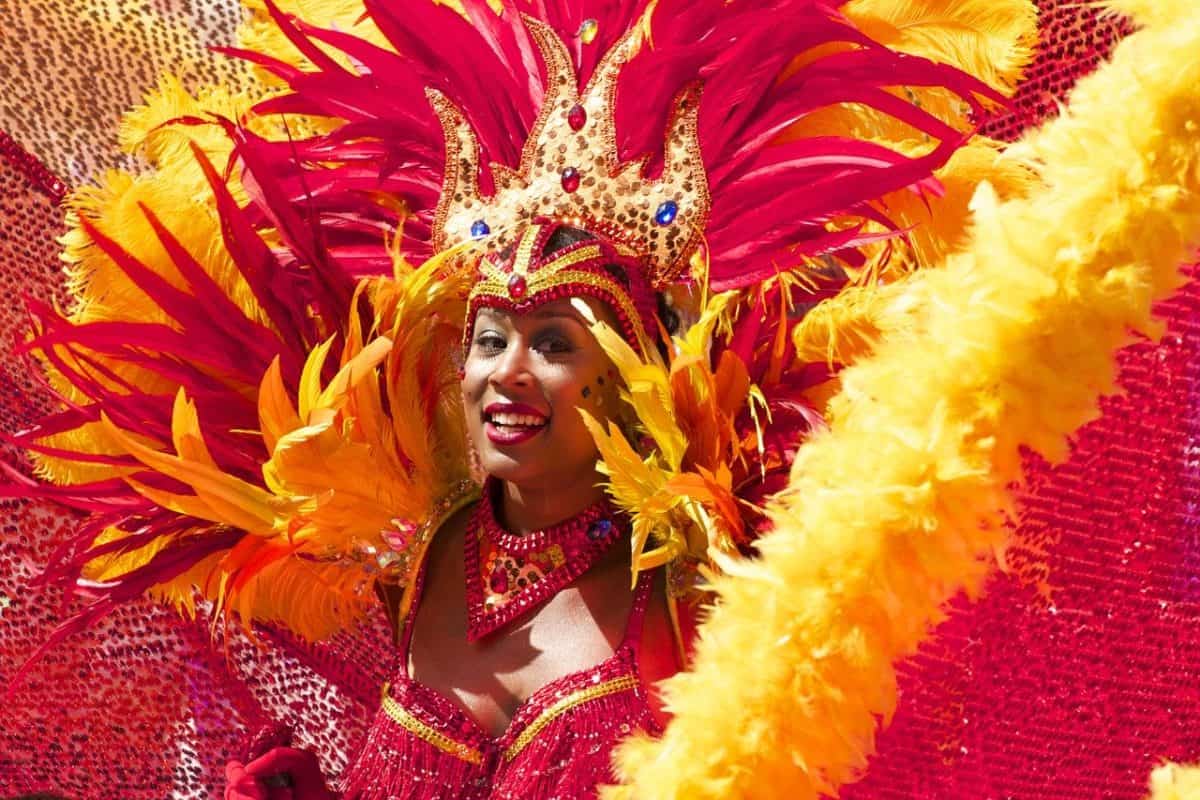 In the United States, the last day of the pre-Lenten season is not commonly recognized as a holiday, but there are a few exceptions. Mardi Gras is a state holiday in Louisiana. Just over the state line in Alabama, Mardi Gras is also a recognized holiday in Mobile and Baldwin Counties.
What does Mardi Gras Mean in French?
Mardi is the French word for Tuesday, and gras is the French word for fat. That's why Mardi Gras is also known as Fat Tuesday. Mardi Gras is also known as Shrove Tuesday.
Got it! So Lundi Gras Means…
Lundi is the French word for Monday and gras is the French word for fat. So Lundi Gras is a lot like Mardi Gras, only 24 hours earlier in Mardi Gras season.
So What Day of the Week is Associated with Boeuf Gras?
Not so fast. Just to keep you on your toes, Boeuf Gras has nothing to do with a day of the week and everything to do with not eating meat during Lent. Boeuf is the French word for cow and gras is still the French word for fat. So unlike Lundi Gras and Mardi Gras which are connected with days of the week, Boeuf Gras literally means "fattened cow" in French. More important than glittery masks or bead necklaces, it's one of the oldest symbols of Mardi Gras.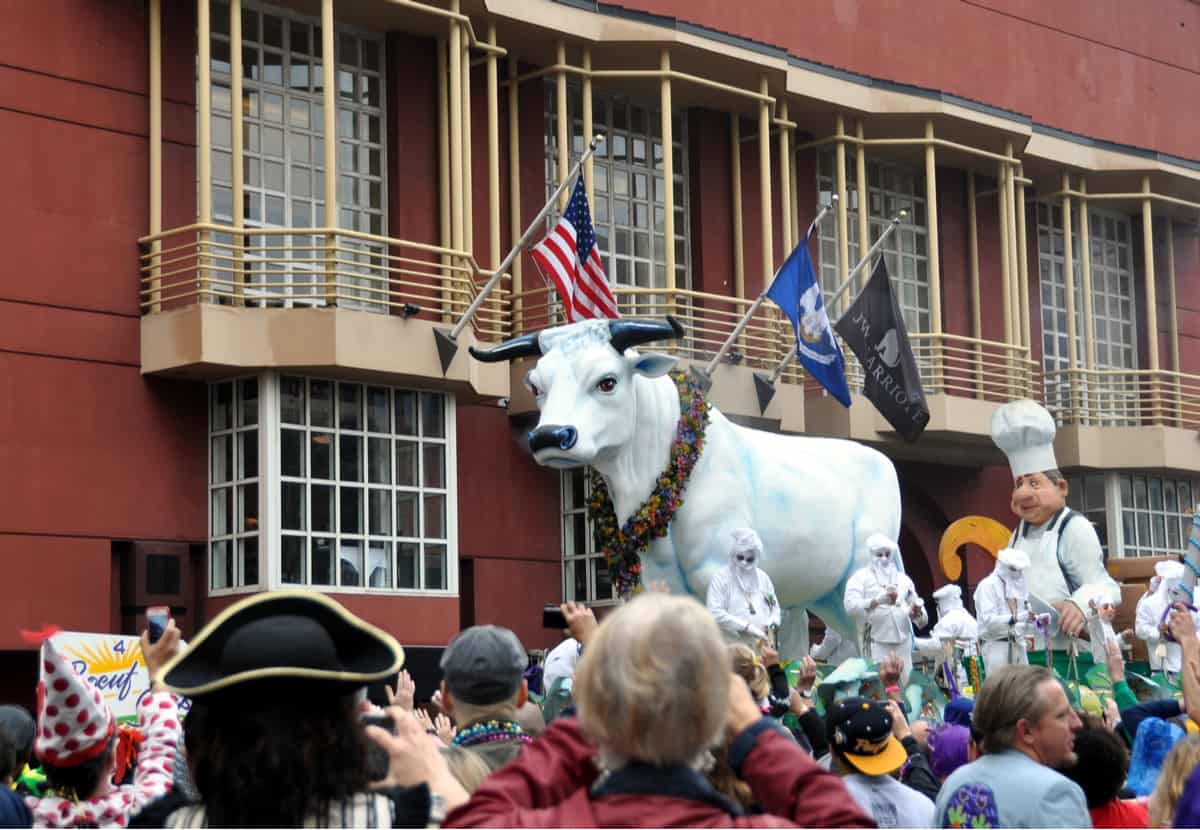 Why? Because in the Middle Ages, the fattened cow would have been paraded through the streets before it was slaughtered and eaten as a final meal before Lent. Kinda makes you look forward to a church-imposed vegetarian diet, doesn't it?
When are the Mardi Gras Parades in New Orleans?
Mardi Gras parades take place in New Orleans on January 6th, every weekend leading up to Fat Tuesday, and on Lundi Gras and Mardi Gras. While the Mardi Gras festivities that take place in the French Quarter are the most famous (or perhaps infamous), they tend to feature intoxicated revelers, more skin than you might want to see, and costumes you'd rather not explain to your kids. Plus also, the narrow streets of the French Quarter aren't wide enough for floats to glide through. So one of the most helpful Mardi Gras tips is where to celebrate Fat Tuesday outside of the French Quarter.
Sage Advice: Whether you visit the Big Easy for Mardi Gras or another time during the year, here are the best things to do in New Orleans.
For a more family-friendly Mardi Gras experience (and to experience Mardi Gras like a local), take in the parades in Uptown New Orleans instead. Parades are also held in New Orleans suburbs like Covington and Metairie.
If you want to know what Mardi Gras parades are taking place in and around New Orleans today (or in the near future), download the Mardi Gras parade tracker. Not only will it deliver up-to-the-minute information on more than 80 parades in the greater New Orleans area, it will help you Mardi Gras like a monarch.
What is a Mardi Gras Throw?
From beaded necklaces to special coins and even coconuts, Mardi Gras throws are the goodies tossed from floats or passed out to bystanders during Mardi Gras parades.
It's a New Orleans tradition to ask for a throw by saying, "Throw me something, mister!" (And despite what you may have heard, you are NOT required to flash your bare breasts for a shot at catching a Mardi Gras throw.)
Can You Recycle Mardi Gras Beads?
That's a good question! And, after crews pulled 93,000 pounds of Mardi Gras beads out of storm drains in New Orleans, it does make me wonder what sort of impact the made-in-China plastic trinkets have on the Pelican State. The answer is that Mardi Gras beads cannot be recycled. And by "recycled" I mean melted down and made into something else. However, they can be reused or upcycled.
One of the most eco-friendly Mardi Gras tips is to check out the Krewe of Arc's ArcGNO Recycle Center in Metairie. They collect Mardi Gras throws — including Mardi Gras beads — and resell them. Shop online for all kinds of Mardi Gras goodies. You'll find everything from basic Mardi Gras throw beads to specialty beads that extend to other holidays like St. Patrick's Day and the Fourth of July. You can also purchase krewe throws, Mardi Gras trinkets, costume accessories, and more!
What are the Mardi Gras Colors?
Mardi Gras colors are purple, gold, and green. The three hues are said to be tied to these virtues:
Purple symbolizes justice,
Gold represents power, and
Green stands for faith
As legend has it, when Russian Grand Duke Alexis Romanov attended Mardi Gras in 1872, he handed out a strand of glass beads to the people he met who demonstrated the color's significance.
Krewes are associations that organize parades, balls, and other events during Carnival. In and around New Orleans there are between 50 and 80 krewes. These are some of the most notable organizations.
Established in 1856, the Mistick Krewe of Comus organized the first Fat Tuesday parade in New Orleans. And, by being pioneers in the Mardi Gras mayhem, they established a custom that most other krewes still follow today. Their parades feature a themed, torch-lit procession of elaborate floats and masked costumes. And it's all followed by a masked ball.
Fun Fact: The Mistick Krewe of Comus gets its name from komos, a ritualistic drunken procession performed by revelers in ancient Greece.
Founded a generation later, the Krewe of Rex organizes one of Mardi Gras's most popular parades. Leveraging the Latin word for king (which is, you guessed it, rex), this krewe crowned its first King of Carnival back in 1872 when Russian Grand Duke Alexis Romanov was in attendance. There is a tight connection between Mistick Krewe of Comus and the Rex Organization. In fact, the two krewes hold their annual balls together on Mardi Gras night.
Sage Advice: Although every parade is amazing in its own way, locals say that the krewes of Orpheus, Bacchus, and Endymion (also known as the three super krewes) are the most detailed, humongous, and extravagant of all Mardi Gras parades.
Who is the King of Mardi Gras?
Known as the King of Carnival and Monarch of Merriment, Rex symbolically presides over Mardi Gras. A member of the Rex Organization, the crowned king is typically a prominent member of the community actively involved in philanthropic and civic-minded projects.
Rather than the king's real-life wife, life partner, or other "plus one" the Queen of Carnival is selected from the debutantes being presented that Mardi Gras season.
Both the King and Queen of Carnival are chosen in the spring, and they must keep their identities secret for nearly a year until it is revealed on Lundi Gras.
What are Traditional Mardi Gras Foods?
In a town known for its delicious, rich, and filling food, traditional mardi gras food doesn't disappoint! Savory dishes to try include:
Crawfish boil — pounds of spicy boiled crawfish served with corn on the cob and potatoes
Crawfish étouffée — a thick seafood stew served over white rice
Dirty rice — cooked rice that is "dirtied" by stirring in sausage, chopped chicken livers, and a variety of vegetables and spices
Gumbo — a classic Cajun stew-like dish served atop rice
Jambalaya — a one-pot meat and rice dish that's a bit like Spanish paella
Po' boy — a French baguette sandwich typically filled with fried seafood — like shrimp or oysters
Red beans and rice — a hearty side dish of, you guessed it, kidney beans and rice
And sweet dishes include:
Bananas foster — vanilla ice cream topped with sliced bananas cooked in butter, brown sugar, and rum that's often served as a flambé
Beignets — a deep-fried pastry typically sprinkled with powdered sugar
And, of course, king cake.
Like the fleur de lis, beignets, and Mardi Gras, king cake made its way to New Orleans via France. Typically decorated with purple, gold, and green sprinkles, a king cake looks like a braided bundt cake and tastes a bit like a cinnamon roll. Hidden inside the cake is a small baby to represent Jesus, the King of Glory.
If you're the lucky person who bites into a piece of king cake and discovers baby Jesus, one of several things may occur. If you don't break a tooth, then it is generally expected that you're already lucky and should experience increased prosperity. In some families, the person who finds the baby king is expected to make or purchase next year's king cake. And at some gatherings, the person who discovers the pint-sized person in their slice of cake is crowned the King (or Queen) of that event.
Sage Advice: King cakes were originally made well before the first plastics were formed out of phenol and formaldehyde, so French pastry chefs baked a small porcelain baby into the cake. In an era of everything plastic (see "Can you recycle Mardi Gras beads?") the last thing you want to do is bake a figurine that will melt into your cake. Instead, once your cake has cooled, carefully insert the plastic baby Jesus into your king cake before frosting.
Want to celebrate Mardi Gras with a king cake at home? Here are a few recipes to try:
If you're looking for king cake with a twist, try one of these:
And if you'd rather drink your king cake (with alcohol, because it is Mardi Gras after all), I've got you covered:
Have You Attended Mardi Gras in New Orleans?
What did you like most about the experience? Any additional tips and tricks to pass along to others planning to celebrate Mardi Gras in New Orleans? Share your experiences in the comments section below.
Looking for more information to plan your Louisiana vacation? Check out my additional recommendations to help you plan your trip to Louisiana including what to see and do in Louisiana, the best places to stay in Louisiana, where to eat in Louisiana, and more!
Ready to Go?
Use These Helpful Links to Book Your Trip!
More Articles You'll Love!