Located in the historic Blackstone District in Midtown Omaha, the Kimpton Cottonwood Hotel is an Omaha landmark steeped in history that's been transformed into a chic, modern, boutique-style accommodation.
A special thanks to Kimpton Cottonwood Hotel for inviting me to experience its luxurious accommodations in midtown Omaha. This IHG Hotel provided me with one night's stay and breakfast at The Orleans Room, but you can count on me to always share my honest opinions, regardless of who foots the bill.
The Kimpton Cottonwood Hotel in Omaha combines historic charm with contemporary comfort. Built in the early 1900s, it has hosted presidents and Hollywood legends. Although the historic hotel has been modernized, the impressive marble staircase, hand-carved terracotta columns, and other architectural details have been lovingly preserved. And when you stay at the Kimpton Cottonwood Hotel, it delivers sophisticated yet comfortable accommodations.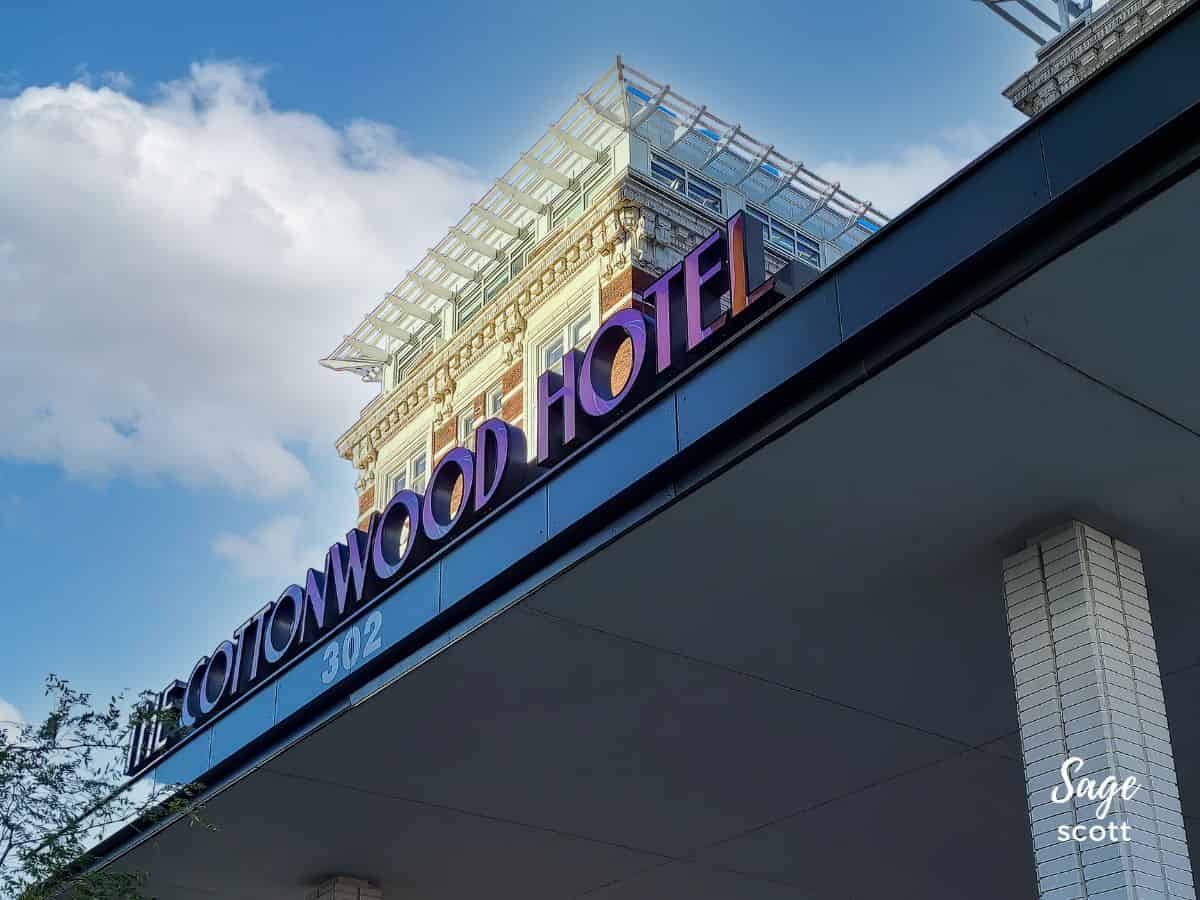 To help offset the costs of running EverydayWanderer.com, you'll find affiliate links lightly sprinkled throughout the site. If you choose to make a purchase via one of these links, there's no additional cost to you, but I'll earn a teeny tiny commission. You can read all of the legal blah blah blah (as my little niece says) on the full disclosure page.
Where is the Kimpton Cottonwood?
Standing tall in the heart of Midtown Omaha, the Kimpton Cottonwood Hotel is an impressive, eight-story building with a rich history. It's located in the Blackstone District, a revitalized historic district along Farnam Street from 36th to 42nd, and directly across the street from the Berkshire Hathaway Corporate Office. It's also just minutes from the waterfront shops, restaurants, and entertainment in The Old Market. So whether you're in town for business or pleasure, the Kimpton Cottonwood is an excellent choice for your next visit to Omaha.
Parking at Kimpton Cottonwood
The Kimpton Cottonwood offers valet parking, providing guests a convenient and secure way to park their vehicles during their stay. Parking is $30 per night and includes excellent valet service and in-and-out privileges.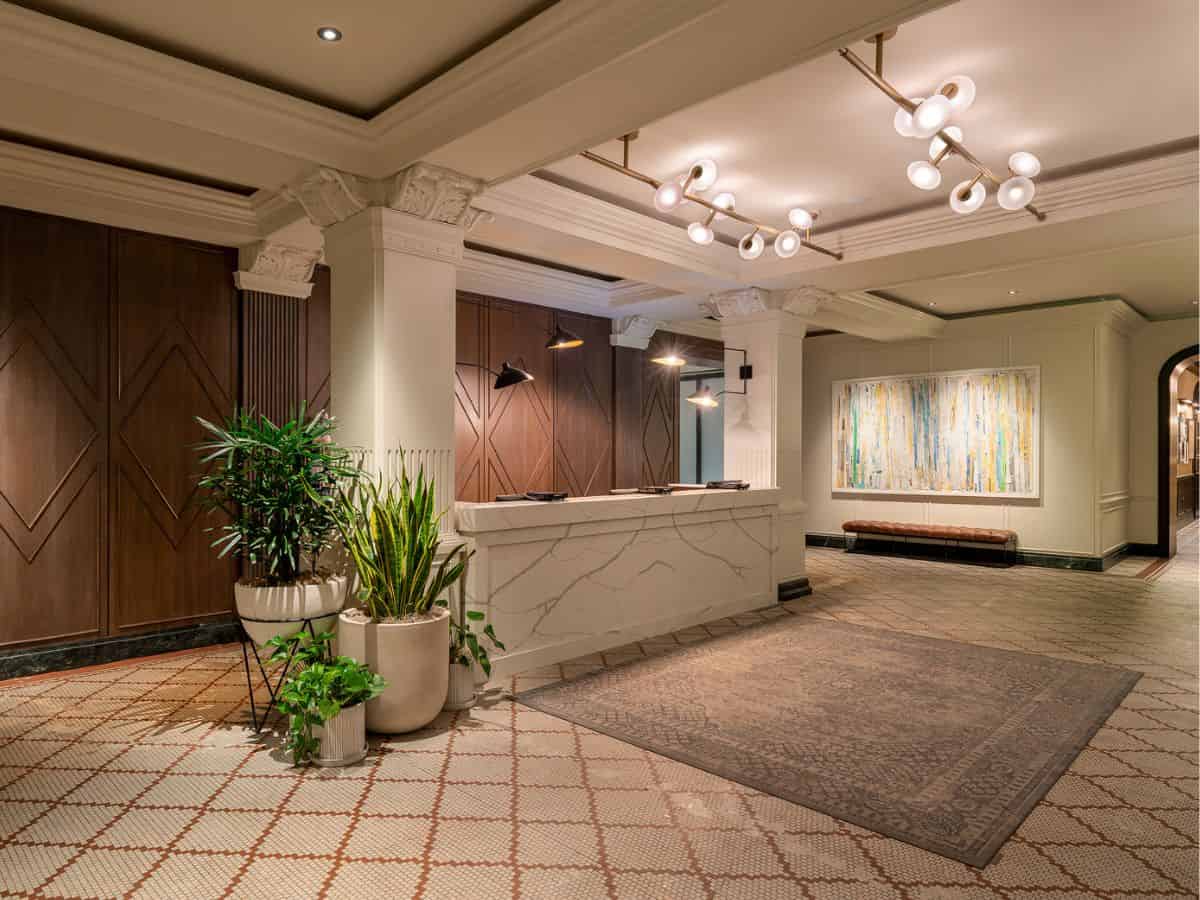 Checking into Kimpton Cottonwood
The moment I stepped into the lobby of the Kimpton Cottonwood, I felt the friendly attentiveness of the staff. Just inside the main door, I was offered a complimentary glass of wine as part of the Kimpton's nightly happy hour. At the front desk, Sanouar was welcoming as she efficiently checked me in, gave me an overview of the on-site eateries, and handed me my room key.
Sage Advice: Want a little more time to linger in the morning? IHG One Rewards members can request late checkout and extend their stay until 2:00 p.m.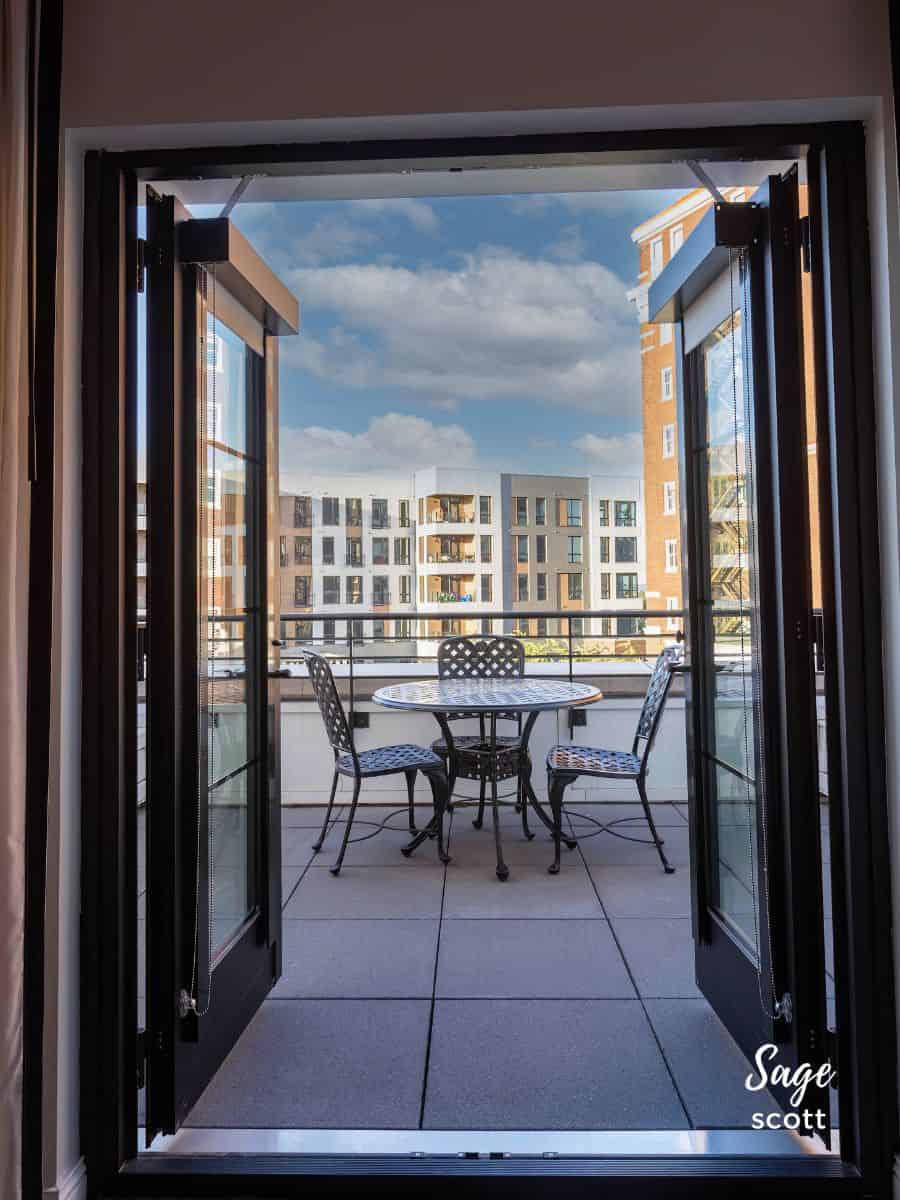 My Guest Room at the Kimpton Cottonwood Hotel
The guest rooms at the Kimpton Cottonwood are spacious, comfortable, and well appointed. My room overlooked the beautiful outdoor pool, and I relished the opportunity to sit outside on the private deck, soaking in the last warm rays of a setting fall sun after being in the car most of the day. And when I sunk into the king-sized bed that evening, the plush bedding wrapped me in comfort, and I was out like a light.
Each room is equipped with all of the modern amenities you'd expect from an upscale accommodation, including blazing-fast complimentary wifi and a flat-screen TV with an endless list of channels. My room also had plenty of electric outlets for me to charge my phone, camera batteries, and laptop.
The bathroom was luxurious, with polished tile, a large walk-in shower, generous counter space, and a large, well-lit mirror. It included plush towels, a hairdryer, and a full line of complimentary toiletries. I especially appreciated the countertop make-up mirror as magnification is now essential for my middle-aged eyes to successfully apply mascara without looking like a toddler did it.
My room also included a mini-fridge (although it wasn't plugged in) but no coffee maker.
If I Could Change One Thing About the Kimpton Cottonwood
If I could wave a wand and change one thing about my stay at the Kimpton Cottonwood, I would like a coffee maker in my room. Yes, I realize this is a ridiculously small, nit-picky detail when everything else about my experience was flawless. But if you're someone who stumbles bleary-eyed out of bed each morning and straight for a caffeine fix, it's such a hassle to get dressed and go to the lobby for that first cup of joe.
After pulling on a pair of jeans, throwing a sweatshirt over my pajama top, and yawning all the way to the lobby, I discovered that coffee makers are available upon request. So, if you are a fellow coffee addict, be sure to request a coffee maker in your room when you book your reservation or check in.
Drinking and Dining at the Kimpton Cottonwood Hotel
For guests looking for deliciously convenient on-site eateries or a handcrafted nightcap, the Kimpton Cottonwood Hotel has several options, including a cafe, two restaurants, and an upscale cocktail lounge.
When it comes to food, the Blackstone Hotel – the original name for the structure that is now the Kimpton Cottonwood – has quite a legacy. According to the locals, it is the legendary birthplace of two American classics, the Reuben sandwich and butter brickle ice cream. Although some New Yorkers disagree. They say that the Reuben sandwich was invented by Arnold Reuben, the owner of Reuben's Restaurant and Deli in the Big Apple, while Omahans credit the toasted sandwich to Reuben Kulakofsky, a local grocery store owner who played in weekly poker games held at The Blackstone Hotel.
Petit Orleans and Orleans Room
Petit Orleans and the Orleans Room serve coffee, breakfast, and lunch (including the original Reuben sandwich) along with an assortment of to-go options for guests in a hurry.
On the weekends, the Orleans Room serves a delicious, French-inspired brunch with filling omelets, classic eggs Benedict, and challah French toast. Sadly, my visit was on a weekday, but my friend Kim over at Oh My! Omaha can tell you all about brunch at the Cottonwood Hotel in her blog post.
In a city known for its steak, The Committee Chophouse at the Kimpton Cottonwood Hotel exceeds expectations. Start at the bar built around a glowing cottonwood tree by ordering the Cottonwood martini. This signature drink is made with tequila, espresso, amaro, sugar, and a touch of honey. Or raise a glass to the amazing Jacqueline Kennedy, who once dined here with JFK, by sipping a Miss Jackie K, made with rum, prickly pear liqueur, dragonfruit syrup, and a dash of lime juice.
When you're ready for dinner, you'll discover a surf-and-turf forward menu with items like raw oysters, lobster salad, and a wide range of prime steaks. Pair your pick with your favorite potato side, including whipped potatoes or Lyonnaise potatoes, and a seasonal vegetable like Brussels sprouts, asparagus, or root vegetables.
In addition to these delicious on-site dining options, there are several eateries within walking distance of the Kimpton Cottonwood. And, it's just a short drive or ride-sharing hop to the many restaurants, bars, and grills located in The Old Market. Here are a few of my favorites.
This stylish eatery serves up a weekend brunch experience every day. In addition to breakfast classics – like warm cinnamon rolls, omelets, and chicken and waffles – Early Bird Brunch offers several unique breakfast dishes. For a sweet start to your day, try the churro waffle topped with caramel and icing. Or dig into the breakfast poutine that substitutes crispy, golden tater tots for French fries and adds sunny-side up eggs to the classic Canadian dish. Early Bird Brunch also offers a long list of special Benedict dishes made with everything from crab cakes to carnitas.
Located just across Farnam Street from the Kimpton Cottonwood, Crescent Moon is a well-known corner tavern that offers weekend brunch, lunch, dinner, and late-night fare. Try Omaha's favorite sandwich with a twist by ordering the Reuben breakfast burrito. It wraps tender shredded corn beef, sauerkraut, scrambled eggs, tater tots, queso, and a touch of Thousand Island dressing in a large flour tortilla. Or snack on an order of Reuben eggrolls while you sip one of the more than 60 daily beers on tap at Crescent Moon.
Sage Advice: Crescent Moon's happy hour takes place Monday through Friday from 3:00 pm to 6:00 pm with specials on drinks and food.
For creamy farm-to-cone ice cream, head to Coneflower Creamery, where you can enjoy a scoop (or two) of artisan ice cream in classic flavors like vanilla bean, dark chocolate, and butter brickle (of course). They also serve a selection of seasonally inspired flavors like sour cream pear pie, cranberry brown bread, and sweet corn.
Amenities and Services at Kimpton Cottonwood
Fitness fanatics will be delighted by the fully equipped on-site fitness center at Kimpton Cottonwood. As you might expect, it's outfitted with ample free weights and a row of treadmills facing a sunny wall of windows. But it also has a Peloton bike with access to classes streamed in from Peloton's NYC studio.
Sage Advice: Would you rather ride a real bike around Omaha? The Kimpton Cottonwood has bicycles available for guests.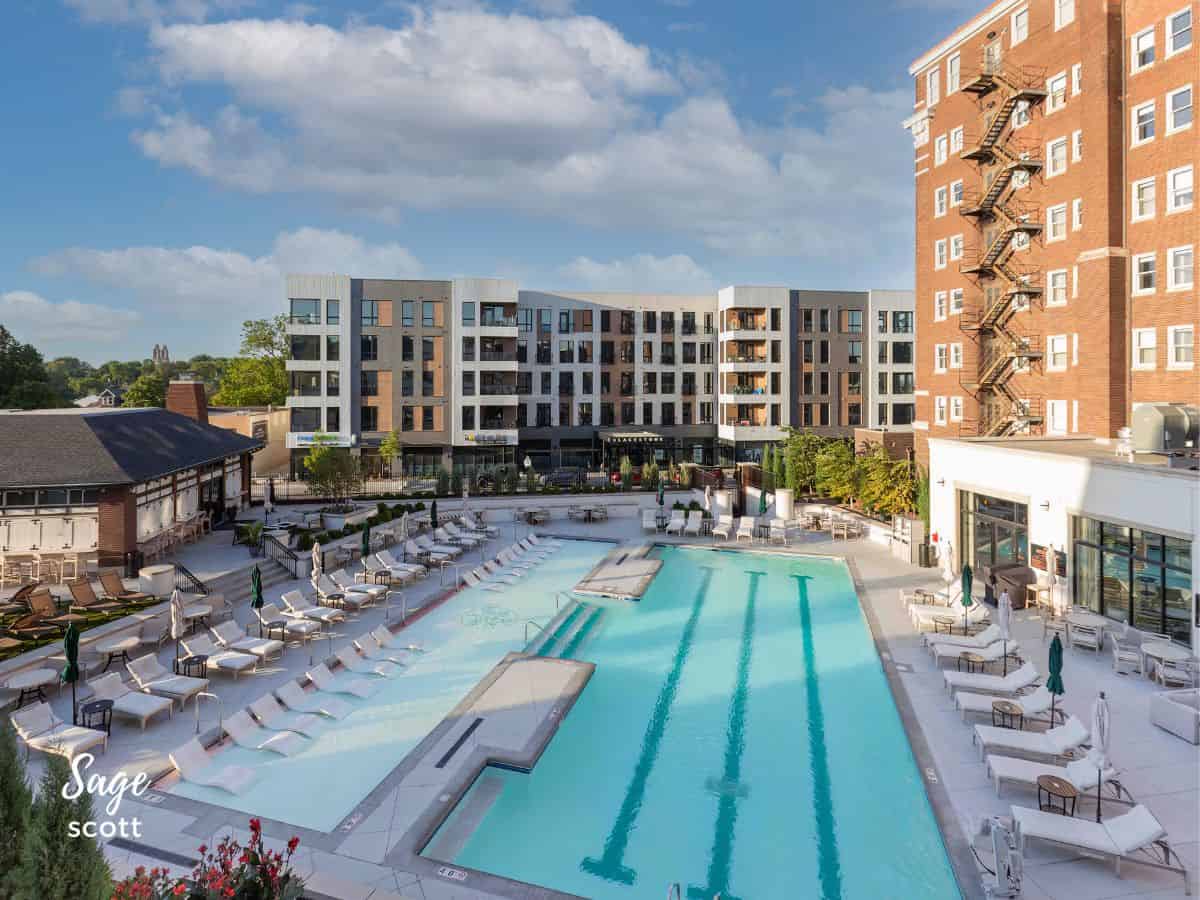 Whether you want to take a dip in the pool or sip a cocktail while soaking in the sun, The Cottonwood Club Pool has you covered. In addition to a large, sparkling, zero-entry pool lined with comfortable lounge chairs and umbrellas, there is a hot tub and ample green space.
Although I wasn't traveling with one of my four-legged kids on this trip, I was delighted to learn that Kimpton Cottonwood Hotel is incredibly pet friendly! Dogs and cats of any size are welcome to spend the night for no additional fee. And if that isn't amazing enough, Kimpton Cottonwood provides a bed, bowls, treats, and waste bags for your four-legged bestie at no additional charge.
While embracing its rich history and protecting impressive architectural features, the Blackstone Hotel has been transformed into the Kimpton Cottonwood Hotel. This beautiful hotel located in the heart of Midtown Omaha's Blackstone District offers contemporary accommodations, luxurious amenities, delicious on-site restaurants, and a speakeasy-style lounge.
To Book a Stay at The Kimpton Cottonwood Hotel
The Kimpton Cottonwood is located at 302 S. 36th St, Omaha, NE, 68131, in Midtown's Blackstone District. The hotel can be reached by phone at 402.810.9500, and you can see additional photos, check availability, and get current rates here.
Have You Stayed at the Kimpton Cottonwood Hotel?
How was your stay? What did you like most? Was there anything disappointing about your stay? Share your thoughts and experiences in the comments section below.
Looking for more information to plan your Nebraska vacation? Check out my additional recommendations to help you plan your trip to Nebraska including what to see and do in Nebraska, the best places to stay in Nebraska, where to eat in Nebraska, and more!
Ready to Go?
Use These Helpful Links to Book Your Trip!
More Articles You'll Love!