Whether your first trip to Colombia includes the blue seas of the Caribbean coast, the green mountains in coffee country, or the dense jungles of the Amazon, the nation's year-round temperate climate and 52 million happy people will win your heart and have you yearning to return.
I experienced Medellin, Guatape, and Cartagena on a bleisure trip, with all experiences paid for in full by either my day job or me. But you can count on me to always share my honest opinions, regardless of who foots the bill. And if you want tips on how to travel on your employer's dime (without getting fired), read this!
Sandwiched between Ecuador and Venezuela, Colombia is the northernmost country in South America. With thick jungles, fertile soil, and a long coastline along both the Atlantic and Pacific Oceans, Colombia holds nearly 10% of the world's biodiversity within its borders. From new foods and temperate weather to its recent history and present-day culture, these are some of the lessons I learned on my first trip to Colombia.
To help offset the costs of running EverydayWanderer.com, you'll find affiliate links lightly sprinkled throughout the site. If you choose to make a purchase via one of these links, there's no additional cost to you, but I'll earn a teeny tiny commission. You can read all of the legal blah blah blah (as my little niece says) on the full disclosure page.
1. Don't Expect a Lot of Spicy Dishes
It's easy for Americans to think that red and green chiles with varying levels of heat are a part of most dishes south of the border. But while everything I tried was flavorful, Colombian food is typically not very spicy. In fact, a few dishes at a Spanish tapas restaurant, like patatas bravas, were too spicy for several of my Colombian colleagues. And while the dish literally translates to "spicy potatoes," it really has just a little kick and isn't even as spicy as most poblano or jalapeño peppers.
2. Do Expect Lots of New (At Least to You) Fruits
Yes, you'll see bananas, pineapples, mangoes, and other fruits commonly found in the United States included in your hotel's breakfast spread and consumed as snacks throughout the day. But be prepared for a whole new world of fruit when you visit Colombia. From gulupa, a purple passion fruit grown in the Pacific region, to pitahaya, an exotic dragon fruit native to the Amazon, there will be many new and exciting fruits to experience, most of them full of vitamins and antioxidants.
3. It's Harder Than You Think NOT to Chew a Granadilla
Resembling a speckled orange with smooth skin, granadilla is one of my new favorite fruits. To eat a granadilla, cut a hole in the stemmed top of the fruit as if you were opening the top of a soft-boiled egg in an egg cup. Then dig into the seed-filled, gelatinous center with a spoon. I first tried a granadilla without any of my Colombian friends present and had a rather unpleasant experience crunching my way through the seeds. But after I was advised to simply swallow each spoonful without chewing — something that's harder to do than you think when each bite is full of seeds — it was much more enjoyable.
Maybe it's just who I hang out with, but I don't know a lot of folks who drink juice. Sure, there's an occasional glass of orange juice consumed at brunch (usually as a mimosa), but it's not a daily occurrence. But in a country with so many antioxidant-rich and cancer-fighting fruits, juice is a big part of meals, especially at breakfast. The breakfast buffet at each of my hotels in Colombia included at least five different fruit juices. And the wait staff at the hotel I stayed at inside the Walled City of Cartagena delivered a shot glass of a different exotic juice each morning at breakfast.
5. Cross the Street with Care
If you live in a country where motor vehicles are expected to yield to pedestrians (especially in crosswalks), then a trip to Colombia will keep you on your toes. While I doubt a driver will intentionally mow you down, mopeds, motorcycles, cars, trucks, and buses pretty much only slow down or stop for pedestrians when they have a red light.
Doing all he could to ensure his two gringa co-workers from the north didn't find themselves splattered on the pavement as if in a game of Frogger, my very thoughtful Colombian colleague watched over us at every intersection like a protective parent might when shepherding two wide-eyed, energetic school children across the road during a field trip. And I'm so incredibly grateful for that!
6. Prepare Yourself for a Wild Ride
If you live in a country where seatbelts are mandatory, the roads have lanes, motorcycles are expected to stay in the lanes, and drivers can be ticketed for using their mobile phones while operating a vehicle, then prepare yourself for a wild ride when you climb into a car or taxi.
Approximately half of the taxis I rode in had over-the-shoulder seat belts but no place to snap them into place. Cars regularly drove side by side in what appeared to be a single lane, and motorbikes zipped in and out of traffic. But the most unique experience was when my cab driver propped his cell phone on the dashboard and watched the Colombia vs Brazil football match during my entire ride from Old Cartagena to the Hyatt Regency in Bocagrande.
7. You'll Feel Like a Millionaire with a Pocket Full of Pesos
With a bottle of Coca-Cola costing about 5,000 Colombian pesos and monthly salaries measured in millions of Colombian pesos, the local currency can feel like Monopoly money. And converting pesos to dollars in your head may feel like your brain will short circuit.
Fortunately, a Colombian colleague taught me this helpful trick:
Drop the last three zeroes

Divide the number that remains by 4
So when the shrimp with garlic entree at Colosal Restaurante in Medellin catches your eye, you're not dropping a year's salary on the dish, but about $17. (And you won't believe the views that come with those prawns!)
8. Colombians are Genuinely Incredibly Polite
One of the first things I noticed about Colombia was how friendly and polite everyone is. On the ride from the Medellin airport to my hotel in El Poblado (without a functioning seat belt, of course), my driver took the time to greet everyone — from the parking lot attendant to the toll booth collector to the bellhop — with a polite buenas noches, always using señor and señora as appropriate.
Even to a "polite Midwesterner," who lives in a part of the US that regularly smiles at everyone and says hello to strangers, it was an abundance of polite kindness.
9. You Will Be Approached by People Trying to Sell You Stuff
While I can count on one hand the number of times I was approached by someone begging for money, the majority of folks down on their luck try to offer something in exchange. From chocolate bars to Colombian soccer jerseys, expect people to try to sell you a wide range of goods when you visit Colombia (especially when you're a bit of a sitting duck at a table enjoying a meal).
Because I was fortunate to be with locals during nearly my entire trip to Colombia, I let the natives do the talking. And true to the politeness described above, the response was always a firm, but kind, "No, gracias" (staying on brand with the previous lesson learned).
During the one meal and two outings when I was alone, I simply ignored the folks who approached me. I didn't make eye contact or even acknowledge their presence, totally engrossed in my meal or eyes set on the sidewalk ahead of me. I'm sure I was ridiculously rude, but I also know that my fair skin and flax-colored hair makes me stand out as a gringa in Colombia, and the street peddlers moved along to other tables.
10. The Medellin Cartel is as Relevant as a Floppy Disc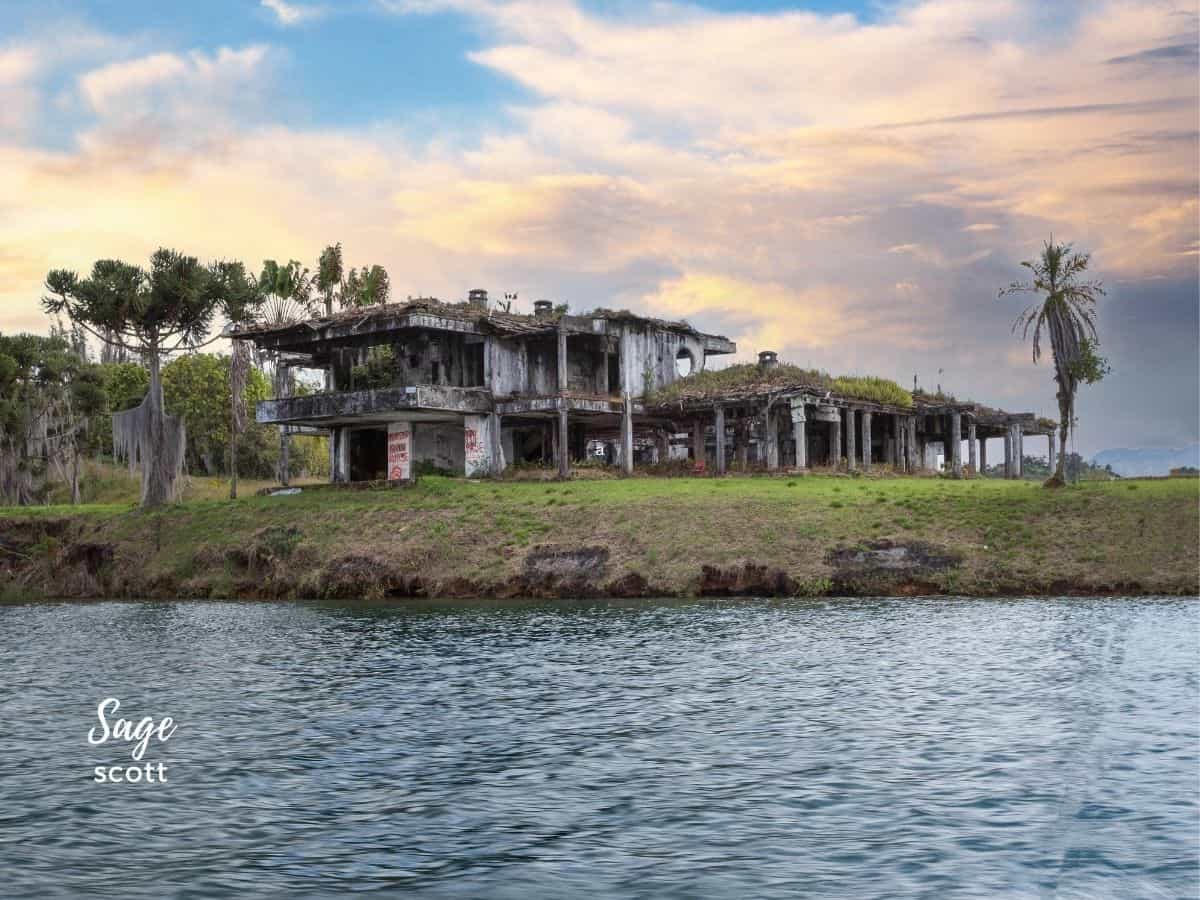 I hope my Colombian friends will appreciate that I made it this far into my article before mentioning the nation's violent, drug trade-fueled past that still prevents many travelers from making a trip to Colombia. But just as you'd eventually need to talk about one of Pablo Escobar's hippos if it wandered into your living room, the same can be said about addressing this lingering stereotype.
It would be wrong to say that illegal drugs, violence, and crime have been eliminated from Colombia. After all, you can find an assortment of illegal drugs and read about an array of violent criminal acts in just about any town anywhere in the world. But after the head of the Medellin Cartel was killed in a shootout with police in 1993 and other drug lords were extradited to the US, Colombia's drug trade dissolved like an antacid in a glass of water.
While a trip to Colombia today is nothing like what you would have experienced earlier this century, time has not yet dissipated nightmare-inducing memories possessed by nearly every adult in Colombia. Each of my Colombian colleagues has a personal story about those not-too-distant years — from land and other personal property confiscated by drug lords to rapes, kidnappings, and murders.
Related Article: 3 Eye-Opening Reasons to Take a Pablo Escobar Tour in Medellin
11. Despite Everything They've Been Through, Colombians are Happy
Despite decades of civil war, drug trafficking violence, and guerilla warfare, Colombians are some of the happiest people in the world. When I asked a group of Colombian dinner companions how an entire country was able to overcome such a relatively recent, very violent past full of heartbreak with such strength, their answers were uplifting and full of grit.
One friend said that Colombians are laser focused on family. "Over the holidays, for example, we don't just stop by our parents' house for a few hours. We spend the whole day together." Another friend said that surviving such an awful past has made Colombians appreciate what they have now — a bright future full of hope.
Have You Visited Colombia?
Which cities did you visit in Colombia? What did you like most about your time in the northernmost country in South America? Share your experiences in the comments section below.
Looking for more information to plan your Colombia vacation? Check out my additional recommendations to help you plan your trip to Colombia including what to see and do in Colombia, the best places to stay in Colombia, where to eat in Colombia, and more!
Ready to Go?
Use These Helpful Links to Book Your Trip!
More Articles You'll Love!