Located southwest of Melbourne, Geelong is a waterfront city in Australia. Let Geelong native Audrey Chalmers be your tour guide as you visit Geelong in this Everyday Postcard from Down Under.
With seven continents, nearly 200 countries, and more than 7.5 billion people in the world, there is a lot to experience. The world is so vast and amazing that even the most avid traveler with a large bank account couldn't truly do it justice in one lifetime!
Through the Everyday Postcard series, one of the world's everyday wanderers shares postcard-worthy photos and real-life travel experiences to bring a piece of the big wide world to you.
Geelong gal Audrey is a breakfast nut. So after enjoying Sunday brunch along the Geelong Waterfront, and a final cup of coffee, she dashed off this Everyday Postcard.
Dear Sage
It's always fantastic to come home to Geelong and see all the holidaymakers having fun at Eastern Beach. Part of the iconic Waterfront it's the city's favourite spot to play with its lush lawns, barbecues, a fabulous promenade, and views of the Melbourne skyline. In summer there's a giant travelling Ferris wheel and you can even ride a camel along the beach!
Cheers, Audrey
Audrey is the principal blogger behind See Geelong. Along with her husband, Andrew, this Geelong gal loves helping people discover her hometown and the surrounding area, ensuring they see the best of what this coastal town has to offer.
In addition to her blog, be sure to visit Geelong through Audrey's social media channels: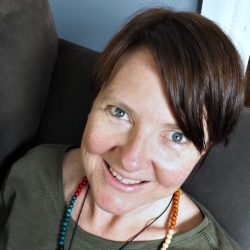 For those of us who haven't visited yet, give us an overview of Geelong, Australia
Geelong is a bayside city in the state of Victoria, Australia. It's about 75 kilometres (45 miles) southwest of Melbourne and just 20 minutes from the world-famous Great Ocean Road.
How did you decide to visit Geelong?
We've lived in Geelong all our lives. We've travelled all over the world, but we still love coming home. The location is amazing, here we're surrounded by world class beaches and fantastic wineries, and when we get tired of the city, the Australian bush is just 15 minutes away.
What's the best way to get to Geelong?
Getting to Geelong from Melbourne is easy, and visitors have several options to choose from. If you own a car or hire one, it's an hour's drive along the well-maintained Princes Freeway.
Public transport is a cheap and easy with regular V/Line train services departing from Southern Cross Station to Geelong. A new and fun option is to catch the daily ferry from the Docklands and cross the bay to the Geelong Waterfront.
When is the best time to visit Geelong?
The best time to visit Geelong is between November and April. The summer months of December and January are particularly popular, as this is when the city plays host to fabulous events like the Festival Of Sails, Cadel Evans Road Race, and The Great Australian Beer Festival!
I really love being in Geelong at Christmas time, and not just to see family! The city pulls out all the stops to embrace the festive season and the town is full of Christmas activities and events. The highlight of which is the incredible floating Christmas Tree. Standing 25 metres (80 feet) high, the stunning tree has 400 LED coloured lights. At night they light up into a kaleidoscope of colour that's synchronised to music. Just spectacular!
What is the best way to explore the Geelong Waterfront?
All the Waterfront attractions are available on foot. If you want to travel further the easiest way to get around is by car. Geelong also has a network of public buses and both taxis and Uber are available.
One of the best parts of travel is experiencing the local flavors. What is your favorite meal in Geelong?
Geelong is a hot bed of high-end restaurants and food-centric cafes, and many of Melbourne's top chefs have set up shop in the city. As a breakfast nut I love nothing more than going out for Sunday brunch, and one of my favourite places to eat is Sailors' Rest. Located on the Geelong Waterfront this restaurant and bar has great coffee, delicious dishes, and fab views. Try the Jack Sparrow.
Are there any local expressions in Geelong that folks should know?
Aussies like to give everything a nickname, and the people of Geelong are no different. Words are either shortened or extended depending on the situation. So Pakington Street becomes "Pako" and Kardinia Park becomes "K-Park". The city's name isn't spared either with Geelong becoming "G-Town". In fact, "G-Town" is so ingrained in the local community that several businesses have used it in their name!
What sights cannot be missed when travelers visit Geelong?
As the state's second largest city, Geelong has a lot to offer. You could easily spend a week exploring the town and surrounding area. A highlight of any trip is the magnificent Geelong Waterfront. Overlooking the glorious Corio Bay, it's one of the most spectacular waterfronts in Australia. Here you'll find the art deco Eastern Beach, Cunningham Pier, the Geelong Yacht Club, Steampacket Gardens, the Poppy Kettle Playground, and the beautiful Rippleside Park. There's also heaps of restaurants, bars, and cafes and a delightful antique carousel.
Visitors can also stop by the National Wool Museum and discover why Geelong was once known as the "wool centre of the world." Or, you can learn about the local indigenous people at the Narana Aboriginal Cultural Centre.
Geelong is the gateway to the Bellarine Peninsula and the Great Ocean Road one of the world's top scenic drives. Just minutes away are world class beaches, surfing towns, boutique wineries, and tiny seaside villages. Geelong has so much to offer that it keeps the most discerning of travellers happy.
What's a hidden gem in Geelong that only locals would know about?
One of my favourite places that's often overlooked by tourists is the Geelong Botanical Gardens. It's a lush oasis with a beautiful rose garden and hundred-year-old trees. And there's a cute tea house selling yummy cakes and treats.
What souvenirs do you recommend visitors bring home from Geelong?
For a truly memorable souvenir we recommend buying something from either the National Wool Museum or Narana Aboriginal Cultural Centre gift shops. This way you'll have something truly unique and you'll be supporting the local community.
What's one thing travelers can't forget to pack when they visit Geelong?