Before you sit down to enjoy a proper English tea, sipping tea and noshing on dainty tea sandwiches, be sure to follow these English afternoon tea etiquette rules so you act like a duchess (and not a dork). Learn what to call it (not high tea), how to properly pronounce scone, and more!
As a German-American who's never watched an episode of Downton Abbey and who needs the subtitles turned on to understand The Crown, I was beyond clueless about English afternoon tea when my daughter, Charlotte, suggested it. The folks working the Clock Tower Bakery's stand at the Overland Park Farmer's Market presented her with a flyer, and it sounded like a fun and delicious way to experience something new close to home.
But despite dressing up "smart casual" and using our best American table manners, we coffee-drinking Yankees had a lot to learn about proper etiquette for English afternoon tea time.
To help offset the costs of running EverydayWanderer.com, you'll find affiliate links lightly sprinkled throughout the site. If you choose to make a purchase via one of these links, there's no additional cost to you, but I'll earn a teeny tiny commission. You can read all of the legal blah blah blah (as my little niece says) on the full disclosure page.
Afternoon tea involves sipping tea while noshing on dainty finger sandwiches, scones topped with clotted cream and jam, and scrumptious desserts. It's typically held in the mid- to late-afternoon to bridge the gap between lunch and dinner.
What's the History of English Afternoon Tea?
Anna Maria Russell, the 7th Duchess of Bedford and lifelong friend of Queen Victoria, is credited with conjuring up afternoon tea. Dinner was usually served around 9:00 pm, causing the Duchess to be hangry in the mid-afternoon. Since Snickers bars weren't invented yet, she ordered tea, bread, and cakes up to her room. Voilà! Here's even more background on this delicious British tradition.
What Time is Afternoon Tea Served?
In England, afternoon tea time is typically around 4:00 pm. However, in the United States, English afternoon tea time can vary by establishment. It's not uncommon for afternoon tea to be served as early as 2:00 pm in the US.
What Type of Tea is Typically Served During Tea Time?
My English cousin-in-law always, ALWAYS orders Earl Grey at afternoon tea. (And the way she orders it with her English accent here in Kansas City usually requires her American husband to translate for the server, but that's another story.) In addition to Earl Grey, other black teas, like Assam or Darjeeling, are also quite popular English afternoon teas. Afternoon tea service may also include herbal teas, like chamomile, peppermint, and hibiscus.
What Foods are Typically on an English Afternoon Tea Menu?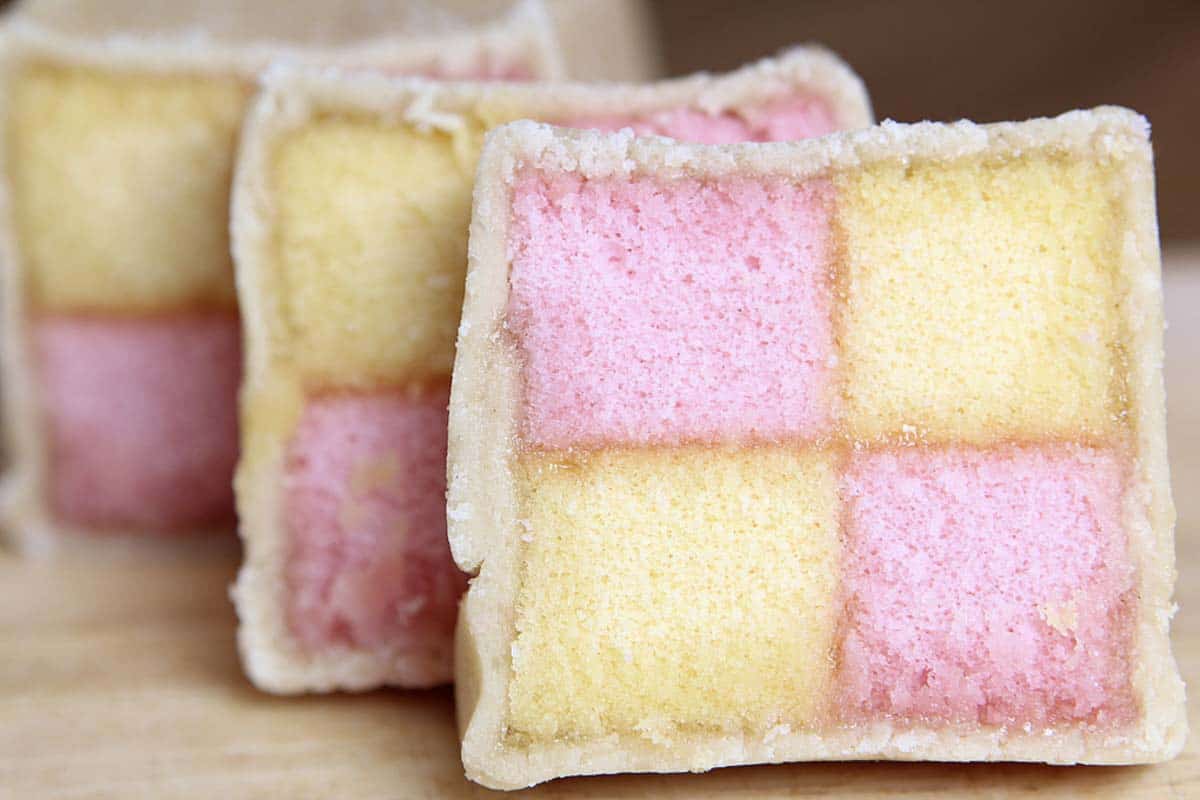 At the top of the English afternoon tea food pyramid are all of the sweets. Crisp biscuits (as cookies are called in the United Kingdom) and strawberry tarts are popular desserts served at English afternoon tea. One of my favorites, however, is Battenberg Cake. Allegedly created in honor of Queen Victoria's granddaughter to Prince Louis of Battenberg in the 1880s, this rose pink and lemon yellow checkerboard cake is wrapped with marzipan and is as delicious as it is pretty.
What is the Difference Between Afternoon Tea and High Tea?
While the term "high tea" might sound fancier than afternoon tea (especially to Americans), it's not the same thing. It's more of a high is low and low is high situation. Sort of like Greenland (full of ice) and Iceland (full of green).
Unlike afternoon tea which serves fancy finger foods and dainty cakes, high tea is a hearty meal served family style that came about during the Industrial Revolution in the 19th century. It was the main meal enjoyed by laborers when they came home after a long day in the fields, factories and mines. Despite a name suggesting it's directed at high society, high tea got its name because it was historically served at a high table (rather than a low table).
So, if you plan to enjoy a proper English tea, do not refer to it as high tea!
Are There Any Other Types of Afternoon Tea Services?
Now that you've mastered the difference between afternoon (or "low tea") and high tea, here are a few other afternoon tea services.
Cream Tea – Scones + Tea
A cream tea is the simplest type of English tea service with only scones, clotted cream, jam, and tea. Because a cream tea stars only scones and tea, cream tea etiquette is similarly straightforward. Be sure you know how to pour and stir your tea (and eat your scone), and you're all set!
Light Tea – Scones + Sweets + Tea
This afternoon tea service adds sweet treats to go above and beyond cream tea, but doesn't include the savory finger foods from full tea. Because why eat sandwiches if you can enjoy petite fours, macaroons, and other sweet treats instead?!?
Full Tea (AKA afternoon tea or low tea) – Savory Foods + Scones + Sweets + Tea
This is the version of afternoon tea predominantly covered in this article.
Royal Tea – Full Tea + Champagne or Sherry
Adding a glass of alcohol to the standard fare makes a tea royal versus regular. Day drinking, cucumber sandwiches, and fruit tarts? Count me in!
What Should You Wear to Afternoon Tea?
Most restaurants and other establishments serving English afternoon tea anticipate that their guests will dress in a "smart casual" or "business casual" style. For women, this means that dresses and nice slacks (including nice jeans) paired with a pretty top is appropriate. For men, nice slacks (including nice jeans) and a collared shirt are appropriate. While it's not necessary for men to wear a jacket or tie, it wouldn't be over-the-top. Sweat pants, yoga pants, jeans with tears, and tennis shoes are generally not appropriate.
Etiquette for Afternoon Tea
With those questions answered, here are the British tea etiquette rules to follow so you can mind your tea manners when enjoying English afternoon tea.
Rule #1 - A Tea by Any Other Name...
At English Afternoon Tea, you want to accept some tea, not a tea.
"Yes, I'd like some tea."
and not
"Sure, I'll have a tea."
Rule #2 - Order of Operations
In order to assemble a proper cuppa according to British tea drinking etiquette, follow these steps:
Start with sugar

Fill your teacup about 3/4 full

Add the desired amount of milk
Centuries ago, servants added milk before tea as a way to prevent the scalding tea from cracking their lower quality teacups. Since that's no longer an issue, everyone is expected to follow the classier order of events outlined above during English tea time.
Rule #3 - Stir at Six and Twelve
To properly stir the sugar and milk into your tea, place your spoon in a six o'clock position in the cup and gently move it up and down, not around. It is also important not to clink the spoon against the sides or bottom of the cup. As I write this, I can hear Julie Andrew's voice as Mary Poppins saying, "Do not clink your spoon please, Jane. We are not a bull in a china shop!"
When you are done with your vertical (not circular) stir, place the spoon on the saucer alongside the back of the teacup.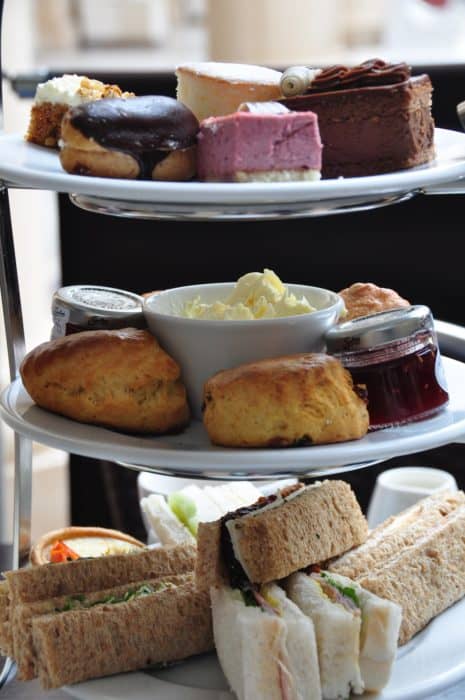 Rule #4 - I Only Have Eyes for You
When it's time to take a sip of tea, look into your teacup, not over it. Just like it's easier to hit a home run when you keep your eye on the ball when it's pitched, it's easier not to spill tea down your front or on the tablecloth when you keep your eye on your cup.
Apparently, casting your eyes down as you sip also makes you look more demure, in case that's the look you're going for…
Rule #5 - Pinkies Up? Absolutely Not!
Forget the etiquette rules followed during the Kool-Aid tea parties you hosted as a child. As it turns out, extending your pinkie finger is quite rude. Instead, tuck your pinkie finger in and pinch the handle with your thumb, index, and middle finger.
Rule #6 - Know the Nibbles
If You Don't Eat Your Meat, You Can't Have Any Pudding
Traditional savory items include finger sandwiches, pinwheels, and other bite-sized offerings, like mini sausage rolls. Common sandwich fillings include:
Thinly sliced cucumbers and butter
Smoked salmon and dill
Egg salad
Deviled ham
Tuna salad
ToMAYto, ToMAHto
Moving on to the scones which are pronounced "sCON" and not "sCONE". Ooops! I've been saying that wrong all these years. Just like mascarpone. (The "r" is tricky in that one!)
And just like there is a difference between English biscuits (cookies) and American biscuits (like we eat open-faced and smothered with sausage gravy), there is a difference between English and American scones. British scones are plain, round cakes that resemble American biscuits (minus the sausage gravy). American scones are usually sweet triangles with "mix-ins" like blueberry and glazes like lemon.
The scone should be broken in half horizontally and enjoyed with clotted cream and jam. For the record, the scones at the Clock Tower Bakery were amazing!
A Chicken and Egg Situation
Apparently, there is some debate over which should be applied first to the halved scone — clotted cream or strawberry jam. But, just like there's no wrong way to eat a Reece's peanut butter cup, it turns out there's no wrong way to top off a scone. After considering the pros and cons of clotted cream versus strawberry jam first, I went Cornish-style with jam first followed by clotted cream.
Sweets for My Sweet
The top layer of the serving tray features a variety of sweets including petits fours, tarts, and other desserts. A traditional English afternoon tea sweet is Battenberg cake, a pink and yellow checkered cake wrapped in marzipan.
As tea time draws to a close, remove your napkin from your lap and place it to the left of your dishes. If you need to excuse yourself during afternoon tea, place your napkin on your chair, and not on the table.
Have You Enjoyed Afternoon Tea Service?
What type of tea did you sip? Do you prefer the savory or sweet snacks? Any afternoon tea etiquette rules I've missed? Share your thoughts in the comments below!