Through Dan Brown's best-selling novels, you can travel to sacred sites and marvel at modern masterpieces. Visit these locations via the award-winning imagination of Dan Brown by reading his books or exploring them in person to separate fact from fiction.

Originally published January 2018, this article has been updated to include destinations featured in Dan Brown's most recent novel Origin.
Dan Brown, the best-selling author of The Da Vinci Code, was recently hosted here in Kansas City by Rainy Day Books to talk about his new book, Origin. After a few remarks, the creator of character Robert Langdon spent most of his time interacting with a packed house in an extended Q&A session.
A woman in the audience told Dan Brown that she was terrified of flying, and she thanked him for allowing her to "travel" to places she would never personally visit through his books. Her remarks made me think about how Dan Brown's books had influenced my own travels.
After reading The Da Vinci Code, I went out of my way to visit the Saint-Sulpice on my next trip to Paris. While reading Inferno, I learned I would be traveling to our Turkish office for business meetings. Although the schedule was demanding, I was able to dedicate a few hours of personal time to see the local sights of Istanbul that played a role in my favorite of Dan Brown's novels.
Including his latest book, Origin, I've read all of Dan Brown's novels. (Yes, even the two that don't feature the Harris tweed jacketed Professor Langdon.) While the places in his books (and on this list) are real, some aspects are fictionalized. After all, Dan Brown is a novelist, not a historian. Be careful to separate fact from fiction!
Pro Tip: Rainy Day Books is a Kansas City-based, independent bookseller that's been in business since 1975, when Amazon was just a river in South America. Check out the world-class talent they bring to Kansas City in the upcoming events section of their website. I love Amazon, but what has the world's biggest online bookstore done to deliver 90 minutes of in-person time with your favorite author? Exactly!
[table id=15 /]
Dan Brown Books in Order
Whether part of his wildly popular Robert Langdon series, or not, this is the order in which Dan Brown's books were published:
*Digital Fortress (1998)
Angels & Demons (2000)
*Deception Point (2001)
The Da Vinci Code (2003)
The Lost Symbol (2009)
Inferno (2013)
Origin (2017)
* Novel is not part of the Professor Langdon series
In What Order Should I Read Dan Brown's Books?
If you haven't read the Robert Langdon series, and you're interested in reading all of them, I recommend reading Dan Brown books in order of publication:
However, the books can be read in any order.
If you want to try one of them out before committing to multiple books, I would rank them in this order: Inferno, The Da Vinci Code, and Angels & Demons. (You won't miss much if you skip his two non-Langdon novels: Digital Fortress and Deception Point.)
Dan Brown Movies in Order
Starring Tom Hanks as Professor Robert Langdon, these are the Dan Brown books that have been made into movies. These movies based on Dan Brown novels were directed by Ron Howard.
The Da Vinci Code, 2006
Angels & Demons, 2009
Inferno, 2016
Places You Can Visit in
London, England, in a Dan Brown Book
Temple Church, One of the Places in
The Da Vinci Code
Built by the Knights Templar in London, England, in the 12th Century, the Temple Church is one of only five surviving round churches in England. Although The Da Vinci Code states these circular churches were built to honor the sun, they actually resemble the Church of the Holy Sepulcher in Jerusalem.
Pro Tip: If you've read The Da Vinci Code, join the discussion at Book Thoughts from Bed, a fantastic blog penned by my lovely friend Michelle who writes it from a hospital bed while battling ALS.
Pro Tip: Navigate London sights and activities like a pro with this Hop-On Hop-Off Bus Tour.
Westminster Abbey, One of the Places in
The Da Vinci Code
Also in London, England, Westminster Abbey is the well-known site of coronations and royal weddings. While Sir Issac Newton is buried in the large, Gothic church, you won't be able to make a brass rubbing of his grave as suggested by Dan Brown in his book. Another piece of fiction is the presence of metal detectors. It's easy to imagine they were added for additional security when the book was published in a post-September 11th world in 2003. But, they don't actually exist.
More Advice and Inspiration for Visiting Dan Brown Locations in London:
Locations to Visit in
Paris, France, in a Dan Brown Novel
Louvre Museum, One of the Places in
The Da Vinci Code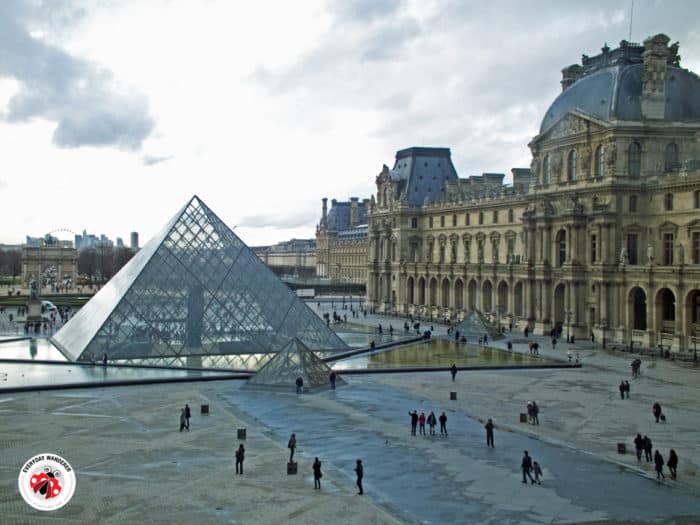 Da Vinci Code starts and ends at the world's largest art museum with murder and mystery packed into the pages in between. As Robert Langdon and Sophie Neveu work feverishly to crack the Da Vinci Code without being killed, they discover hidden symbols in some of the museums most famous pieces. Never mind that some of the pieces won't be displayed where Dan Brown says if you visit the Louvre in person.
To escape police at the Louvre, Sophie threatens to destroy the painting opposite the Mona Lisa. In The Da Vinci Code, the endangered painting is Leonardo Da Vinci's Virgin of the Rocks. In reality, the painting opposite the Mona Lisa is Caliari's The Wedding Feast at Cana. Visit the Louvre's website for a Da Vinci Code tour through the museum that helps you separate fact from fiction.
Church of Saint-Sulpice, One of the Places in
The Da Vinci Code
Slightly smaller than Notre Dame, Saint-Sulpice is the second largest church in Paris. A brass line embedded in the church floor is part of the gnomon of Saint-Sulpice, an astronomical way of telling time using the sun's rays similar to a sundial. In The Da Vinci Code, Dan Brown incorrectly refers to the gnomon as the Paris Meriden and gives it a fictional name, the Rose Line.
Fun Fact: The Archdiocese of Paris wouldn't give Ron Howard permission to film The Da Vinci Code inside Saint-Sulpice.
Pro Tip: If you're looking for additional books that inspire travel, here are several other suggestions from additional authors besides Dan Brown.
More Advice and Inspiration for Visiting Dan Brown Locations in Paris:
Places You Can Visit in Budapest, Hungary, from a Dan Brown Book
Synagogue at Dohány Street from
Origin
Europe's largest synagogue, the Dohány Street Synagogue, is featured twice in Dan Brown's Origin: first when aging rabbi Yehuda Koves leaves the synagogue for his cottage on the Danube River by the Elisabeth Bridge, and again when he fails to leave the crowded bus for its safety. With a style inspired by medieval Spain (the primary setting for Origin) and a tragic past, it makes sense that Dan Brown's rabbi character would be a Hungarian from Budapest.
Pro Tip: The Dohány Street Synagogue is also known as the Great Synagogue and the Tabakgasse Synagogue.
When visiting the Dohány Street Synagogue, don't miss the metal weeping willow in the rear courtyard of the synagogue. Near the space where thousands of murdered Hungarian Jews are buried, each leaf of this beautiful memorial features the name of one of the 400,000 men, women, and children killed by the Nazis.
Széchenyi
Chain Bridge from
Origin
Connecting hilly Buda from sprawling Pest, the Széchenyi Chain Bridge is considered one of the most beautiful suspension bridges in Europe. And, as the first permanent bridge connecting the two parts of Budapest over the Danube River, it's also one of the oldest.
While locked safely inside at home, Rabbi Koves fell asleep in his chair and dreamed of an evening walk to the Chain Bridge. As he stood on the Chain Bridge at night, gazing into the dark water of the Danube River below, up the hill to the Buda Castle, and then down the river to the Parliament Building, a vision emerged from the water, snapping him out of his dream.
Ruin Bar Szimpla Kert f
rom
Origin
A Catholic bishop, Jewish moragi, Muslim imam, and athiest computer scientist walk into a meeting in Catalonia. A few chapters later, a man is killed in a bar.
No, it's not a terrible "walked into a bar" joke, it's how things roll in Dan Brown's Origin.
Assuming you won't be chased by an assassin, like Rabbi Yehuda Koves was, you'll definitely want to check out one of Budapest's ruin bars. A ruin bar (or ruin pub) is a bar operating in a rundown store, home, or other building. For the past two decades, ruin bars have breathed new life into old buildings, predominantly in the old Jewish quarter neighborhood in Budapest.
Bar Szimpla, the site of the rabbi's murder in Origin, is the first (and perhaps most famous) Hungarian ruin bar. Operating out of the updated, yet dilapidated, remains of an old factory, the huge open-air space has an eclectic style that Bill Hader's "Stephon" might mention on Saturday Night Live if the bar were in New York City: "If you want fun, Budapest's hottest club is Szimpla, where a Trabi has been sawed in half, there are chairs hanging from the ceiling, and a plastic dinosaur is perpetually ordering a cocktail at the bar."
More Advice and Inspiration for Visiting Dan Brown Locations in Budapest:
Places You Can Visit in
Florence, Italy, Featured in a Dan Brown Novel
Brunelleschi's Dome on the Santa Maria del Fiore from Inferno
Waking up in an unfamiliar hospital wearing a bloody hospital gown, the first thing Robert Langdon spies out the window is a distinctive, red dome. As the rising Tuscan sun further illuminates the great red cap of Brunelleschi's Dome atop the Santa Maria del Fiore, the dazed and confused professor realizes he's in Florence.
Fun Fact: Brunelleschi's Dome is topped by a bronze ball and cross designed by sculptor Andrea del Verrocchio. A young Leonardo da Vinci worked in Verrocchio's workshop as an apprentice where he sketched the machines used to hoist the ball into place.
Boboli Gardens from Inferno
While fleeing a drone flown by a team of secretive soldiers, Professor Robert Langdon and Dr. Sienna Brooks seek shelter in the Boboli Gardens. Full of trees, flowers, sculptures, and fountains, the Boboli Gardens has inspired many European royal gardens, including Versailles in France.
Hidden in the 11-acre garden is the Vasari Corridor. This raised, covered passageway connects the Pitti Palace and Palazzo Vecchio. In the 1500s, it was used by the Medici family to travel between their residence and the government palace without having to mingle with commoners. In Inferno, the door to the Vasari Corridor happened to be precisely where our heroes needed it to escape the menacing drones. Convenient!
Palazzo Vecchio from Inferno
At the other end of the Vasari Corridor, Professor Langdon and Dr. Brooks find themselves in the Palazzo Vecchio. Florence's medieval town hall has been described as a giant chess piece, and I agree that it looks just like a rook. Or "castle-thingie" as I've been known to call it during chess games with Bo. He doesn't find it amusing, and usually captures both of my rooks fairly quickly. Along with my queen. And king.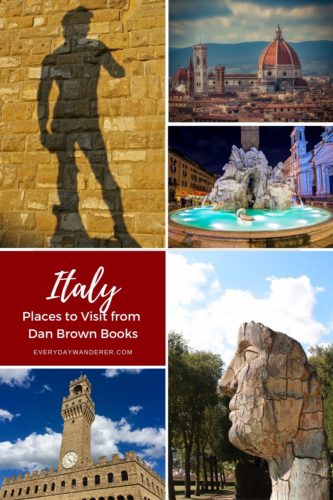 Michelangelo's Statue of David from Inferno, the Dan Brown Book Set in Florence
Dan Brown's Professor Langdon saw Michelangelo's David in the Accademia Gallery for the first time as a teenager. I saw Florence's most famous statue for the first time as a second grader. My father noticed my sister and I staring up at the 17 foot tall, marble statue and immortalized the moment in a photo featuring David's backside and our shocked, upturned faces as we viewed the statue from the front.
The replica of David standing outside the Palazzo Vecchio is also mentioned in Dan Brown's novel. In case you're wondering, it is just as detailed (and naked) as the statue in the Accademia Gallery.
Fun Fact: Dan Brown's Angels & Demons was published in 2000, three years before The Da Vinci Code. But it wasn't until The Da Vinci Code became such a success that folks went back and read his earlier novel.
More Advice and Inspiration for Visiting Dan Brown Locations in Florence:
Whether you have one day or an entire week to explore beautiful Florence, check out these Florence itineraries for your next trip.
From pizza to pasta, here's a guide of where to eat in Florence when you visit to walk in Robert Langdon's footsteps.
See Florence's most iconic sights in one amazing day via this small group walking tour with skip-the-line access at all stops.
Outside of a Dan Brown novel, it's not so easy to escape the Boboli Gardens via the Vasari Corridor. At this time, the famous walkway can only be visited in small groups led by an official guide.
Be sure to tour the Boboli Gardens, considered to be one of the finest gardens in Europe, and learn about the myths and legends hidden in the park statues and other design elements.
Places You Can Visit in
Rome, Italy, from a Dan Brown Book
Sistine Chapel from Angels & Demons and Inferno
Whether you have just two days in Rome or are fortunate to spend the entire summer in the Eternal City, it is an important destination for Dan Brown fans to visit. After all, Dan Brown's first Robert Langdon novel is set partially in the Vatican City. In Angels & Demons, as in real life, the College of Cardinals elects the next Pope under the Sistine Chapel's famous, painted ceiling.
It is probably no surprise that the Vatican didn't allow filming inside the Sistine Chapel. After all, the leaders of the Catholic Church are probably not big fans of Dan Brown. If the movie version of the Sistine Chapel looks familiar, it could be because the same marble staircases and corridors were used to create Queen Amidala's Theed Palace in Star Wars Episode I: The Phantom Menace.
Fun Fact: While Dan Brown's Professor Langdon states that the Swiss Guard's uniforms were designed by Michelangelo, the Vatican's website disputes this claim.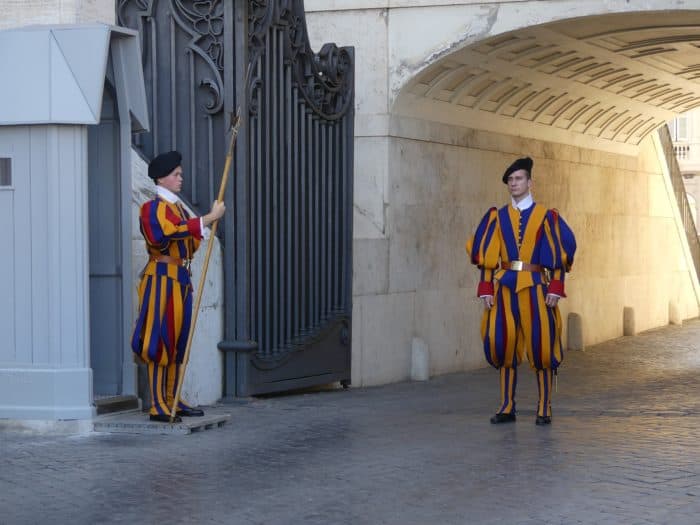 Fountain of the Four Rivers from Angels & Demons
In Piazza Navona, Robert Langdon is waist-deep in the chilly water of the Fountain of the Four Rivers. With a gun. A battle between the good symbologist and a bad guy ensues, and when the spray of blood and water has settled, a naked Cardinal is dead in the fountain. Just another typical night in Rome for the polo-playing professor!
Fun Fact: The figures in the middle of the fountain represent one river from each of four continents: the Ganges River in Asia, the Danube River in Europe, the Rio de la Plata in South America, and the Nile River in Africa.
More Advice and Inspiration for Visiting Dan Brown Locations in Rome:
Places You Can Visit in
Roslin, Scotland, from a Dan Brown Novel
Rosslyn Chapel from The Da Vinci Code
The Rosslyn Chapel in Scotland became world-famous after The Da Vinci Code was published. Inside this 15th-century church, Robert and Sophie put all of the pieces together with Dan Brown boldly suggesting that it houses the Holy Grail. Fact or fiction aside, the Rosslyn Chapel's website reports that increased visitors due to the novel helped fund a major conservation project. This should help ensure the chapel is around for generations of conspiracy-lovers to come!
Fun Fact: The Rosslyn Chapel is privately owned, and the current owner is Peter St. Clari-Erskine, 7th Earl of Rosslyn.
More Advice and Inspiration for Visiting Scotland:
Places You Can Visit in
Barcelona, Spain, in a Dan Brown Book
Casa Mila from
Origin
Designed in the early 1900s by famed Italian architect Antoni Gaudi, Casa Mila was built as a private residence for Pere Mila and his wife Roser on Passeig de Gràcia where it intersects with Provença Street. At that time in Barcelona's history, Passeig de Gràcia was the city's most fashionable street and the perfect place for the bougie couple to flaunt their new money.
The Milas lived on the main floor of the unconventionally curved building with recycled iron balcony railings and rented out the rest of the space as apartments. As the couple aged and Casa Mila was sold, it served as office space for an insurance company and was home to a bingo hall while maintaining some apartment space.
Fun Fact: Casa Mila is known locally as La Pedrera (the stone quarry) due to its rocky exterior and carved-out center.
In Dan Brown's Origin, billionaire philanthropist Edmond Kirsch lives in an apartment on the top floor of Casa Mila. His murder during a live, televised presentation lead Robert Langdon and museum curator Ambra Vidal to Casa Mila to search Kirsch's apartment for clues to crack a 47-character password created by the computer scientist.
By the 1980s, Casa Mila was in rough shape, both structurally and cosmetically. It was declared a UNESCO World Heritage Site in 1984 and has been largely restored to its original beauty. There are several options for visiting Casa Mila today. To explore the structure at your own pace, choose a self-guided audio tour. Or, if guided tours, a rooftop concert, and access to exclusive spaces are more your style, those options are also available.
La Sagrada Familia from
Origin
Returning to Origin, a lightbulb goes off over Robert Langdon's head as he and Ambra Vidal search Kirsch's Casa Mila apartment. Believing Kirsch's password may be tied to his favorite poem, the dynamic duo of Langdon and Vidal uncover a box on Kirsch's bookshelf. Instead of the expected book, they discover a slip of paper inside indicating that Kirsch loaned the book to La Sagrada Famila.
Fun Fact: The image on the front cover of Dan Brown's Origin is one of the spiral staircases in one of the towers at La Sagrada Familia.
While fleeing from police who believe Langdon kidnapped Vidal, the two rush from the curvy Casa Mila, the last private residence designed by Gaudi, to La Sagrada Familia, the architect's largest (and still unfinished) project. Entering the thinly spired and ornately carved Catholic church, Langdon and Vidal are escorted by Father Beña to the book of Robert Blake's poetry on loan from Kirsch. In a line from Four Zoas, they find the clue to the password and once again narrowly escape the police.
With more than 45 million visitors each year, La Sagrada Familia is the most-visited attraction in Barcelona, and its annual construction budget of $28 million is supplemented by admission fees. With more than 130 years of construction under its belt, La Sagrada Familia is at long last entering the final stages of construction. If you want to see it in its unfinished state, don't worry. It's not estimated to be completed for at least another decade. But whatever you do, don't waste hours standing in line for tickets at La Sagrada Familia and learn what not to do when visiting Barcelona.
More Advice and Inspiration for Visiting Dan Brown Locations in Barcelona:
Places You Can Visit in
Bilbao, Spain, through a Dan Brown Book
Guggenheim Museum Bilbao from
Origin
On Spain's northeastern coast, Bilbao is known for its modern and contemporary art museum, Guggenheim Museum Bilbao. In Origin, the curved titanium and glass structure that looks as if it's been pounded out of a precious metal is the setting for a live, televised presentation by Edmund Kirsh, a prominent computer scientist, futurist, and ardent atheist. But similar to other Dan Brown novels, it quickly becomes the scene of a bloody murder and chaos.
When you visit the Guggenheim Museum Bilbao, it will be hard to miss some of the oversized creatures on the museum grounds. Weighing 16 tons, a 40-foot-tall floral dog named Puppy greets visitors on the south side of the Guggenheim Bilbao. And less cute (or cuddly) is a 30-foot-tall spider named Maman installed on the north side of the museum along the Estuary of Bilbao. Inside the building, it's equally hard to miss Richard Serra's "The Matter of Time" mentioned in Origin, as it is a permanent installation in the museum's largest gallery.
Places You Can Visit via Dan Brown's Books in Madrid, Spain
Valley of the Fallen from
Origin
Toward the end of the book, Spanish crown prince Julian is whisked away to the Valley of the Fallen (Valle de los Caídos) near Madrid for an important meeting. (Yes, that is a bit vague, but I don't want to ruin the book for anyone who hasn't read it.)
To be honest, I didn't know much about Spanish history when I read Origin or understand who Francisco Franco was, so I had to supplement my reading with Google. In the 1930s, General Franco collaborated with other generals to launch a coup. After the other generals perished, Franco received support from Fascist Italy and Nazi Germany. Just months before Hitler invaded Poland to start World War II in 1939, the Spanish Civil War ended and Franco assumed power in Spain. He ruled Spain as a dictator until his death in 1975.
Back to the Valley of the Fallen …
Built into the Sierra de Guadarrama mountains and anchored by the world's tallest Christian cross, the Valley of the Fallen is a controversial landmark that includes a monument, basilica, memorial, and the tomb of Franco. It's controversial because it's also the site of one of Europe's biggest mass graves, with approximately 33,000 victims of the Spanish Civil War interred there.
Sage Advice: If you visit Spain's capital city with kids, these are the best things to do in Madrid with teens.
Places You Can Visit via Dan Brown's Books in
Seville, Spain
Giralda Tower from Digital Fortress
Instead of Robert Langdon, Digital Fortress features Susan Fletcher, the NSA's lead cryptographer. Fletcher's fiance and professor of modern languages, David Becker, also plays a starring role. It doesn't take a Harvard degree to identify which approach ended up being more successful for Dan Brown.
As the story unfolds, the NSA asks Susan's fiance to travel to Seville to recover a ring. Seems plausible. I'm sure the National Security Agency often asks family members who are professors to travel abroad on government business…
In Seville, Becker uses the Giralda Tower (and its ringing church bells) as compass north as he navigates the Andalusian capital. At one point, our alternative professor hangs by his fingertips outside the tower window to avoid one of the bad guys chasing him.
Fun Fact: Dan Brown studied art history at the University of Seville back in 1995.
Fun Fact: Kansas City's Country Club Plaza is home to a Seville-inspired landmark, The Giralda. It is a half-scale replica of the Seville Cathedral's bell tower of the same name. (See it in the Instagram image below on the left behind the J.C. Nichols Fountain.)
Fun Fact: The other non-Langdon novel written by Dan Brown is Deception Point. Personally, it is my least favorite of his works. I'm not sure if that's because it takes place on the Milne Ice Shelf, and I hate being cold. Or, if it was because I read the book the week my newborn daughter was unexpectedly in the hospital and I was generally in a stressed-out state of mind.
More Advice and Inspiration for Visiting Seville, Spain:
Places You Can Visit via in
Istanbul, Turkey, through a Dan Brown Book
Hagia Sophia from Inferno
Hagia Sophia was originally a Christian cathedral, first Eastern Orthodox and then Roman Catholic. When it was converted into a mosque in 1453 Christian symbols — like altar, bells, and statues — were replaced with Islamic features — such as the mihrab, minbar, and four minarets. But many of the Christian mosaics were simply plastered over. In 1935, the Hagia Sophia was secularized and opened as a museum. Today the Hagia Sophia retains both Christian and Islamic features, especially as centuries-old mosaics re-appear as the plaster ages and flakes off.
In Dan Brown's novel, Professor Langdon gains access to the Hagia Sophia after hours thanks to a favor called in by the General-Director of the World Health Organization. One fact accurately portrayed in Dan Brown's Inferno, is the Hagia Sophia's massive size. Paris's Notre Dame could fit inside, and the Statue of Liberty could do jumping jacks without bumping her crown on the dome.
Galata Bridge from Inferno
In the rain-soaked, cobblestone streets of Istanbul, recreational swimmer Professor Langdon catches his breath after losing the character he's been chasing. As a bus with "GALATA" listed as its destination pulls away from the curb, our favorite Harvard professor charms a ride from a turbaned bystander who tails the bus across the Galata Bridge in his silver Bentley.
Basilica Cistern from Inferno
Located less than 500 feet from the Hagia Sophia, the Basilica Cistern originally served as a water filtration system. The size of a cathedral, the ceiling of the cistern is similarly supported by more than 300, massive columns. Out of respect for those who haven't read my favorite Dan Brown novel yet, all I will say is that the suspenseful story reaches a climax in this unique, underground place.
Fun Fact: Although the Basilica Cistern can store 100,000 tons of water, today it only holds a few feet of water. And fish.
More Advice and Inspiration for Visiting Istanbul, Turkey:
From it's massive size to its gold mosaics dating back to Byzantine times, it's no wonder the Hagia Sophia is one of the world's most visited museums. Here's how to skip the line and tour the Hagia Sophia with an English-speaking guide.
When you visit Turkey, be sure to check out these things to do in Istanbul.
Places You Can Visit via Dan Brown's Books in
Washington, DC
United States Capitol from Lost Symbol
While most of Dan Brown's thrillers are set in old world cities throughout Europe, the Lost Symbol takes place on this side of the Atlantic. Where The Da Vinci Code starts and stops with the Louvre, Dan Brown's third Robert Langdon novel starts and stops at the US Capitol. Our favorite Harvard professor is invited to lecture at the Capitol, but it isn't long before he is snaking through secret, underground corridors avoiding killers instead.
Washington Monument from Lost Symbol
In a story full of plot twists, tattoos, and Freemasons, it's only logical that the obelisk honoring George Washington is prominently featured. As one should expect from Dan Brown, a shroud of symbolism and mystery covers the monument from cornerstone to pyramid-shaped capstone. Ascending the stone column blindfolded, our fearless protagonist has an epiphany 555 feet above Washington, DC.
Fun Fact: Freemasons really did lay the monument's cornerstone on the nation's birthday back in 1848. The stone was embedded with a box including a portrait of the first President, a Bible, a map of the city, and a copy of the Constitution. In attendance was a (then) little-known congressman from Illinois, Abraham Lincoln.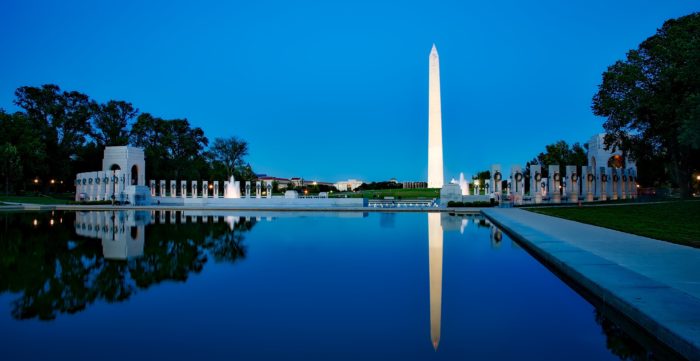 Fun Fact: As of 2018, 14 US Presidents have been Freemasons. Gerald Ford (#38) was the most recent.
More Advice and Inspiration for Visiting Washington, DC:
Have You Visited Any of the Destinations Featured in a Dan Brown Novel?
Where did you go? What did you see? How did fact compare to fiction? How did the real-life experience compare to what you read in Dan Brown's books? Share your experiences in the comments section below.
Please note: Photos not watermarked with my name are courtesy of the community of talented photographers over at Pixabay.