One of America's most amazing art museums is in Bentonville, Arkansas. Yes, Arkansas! Here are seven things you can expect when you visit the Crystal Bridges Museum of American Art…
Art lovers expect to find phenomenal art museums in major metropolitan areas like New York, Boston, Philadelphia, Los Angeles, Chicago, and DC.
But if you love art, architecture, or the great outdoors, then you won't want to miss the Crystal Bridges Museum of American Art in Bentonville, Arkansas.
Via the Walton Family Foundation — yes, that Walton family — Alice Walton founded the Bentonville art museum that opened in 2011. Alice, who is Walmart founder Sam Walton's only daughter and currently ranked 17th on Forbes' list of the world's billionaires, is said to have contributed $317 million of her own money into Crystal Bridges.
Although there is no fee to view the art museum's permanent collection, I paid full price to explore the special exhibit at Crystal Bridges Museum of American Art. But, I always share my honest opinions, no matter who's covering the tab.
To help offset the costs of running EverydayWanderer.com, you'll find affiliate links lightly sprinkled throughout the site. If you choose to make a purchase via one of these links, there's no additional cost to you, but I'll earn a teeny tiny commission. You can read all of the legal blah blah blah (as my little niece says) on the full disclosure page.
Here are seven things you can expect when you visit the Crystal Bridges Museum of American Art:
Sponsored by Walmart, there is no cost to visit Crystal Bridge's permanent collection, but there may be a fee for special exhibits, programs, and other events. Our visit to Crystal Bridges museum was prompted by the Chihuly in the Forest special exhibit, and there was a cost associated with that experience.
Fun Fact: Crystal Bridges Museum of American Art opened on November 11, 2011 or 11/11/11.
2. Might Cause Arachnophobia
Standing in the courtyard that connects the main entrance and the gift shop is Maman, a 30-foot tall spider by Louise Bourgeois. While travelers will find Maman in other locations around the world, from Canada to Qatar, the Maman sculpture at Crystal Bridges in Bentonville is the only permanently installed version in the entire United States.
Sage Advice: See how Maman was installed at Crystal Bridges
3. An Organized Walk through American Art History
Crystal Bridges' galleries are displayed by time period, from the Colonial Era to modern times.
4. Amazing American Artists
All of the artists featured in the permanent collection are US citizens, although some of the art displayed may be of or inspired by experiences abroad.
Some of our favorite artists with works on display included:
Crystal Bridges museum has a rare sculpture by Georgia O'Keeffe on display, Abstraction, a white-lacquered bronze piece.
While many people envision J. Howard Miller's We Can Do It poster when they hear the phrase "Rosie the Riveter", Crystal Bridges displays Norman Rockwell's interpretation of Rosie created a year after Miller's version. While she noshes on a sandwich over her lunch break, Rosie can be seen stepping on a copy of Hilter's disturbing manifesto, Mein Kampf.
All of the women who inspired "Rosie" were amazing, and I'm glad that my daughter had both the fictional Rosie and real-life record-setting Georgia O'Keeffe to inspire her during this outing.
There are several Segal pieces at the Nelson-Atkins Museum of Art, our hometown art museum in Kansas City, so we immediately recognized Depression Breadline as one of his works of art.
Born Andrew Warhola, Andy Warhol is one of the most recognizable artists from the Pop Art movement. Crystal Bridges proudly displays several of Warhol's pieces in its permanent collection and featured additional works by the Pop Art great in a special exhibition showcasing animals in art.
This view of Andy Warhol's Coca-Cola bottle, with Tom Wesselmann's Dropped Bra in the foreground, demonstrates how Warhol's piece would look if it happened to be hanging in my teenage daughter's messy room. Well, if you imagine a few other clothes surrounding the dropped bra…
I really loved these ten, bright Pop Art animal pieces by Warhol that were framed together in the special exhibit featuring animals in art.
And here is a close up of the rhino that caught my eye after recently visiting Kendi, the baby black rhino at the Cincinnati Zoo.
5. The Building is Another Work of Art...
The three, connected glass and wood buildings of Crystal Bridges art museum were designed by world-renowned architect Moshe Safdie. The museum is surrounded by spring-fed water and is absolutely gorgeous!
Sage Advice: If the weather cooperates, give yourself ample time to explore the sculpture garden outside the museum.
6. ...and So Are the Grounds
The beautiful museum complex is surrounded by 120 acres of forest. Explore the Crystal Bridges trails and sculpture garden from dusk to dawn and during museum hours. There's also ample space for outdoor concerts and other events.
Sage Advice: Download a Crystal Bridges trail map before you go!
The Fly's Eye Dome on the grounds of Crystal Bridges is the creation of R. Buckminster Fuller, an American designer and inventor who worked on a series of geodesic domes as a way of providing economical, efficient housing.
There were three prototypes developed, a 12-foot, a 24-foot, and a 50-foot version. The 50-foot version is the structure on display on the grounds of the Crystal Bridges museum.
The circular openings of the fiberglass Fly's Eye Dome allow air and light to enter without compromising the integrity of the structure.
Round out your visit with a tour of the Bachman-Wilson House designed by architect Frank Lloyd Wright. The house was originally built along the Millstone River in New Jersey, but was carefully moved to the museum in 2015.
Tickets to the Frank Lloyd Wright house are limited, so be sure to plan ahead! We arrived at Crystal Bridges right when it opened on a Saturday morning, and all of the tickets for the day were already gone.
View photos of the Bachman-Wilson House courtesy of Crystal Bridges Museum here. And, to learn more about this famous architect, visit the Frank Lloyd Wright home and studio in the Chicago area.
7. Highly-Rated, Delicious Restaurant
Louise is the biggest foodie in the family and has been since she was a toddler. She may be the only kid I know who turns up her nose at fast food. Lucky for all of us, Eleven offers high-quality, tasty, upscale dining at a reasonable price at Crystal Bridges.
Fun Fact: The restaurant, Eleven, is named in honor of the museum's opening date on November 11, 2011.
Place your order at the counter and then grab a table and the incredibly friendly staff will bring it out to you on real plates with real silverware. We shared a portobello sandwich and a bowl of butternut squash soup, and it was just perfect!
Sage Advice: You can download the brunch, lunch, and dinner menus for Eleven here.
To Visit the Crystal Bridges Museum of American Art
Where is Crystal Bridges?
Crystal Bridges Museum of American Art is located at 600 Museum Way in Bentonville, Arkansas.
When is Crystal Bridges open?
Crystal Bridges hours are:
Sunday and Saturday from 10:00 am to 6:00 pm
Monday from 11:00 am to 6:00
Wednesday, Thursday, and Friday from 11:00 am to 9:00 pm
Crystal Bridges Museum is closed on Tuesday.
How much are Crystal Bridges tickets?
Thanks to the generosity of Walmart, there is no cost to visit the permanent collection at Crystal Bridges in Bentonville.
Have You Visited the Crystal Bridges Museum of American Art?
What did you do and see during your visit? What did you enjoy most about the Crystal Bridges Museum of American Art? Share your experience in the comments section below!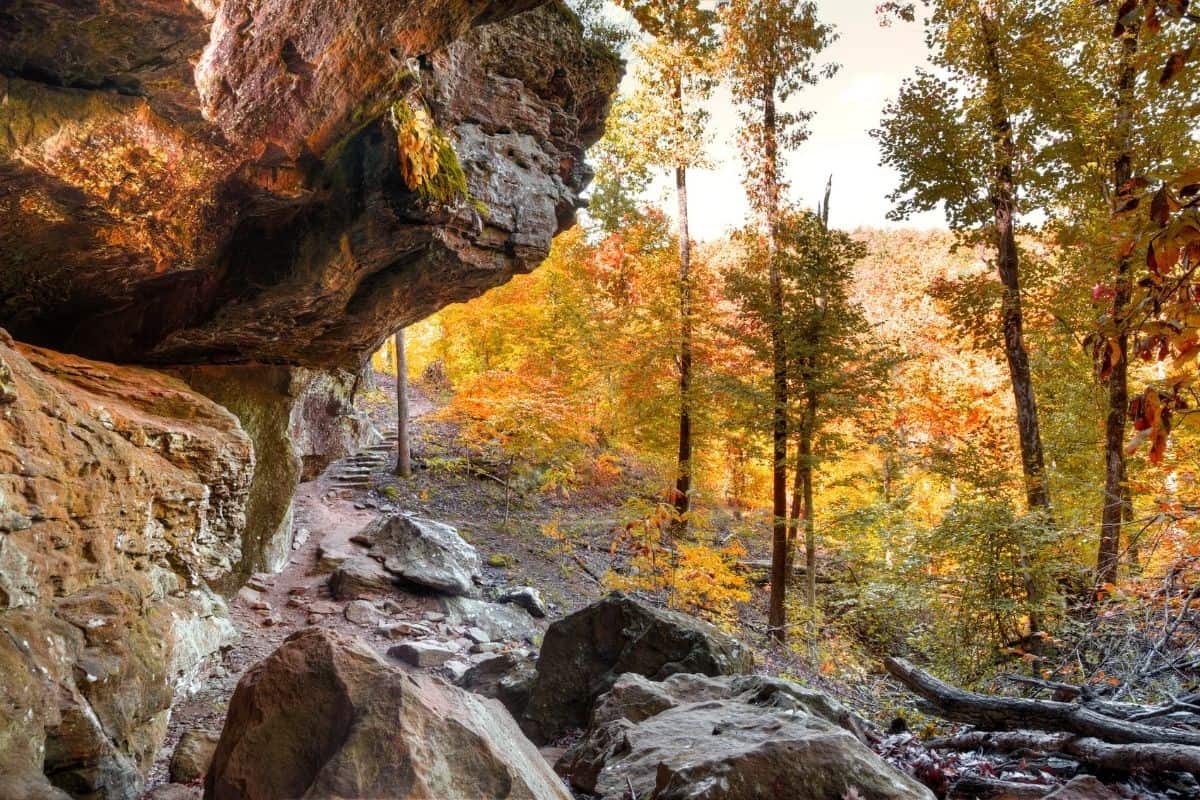 Looking for more information to plan your Arkansas vacation? Check out my additional recommendations to help you plan your trip to Arkansas including what to see and do in Arkansas, the best places to stay in Arkansas, where to eat in Arkansas, and more!
Ready to Go?
Use These Helpful Links to Book Your Trip!
More Articles You'll Love!