Located halfway between the college town of Lawrence and the metropolis of Kansas City, Cause Coffee is a 100% volunteer-run coffee shop in De Soto, Kansas dedicated to making a difference in the local and global community.
I paid full price for my honey lavender latte (yes, it was as good as it sounds), vegetarian egg bake, and other experiences at Cause Coffee in De Soto, Kansas. But you can count on me to always share my honest opinions, regardless of who foots the bill.
Climbing the four steps to the front door of the cream-colored stucco and stone building, I take in the big pots of colorful flowers accenting the wide front porch. A trio of young women sits at one of the tables, lingering over iced coffees on one of the last warm days of summer. It feels as if I'm entering someone's beautifully restored, century-old home instead of a coffee shop. As I push open the door to a bright, airy room, I'm pleasantly surprised by the hustle and bustle of activity inside. It's well past noon on a Saturday, and the coffeehouse is comfortably full of java lovers and brunchers.
This is Cause Coffee, a 100% volunteer-run coffee shop in De Soto, Kansas, a town of about 6,000 nestled roughly halfway between the college town of Lawrence and metropolis of Kansas City. It is the dream-turned-reality of Cause Coffee creator, Tara Stucky. After raising her three children, Tara was ready to redirect her time, talent, and energy into one of her dreams. Pairing her years of experience as a craft coffee barista with a deep desire to make a difference in our big, beautiful world, she opened Cause Coffee in March 2018.
While Tara's daughter takes my order and her son-in-law expertly brings the espresso machine to life to make my latte, Tara walks in from the kitchen. As I listen to her answers to my questions about her vision for this special place, I am reminded of a famous quote by Mother Teresa, "Not all of us can do great things, but we can do small things with great love." And as I look around the bustling coffee shop, I have no doubt that Tara is doing great things in the small down of De Soto, Kansas, by creating a community of people inspired to embrace Mother Teresa's sentiment and do their part to make our world a better place.
To help offset the costs of running EverydayWanderer.com, you'll find affiliate links lightly sprinkled throughout the site. If you choose to make a purchase via one of these links, there's no additional cost to you, but I'll earn a teeny tiny commission. You can read all of the legal blah blah blah (as my little niece says) on the full disclosure page.
The Ugly Truth About America's Most Delicious Addictions
Before I talk about my delicious experience at Cause Coffee, let me briefly segue into the cause behind Tara's coffeehouse. Three, key coffee shop ingredients — coffee, tea, and chocolate — are grown nearly exclusively in developing nations. However, these luxury ingredients are consumed almost entirely in developed nations like the United States and the countries of Europe. Heavy dependence on export agriculture results in negative social consequences for the hundreds of thousands of small family farms that produce the world's coffee, tea, and chocolate. Instead of being in school, children work long hours tending to the coffee, tea, and cocoa crops while living in abject poverty. Worse yet, is the fact that many of the people tending these crops are often forced laborers experiencing the horrifying reality of modern day slavery. Coffee, tea, and chocolate crops can also be detrimental to the environment as woods and forests are cleared at an alarming rate to make room for more coffee bushes, cocoa trees, and tea plants.
Educating consumers about these ugly truths and doing all that they can to eliminate them is the primary cause that fuels Cause Coffee. Tara and her team of volunteers work hard to ensure that every dollar they bring in (after expenses like ingredients and utilities) goes to making a positive impact in these developing nations. They focus on educating farmers and their children, establishing clean water wells, providing disaster relief, eliminating forced labor, and caring for orphans. Two of Tara's children were adopted from India, so orphan care is especially near and dear to her heart!
How Does Cause Coffee Do It?
Two of the biggest expenses for a coffee shop are rent and labor. What helps Tara truly make a difference on a global scale is paying for neither. Her parents own the building and offer it to Cause Coffee rent-free so that more of the revenue flows directly to helping others. The talented baristas that craft your cappuccino donate their time and talent to give back to the world's coffee community. It's the same for the cooks preparing biscuits and gravy and baked French toast in the kitchen and the folks bussing tables. And every hour of time Tara invests into her dream is donated.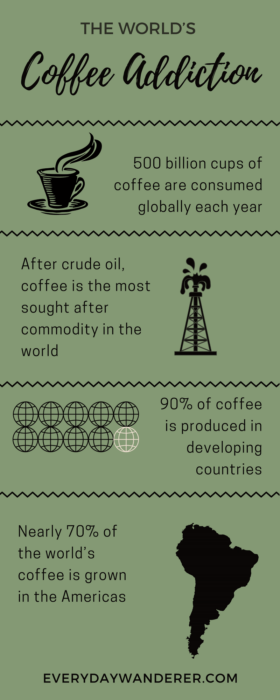 The Causes Supported by Your Cup of Coffee at Cause Coffee
When you step into Cause Coffee, look for a small blackboard sign to your left on the table behind the love seat. There you will find the Cause Coffee cause of the month. So far the coffee house has helped a school in an impoverished area of Nicaragua, supported a home for abused children, donated to Kansas City's homeless community, and established a clean water well in Uganda.
The Coffee is as Good as the Cause
With years of experience as a craft coffee barista, Tara knows a thing or two about good coffee. She starts with coffee beans from Messenger Coffee. After hand-picking coffee farmers to ensure that the coffee beans are top quality and ethically sourced, Messenger Coffee manually roasts them into a variety of artisan blends right here in Kansas City. Cause Coffee offers a legit Italian coffee menu with offerings you might not see on the menu at one of those national chain coffee places. If you tend to order a macchiato at one of those places try a cortado when you visit Cause Coffee. With a 1:2 ratio of espresso and steamed milk* with a foam finish, it's the intersection of a macchiato and a latte.
* For vegan guests or those with a dairy allergy (like my daughter, Charlotte), Cause Coffee offers alternative milks like almond, coconut, and oat.
If you need a shot of flavor in your coffee (like me), branch out beyond the usuals — vanilla, caramel, and chocolate — and try cardamom or honey lavender (my new favorite). And when you add a shot of flavor at Cause Coffee you can take comfort in the fact that the syrups are all ethically-sourced and made from organically-grown ingredients.
For Those Who Don't Drink Coffee
While I can't personally relate to people who don't drink coffee, I know they exist. So, if a cup of tea is more, well, your cup of tea, Cause Coffee has you covered. Still using 100% fair trade ingredients, try a hot tea, iced tea, chai latte, matcha latte, and more. Cause Coffee also offers a variety of delicious smoothies, shakes, malts, and floats.
A Bit About the Bites to Eat
Whether made in-house or in partnership with another local business, Cause Coffee only uses chocolate, sugar, coconut oil, and vanilla that is also free of slave labor. Try fresh-made breads and pastries from 1900 Barker Bakery and Alchemy Coffee's Bake House. On Fridays and Saturdays, order something a bit more substantial like biscuits and gravy, baked French toast, egg dishes, and more. There are several options for guests with dietary restrictions or food allergies, so ask about gluten-free, vegan, dairy-free, and paleo options on the menu.
Fun Fact: At the end of the day, all leftover food and pastries are donated to the homeless of Kansas City.
To Visit Cause Coffee in De Soto, Kansas
Location: 33180 West 83rd St, Desoto, KS
Hours: 8:00 am to 6:00 pm on Thursday and Friday and 8:00 am to 2:00 pm on Saturday
Menu: Cause Coffee offers a full drink menu with coffee, tea, smoothies, and more
For more information, tasty photos, and details about special events, visit the Cause Coffee website or follow them on Facebook or Instagram.
Have You Visited Cause Coffee in De Soto, Kansas?
Did you order coffee, sip tea, nibble on a pastry, or try something else? What did you like most about your visit? Share your experiences in the comments section below.
Here's More Information and Inspiration for a Visit to Kansas City