Whether you love chocolate or cake, beer or barbeque, these are the best food gifts from Kansas City. So be sure to share a little love from America's heartland with these fun and flavorful edible gifts made in Kansas City.
Perhaps it's because I spent three Christmases in a country with separate holidays for gift giving and Christmas. Maybe it's because I tend to value experiences over stuff. Or, it could be because I'm absolutely awful when it comes to picking out the perfect present. Whatever the reason, my family celebrates Christmas, Easter, and even birthdays in a pretty low-key way.
Our Christmas festivities are focused on the most important "f" words: family, food, and fun. And because my loved ones all leave the warm weather in the southwest to spend Christmas at my house in Kansas City, I never miss the chance to show off my hometown Paris of the Plains and undisputed Barbeque Capital of the World. From beer to booze, coffee to chocolate, these are some of my favorite food products made in Kansas City.
To help offset the costs of running EverydayWanderer.com, you'll find affiliate links lightly sprinkled throughout the site. If you choose to make a purchase via one of these links, there's no additional cost to you, but I'll earn a teeny tiny commission. You can read all of the legal blah blah blah (as my little niece says) on the full disclosure page.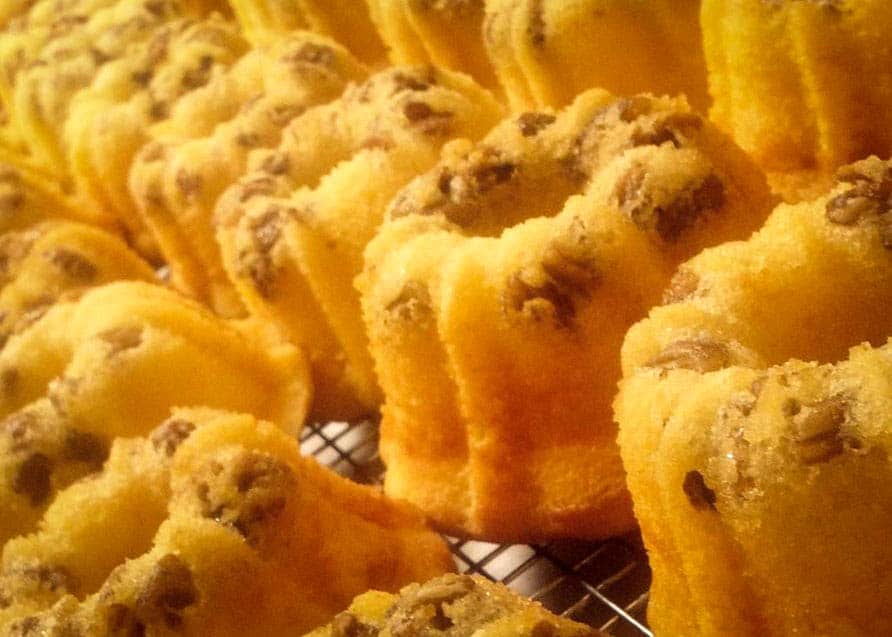 Craig Adcock's catering company had mouth-watering barbeque down pat, but he needed a dessert to round out his menu. Perfecting an old family recipe in partnership with his mother-in-law, Jude, their rum cakes quickly became more famous than Craig's barbeque. And the rest is rum cake history!
Whether you're serving a crowd or want an after-dinner nibble, Jude's Rum Cakes come in four sizes — large, small, mini, and teaser. Order online at Jude's Rum Cake or look for these delicious gifts from Kansas City in one of these restaurants and markets across the country.
The largest (and tastiest) specialty brewer in the Midwest
After trying the delicious beers of Belgium while on vacation in Europe in the mid-1980s, John McDonald was hooked. Although it took him five years, he was completely committed to making "beers for real beer lovers." In November 1989, John's first keg of Boulevard Pale Ale was ready for prime time. As beer lovers continued to hear about, try, and fall in love with Boulevard Beer, the company grew ahead of plan.
In 2013, one of the Belgian beer brands that John enjoyed so much on that fortuitous vacation to Europe came knocking. Although he made the decision to sell his company to Duvel Moortgat, the quality, taste, and local admiration for Boulevard Beer remains unchanged.
Treat your beer-loving loved ones to one of the classics, like Pale Ale or wheat. Or share a unique seasonal ale or lager, like Nutcracker Ale.
Specialty coffee beans procured from around the world and air-roasted in Kansas City
A few years before Boulevard Beer's John McDonald became enamored with Belgian brews, Danny O'Neill was falling in love with the people, culture, and coffee of Costa Rica while studying abroad. When he started Roasterie Coffee in his basement 15 years later, Danny was committed to partnering directly with coffee growers for a win/win outcome. He'd secure the highest quality coffee beans, and they'd benefit from fair trade practices.
Using a unique air-roasting method to process the coffee beans in a way that delivers a smoother cup of java, today Roasterie Coffee is one of the most recognized specialty coffee roasting companies in the country.
And just as recognizable is the DC-3 plane incorporated into Roasterie Coffee's logo and mounted atop their facilities in Kansas City. Developed for TWA as the first plane to transport passengers for a profit, and used to haul coffee beans around the globe back in the 1930s, the aircraft ties Roasterie Coffee to Kansas City's aviation past and symbolizes the American dream.
With many options available, picking out the perfect bag of air-roasted coffee beans can be a bit overwhelming. Check out the Kansas City blend with its buttery aroma and smooth nutty finish. You can also support one of more than 50 charitable organizations by selecting a cause blend. Or, take home a taste of KC with one of the blends served in restaurants around the metro area, from Bluestem to Christopher Elbow Chocolates.
Christopher Elbow Chocolates
World-class chocolates handcrafted in America's heartland
Speaking of Christopher Elbow, his mouth-watering chocolates are next on this list of the best gifts from Kansas City. Raised in Lincoln, Nebraska, Kansas City's neighbor to the north, Chris didn't set out to become a chocolatier. The classically trained chef worked in restaurants on the Vegas Strip before returning to the Midwest to serve as the pastry chef at The American Restaurant. The little chocolates he crafted for dessert became an instant hit that ultimately blossomed into some of the most delicious (and beautiful) chocolates in the world.
Make someone's day with a delicious food gift from Kansas City by giving an assortment of Chris's classic chocolate truffles my favorites are lavender caramel, pistachio bergamot, and strawberry balsamic. Or celebrate the holidays with one of Christopher Elbow's seasonal flavors. At Christmastime, look for peppermint, gingerbread, and pumpkin pie caramel. And in the spring, watch for white peach, morello cherry, and blueberry.
And in case Christopher Elbow's chocolate works of art aren't enough to satisfy your sweet tooth, check out his other adventures at Glace and the Fairway Creamery.
Bonus Recommendation: While they're not edible, modestly m candle co. hand pours their fragrant soy candles right here in Kansas City. And with delightfully unique scents like Kansas bourbon, caramel tobacco clove, and lavender chai, you'll wish you could eat them up!
This Croatian pastry company was founded in Kansas City's historically Slavic neighborhood
If you've never heard of povitica (pronounced po-va-TEET-za), you're likely not alone. This hand-rolled, filled Eastern European loaf is known by many names including strudel, nutroll, and bejgl. (Although you're on your own to figure out how to properly pronounce that last one!) And if you haven't tasted povitica, you should fix that right away.
Povitica is buttery pastry dough rolled into thin layers, filled with delicious ingredients and then shaped into a loaf. Traditionally, this unique food gift is filled with ingredients you might commonly sprinkle over oatmeal, including brown sugar, walnuts, a drizzle of honey, and spices like cinnamon. But Strawberry Hill Povitica also others a variety of other flavors like apple cinnamon, lemon cream, and one of my favorites, cream cheese.
While povitica is most commonly enjoyed as a holiday treat, it is available year-round. And the kitchen located in the southwestern suburb of Merriam, Kansas, is one of only a handful of companies in the world that bake povitica.
An earth-friendly company distilling vodka in the northern Kansas City suburb of Weston, Missouri
Created from locally sourced grain, efficiently distilled, and bottled in containers made from recycled glass, 360 Vodka is as tasty as it is eco-friendly. While there is most certainly a classic vodka to help you craft the perfect martini (shaken, not stirred), there are also a variety of luscious flavors ranging from fruity (like mango, orange, and raspberry) to chocolate and vanilla.
But my favorite 360 Vodka flavor is huckleberry. During baseball season, we use it to craft a signature cocktail that we call Raised Royal after our beloved Kansas City Royals. Shaking a combination of huckleberry-flavored 360 Vodka and lemonade with ice, we then add an ounce of blue curacao and garnish it with a twist of lime.
However, nothing screams, "I visited the Barbeque Capital of the World and brought you a gift" quite like a bottle of 360's KC barbeque vodka. It's sweet and spicy, tangy and true, and unlike any other vodka you'll ever taste.
Bonus Recommendation: Founded in Kansas City in 1989, Three Dog Bakery uses human-grade food to bake their doggie biscuits, cakes, and cookies. . So don't forget your four-legged best friend when it comes to giving the best food gifts from Kansas City.
Kansas City's world-famous barbeque rounds out this list of the best products made in Kansas City
Kansas City's name has been synonymous with slow-cooked, smoked, and grilled meat for more than a century. And when you visit the Barbeque Capital of the World and try the burnt ends, pulled pork, saucy ribs, and scrumptious sides, you'll definitely want to share it with others.
While I could certainly write an entire article dedicated to gifts from Kansas City for barbeque lovers, let's just hit the highlights right now: meat, sides, and sauce.
Barbequed Meat
Joe's Kansas City started as a small barbeque joint in a gas station at 47th and Mission and grew into one of the top-rated barbeque restaurants in Kansas City. Joe's signature entree, the Z-Man, is now available by mail, making it easy for you to give the gift of Kansas City's most famous sandwich. But you can also send burnt ends, brisket, ribs, and more.
Scrumptious Sides
Whether it's beef, chicken, pork, or sausage, meat is definitely the headliner when it comes to Kansas City barbeque. But a barbeque meal without side dishes would be like mashed potatoes without gravy or a sundae without sprinkles. When it comes to the Kansas City barbeque restaurants that ship nationwide, Fiorella's Jack Stack Barbecue is the place to go for sides. I recommend their cheesy corn bake and hickory pit beans.
Tangy Sauce
Ranging from spicy to tangy to sweet, the sauce is one of the things that differentiates Kansas City barbeque from other regional barbeque styles across the country. After receiving a jolt of fame after appearing on Season 3 of Netflix's Queer Eye, the Jones sisters are now bottling the sweet and tangy spicy molasses- and tomato-based sauce, sharing the recipe that has been in their family for decades.
Bonus Recommendation: While they're not edible, Connor Boisen's fine art prints are a great gift from the City of Fountains. I'm especially fond of this one that he created from one of my photographs.
What is Your Favorite Food Gift from Kansas City?
Is there anything you feel is missing from this list? What amazing food gifts do you like giving from America's heartland? Share your experiences in the comments section below.
Looking for more information to plan your Kansas City vacation? Check out my additional recommendations to help you plan your trip to Kansas City including what to see and do in Kansas City, the best places to stay in Kansas City, where to eat in Kansas City, and more!
Ready to Go?
Use These Helpful Links to Book Your Trip!