The 21c Bentonville is 50 percent boutique hotel, 50 percent contemporary art museum, and 100 percent amazing. From its location to its amenities, see why this boutique hotel — with its impressive on-site chef-driven restaurant — is the best place to stay in Bentonville.
A special thanks to 21c for inviting me to experience their 104-room boutique hotel in Bentonville. They provided one night's stay at the 21c Bentonville and a delicious meal at The Hive. But you can count on me to always share my honest opinions, regardless of who foots the bill.
From Chicago to the Carolinas, if there is a 21c Museum Hotel in town, you can bet I'll recommend it. Since 2006, this regional chain of boutique hotels has converted historic buildings into comfortable accommodations paired with a chef-driven restaurant.
Well, except the 21c Bentonville.
It's the only property in the portfolio that was built from the ground up. But I've told myself that the hotel's long, red brick walls, topped by a horizontal wall of square windows are an intentional nod to the Frank Lloyd Wright home nearby.
Here are eight reasons the 21c Museum Hotel is the best place to stay in Bentonville, Arkansas.
To help offset the costs of running EverydayWanderer.com, you'll find affiliate links lightly sprinkled throughout the site. If you choose to make a purchase via one of these links, there's no additional cost to you, but I'll earn a teeny tiny commission. You can read all of the legal blah blah blah (as my little niece says) on the full disclosure page.
1. Location, Location, Location
On the northeast corner of the town square, the 21c is the only Bentonville hotel within walking distance of the bustling coffee shops, quaint boutiques, and delicious restaurants that surround Sam Walton's original Five and Dime store.
And to make the prime location even sweeter, it's also:
adjacent to the Compton Gardens,

right across the street from an amazing bicycle rental shop,

and within walking distance (about 0.7 miles) of both Frank Lloyd Wright's Bachman-Wilson House and the Crystal Bridges Museum of American Art.
So while you can certainly stay at another hotel in Bentonville, prepare to travel at least two miles from your accommodation to the Bentonville town square.
2. 21c Bentonville is an Art Lover's Dream
With the word "museum" dropping a big hint, the 21c Museum Hotel Bentonville is part comfortable accommodation, part contemporary art gallery. As you approach the building, you'll see two unique outdoor sculptures. Orange Tree is a two-story, tree-shaped piece with branches supporting basketball nets instead of blooms, encircled by fallen basketballs instead of colorful leaves. And parked on the sidewalk in front is a Fleetwood Cadillac limousine covered with thousands of coins – pennies, nickels, and dimes – as a nod to Sam Walton's original Five and Dime store just around the corner.
Inside the 21c Bentonville, you'll find more art on display. From pieces in the current art exhibit to an iconic (but middle-aged with a bit of a bulge) Batman that motivated me to move a little faster in the fitness center, there are more than 12,000 square feet of exhibition space inside the hotel.
3. Spacious, Well-Appointed Rooms
With soaring ceilings, gigantic windows, comfortable beds, and tons of space, the guest rooms at the 21c Museum Hotel Bentonville will make you feel right at home. My friend Makaela and I shared a luxury double queen room that included two queen-sized beds (of course) but also a seating area and table. Both of us are dog lovers, so we especially appreciated the throw pillow featuring a sleeping yellow Lab.
The white-tiled bathroom has ample counter and storage space along with a large, lighted mirror. When paired with the full-length mirror in the bedroom and plenty of outlets, it was easy for us to do our hair and makeup before exploring Bentonville and freshen up before dinner in the evening.
4. Luxurious Robes That Feel Like a Hug
You might have stayed at hotels that include robes in the guestrooms. But, at least in my experience, those robes have been sewn from a thin, waffle terry fabric that isn't always that soft.
In contrast, the soft-knitted, terry-lined shawl collar robes at the 21c Bentonville feel like a hug. In fact, I loved my microfiber robe so much that I had to stop by the 21c shop and buy one to bring home with me!
5. It's a Perfect Place for Cyclists
Visiting Bentonville and not hopping on a bike is like visiting New York City and not making eye contact with Lady Liberty. Whether you casually explore the 120 acres of tree-lined, multi-use trails that surround Crystal Bridges or you get your adrenaline pumping on the expert section of the Slaughter Pen trails, you'll want to spend some time exploring the Mountain Biking Capital of the World on two wheels.
Whether you bring your own bike to Bentonville or rent one nearby, the 21c Bentonville has complimentary valet parking for your wheels, with cycle storage and a free washing station. If you need a convenient place to rent a bike in Bentonville, Spoke Adventures is located directly across the street from the 21c Bentonville and offers mountain bike, city bike, and electric bike rentals.
Sage Advice: When you book your stay at the 21c Bentonville, ask about their Bikes and Brews package. It includes a one-night stay, trail maps, complimentary bike washing station, storage, and bike valet, and a mix-and-match six-pack of the Ozark Beer Company's craft brews.
All of the 21c Museum Hotels have pet-friendly rooms with food dishes, water bowls, and pet beds available upon request. And the 21c Bentonville is right around the corner from Three Dog Bakery. So after a long walk in the Compton Gardens and Arboretum followed by a pizza on the dog-friendly patio at Pedaler's Pub, trot over to Bentonville Square for a gourmet dog treat (or two) before tucking your four-legged bestie in for the night.
That one hotel in Memphis might be famous for its twice-daily duck march, but at 21c Bentonville, a flock of green penguins parades around the place 24/7. Each 21c museum property features a resident flock of penguins in a specific color, so be on the lookout for these always-on-the move interactive art pieces. You'll commonly see the four-foot-tall recycled plastic sculptures peeking out a window, guarding the elevator, or joining you for dinner as they are regularly moved throughout the property.
Sage Advice: Here's the secret decoder ring to the rainbow-hued flock across the 21c museum hotels chain:
Red – 21c Louisville

Yellow – 21c Cincinnati

Green – 21c Bentonville

Evergreen – 21c Chicago

Blue – 21c Lexington

Teal – 21c Nashville

Sky Blue – 21c Kansas City

Fuschia – 21c Durham

Purple – 21c Oklahoma City

TBD – 21c St. Louis (opening soon)
8. Dinner or Drinks at The Hive
Whether you visit for breakfast, lunch, dinner, or a nightcap, the best place to dine with a penguin is at The Hive, the 21c Bentonville's onsite restaurant. In a dining room decorated with larger-than-life bees building gigantic honeycombs, interim executive chef Micah Klasky and his team have created a seasonally inspired menu that features ingredients from Arkansas farms, including pork, grits, black walnuts, pecans, watermelon, peaches, and other Southern cuisine essentials.
Raise a glass to the little company that Sam Walton established a few blocks away on the west side of Bentonville City Square by ordering a Hive 'n Dime. Featuring your choice of vodka, gin, or bourbon and house tonic, this classic cocktail is a play on Walton's 5 and 10. Or sip hickory wood-softened Arkansas moonshine in the Bad Moon Rising.
Sage Advice: Every meal at The Hive ends with a complimentary cone of freshly spun cotton candy!
Book Your Stay at 21c Bentonville
The 21c Museum Hotel in Bentonville is located at 200 NE A St. It's just off the Bentonville Town Square. It is about 30 minutes north of Fayetteville and about 215 miles northwest of Little Rock.
To check availability and current room rates, read guest reviews, and see more photos of the 21c Bentonville, click here.
In addition to the location just off the town square in Bentonville, you can stay at a 21c Museum Hotel property in one of these cities:
21c Chicago

21c Cincinnati

21c Durham

21c Kansas City

21c Lexington

21c Louisville

21c Nashville

21c Oklahoma City

21c St. Louis (opening soon)
Have You Stayed at a 21c Museum Hotel?
Which location did you visit? What did you like most about your stay at the 21c Museum Hotel? Any additional tips and tricks to pass along? Share your experiences in the comments section below.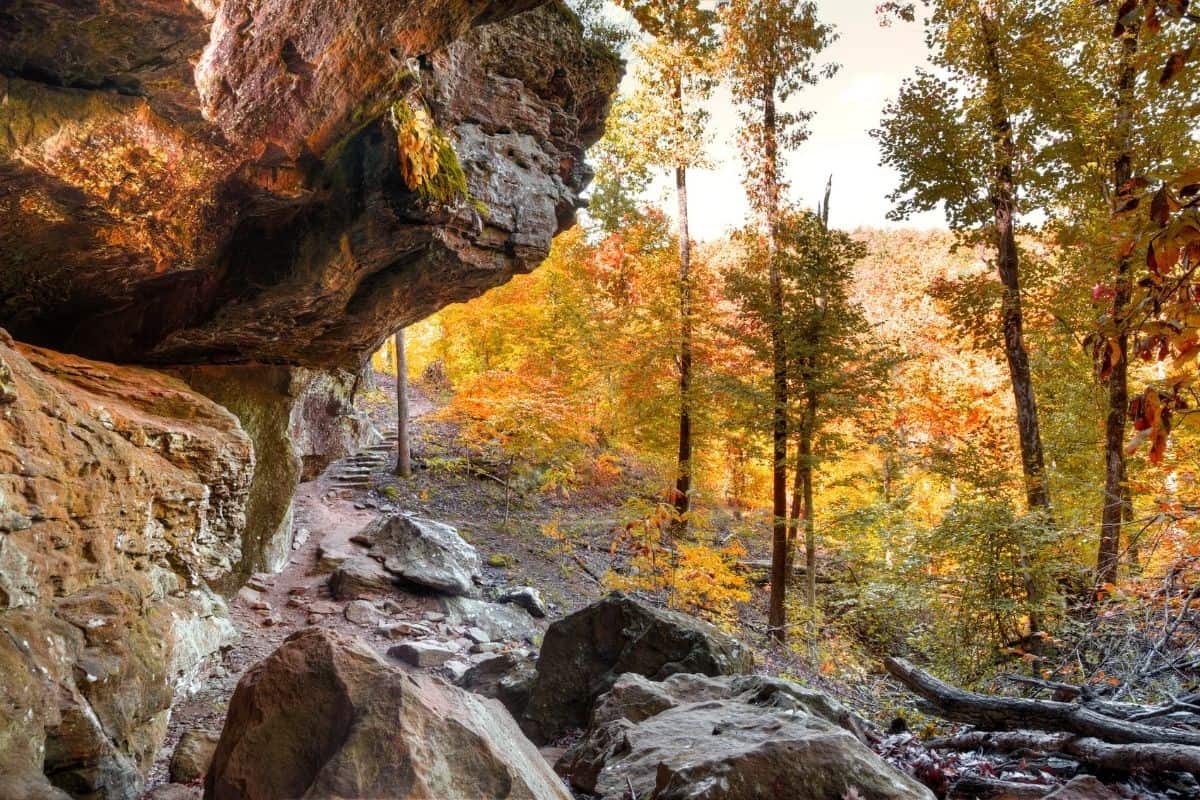 Looking for more information to plan your Arkansas vacation? Check out my additional recommendations to help you plan your trip to Arkansas including what to see and do in Arkansas, the best places to stay in Arkansas, where to eat in Arkansas, and more!
Ready to Go?
Use These Helpful Links to Book Your Trip!